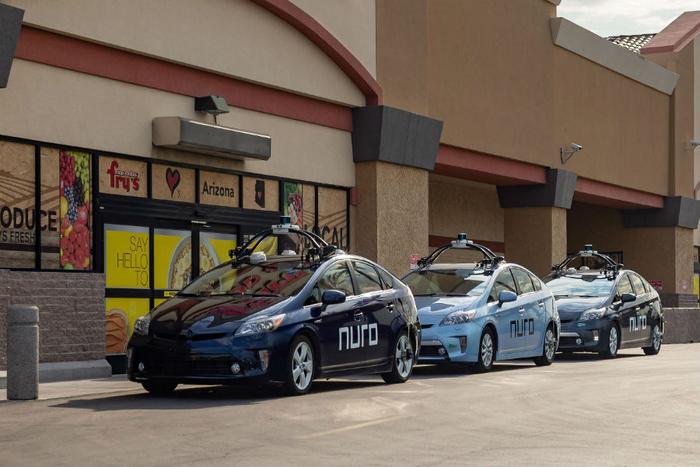 The Kroger Company and robotics incubator Nuro is partnering with Fry's Food to operate a grocery delivery pilot. This pilot gives customers the freedom to shop for groceries from their computer or smartphone and get curbside delivery the same day.
Fry's Food Stores, a Kroger subsidiary, gets the nod as the beta tester in this program. The pilot program will be at a single Fry's store in Scottsdale, Arizona, and it became available for customers to try on Thursday.
"We're excited to launch our autonomous vehicle delivery pilot with Fry's in Scottsdale," said Kroger Chief Digital Officer Yael Cosset. "Kroger wants to bring more customers the convenience of affordable grocery delivery, and our pilot with Nuro will help us test and learn to understand customer acceptance of autonomous vehicles in our seamless offering."
How will this work?
The concept is a pretty simple one. Customers shop via frysfood.com or the Fry's Food Stores mobile app and place their order. They can schedule their grocery order for same-day or next-day delivery by Nuro's fleet of self-driving vehicles. There's no minimum order, but there is a a flat fee of $5.95 to use the service.
Nuro will begin the pilot using its self-driving Toyota Prius fleet and will introduce its custom R1 driverless vehicle this fall.
This phase of the pilot program holds a lot of answers for all involved. At the top of that list is learning how customers interact with the vehicles in real-time.
"We believe that great technology should benefit everyone," wrote Nuro's founders Dave Ferguson and Jiajun Zhu. "The team at Nuro is accelerating a future where robots make life easier and help us connect to the people and things we love. Together, we're pushing the boundaries of robotics to improve human life."
Ferguson and Zhu aren't new to the self-driving world. They were both founding team members of the Google self-driving car project. They started Nuro in 2016 in hopes of marrying robotics and artificial intelligence to solve challenges in ways that haven't been tried before.
Why Arizona?
Arizona has quickly gained a reputation of having a giant welcome mat for automated vehicles. Earlier this year, Uber's self-driving truck fleet made Arizona's highways the choice for its first road trip and Waymo pegged Arizona as its first market when it won approval for its commercial self-driving car service.
Arizona has a watchful eye on the driverless notion, though. In March, Arizona Governor Doug Ducey ordered an indefinite suspension of Uber's public road testing of driverless cars in the wake of a fatal accident involving one of its cars.
"In the best interests of the people of my state, I have directed the Arizona Department of Transportation to suspend Uber's ability to test and operate autonomous vehicles on Arizona's public roadways," Ducey wrote.