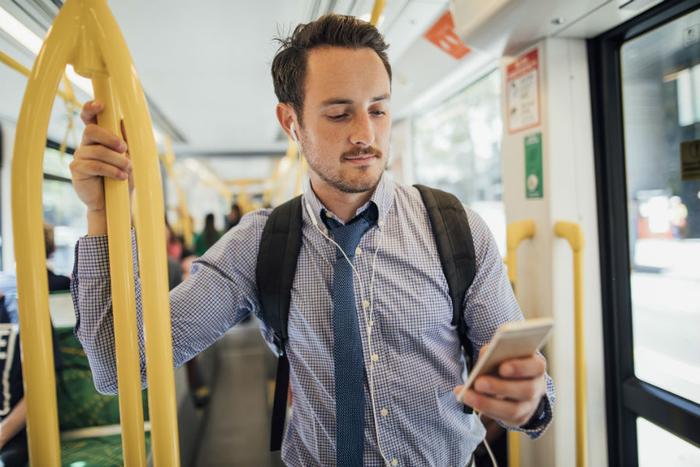 As Wi-Fi becomes more readily available on public transportation, while smartphones have practically become ubiquitous, employees have more opportunities than ever before to be productive on their trips to and from work.
Researchers at the University of the West of England released a new study this week that found if employees were on the clock while checking/responding to emails during their commutes, it would likely "allow for more comfort and flexibility."
For the purposes of the study, the researchers set out to examine the effects free Wi-Fi on commuter trains has on employees.
The study
Over the course of a 40-week period from 2016 through 2017, 5,000 rail passengers who travel on two of London's busiest routes -- to/from Birmingham and Aylesbury -- on the Chiltern Railways trains were surveyed.
The study found that many participants used their time on the train to prepare for their workdays or to catch up on various work tasks. While free Wi-Fi was offered, the majority of passengers took advantage of the feature, though some opted to use their own mobile data over the course of their commute.
The researchers also mentioned that this time commuting could be even more productive if the trains were better equipped for commuters' needs. The researchers suggested outfitting the trains with tables, power sources, and continuous Wi-Fi connectivity.
Effect on consumers  
Based on interviews with commuters, the researchers found that many workers appreciate their commuting time and use it to tie up loose ends both before and after the work day. Additionally, many workers use their time commuting to transition roles -- for those that kids ready for school in the morning, their commute is a time to prepare for their responsibilities in the office.
"If travel time were to count as work time, there would be many social and economic impacts, as well as implications for the rail industry," said study co-author Dr. Juliet Jain. "It may ease commuter pressure on peak hours and allow for more comfort and flexibility around working times. However, it may also demand more surveillance and accountability for productivity."