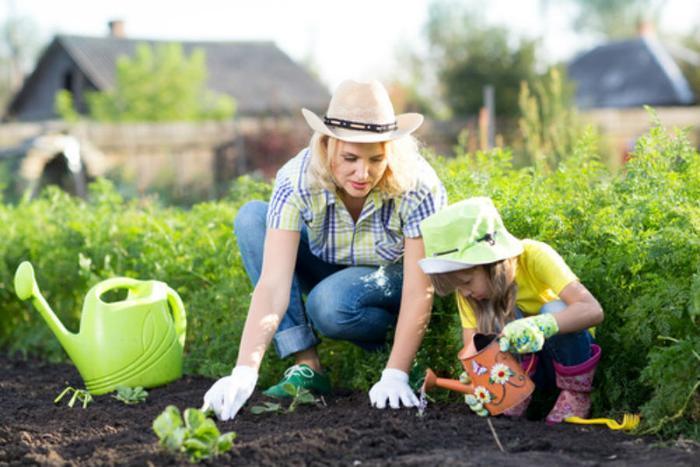 As a parent, you may be familiar with the idea of planting seeds. Sowing seeds of wisdom, success, or mindfulness, for example, can help children become happy, successful adults.
But taking a more literal approach to planting seeds may pave the way for a healthier, more veggie-filled future for your child. A new study finds that college students who learned to garden as children eat more fruits and vegetables than those who didn't.
To reach this finding, researchers polled 1,351 students at eight American universities. The study was part of the "Get Fruved" (or, "Get Your Fruits and Veggies") project. By looking at factors that influence the health behaviors of high school and college students, the Get Fruved project aims to improve the diets of students in the U.S.
Hands on experience
Students who said they currently gardened (38%) or learned to garden as a child (30%) ate 2.9 cups of fruits and vegetables per day. On the other hand, participants who said they never gardened ate 2.4 cups of fruits and vegetables daily.
But simply having a backyard garden as a child wasn't enough to influence health behaviors in adulthood, the study found. Kids needed to have learned to garden alongside their parents in order to become adults who ate more fruits and veggies than their peers.
"We found that if your parents gardened but you did not, just watching them did not make a difference in how much fruits and vegetables you eat in college. Hands on experience seems to matter," said Anne Mathews, a UF/IFAS assistant professor of food science and human nutrition and the study's lead author.
Opportunities for children
Mathews pointed out that the study's findings could be valuable to parents deciding what hobbies and programs to introduce to their children.
School officials could use the data when making choices about classroom curriculum and after-school options as well. More gardening opportunities for children could lead to a more produce-filled adult life, the researchers argue.
The study's abstract is published in the Journal of the Academy of Nutrition and Dietetics.
Getting started
As we've previously reported, gardening with kids is a great way to get them thinking about how food is grown. Interested in helping your child foster their green thumb? These tips may help.
Choose easier-to-grow veggies first. Selecting vegetables that are easy to grow (radishes, carrots, and lettuce, for example) can help boost kids' confidence.
Incorporate less familiar vegetables. When kids are involved in the process of growing unfamiliar vegetables, such as leeks, okra, or kohlrabi, they may be more likely to try them.
Keep a calendar. Create a timeline of events for your family's garden and allow kids to highlight important days, such as when to weed or water. Use stickers to mark days in which gardening tasks were accomplished.