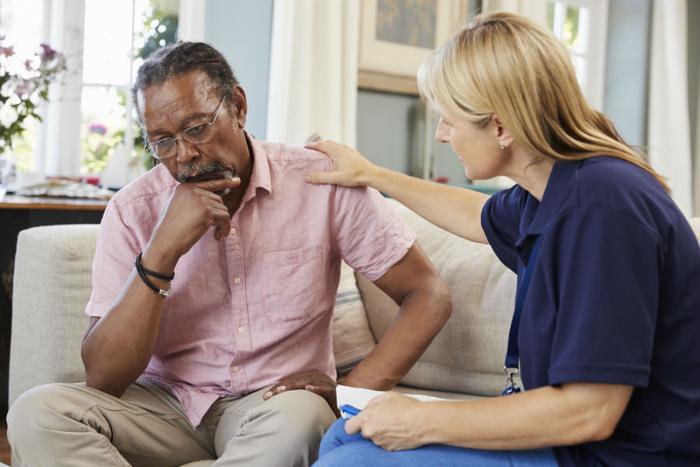 Introducing drugs as a treatment option for patients experiencing serious depression can come with mixed feelings, and now researchers are exploring the risks and benefits that could arise when older patients are prescribed the drugs.
While antidepressants are certainly a viable and life-changing option for many patients, that's not the case with all patients, and researchers from the American Geriatrics Society looked into how mental health professionals can best help their older patients.
What are the risks?
To see how medication affected older patients who were struggling with depression, the researchers conducted a study in which participants aged 65 and older took either an antidepressant or a placebo sugar pill for 24 weeks.
Those who were given the medication were prescribed either a serotonin and norepinephrine reuptake inhibitor (SNRI) or a selective serotonin reuptake inhibitor (SSRI), both of which are typically prescribed in the early stages of depression.
However, the researchers noted that over the course of the study, those who were given the sugar pills were doing better overall than those who had taken either SNRIs or SSRIs.
The participants who took the prescribed drugs were more likely to experience harmful incidents as a result of the medication, and many had to remove themselves from the study.
Though just one aspect of the researchers' study, it's important for both healthcare professionals and consumers to be aware of the potential risks associated with antidepressants.
Moreover, the researchers explained that certain depression medications can be harmful to the older demographic, as they can increase the likelihood of falls and subsequent injuries, particularly if patients have experienced dangerous falls in the past.
"Some of the antidepressants have not been studied in older patients with major depression, and studies don't often describe specific side effects," said researcher Diana M. Sobieraj. "Future research in this field is critical to better inform how the safety profiles of different antidepressants compare in older adults."
Finding the best treatment option for depression can be difficult, and the researchers encourage patients and healthcare professionals to review the American Geriatric Society's Beers Criteria, a comprehensive list of medications that may be harmful for older adults, before starting an antidepressant.
Staying informed
With over two million adults over the age of 65 suffering with depression, it's important for consumers to know the warning signs, as well as what they can do to better their mental health.
Older adults who are in poor physical health, poor mental health, or experience other health complications are at an increased risk of depressive symptoms.
Adopting healthy habits such as exercising, sleeping well, eating healthy, and avoiding tobacco were found to leave lasting mental health benefits, while researchers also recently found that a change in scenery can be effective as well.