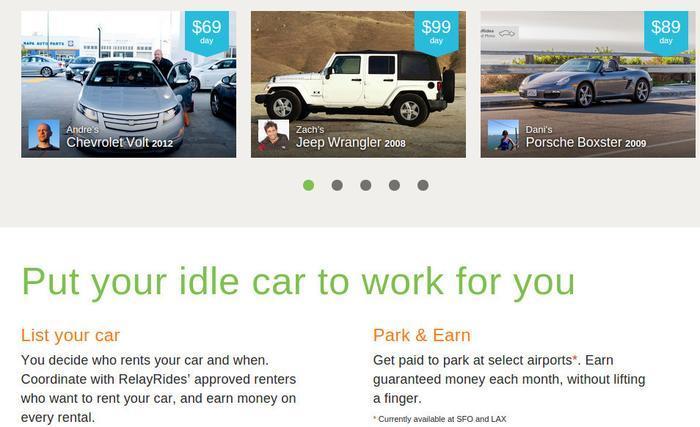 An Arizona man who rented out his vehicle through the RelayRides peer-to-peer service has been carless for at least a month, after his renter violated RelayRides' own rules, not to mention various state or federal laws, ultimately resulting in the vehicle's winding up in an impound lot under a 30-day hold.
Worse yet, RelayRides' promise of $1 million worth of insurance to cover rental problems "is a joke," the car owner says.
RelayRides didn't respond to requests for comment.
If you're not familiar with RelayRides, it's a peer-to-peer rental service often described as being "Like Airbnb, only for cars."
The theory behind peer-to-peer services – at least for the owners providing the services, not the customers who buy them – is basically this: "If you have an asset you're not currently using, why not make money renting it to someone who will?"
So if, for example, you'll be on vacation next week and not using your apartment anyway, peer-to-peer sharing services such as Airbnb can help you find an out-of-town visitor looking to rent your place for the duration. Similarly, if you won't be driving your car, services such as RelayRides can help you rent it out to a licensed driver who will.
Ideally, the result is that you make money from an underutilized asset, your customer saves money compared to the cost of renting that asset from a traditional business (such as a hotel or rental-car company) – and, of course, the peer-to-peer service developer gets a cut as well.
Reality falls short
Unfortunately, reality often falls short. So it's no surprise that, for all the many Airbnb "success stories," there are also horror stories of people who returned home to discover an Airbnb renter had trashed their place and stolen their personal property.
Not that this is exclusive to Airbnb; every hotelier and innkeeper in history runs the same risk when renting rooms to strangers. But hotels generally have extra rooms to spare when one gets trashed out of commission, whereas homeowners who rent their abodes out on Airbnb do not.
In retrospect, it's probably no surprise to learn that RelayRides presents a similar risk, only for cars. Last month that risk became real for "Will," a man in Phoenix.
Will contacted ConsumerAffairs in the hope that other vehicle owners would learn from his experience. He signed on with RelayRides last year and had four rentals in 2014, all of which went well. And Will was further reassured by RelayRides' offer of $1 million worth of insurance coverage, in case anything ever did go wrong. It says so right on the front page of RelayRides' website, beneath a green-lettered subheading urging vehicle owners to "Put your idle car to work for you":
We keep your car safe. All drivers are prescreened, and we provide $1 million insurance on every rental.
(Granted, attorneys who specialize in asset-protection planning say that in the context of peer-to-peer car rental, $1 million in liability insurance isn't remotely enough to protect rental-car owners should something go seriously wrong; if someone driving your car causes an accident that injures several people, their combined medical expenses and subsequent lawsuits can easily cost multiple millions of dollars. But that's irrelevant to Will's specific case.)
Religious convention
On April 30, Will rented his vehicle to a woman who said she wanted to drive it to an out-of-town religious convention. ConsumerAffairs looked at copies of Will's electronic communications regarding this story; the woman claims that her day job involves "travel[ing] client to client as a speech therapist assistant," though she wanted to rent Will's Dodge Grand Caravan (presumably because it has more passenger space than her own everyday vehicle) to attend the "Casa Grand[e] Assembly" – a Jehovah's Witness meeting hall in Casa Grande, Arizona.
She was supposed to return the Caravan on Sunday, May 3, but instead sent Will a text message asking to extend the rental another day. Will agreed, and the next day went to Sky Harbor airport, as arranged, to retrieve his vehicle – except the woman never showed up. Will sent her repeated text messages asking where she was and what happened, and she finally sent a text saying she was running late, and asked Will to bill her another day:
May need an extension I'm running late I'm sorry. Charge my card for another day. My apologies.
"I can't bill her credit card," Will later told ConsumerAffairs in a phone interview. "I don't even have that information."
Closed for the night
As soon as he got this message, Will tried contacting RelayRides, but they were closed for the night. Next morning, May 5, Will started calling as soon as the RelayRides office opened for business, at 8 a.m. Arizona time. "They told me they were sorry for the inconvenience, and said they'd contact [the woman who rented his car] and find out what was going on."
Just after one that afternoon, presumably after RelayRides contacted the renter, she texted Will to say:
I'm trying to reach my sin [sic] he has it. He thinks its [sic] due back at 9 tonight.
A furious Will immediately responded: "You[r] son was not authorized to drive my van, you said you would drive."
After a couple more stalling text messages, the woman finally admitted the real reason for the delay: not only was her son not authorized to drive the van, he wasn't authorized to drive at all, since he had a suspended driver's license. And the woman was never "running late" as she'd claimed. Will's vehicle had actually been impounded:
My son and his friends were pulled over in Bisbee. His license turned out suspended [sic]. I'm so sorry for this. It was towed and they were stuck in Bisbee for few [sic] days.
Will called RelayRides as soon as he learned this. "RelayRides apologized again, but the guy kept asking me if I'd met her son, if I'd given him the key, did I know he'd do this … basically, trying to make me responsible." But Will told RelayRides he never authorized her son to drive the car, and his text-message record with the renter backs up his story.
That record also shows how furious he was to discover something else about the son's recent behavior: "I cannot believe that you would allow your son who was just arrested 2/24/15 for drug possession, use and paraphernalia to drive my families [sic] van …. You lied and said you needed it for church."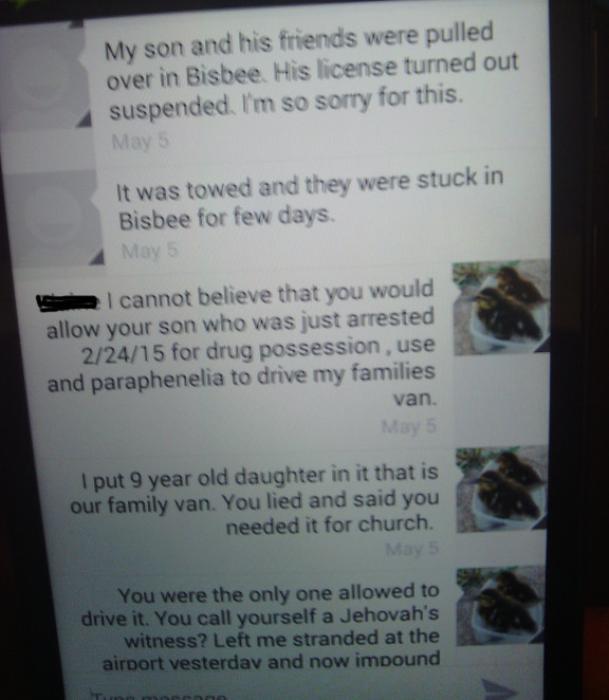 Will went to Bisbee in an attempt to get his vehicle out of impound, but couldn't. "The judge said RelayRides is not a licensed rental car circle."
For what it's worth: RelayRides' "Owner help" page does include the FAQ "What happens if someone gets a traffic violation or ticket in my car?" This is the full answer:
A renter is responsible for paying any tickets received during the reservation as well as any parking tickets received 24 hours after the end of the reservation.  If you find a parking ticket on your car or one is mailed to you, please pay it, and send a copy to us at support@relayrides.com and we will reimburse you by adding the amount to your next owner payment. (Please note that RelayRides is not responsible for late fees added on to unpaid toll notices or parking tickets.) Please remember that we'll need to see the complete date and time of the violation, as well as the reason, for full reimbursement!

If the ticket is a moving violation, and particularly a photo-ticket where the driver is not identified, we will provide (upon request to support@relayrides.com) documentation to you to support your contesting of the violation and/or transferring of the violation to the renter. Please note that procedures differ by jurisdiction.  
As for what happens if a car gets impounded:
If an owner's car is towed to an impound lot as a result of renter misuse, RelayRides will provide the owner with all information the owner requests so they can retrieve the car in accordance with the requirements of the lot or related governmental entity. 

The renter will be held responsible for all fees associated with the tow and impound.
Regarding the question "What if my renter is late," RelayRides says:
If a renter has not returned the vehicle or contacted you by the end of the reservation, don't panic. ... Don't worry, while the renter's insurance and protection may be reduced or invalidated due to the late return, your protections as an owner remain unaffected.
What protections?
So what "protections as an owner" has Will enjoyed thus far? "They said if I rent a car, they would possibly compensate me for it …. they also offered $200 for meals when I pick up my car [from the impound lot]."
Meanwhile, Will doesn't have his car – which among other things means he had to cancel other appointments he'd made to rent the vehicle through RelayRides. He hasn't been offered any compensation for that.
ConsumerAffairs contacted RelayRides' press office to ask about Will's dilemma (mentioning his full name and other details identifying his case). After three business days plus a weekend, we've heard no response.
Based on RelayRides' posted online policies, however, it sounds like their much-ballyhooed $1 million worth of insurance won't cover any of Will's losses here, nor pay for any legal assistance he might need while trying to recoup his costs from the woman who dishonestly rented his vehicle on behalf of someone legally forbidden to drive.
After all: RelayRides' own online policy says that if your car is impounded while someone else rents it, the company will "provide the owner with all information the owner requests so they can retrieve the car in accordance with the requirements of the lot or related governmental entity."
But financial assistance? Legal help? No mention of either one.