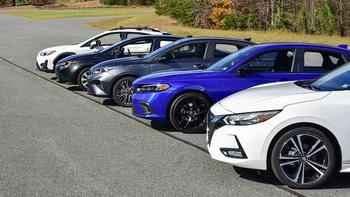 Results were mixed for the eleven cars that were put through the Insurance Institute for Highway Safety's (IIHS) new, tougher side-impact test.
The Mazda 3 sedan and Mazda 3 hatchback received good ratings, while five others -- the Nissan Sentra, Toyota Corolla sedan, Toyota Corolla hatchback, Honda Civic sedan and Honda Civic hatchback were acceptable.
Bad news for the Kia Forte, Subaru Crosstrek and the Subaru Impreza sedan and wagon: They were rated poor.
Interestingly, all 11 vehicles earned good ratings in the original side test.
New test more reflective of real-world conditions
"Smaller, lower vehicles are at a disadvantage when struck by the new test barrier, which is a more realistic representation of the front end of a typical modern SUV than our old barrier, " said IIHS Senior Research Engineer Becky Mueller.
"Clearly, some manufacturers have already figured out how to provide sufficient protection in a crash like this even for occupants of small cars."
"It's encouraging to see so many small cars with passing grades in this new side test," she added.
The updated test is not included in the IIHS award criteria at this point. However, starting in 2023, a good or acceptable rating will be required for the lower-tier TOP SAFETY PICK award and a good rating will be needed for the higher-tier TOP SAFETY PICK+.
The complete ratings for the eleven vehicles tested may be found here.