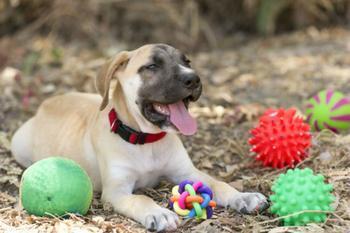 The home of a pet owner is typically fairly easy to distinguish from the home of a non-pet owner. From the dog toys on the floor to the pet hair on the sofa, there's often evidence of an animal's presence beyond the four-legged creature itself.
Spring cleaning may also look a little different for a pet owner versus a non-pet owner. In addition to clearing out cobwebs and getting rid of items accumulated over the winter, pet owners may need to clean or toss certain pet supplies.
Studies show that pet food bowls are among the dirtiest items in the house, while pet toys can collect dirt, bacteria, yeast, and mold. Neglecting to clean or replace pet products can result in a home filled with dirt, bacteria, and allergens.
Here's when to clean your pet's beds, bowls, and toys in order to keep your home clean, healthy and smelling fresh.
Bowls and feeding accessories
Pet bowls are one of the germiest items in American homes, according to a study by the National Safety Federation (NSF). Yet, 1 in 5 pet parents who responded to a new survey by Petco admitted to waiting at least a month to clean their pet's eating and drinking bowls.
To get rid of germs and bacteria that may upset your pet's stomach, wash your pet's bowls daily with hot water and mild dish soap. If the bowl is dishwasher safe, you can simply toss it in the dishwasher.
During those times when your pet's bowls are being cleaned, it can be helpful to have one extra set of pet food and water dishes on hand. Additionally, be sure to replace dishes and bowls if they are cracked, chipped, or scratched.
Beds and blankets
Pet bedding should be rotated at least once a week to get rid of the bacteria and allergens that dogs and cats drag in, Petco advises. Cleaning your pet's bed and blankets on a regular basis can minimize pet odors, as well as keep your dog's skin and coat looking healthy.
Wash your pet's bedding weekly with a mild, perfume-free detergent using the hottest recommended water temperature (in a load separate from your own clothing). If you notice any tears or other damage on the bedding, such as loose stuffing, experts recommend replacing the items completely.
Toys
Pet toys are also one of the top 10 germiest spots in our homes, according to the NSF's study. Fido's favorite squeaky toy can be a source of coliform bacteria (including Staph bacteria), yeast, and mold.
Rubber and even some fabric toys can be placed in the top shelf of the dishwasher to be cleaned. Alternatively, you can hand wash toys with hot water and mild dish soap. Soft toys can be tossed in the washing machine on the sanitizing cycle.
Throw away toys if they have any ripped seams or if the stuffing or squeaker has started to come out. Rubber toys that have been chewed to the point of having sharp edges should also be thrown away as they could injure pets' mouths and stomachs.