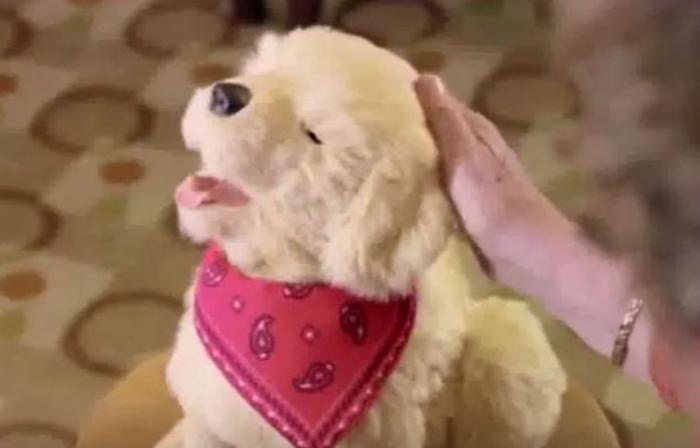 Pets are beloved for their ability to provide companionship. While people of all ages may thrive under the companionship of a pet, the elderly in particular may benefit the most.
As we reported, having a dog around can lead to an improvement in the overall mental and physical state of elderly individuals. The happiness that dogs impart to their elderly owners can often be chalked up to the fact that dogs need care, including exercise and socialization.
Dogs, of course, can't purchase their own food or bring themselves to the park; their owners must attend to their every need. In return, pets provide unconditional love and a self-esteem boost that comes as a result of being a pet's sole provider and caretaker.
But what if seniors can't take care of a pet? Hasbro thinks that even senior citizens who can't have a real pet -- whether due to physical limitations, financial constraints, or living arrangements -- should be able to experience the companionship of an animal.
Robotic companion pets
The toy manufacturer recently announced that its "Joy for All" line of toys would be getting a new member: a robotic golden retriever puppy.
Previously, Hasbro's line of senior citizen-targeted toys was exclusively feline-focused. Consumers could purchase one of three different colored cats. So what's in it for those who welcome a robotic cat or dog into their life?
For starters, no potty-training related accidents. There's also no need to purchase food, no need to take your robotic pet for a walk, and no fear that your pet will dart out the door.
But what these virtual pets lack in physical needs, they make up for in responsiveness. Hasbro's robotic pets respond to petting and hugging, just like real pets.
Reponds to touch 
Designed to "bring joy and comfort joy and comfort to aging loved ones," the toy pets have a heartbeat as well as built-in sensors that respond to motion and touch. They can bark or purr, nuzzle your hand, and move their heads in response to different interactions.
Pairing a senior citizen with a robotic companion isn't a new concept. Digital Trends notes that an emotionally intelligent robot was introduced into the homes of several homebound senior citizens during a trial in the Netherlands. Most seniors responded positively to the presence of the "care-bot."
Hasbro's robotic companions can be purchased on their website. The cats are available for $99, and the puppy is available for $119.