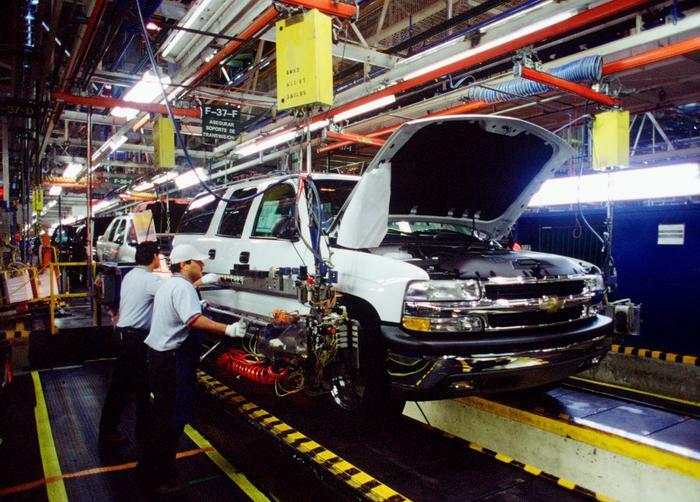 General Motors (GM) has officially filed recall documents with the National Highway Traffic Safety Administration (NHTSA) in response to the agency's petition that it recall vehicles with airbag inflators that could explode. 
In November, the auto safety agency requested that GM recall millions of trucks and SUVs equipped with Takata airbag inflators. Now, the automaker says the recall campaign will kick off March 1. 
GM originally contested the NHTSA's decision, saying it didn't believe the airbags in the vehicles in question were subject to the same deterioration as those in the other vehicles with Takata inflators that have been recalled.  
"Based on data generated through independent scientific evaluation conducted over several years, we disagree with NHTSA's position," GM said in a statement at the time. "However, we will abide by NHTSA's decision and begin taking the necessary steps."
The NHTSA dismissed that argument, saying that it found that the GM inflators are in fact "at risk of the same type of explosion after long-term exposure to high heat and humidity as other recalled Takata inflators." 
Affected models
The trucks and SUVs involved in the recall include the 2009 Cadillac Escalade, Escalade ESV, Escalade EXT, Chevrolet Avalanche, Silverado 1500, Silverado 2500, Silverado 3500, Suburban, Tahoe, GMC Sierra 1500, Sierra 2500, Sierra 3500, Yukon, and Yukon XL. 
GM said the recall covers vehicles sold or registered in the following states: Arizona, Arkansas, Delaware, District of Columbia, Illinois, Indiana, Kansas, Kentucky, Maryland, Missouri, Nebraska, Nevada, New Jersey, New Mexico, North Carolina, Ohio, Oklahoma, Pennsylvania, Tennessee, Virginia, and West Virginia or "Zone B."
Additionally, the recall includes certain 2007-2008 Cadillac Escalade, Escalade ESV, and Escalade EXT, Chevrolet Avalanche, Silverado 1500, Suburban, Tahoe, GMC Sierra 1500, Yukon, and Yukon XL vehicles originally sold, or ever registered, in the states of Alaska, Colorado, Connecticut, Idaho, Iowa, Maine, Massachusetts, Michigan, Minnesota, Montana, New Hampshire, New York, North Dakota, Oregon, Rhode Island, South Dakota, Utah, Vermont, Washington, Wisconsin, and Wyoming or "Zone C."
Look out for a recall notice
The vehicles affected are equipped with an airbag inflator that could degrade over time and eventually explode, resulting in "sharp metal fragments striking the driver or other occupants, resulting in serious injury or death," the NHTSA said. 
Owners of affected vehicles will receive notice of the recall starting March 1. 
General Motors doesn't currently have a fix waiting in the wings. The NHTSA says owners can expect another letter at a later date saying that they can bring their truck or SUV to a dealer where a technician will install a new front passenger airbag at no cost.