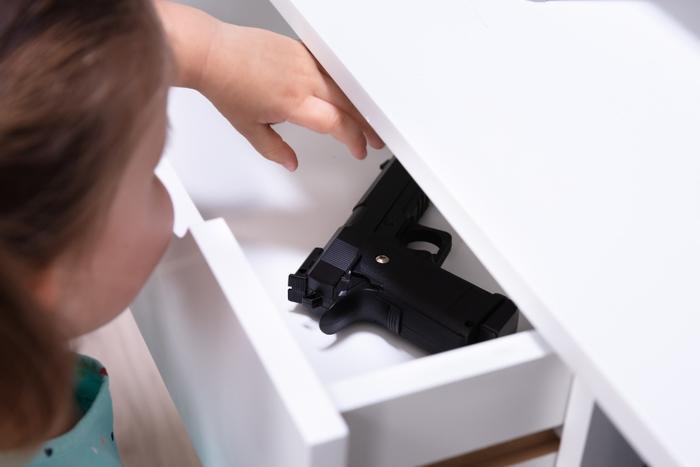 A new study conducted by researchers from the University of Washington found that nearly half of all gun owners are keeping their guns unlocked at home. 
The survey focused on Washington residents, all of whom had attended gun safety events where they received free devices to lock up their guns. However, 40 percent of survey respondents reported not locking their guns at home. Unfortunately, having kids around didn't improve this behavior. 
"Even in this population, which had some interest in or awareness of firearm safety, there was a high prevalence of unlocked firearms," said researcher Aisha King. 
Prioritizing gun safety
The researchers surveyed attendees of 10 gun safety events in Washington State that occurred between 2015 and 2018. Participants were asked to report on their gun safety habits, including how they most often stored their firearms at home. 
This population was unique in that they were not only all gun owners, but they were attending events designed to enhance safety around guns. Participants even received proper training on the safest ways to store guns in the home. 
"The purpose of the events is to increase the use of safe firearm storage, an evidence-based strategy to reduce firearm-related injuries and death," said Elizabeth Bennett, co-director of the gun safety events at Seattle Children's Hospital. "Our goal is to create a more comfortable environment to learn about locking up firearms and to have the devices ready to use right away." 
The survey findings showed that 40 percent of participants typically did not lock up their guns at home, even when kids were around. Moreover, nearly 15 percent of participants said their guns in the home were loaded and left unlocked. 
These results emphasize the importance of following gun safety, especially when kids are in the house, as leaving guns unlocked and loaded can increase the risk of any number of injuries or accidents. 
"A lot of times, the kids do know," said King. "Also, guardians might think that training adolescent or older children is enough to keep them safe, that training means they don't have to lock their guns. Unfortunately, a lot of adolescents are at high risk of suicide, and unlocked guns add to that risk -- regardless of training."