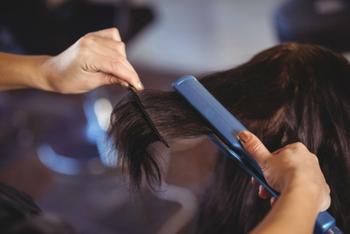 Two environmental groups have sued the Food and Drug Administration (FDA), charging the agency with allowing hair products with "unsafe levels of formaldehyde" to remain on the market.
The lawsuit, filed by the Environmental Working Group (EWG) and Women's Voices for the Earth, claims the hair-straightening products pose a hazard to consumers and salon workers.
The suit is the latest chapter in an ongoing saga in which the two groups have pressed the FDA to investigate popular hair-smoothing products that are available in stores and widely used in hair salons.
The plaintiffs says the products contain liquids that can release formaldehyde, which they say is not only a carcinogen, but also a fairly potent allergen.
"The FDA has failed to protect stylists and consumers from exposure to formaldehyde," said Melanie Benesh, a legislative attorney at EWG. "Since at least 2008, the agency has known about the health hazards associated with these hair straightening products and done nothing. Despite the complaints, the FDA has yet to take action to regulate these products."
Salon workers report symptoms
The two environmental groups say the hair-straightening solutions are applied to hair and then heated, which then releases formaldehyde into the air. Alexandra Scranton, director of science and research for Women's Voices for the Earth, said salon workers have suffered symptoms that are linked to these products.
"The health risks posed by these products deserved immediate action from the FDA when it was brought to its attention in 2008," Scranton said. "Allowing salon workers and their customers to continue to be harmed by these products for more than six years is unconscionable."
The American Cancer Society notes that professional keratin hair smoothing products can contain formaldehyde or formaldehyde releasing chemicals.
"Using these can raise indoor air concentrations of formaldehyde to levels that could be a potential hazard," the group says on its website.
The plaintiffs complain that products labeled "for professional use only" are not required to list ingredients on the label. They are backing proposed legislation in the U.S. Senate that would require ingredients to be listed on all cosmetics products.