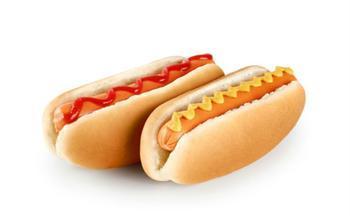 The nonprofit Physicians Committee is urging children's hospitals in six cities to remove hot dogs from patient menus. The group says hot dogs aren't only hazardous to people's health, they pose a choking risk to children.
Billboards and other advertisements are being used by the group of 12,000 doctors to spread the word on the potential dangers of hot dogs, which include an increased risk of colon cancer.
In an effort to have hot dogs out of hospitals by March, in time for Colorectal Cancer Awareness Month, the Physicians Committee sent strongly worded letters to hospital CEOs in states with notably high death rates from colorectal cancer.
'Carcinogenic to humans'
The hospitals being targeted are situated in "the colon cancer corridor," which is comprised of nine states: Ohio, West Virginia, Kentucky, Tennessee, Alabama, Mississippi, Louisiana, Arkansas, and Oklahoma.
Advertisements posted near the targeted hospitals feature a little girl holding a hot dog with the words, "Choking risk now, cancer risk later?" In addition to ads and billboards, the group is seeking to raise awareness online with a hashtag campaign on social media entitled #HazardousHotDogs.
Hot dogs serve as an indicator of a disease-promoting food environment, according to the doctors. The World Health Organization has warned that processed meats, including hot dogs, are "carcinogenic to humans." Despite this warning, a report by the committee found that 72% of surveyed children's hospitals in the U.S. serve hot dogs to patients.
Disease-fighting meals
"Children's hospitals can become leaders in preventing diet-related diseases by increasing the offerings of healthful, plant-based options that are popular with patients," said Karen Smith, R.D., senior dietitian for the Physicians Committee.
Smith added that healthful menu options could include veggie pasta and fruit smoothies. Such menu offerings could help to combat the increasing rate of colon cancer among young people (ages 20 to 34 years).
At least three children's hospitals located in the corridor have already taken hot dogs off their menus, including West Virginia University Children's Hospital. Hospitals that have done so won't be targeted with advertisements, the group said.