Photo (c) Maskot - Getty Images
Prime Day 2023 is going to come at us like it never has before and more deals, more often is going to be very tempting to the savings-hungry consumer. 
Being overzealous could be a problem, however. First there are lots of Prime Day scams. Plus, one expert warns that counterfeiters are popping up their tents to make bank off of any shopper who doesn't pay attention to detail.
Even though Amazon is getting aggressive with counterfeiters, Henry Jin, associate professor of management at the Farmer School of Business at Miami University, specializing in counterfeit products in supply chains, says all's not safe... yet.
Sold by, shipped by
From Jin's perspective, the biggest red flags consumers should be on the lookout for are the "Sold by" and "Shipped by" options.
He suggests that the most trustworthy option is "Sold by and Shipped by" the manufacturer directly, followed by "Sold and Shipped by Amazon. Conversely, "Sold by and shipped by" a third party unrelated to either the manufacturer or Amazon is the riskiest.
Jin says that shoppers need to pull back the curtain a bit and double-check things. For example:
Apparel and shoe brands that have a high risk of counterfeiting usually have on their website ways you can authenticate their products. Make sure to do that.

For device storage products such as micro SD cards, simply plugging them into your device won't tell you their actual capacities. You'll need an app to verify that.
"All in all, if a deal looks too good to be true, then chances are it is too good to be true," Jin said.
Don't let prices fool you either
The default thinking for whether something is counterfeit or not used to be if something was far cheaper than it should be. However, that narrative has flipped.
Now, counterfeiters are pricing their items close to what the real products are going for, hoping to find a shopper who's dumb enough to think that a $5-10 price difference is simply a retailer using competitive pricing.
Check shipping times
Not to say that because a product takes four to six weeks to ship and be delivered is a telltale sign that a product is a counterfeit, but it could be. 
But if a product's listing says that it ships within one to two days from the U.S., you can't assume that it's authentic, either.
"In reality, these products might actually be coming from overseas," says Ganda Suthivarakom, who writes about scams for Wirecutter.
"Today, what these third-party sellers can do is they can participate in Fulfilled by Amazon, even if that stuff took six weeks to come by boat to a warehouse, it can take one day to ship to you on Prime."
Take a closer look at product photos, too
Suthivarakom warns that Amazon's product images don't always reflect what shows up when they arrive either. She says that third-party sellers love using stolen photos – especially on a brand-new listing – which makes it impossible to judge a product's authenticity just from the page photo.
As you can see, success has many fathers. If a particular product starts selling like hotcakes, there are likely to be imitators. Sometimes lots of me-too manufacturers like in this example of an "oven glove" being sold on Amazon.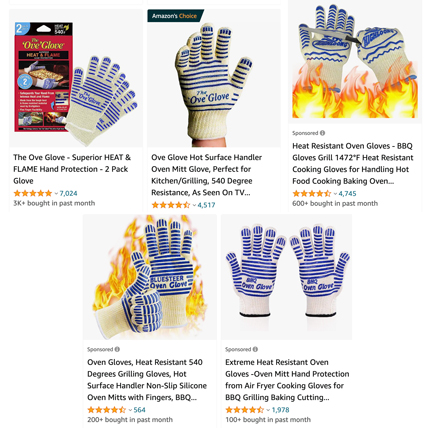 One good way to sniff out a fake product photo is by drilling down to reviews and looking for reviews that contain photos.

Oftentimes, if a product is fake, a reviewer will call the company out on that and show the places on the product that may relate to it being counterfeit.
In her team's counterfeit hunting, Suthivarakom said they found a package for a counterfeit Ove Glove that was nearly identical to the real thing, but that the real package had a spelling error.