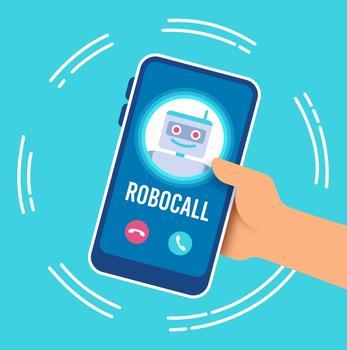 The robocall rollercoaster ride continues. The YouMail robocall statistics are in for September, and Americans were on the wrong end of 4.5 billion calls for the month. The numbers were down 5.2 percent from August and 13.5 percent from the all-time high in March of 5.2 billion robocalls. 
Consumers shouldn't start celebrating yet, though. YouMail CEO Alex Quilici says that robocall numbers for all of 2019 are still at worrying levels.
"Happily, September had a meaningful but unsurprising decline in robocall volume, as it was a shorter month than August and included the Labor Day holiday weekend," the executive said. "While that's still good news, the tougher news is that we received over 43.3 billion calls in the first 9 months of the year, and we are still on pace to wind up with nearly 60 billion calls to U.S. consumers this year."
September's most frequent robocall scams
September's dip was largely based on a reduction in "legal reminder" robocalls -- including 33.6 million tied to a Student Loan – Big Action Lawsuit scheme; scam calls generally stayed flat day-to-day. 
Here are the scam numbers by type for September:  
Rank

Type of Scam

Estimated September

Robocalls

Summary of Scam

1

Health-Related Scams

373.9 million (+29 percent)

Identity theft/scam payments/illegal solicitations

2

Interest Rate Scams

173.9 million (+13 percent)

Identity theft/financial scams

3

Student Loan Scams

165.0 million (-7 percent)

Identity theft/scam payments

4

Social Security Scams

142.6 million (+1 percent)

Identity theft/scam payments

5

Warranty Scams

123.0 million (-19 percent

Scam payments/illegal solicitations
Consumers falling for Social Security scams
The Federal Trade Commission has been working to stop robocallers from fleecing consumers, but scams continue to be a huge problem. In fact, the Social Security scam is currently number one on the FTC's robo chart, with consumers filing more than 70,000 reports specifically about that swindle in the first six months of 2019. Sadly, there were enough patsies among those complaints to make those cybercrooks $17 million richer.
Consumers who get a call with a message that is related to Social Security are advised by the FTC and Social Security Administration (SSA) to hang up and remember these important points:
No one's Social Security number is about to be suspended and never will be.

The real Social Security Administration will never call to threaten anyone about their benefits.

The "real" Social Security Administration will never tell anyone to send money via wire transfer, send cash, or put money on a gift card.
"Lots of government agencies have been impersonated," said FTC official Emma Fletcher. "The scammer's pitch is even more convincing when they fake the number on your caller ID so it shows the name or phone number of a real government agency. It's illegal to fake the number on caller ID, but scammers know it helps convince people that the caller really is with the government."