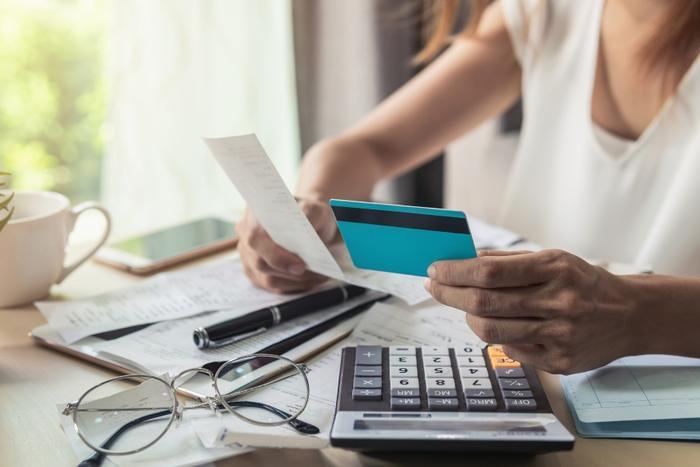 Consumers took on $35.6 billion in new credit card debt during the second quarter of the year, according to a new credit study.
The personal finance site WalletHub reports that it's the largest second-quarter buildup of credit card debt on record, raising new concerns about the financial health of U.S. consumers. While increased credit card spending doesn't necessarily raise red flags, the additional debt, with double-digit interest rates, is cause for concern.
"Our overleveraging problem has been trending in the wrong direction for some time now, and the latest data indicate we're truly entering dangerous territory," said WalletHub CEO Odysseas Papadimitriou.
Consumers began the year owing more than $1 trillion on their credit card accounts but  managed to repay $38.2 billion in the first three months of the year. But spending discipline appeared to vanish in the second quarter as spending dramatically increased faster than payments. The study authors now project a $70 billion net increase in consumer credit card debt by the end of the year.
Expensive debt
Credit card debt is among the most expensive debt there is. The average credit card interest rate is around 16 percent, making it difficult to pay down large balances.
On a brighter note, the Federal Reserve is expected to cut a key interest rate when it meets next week, which almost always results in a reduction in most credit card rates. The WalletHub study estimates the savings to consumers from a Fed rate cut would be around $1.6 billion annually.
With a lower interest rate, consumers with a large credit card balance would be able to pay it off at a faster rate, especially if they increased their monthly payments a bit. But experts say they're not seeing that trend.
"Unfortunately, that's not what we're seeing," said Papadimitriou. "Instead, it seems like consumers are ramping up their reliance on credit card debt. This is an ominous signal, as there are a lot of similarities to the time shortly before the last recession."
According to the study, the average credit card debt per household in the second quarter was $8,602, which is a 5 percent increase over the second quarter of 2018. Total credit card debt was also up 5 percent over a year ago.