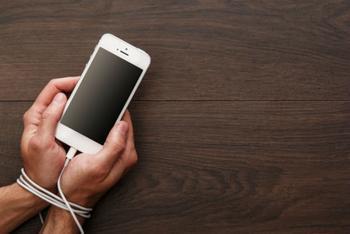 Between text message alerts and the array of constantly updating social media feeds, smartphones make a compelling plea for attention. But keeping up with the social world within your device could take a toll on your physical and mental health, experts say.
A new survey from the American Psychological Association (APA) has revealed that more than four out of five adults in the U.S. (86%) admit to constantly checking their email, texts, and social media accounts.
These "constant checkers" are more likely to experience higher stress levels, according to the APA. On a 10-point scale (with 1 being "little or no stress" and 10 being "a great deal of stress), the average overall stress level for constant checkers was 5.3 compared with 4.4 for those who don't check as frequently.
Significant stress
Checking work email constantly on days off was also found to ramp up one's stress levels. Respondents who admitted to frequently checking work email on their days off reported an overall stress level of 6.0.
While scrolling through a social media feed or two may seem harmless enough, experts from the APA say being constantly connected could wreak havoc on your health.
"Today, almost all American adults own at least one electronic device, with many being constantly connected to them," said Dr. Lynn Bufka, APA's associate executive director for practice research and policy.
Effect on health
"What these individuals don't consider is that while technology helps them in many ways, being constantly connected can have a negative impact on both their physical and mental health," Bufka continued.
Social media, in particular, has been shown to cause a spike in stress levels. More than two in five constant social media checkers (42%) said that political and cultural discussions on social media cause them stress, compared with 33% of non-constant checkers.
Children's attachment to their phone or tablet can also give rise to some unwanted consequences. The survey found that almost half of parents (45%) said they feel disconnected from their families even when they are together because of technology.
Unplugging
The mental health repercussions that may come as a result of constantly checking your device can be mitigated by periodically "unplugging" or taking a "digital detox," Bufka says.
While two-thirds of Americans (65%) agreed that taking a digital detox can be beneficial, only 28% of respondents actually reported unplugging. But Bufka says constant checkers may want to consider taking a break from technology.
"Taking a digital detox is one of the most helpful ways to manage stress related to technology use," she said. "Constant checkers could benefit from limiting their use of technology and presence on social media. Adults, and particularly parents, should strive to set a good example for children when it comes to a healthy relationship with technology."