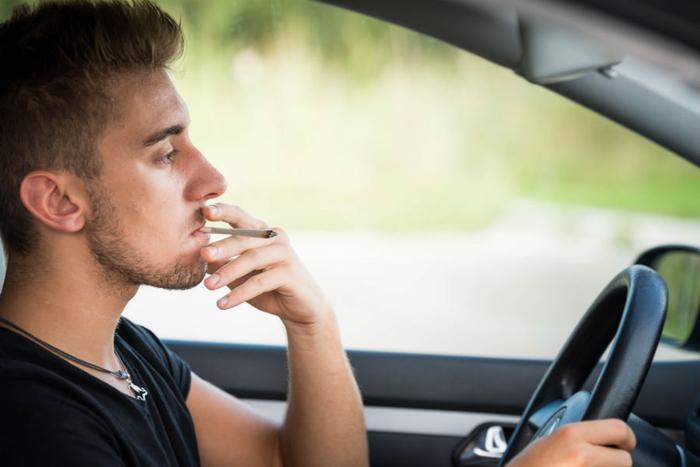 Attorney General Jeff Sessions is reportedly planning to let federal prosecutors "aggressively" enforce federal marijuana laws, putting a multi-billion dollar industry and reform efforts in states like California in limbo.
The Associated Press reported Thursday that Sessions plans to rescind the Cole memo, an Obama-era policy that advises federal officers to de-prioritize marijuana prosecutions in states where voters legalized weed.  
The Law Enforcement Action Partnership -- a coalition of former officers who support a number of drug and police reforms, including the  legalization of marijuana -- says that Sessions' plans could create "chaos" in dozens of states.
Developing a marijuana intoxication test
In California, for instance, where medical marijuana has been legal for years, a long-awaited voter proposition allowing the sale and possession of recreational marijuana went into effect on January 1.
State authorities in California have already made significant investments into regulating the drug. The California Highway Patrol in 2016 awarded $3 million in annual grant money to researchers at the University of California in San Diego so that they could determine a marijuana intoxication threshold test.
Because marijuana remains in the system well after the user is stoned,  motorists have expressed concern that they could be unfairly arrested for driving after their high has worn off.  
"The ultimate goal is to find a way to determine if a motorist is impaired by marijuana by examining various body fluids (blood, saliva, breath) and cognitive testing that could be done at the roadside," UCSD psychiatrist Thomas Marcotte explained to the San Diego News Tribune in 2016.
Identifying impairment behind the wheel
The California Peace Officers Association, which represents most police agencies in the state, lobbied against the legalizing weed but says they endorse the idea of a uniform marijuana  impairment test. "There's no real easy way to test for it and to identify the symptoms of impairment," CPOA's deputy director Shaun Rundle tells Consumer Affairs.
Diane Goldstein, a retired lieutenant commander who now lobbies for the legalization of marijuana as a board member for the Law Enforcement Action Partnership, also likes the idea of a uniform impairment test, or weed's equivalent of a breathalyzer test for drunks. But she argues that officers don't need to wait on the UCSD study to start arresting impaired drivers in California.
"Law enforcement has been arresting people for driving under the influence of marijuana for years," she tells Consumer Affairs.
If police in a legal state complain that they can't arrest stoned motorists, Goldstein attributes it to poor training. "They haven't trained their officers well enough in advanced roadside training and detection," she says.
Marijuana ban remains for law enforcement
Consumption of weed while driving remains illegal in California, as do laws banning marijuana users from owning guns, among other obvious conflicts for officers who might consider consuming marijuana themselves.  
In November 2016, shortly after Californians voted to approve recreational marijuana,  attorneys representing the state's police association published a legal notice on the CPOA website called "Proposition 64 and Peace Officers – Can They Now Legally Use Marijuana?"
Despite the encouraging headline, the police association attorneys warned officers that, no, they probably can't.
"The decision regarding peace officers will, obviously, be made by each individual agency," it says. "It is important to note that peace officers take an oath to uphold, and obey, all state and federal laws."
CPOA's attorneys have not returned an inquiry about why they published that notice, but association director Shaun Rundle points out that allowing officers to consume marijuana would prevent agencies from receiving federal grants.
"I think the question came up, since its a federal issue" in conflict with state law, he says, not because any agency expressed interest in letting its officers smoke.  
Weed industry still at risk
For now, the more pressing issue facing officers and consumers in legalized states is the unknown consequences that renewed drug enforcement under Sessions will bring. The Law Enforcement Action Partnership says that rescinding the Cole memo would create major headaches for police.
Growers, dispensary owners, and others in the industry still risk losing their livelihoods. In addition to getting arrested, they also worry about civil forfeiture laws that allow police agencies to permanently seize the assets of a person who is simply suspected of a crime.
The Drug Enforcement Agency alone has seized $3.2 billion from drug suspects over ten years, the United States Office of Inspector General found in 2016.