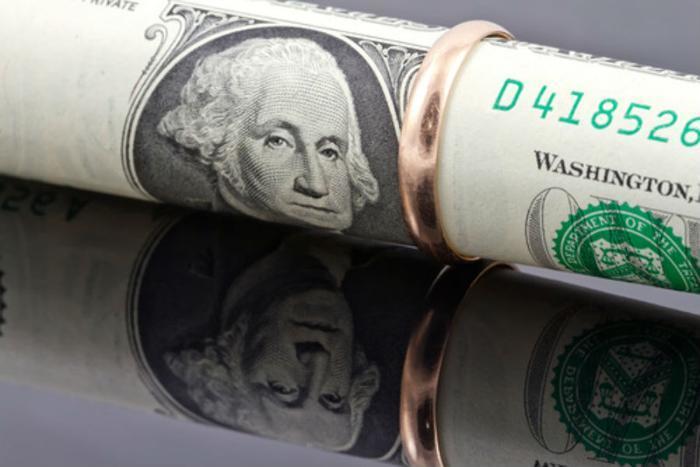 Returning home from the honeymoon means getting back to reality. But for many newlyweds, getting back to reality doesn't just mean going back to work — it means staring down post-wedding debt.
Last year, the average wedding budget hit an all-time high of almost $30,000, according to XO Group. And while spending big on a lavish affair may seem like the perfect way to celebrate your love story, studies show that scrimping a bit on the budget may benefit your marriage in the long run.
Emory University economics professors Andrew Francis and Hugo Mialon found that, when it comes to weddings, spending more means splitting sooner. So if it's longevity you're after in a marriage, it may be in your best interest to watch your budget.
Money-related tension
In a survey of more than 3,000 people, Francis and Mialon found that — across all incomes — the more couples spent on their wedding, the shorter the marriage. Alternatively, spending less than $1,000 on the big day was significantly associated with a decrease in divorce rates.
In addressing the "why" behind this phenomenon, the researchers said that it could simply be that financial burden creates tension in marriages. Debt stress can increase the likelihood of money-related arguments, and arguments about money are the number one predictor of divorce.
As we reported, it doesn't matter how wealthy you are. Arguments about money happen at all income levels, and they take couples much longer to get over than other issues.
"Many relationships are destroyed because of overspending and debt problems," said Bruce McClary, National Foundation for Credit Counseling vice president of public relations and external affairs. "Starting with a healthy approach to financial management helps create a solid foundation for the long term success of a marriage."
Easing the burden
Saving money on the big day doesn't have to mean sacrificing the charm and quality that you've always wanted in your nuptials. With a little creativity, even the smallest budget can create a beautiful wedding.
To trim your wedding budget, the NFCC recommends these money-saving tips.
Plan ahead. Since credit card debt will stick around well after the last piece of wedding cake has been eaten, it's a smart idea to let your savings account grow before saying "I do." Planning ahead also makes it possible to take advantage of seasonal sale prices on things needed for the ceremony and reception.
The wedding itself. Destination weddings can drive up expenses. But finding a beautiful venue in which to exchange vows doesn't have to mean boarding a plane. Low-cost venues are often right around the corner ... in parks, art galleries, community centers, local bed and breakfast inns, or even the backyard of your friend or relative. Keeping things local can save you hundreds, and e

ven more if you avoid Saturdays.

The reception. As with most celebrations, the largest expense for a wedding reception is alcohol. One easy way to save in the alcohol category is to limit the types of alcohol that are available to guests at no cost. Instead have a wider variety available at the cash bar. Making it a B.Y.O.B. affair can also help cut costs.
The honeymoon. Honeymoon expenditures can easily negate all the hard work you've done trimming your wedding budget. To prevent this from happening, experts suggest taking the road less traveled in order to get the greatest value. Another path to savings is to plan everything à la carte instead of booking a package deal, which can often include activities that go unused. Book travel in advance, and look for times of year that are considered off-season for the intended destination.