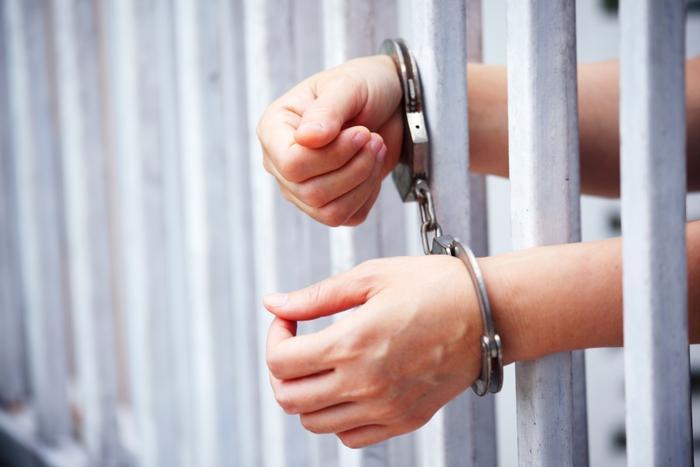 European clothing. Made by women in Peru. In prison. It was a winning marketing pitch, until people started to question who the deal was really benefiting.
When the Danish designers Louise van Hauen and Veronica D'Souza debuted Carcel several years ago, with $400 alpaca wool sweaters sewn by women who are in prison in Cusco, Peru, the initial reception was overwhelmingly positive.
Carcel (Spanish for "prison") said it had built its own production facilities in the prison, with full-time production managers to keep a close eye on the operation. The business setup and designs impressed Vogue, among others. The fashion magazine crowned Carcel the "coolest new label in Copenhagen" back in 2017.
But the marketing campaign got a very different reception from the general public. A direct-to-consumer online ad for Carcels' new silk line, touting silk garments made by "incredible women" imprisoned in Chiang Mai, Thailand, received widespread ridicule on Twitter this month. Critics said that the scenario sounded more like exploitation than empowerment.
Following the social media backlash, Carcel is once again attracting attention from the fashion press, this time with a more skeptical tone than the first time around.
"...is it possible — and ethical — to build a profitable fashion business behind bars?" the New York Times asked in a feature published last week.
Carcel founders Louise van Hauen and Veronica D'Souza maintain that the deal is completely voluntary and fair.
"All work is voluntary, our teams never work overtime and we are there to guarantee that they receive their salary and training," van Hauen writes in a statement to ConsumerAffairs.
Average worker salaries
The Times for its own story visited the Cusco Female Penitentiary in Peru and interviewed 11 women who work for Carcel. The newspaper reported back that the women seemed to enjoy the work and were earning between $180 to $329 per month and working about 25 hours a week.
"Working in this textile workshop takes me away from my imprisonment," one employee told the Times, adding that she is planning to purchase a sewing machine when she leaves.
The Times did not visit the prison in Thailand or detail what the women there are paid. In a statement to ConsumerAffairs, van Hauen says that the women in Thailand are paid a fixed salary that equates to $256 each month. In Peru, the wages fluctuate under a bonus system Carcel set up there.
The wages in Peru average out to $252 each month, van Hauen says. But that's before a 10 percent chunk is taken out and given to the prison.
In both countries the women work 30 hours a week, Carcel says, writing that if the women worked 40 hours, their wages would equal well above their country's minimum. Previously, women in Peru were paid piece rates, though van Hauen says her company no longer uses that system.
"Since we started, we have tested different payment schemes as we and the production have grown and developed together," van Hauen adds.
Of course, Carcel is far from the first clothing brand to hire workers in a country where the minimum wage is significantly lower than it is at home. The difference, perhaps, is that people have come to expect that their cheap clothing from the mall was made in a faraway sweatshop. On the Carcel website, a silk skirt costs $250.
"You can't come in with a Danish mind-set of what is a just system and what isn't," D'Souza told Vogue several years ago about the arrangement.
"What we can do is get access and change things from the inside without being an NGO or yelling and screaming about the justice system being broken."
Third-party vetting
With the rise of ethical consumption and other buzzwords meant to appeal to social justice-minded consumers, third party auditors have become a popular tool for brands who want to give consumers proof behind marketing claims.
Patagonia, for instance, advertises that it is a member of both the Fair Labor Association (FLA), an international auditing group, as well as Fair Trade USA, a popular United States-based group. Dr. Bronner's soaps, the soap company that has long been transparent about pay, product ingredients, and more, touts that it is a member of the World Fair Trade Organization, among numerous other watchdog groups.
Carcel, by contrast, does not have any accreditation from a third-party auditor that can independently say that its workers are treated well.
"As a startup, we have not yet contracted any third party auditor, but it's a good suggestion for something we could do in the future," van Hauen writes to ConsumerAffairs.
Generally, some labor organizations say that prison labor is acceptable if the work is completely voluntary and equal to that of an employer-employee relationship on the outside.
"The requirement of free consent also applies to prisoners," writes the International Labour Organization.
But the FLA disagrees. The organization says they have a blanket ban on prison labor for their member companies. 
"The Fair Labor Association has evaluated the issue of prison labor in depth several times over the past decade. Our conclusion remains that the most appropriate approach to protect workers' rights is a blanket prohibition on prison labor," FLA CEO Sharon Waxman says in a statement to ConsumerAffairs. 
The fashion industry's reckoning
A deadly sweatshop fire in Pakistan in 2012, followed by a building collapse in Bangladesh the next year, killed an estimated 1,500 women who worked as low-wage workers for some of the world's major fashion brands.
Retailers have traditionally distanced themselves from the workers who make their clothing. But journalists and other independent investigators have linked brands such as Beyonce's Ivy Park and Forever 21 to sweatshop factories with abusive working conditions.
More recently, the athletic clothing line Badger Sportswear cut ties with one of its factories after reporters revealed that one of its suppliers included a factory in a Chinese internment camp.
The situation isn't always much better in the United States, where researchers say that factories in Los Angeles use the threat of deportation to keep undocumented workers from complaining about low pay. Much of the reporting into the dark side of the fashion industry has focused on fast fashion, or mall clothing produced quickly and cheaply to keep up with the latest trends.
In response to the abuses described at home and abroad, human rights organizations in recent years have called on fashion labels to disclose the factories that they use, arguing that transparency is the first step in changing the industry, if only the start.
"While supply chain transparency is widely recognized as an important pillar on which corporate accountability is built, transparency alone does not result in improved working conditions or accountability," Human Rights Watch says.
Expert points to positive signs
Unlike the major retailers that have agreed to make disclosures only under pressure from NGOs, Carcel and other emerging brands have made "transparency" the focal point of its advertising. Instead of hiding information about the factories (or prisons) where their products are made, the working conditions are part of the marketing material.
But without any third-party vetting, claims about how well workers are treated can be difficult to verify.
Anti-Slavery International is a nonprofit that investigates labor practices around the world. A spokesman evaluated Carcel's marketing material for ConsumerAffairs and said that it looked encouraging, on the surface at least.
"I don't know enough about the details of this work to provide an in-depth comment. But on the face of it, it sounds quite positive, i.e. the project seems to be arranged specifically to support women in prisons who are marginalised, as opposed to using prison labour as a way to pay low wages," Anti-Slavery spokesman Jakub Slobik writes to ConsumerAffairs.
"Their ground rules (employment is freely chosen, Freedom of association and the right to collective bargaining are respected, working conditions are safe and hygienic, living wages are paid as a minimum etc.) are positive and seem to be of a high standard."