How much does junk removal cost?
Expect to pay anywhere from $100 to $850 for full-service junk removal



Written by

Edited by
Find Moving Companies near you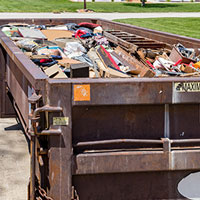 Junk removal companies specialize in getting rid of bulky, nonhazardous items you no longer need or want. Junk removal prices vary, so it's hard to know how much it might cost you. To help, we surveyed junk removal companies nationwide to get real-world estimates for what junk removal costs. Read on to learn how much it costs, what affects the price and how to save money when getting junk hauled away.
---
Key insights
Full-service junk removal companies will gather, sort, load and remove your junk — usually within a couple of hours. However, full-service junk removal isn't your only option.
Full-service junk removal is faster and more convenient for smaller jobs, but a dumpster rental lets you work at your own pace and tackle larger projects.
The cost of full-service junk removal ranges from roughly $100 to $850, while dumpster rentals range from about $400 to $1,000.
Junk removal costs mostly depend on what you're getting rid of, the type of service you want, the company you choose, how far the landfill or recycling center is and your local dumping or recycling fees.
Types of junk removal
Junk removal is a broad term that covers a lot of different services. While full-service junk removal may be what many people think of when the topic comes up, junk removal services actually vary quite a bit. We've broken down the different types of junk removal and average costs below to help you find the right service for your needs.
Full-service junk removal
Full-service junk removal is helpful if you're trying to quickly get rid of items that you can't easily haul off yourself. It's a good option for things like getting rid of old furniture before a move or clearing out abandoned spaces.
If you pay for full-service junk removal, a crew of junk removers will show up at your home, haul your junk out, put it in their truck and take it to a recycling or waste disposal facility. As a bonus, full-service junk removal usually also includes a general cleanup of the space where the junk was.
For full-service junk removal, the type and amount of junk you have, the total hours of labor involved and your local waste management disposal fees will influence your final price.
Most junk removal companies charge by the loaded yard, with prices ranging from around $98 for a minimum load to $848 for a full load, according to the junk removal companies we surveyed. (You may be able to snag a lower quote for around $50, but those low prices don't always include dump fees or taxes.)
One reviewer on our site who hired a full-service junk remover said the company removed "leftover cement bags and a huge construction pipe" for them. They praised the "fast, efficient, professional service," noting that "the junk was gone within 10 minutes." They paid with a credit card using a tablet — "Quick, easy, and the best part - the junk is gone!"
» MORE: Best Moving Companies
Dumpster rental
If you're undertaking a large project that's producing junk over time (like home remodeling), look into renting a dumpster. Dumpsters come in various sizes, and you can rent them for a day, a week or a month at a time.
When you rent a dumpster, your rate is based on the size of the dumpster you choose and how long you rent it. (That means your cost is the same if you only fill it halfway or if you fill the entire dumpster.) In general, you can expect to pay anywhere from $423 to $1,026 to rent a dumpster, depending on its size and the length of the rental.
» CALCULATE: How much is a dumpster rental?
City trash removal services
Your local government's garbage service is another option for junk removal. It may seem obvious, but many people overlook their regular trash collectors when it comes to getting rid of unconventional items.
The cost of municipal trash removal varies widely, but most people already pay about $14 a month for regular service. Just be aware that the amount of junk you can get rid of this way is often limited.
Always be sure to ask what's included when you get a junk removal quote.
Exactly what you can leave out on the curb for pickup depends on where you live, too. In New York City, you can toss out a mattress, box spring or futon with your regular trash if you seal the items in a plastic bag. However, in Missouri's St. Louis County, bulk items are only collected for free twice a year (arrangements can be made at other times for a fee). And in San Diego, California, you have to take appliances to a waste disposal center for recycling yourself.
As a rule of thumb, anything you can't fit in your trash can is considered a bulky item that may not be picked up by your regular garbage collectors. E-waste, such as computers and TVs, is usually not included in regular trash pickup either because it can contain environmentally hazardous materials, like arsenic, mercury or lead.
Your best bet for figuring out what your city trash removal service will pick up is to contact your local disposal facility.
How much does full-service junk removal cost?
The price of full-service junk removal really comes down to what you are throwing away and how large the items are. "The more junk you have, the higher the price will be," said Al Lijee, founder of JunkGator, which connects people with junk removal companies. "This is because removal companies charge by volume (usually by the truckload)."
If you want a general idea of what full-service junk removal might cost you, you can call a junk removal company for an estimate based on how much stuff you want taken away. However, the junk removal companies we spoke to said that many people either underestimate or overestimate the amount of junk they have.
That's why many junk removal companies don't give final prices until they're at your home surveying your items. At that point, you can either reject the offer or agree to the price and move forward with the company.
While it's tricky to pin down an exact price for a junk removal service, here's what some common scenarios might cost you. (Note that most haulers will have additional costs, like taxes and waste disposal, recycling and e-waste processing fees, which vary from place to place.)
How much does a full truckload cost?

If you have an entire truckload of junk to get rid of, expect to pay an average of $730 for full-service junk removal, including cleanup. (A truckload is generally the equivalent of six pickup truck beds.)

However, it's important to remember that junk removal costs vary by location. If you live in New York's Hudson Valley, you'll likely shell out closer to $848, and if you're in St. Louis, having a truckload of junk removed will set you back around $628.

How much does half a truckload cost?

Sometimes junk removal companies go from home to home, picking up junk along the way. If you don't have an entire truckload of stuff to toss, you may only have to pay for the portion of the truck you fill up.

If you only need to fill up half of a junk removal truck (equal to about three pickup truck beds), the average price you'll pay is $500 nationwide.

How much does removing individual items cost?

Most junk haulers are happy to take away sofas, mattresses, appliances and other items. However, they often charge based on the size of the item you want thrown out, regardless of what it is.

So, while you may want a quote for taking away an armchair, all your junk remover really cares about is how much room your item will take up in the truck. (There are some limits, though — heavy items, like concrete or gravel, usually cost extra.)

The minimum pickup a junk removal company will do is usually one-eighth of a truck (the equivalent of a queen-size mattress) for an average of $118.
What affects junk removal costs?
The main factors that affect the cost of junk removal include the following:
The company you hire: To put it plainly, some junk removal companies charge more than others. That's why it's smart to get multiple quotes and compare prices before you decide which you want to work with.
How much junk you have: Getting a larger dumpster or taking up more room on the company's truck will generally cost you more.
The type of junk you have: Some types of junk cost more to dispose of than others. Construction debris is usually heavier than other junk (making it more expensive to have taken away), and metal or electronic goods often require special recycling procedures, which can add additional fees.
Your location: Junk removal costs are often higher in densely populated areas because the demand is higher. On the other hand, junk removal in rural areas may also cost more than in the suburbs because there's less competition and your junk remover may have to drive farther.
Where your junk is: If your junk is three stories up in an attic or in some other hard-to-access location, expect to pay more for full-service junk removal.
Seasonality: Junk removal costs are typically higher during the summer than during the winter due to higher demand. The good news is that this also means hiring a junk removal company during the offseason may save you money.
Be wary of quotes that seem too good to be true — those numbers often don't reflect the actual final price. Many companies charge additional fees, like fuel surcharges, landfill fees and labor costs, that may not be included in your initial quote. Ask about any potential extra charges before hiring a junk removal company so that you can budget accordingly.
FAQ
How can you find junk removal places in your area?

If you search online for junk removal companies, make sure the company you choose is insured and well reviewed by past customers.

You should also ask your family, friends and neighbors for junk removal recommendations near you. Although there are some nationwide junk removal companies, junk removal is such a location-specific service that the quality of your local branch may matter more than the company's nationwide reputation.
How can you save money on junk removal services?

Many junk removal companies offer a discount if you book online. You can also save money by booking your junk removal in the winter, which is generally the offseason for these services.
What items can't junk removal companies haul away?

In general, junk removal companies won't handle anything hazardous, like fertilizer, gas, paint or chemicals that need special handling. (You may have to take these items to your local waste management center yourself and pay a fee for proper disposal.)

If you want to know exactly what your junk remover won't haul away, check its website or call to ask. It's in the company's interest to be forthcoming with this information, since a miscommunication might cause headaches for both of you down the road.
Did you find this article helpful?
|
You're signed up
We'll start sending you the news you need delivered straight to you. We value your privacy. Unsubscribe easily.