Written by

Edited by
Our promise. We provide a buying advantage with verified reviews and unbiased editorial research.
About MobileHelp Reviews
MobileHelp is a medical alert company that was founded in 2006. It offers multiple device options with GPS technology and fall detection. All packages come with two-way voice communication and 24/7 professional monitoring.
Pros & Cons
Pros
Helpful customer support
Great in-home range
Good for active, on-the-go lifestyles
Waterproof pendant and buttons
Cons
Can be difficult to cancel
Bottom Line
MobileHelp offers multiple device options with professional monitoring, GPS technology and fall detection. The company doesn't charge for equipment and gives you a 30-day risk-free trial. The monthly fee includes cellular coverage for your system with AT&T.
Featured Reviews
Verified
Buckley, WA
This company went way beyond what I was asking for in order to resolve my complaint. I have been a customer for 7 years and have never encountered poor technical support before. I...
Read full review
Verified
Westwood, NJ
I am pleased with this device. It is accurate and easy to use. The people we have talked to have been courteous and knowledgeable. We have called them several times and gotten all...
Read full review
MobileHelp medical alert systems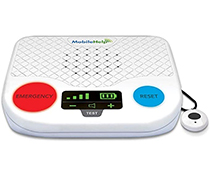 MobileHelp
Classic
Starting at $19.95 per month as of publishing date
System button options include a neck pendant, waterproof wall button and black or white wrist button.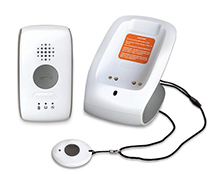 MobileHelp
Solo
Starting at $41.95 per month as of publishing date
Comes with a waterproof help button and a mobile unit that can be used on the go. Includes GPS tracking.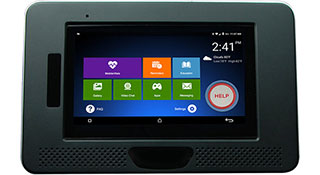 MobileHelp
Touch Classic
Starting at $54.95 per month as of publishing date
Sleek tablet interface with Wi-Fi and Bluetooth capabilities. Extra features include games.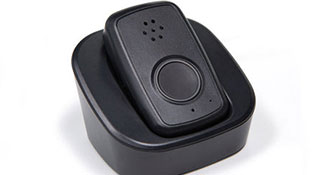 MobileHelp
Micro
Starting at $39.95 per month as of publishing date
MobileHelp's smallest, lightest device comes with GPS. Waterproof button comes with a lanyard.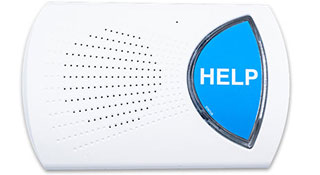 MobileHelp
Wired Home
Starting at $26.95 per month as of publishing date
Landline system with two-way communication capability and up to 600-foot range. Works with a wearable help button.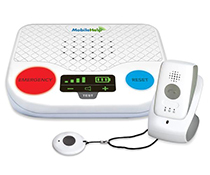 MobileHelp
Duo
Starting at $46.95 per month as of publishing date
Comes with a waterproof help button and a mobile unit that can be used in the home and on the go.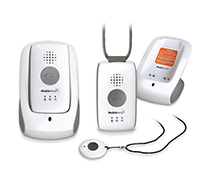 MobileHelp
Mobile Duo
Starting at $49.95 per month as of publishing date
MobileHelp's two-for-the-price-of-one GPS medical alert system. No contract or activation fee required.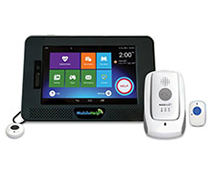 MobileHelp
Touch Duo
Starting at $54.95 per month as of publishing date
Combines in-home Touch Classic equipment with mobile help button technology and built-in self-test button.
MobileHelp pricing
Total costs vary depending on the system, devices, features and upgrades you choose. It costs an extra $6 per month to add Connect Premium, which covers the cost to replace stolen, lost or damaged equipment. You can also add a waterproof help button that attaches to a wall for $2.95 more per month.
The prices below, which are accurate as of the publishing date, are based on the monthly plan, but you can get a discount for paying annually or semiannually. MobileHelp doesn't charge for shipping.
| | One-time processing fee | Monthly fee | Add fall detection |
| --- | --- | --- | --- |
| Classic | $49.95 | $19.95 | $11 per month |
| Touch Classic | $0 | $54.95 | $11 per month |
| Wired Home | $0 | $26.95 | ✘ |
| Solo | $0 | $41.95 | $11 per month |
| Micro | $0 | $39.95 | $11 per month |
| Duo | $0 | $46.95 | $11 per month |
| Mobile Duo | $0 | $49.95 | $11 per month |
| Touch Duo | $0 | $54.95 | $11 per month |
How MobileHelp medical alert systems work
When there's an emergency, you can press a button on the MobileHelp device to send a signal to MobileHelp's monitoring center. The operator immediately accesses your information and establishes two-way communication. They find out what happened and what's needed, pinpointing your location through GPS technology. Finally, they either call your primary contact or dispatch emergency services.
MobileHelp runs on AT&T's nationwide cellular network. Wearable MobileHelp devices are waterproof and can be safely and effectively worn in the shower or the bath. The base console station is roughly the size of an answering machine; the mobile devices weigh about 3 ounces and are nearly the size of a deck of playing cards.
About MobileHelp monitoring centers
MobileHelp partners with Rapid Response Monitoring to provide state-of-the-art, UL-certified emergency monitoring services. All monitoring response operators are based in New York, California and Nevada.
According to MobileHelp, operators are highly qualified and rigorously trained. The company always has bilingual Spanish operators standing by and uses an interpreting service called LanguageLine to interpret more than 240 languages.
| | | | | | |
| --- | --- | --- | --- | --- | --- |
| Monitoring fees | $19.95-$54.95 | $29.95 to $58.95 per month | $29.99 to $39.99 per month | $29.95 to $44.95 per month | $49.95 to $69 per month |
| Equipment cost | $0 | $0 | $0 | $0 to $199.95 | $0 |
| Activation fee | $0 | $79 to $99.95 | $0 | $0 | $198 |
| Fall detection | Optional ($10/month) | Yes | Yes | Yes | No |
| | Read Reviews | Read Reviews | Read Reviews | Read Reviews | Read Reviews |
MobileHelp FAQ
How much is MobileHelp per month?

MobileHelp's monitoring plans range from $19.95 to $54.95 per month, with equipment included at no extra charge.
How long does the battery last?

Once fully charged, the mobile device battery should last at least 24 hours. With in-home systems, the base station's battery lasts over 30 hours, and the help button battery lasts more than five years.
Does MobileHelp have medication reminders?

The system lets you schedule medication reminders through MobileHelp Connect and get reminders through the base station.
Do I have to sign a contract to get a MobileHelp system?

You do not have to sign a contract to get a MobileHelp medical alert system.
What is MobileHelp's cancellation policy?

If you're not happy with your emergency alert system, contact MobileHelp customer service to cancel. All equipment must be returned at your expense, or else you'll be charged for the items and have to pay service fees. After MobileHelp receives your returned system, you may be eligible for a prorated refund. If you return your system within the first 30 days, you'll receive a full refund.
Is MobileHelp a good medical alert company?
With easy self-install devices and mobile alert buttons, MobileHelp's systems can benefit anyone who wants to remain independent inside and outside their home. Because the devices are waterproof, you can wear the MobileHelp medical alert pendant, wrist button or fall button anywhere, even in the shower or the bath.
Consider MobileHelp if you want a simple, low-maintenance system. The prices are competitive, and the devices are reliable and easy to use. Plus, caregiver tools are available through the MobileHelp Connect web portal.
A link has directed you to this review. Its location on this page may change next time you visit.
How do I know I can trust these reviews about MobileHelp?
4,313,342 reviews on ConsumerAffairs are verified.
We require contact information to ensure our reviewers are real.
We use intelligent software that helps us maintain the integrity of reviews.
Our moderators read all reviews to verify quality and helpfulness.
Page 1 Reviews 0 - 5
Punctuality & Speed
Fall Detection
Delivery & Shipping
Reviewed Sept. 16, 2023
I feel so much better knowing that everything is covered to ensure my mom's safety now. Edward was very helpful and I can't wait to try the mobile alert pendant out! Fast shipping and love that everything is included when you purchase a year of service. Another plus is being informed when emergency services are on their way to my mom.
Thanks for subscribing.
You have successfully subscribed to our newsletter! Enjoy reading our tips and recommendations.
Reviewed Sept. 14, 2023
Paula was professional, friendly and patient as I had to cancel another service. She contacted me several times and was punctual in doing so. I did not think that 4 other of your representees. Contacting me after Paula was very professional. Paula is an excellent representative for your company. If and when I refer someone to your company I will advise them to ask for Paula.
Reviewed Sept. 12, 2023
I had a good experience while signing my Mom up for the MobileHelp. Stewart was a great help and answered all of my questions. I'm sure we will have more questions for him, but I feel like I could call him anytime and get answers to our questions. I will say that the Docusign is new to me and I will need one of the kids to come over and help me with that.
Customer Service
Punctuality & Speed
Staff
Reviewed Sept. 1, 2023
I received a call within minutes from my sales representative Tom. He provided an overview of the system that would fit the needs of my mother in-law. We were provided additional details of the operation of the system and all questions were answered honestly. Quick enrollment and big thanks to Tom for making it a good experience.
Reviewed Aug. 29, 2023
Elon was my sales Representative and he did a great job. I called back several time times gathering information to help make a decision on which medical alert system to purchase for my wife. He was always helpful, courteous and never pushy. He was a pleasure to deal with. My hope is that when the Mini arrives all will go as smooth as the purchase.
Reviewed Sept. 12, 2023
Order Confirmation Number **. MOBILE HELP Product/MEDICAL ALERT SYSTEMS MICRO PENDANT FALL DETECTION. "JB" was the customer svcs salesman for this BRAND NEW Account I started yesterday (09/112023). I'M A BRAND NEW CUSTOMER HERE. My bank DEBIT CARD was CHARGED TWICE for the amount of $159.60 for THE BRAND NEW ACCOUNT I Initiated yesterday & Quarterly Medical Alert Coverage. Please refund *one* of the billing charges initiated asap because I was twice charged. THANK YOU. SD **.
Reviewed Sept. 6, 2023
Both Nathan and Matthew were very helpful, answered my questions. If I have any more questions after receiving my equipment, I feel they will continue to help. I am told it will be an easy set up. I am looking forward to using this for my family's ease of mind.
Reviewed Sept. 5, 2023
Samantha with Mobile Help was very helpful in explaining the options available for my mom's needs, and was easy to understand. She explained the items we would be receiving, the pricing and such scenarios (home and away) which may occur while using the necklace and/or watch and how we would be covered.
Reviewed Aug. 23, 2023
Samantha was very thorough and helpful in describing the medical alert device and how it works when someone falls and who it alerts. Thank you for your insight and help in getting this set up for the peace it will give my family.
Reviewed June 10, 2022
Since I've had the device, I have fallen twice. The alarm went off neither time. The second fall was in the bathroom. I bruised a rib and went to the emergency room. It would've been nice if the alarm had gone off. I feel like I threw my money away, and I paid for the whole year!

Response from MobileHelp
Hi Jane, We received your review, and we are sorry to hear about your recent falls. We hope you are recovering quickly, and we would like to contact you to help prevent this from happening again in the future. At MobileHelp, your safety is our number one priority, and our Technical Support team is always happy to help with any issues you may experience with the equipment. What would be the best number for us to reach you on? You can also reach Technical Support directly at 877-827-6207 Option 1. We look forward to speaking with you soon, and thank you for being the most valued part of our MobileHelp family.
MobileHelp Company Information
Company Name:

MobileHelp

Year Founded:

2006

Address:

3701 FAU Blvd, Suite 300

City:

Boca Raton

State/Province:

FL

Postal Code:

33431

Country:

United States

Website:

www.mobilehelp.com