Find the best medical alert apps
Compare costs, features and reviews




Written by

Edited by

Reviewed by
Find Medical Alert Systems near you
Bay Alarm Medical, Lifeline, LifeFone, MobileHelp and Medical Guardian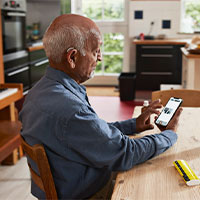 Medical alert apps provide a quick, easy way to either contact help or check in on a loved one through your computer or smartphone. However, you shouldn't confuse medical alert apps with full medical alert systems, according to Shelley Webb (a certified geriatric care manager who reviewed this article).
Medical alert apps aren't just for older people.
Many medical alert apps are designed to work in conjunction with full medical alert systems, letting caregivers and loved ones receive real-time information about device users. Some other apps can provide many of the same services as full systems without having users wear a separate device, but these are less common.
When paired with products like automatic fall detection pendants, help buttons and other live-saving features, medical alert apps can help you feel confident your loved one will be taken care of in the event of an emergency. Continue reading to learn more about the different apps offered by some of the best medical alert system providers.
Our picks for top medical alert apps
To select our top picks for medical alert apps, we started with a list of 12 companies that specialize in medical alert systems. To narrow it down, we first considered their overall customer satisfaction ratings, recent reviews and online experience. We then compared app features, costs and medical alert device compatibilities to determine our final picks.
Our pick for caregivers
Lifeline
Medical alert monitoring: $29.95 to $58.95 per month
App cost: Included with monitoring
Caregiver tools: Included
In-app GPS tracking: Unavailable
Philips Lifeline's medical alert app, called Philips Cares, provides caregivers with quick, easy access to information about their loved ones. The features of Philips Cares can also be accessed on a computer for individuals who may not have a smartphone or tablet.
Here's how it works: Philips Cares lets you create a Care Circle of designated people to keep updated about someone using one of its medical alert systems. One helpful feature of Philips Cares is that it lets anyone who is a part of a Care Circle manage their availability. This means designated contacts can mark themselves unavailable to respond to emergencies during certain times so the monitoring center team knows who to reach out to.
Philips Cares is available for both iPhones and Android devices.
PROS
Multiple contacts can get real-time notifications and alerts
App works even when monitoring device needs to be charged or repaired
App features can be accessed via computer
CONS
Only available to paying Philips Lifeline subscribers
No stand-alone medical alert functions or GPS tracking
Our pick for a stand-alone app
LifeFone
Medical alert monitoring: Optional
App cost: $5.95 to $27.80 per month
Caregiver tools: Included
In-app GPS tracking: Included
LifeFone provides access to two medical alert apps:
The Mobile Alert app is for individual use. It functions as a panic button with multiple settings, so it can connect you with virtual assistance whether you're having an emergency or simply feeling unsafe.
The Family Guard app has all the capabilities of the Mobile Alert app and extends them by allowing connected users to monitor each others' locations in real time.
Both of LifeFone's apps are available for iPhones and Android devices.
PROS
Available to users without a medical alert system
Existing LifeFone subscribers get a discount
Real-time GPS tracking for parents and caregivers (especially good when caring for a person with dementia)
CONS
Not included with existing medical alert monitoring plans
Email and text message alerts are not available yet
Our pick for upgradeable features
MobileHelp
Medical alert monitoring: $19.95 per month
App cost: $0 to $10 per month
Caregiver tools: Included
In-app GPS tracking: Limited
MobileHelp Connect is a set of digital tools that use GPS technology to help designated caregivers keep track of and monitor a MobileHelp medical alert system user. Caregivers can access information such as activity levels, medication reminders, location histories and real-time device tracking, though some features may require you to upgrade to a Connect Premium subscription. Also, GPS location tracking is limited to 30 location requests per month unless you want to pay extra.
MobileHelp Connect is available for both iPhones and Android devices.
PROS
Basic app free to existing subscribers
Caregivers can see the device's exact location
See event histories and notifications
CONS
Requires a monitoring subscription
Premium features cost extra
Our pick for full home monitoring
Medical Guardian
Medical alert monitoring: $44.95 to $79.95 per month for relevant systems
App cost: Included
Caregiver tools: Included
In-app GPS tracking: Included
Medical Guardian offers two apps that help authorized caregivers access important information about their loved ones when using corresponding devices. The Freedom Guardian and Family Guardian apps have a number of features that let caregivers check in on their loved ones at any time.
When used with the Family Guardian in-home medical alert system, the Family Guardian app lets you access real-time tracking information, request check-ins, receive alerts when activity sensors have been triggered, view activity history and receive notifications should the device remain inactive for prolonged periods throughout the day.
These apps are available for both iPhones and Android devices. For more information, check out what we like about Medical Guardian's top smartwatch, Freedom Guardian.
PROS
Activity monitoring
Real-time tracking
Adaptable monitoring parameters
CONS
No way for caregivers to communicate through the app
No stand-alone medical alert functions
Our pick for weather monitoring
Bay Alarm Medical
Medical alert monitoring: $21.95 to $41.95 per month
App cost: $5 per month; included with on-the-go devices
Caregiver tools: Included
In-app GPS tracking: Included
Bay Alarm Medical offers existing subscribers the option to add access to its Caregiver Tracking App. Using a 4G LTE network, The Caregiver Tracking App allows designated users to pinpoint a loved one's exact location. App users can track the device's location in real time or see a detailed accounting of activity history. It also sends courtesy alerts about extreme weather conditions (such as high temperatures or storms) and notifications about emergency situations.
The Caregiver Tracking App is available for iPhones and Android devices.
PROS
Real-time tracking with detailed location history reports
Low-battery notifications
Extreme-weather alerts
CONS
Only free with on-the-go packages
No stand-alone medical alert functions
Our pick for smartwatch compatibility
Lively Mobile Plus
Medical alert monitoring: $19.99 to $39.99
App cost: $24.99 to $29.99 per month for the Lively app
Caregiver tools: Included on Lively Link
In-app GPS tracking: Included on Lively Link
Lively has two apps — the Lively app and Lively Link. The Lively app can turn your iPhone and Apple Watch into a stand-alone medical alert system with many unique features, but it doesn't have all the same functions for Android users. Lively Link is more targeted toward caregivers who want to monitor a loved one with a separate Lively medical alert device.
Both Lively apps are compatible with Apple and Android devices, though features may vary depending on which you use.
PROS
Stand-alone medical alert functions
Apple Watch-exclusive features
Lively Link is free with an existing monitored system plan
CONS
Some features are device-specific
Reviews mention location update delays
What to consider when choosing a medical alert system app
Location monitoring might be critical if you're caring for someone who has dementia.
Considering the following things will help you find the best medical alert app for you or your loved one:
Function: Some medical alert apps provide access to monitoring centers or emergency contacts. Others let your friends and family keep track of where you are and how you're doing. Think about what you want from a medical alert app and choose accordingly.
System: Do you want an app that works all on its own, or are you looking to complement another medical alert system? Both options are available, but stand-alone apps are harder to find.
Cost: Some medical alert companies include an app with a subscription to their monitoring services, but others charge extra for app access.
Important features: Pick an app that has the features that matter most to you. Features such as real-time location monitoring and the ability to view activity histories are often critical.
Information sharing: Some medical alert apps let you record and distribute information about medical issues. These caregiver tools can help friends and family coordinate their efforts and care for their loved ones remotely.
Medical alert app FAQ
What is a medical alert system app?

There are two types of medical alert system apps: ones that function as stand-alone monitoring devices and ones that provide caregivers, family and friends with valuable information.

Stand-alone monitoring apps: Some medical alert system apps can turn smartphones and tablets into medical alert monitoring devices. These apps provide access to many features of standard medical alert monitoring systems without forcing the user to wear a pendant or bracelet.
Caregiver apps: Apps designed for caregivers provide access to valuable information about medical alert device users. App functions range from checking in on your loved one to receiving real-time GPS device tracking. Some caregiver apps also allow friends and family to share information and coordinate their care.
How much do medical alert apps cost?

Costs for medical alert apps vary widely, but expect to pay up to $30 per month for app service.

Most medical alert system apps are either included in the monthly price of a monitoring package or available for a lower additional monthly fee. However, some companies offer an app as an entirely separate medical alert service. For more info on monitoring plans, read our article on medical alert system costs.
Do I need a medical alert app and a medical alert system?

It depends — there are a number of reasons why you may want both a medical alert system and a medical alert app. Some apps seek to replace distinct medical alert systems, while others complement a company's other products.

Most apps that work with existing medical alert systems cater to caregivers rather than device wearers. If you're a caregiver, friend or family member of someone with a medical alert system, getting a medical alert app can provide you with greater peace of mind when you can't be physically near your loved one.
What is a stand-alone medical alert app?

Stand-alone medical alert apps provide 24-hour emergency assistance and monitoring without requiring a distinct medical alert system. You simply download the stand-alone app to your smartphone or tablet and use it as your medical alert device.
Bottom line: What are the best medical alert apps?
If you want a stand-alone app that provides access to 24-hour monitoring centers, we suggest checking out LifeFone and Lively. They have highly recommended safety alert apps that offer this service through iPhones and Android devices.
If you're looking for a medical alert app that lets you monitor a loved one's activity and get alerts about emergency situations, Philips Lifeline, MobileHelp, Bay Alarm Medical or Medical Guardian would be a good pick.
Article sources

ConsumerAffairs writers primarily rely on government data, industry experts and original research from other reputable publications to inform their work. Specific sources for this article include:
Did you find this article helpful?
|
You're signed up
We'll start sending you the news you need delivered straight to you. We value your privacy. Unsubscribe easily.