Cox Communications High-Speed Internet
Consumer Complaints and Reviews

The internet randomly doesn't work. This doesn't happen once in a while, it happens ALL THE TIME. I didn't really notice until I checked my phone bill and saw that I was using 3 times the amount of data. So the internet was cutting out and I wasn't even aware, which makes it even more frustrating. We called them several times and they never fixed the problem, instead they said that it was because our internet wasn't fast enough to support all our devices, so they suggested sending a piece to put on the router to help. Well that didn't work whatsoever and they charged us $20 for us without even notifying us of the price. All together, our experience with them was terrible, and that is why we just switched to DirecTV.

There is no way to provide negative rating here so let me describe it. Cox qualifies for minus five stars for their customer services, how they conduct their business and how they address the issues. If you get a chance to get an alternative provider of these services do not even check their offers. They are unreliable, they raise prices without notification and without any viable reason. Their customer support is nonexistent. Their sales representatives have little knowledge of the products. Cox representatives are unfriendly and cocky. We have been cheated on almost every deal they offered. If you get a chance NEVER sign up for any service with Cox!!!

Cox randomly raised my plain vanilla internet fee from $49.99 to $100.50 a couple of months ago -- this is an INSANE price for the service I'm getting. As AT&T was offering me a much better price ($35 for my speed), I called Cox to cancel. I was put on hold for 40 minutes waiting for the agent. And then I was told that I would be charged $80 for a "contract cancellation fee"!!! If I'm under contract, why did you raise my fees by 100% with no warning? Did I volunteer to be fleeced? I don't think so. They told me my "promotional price" expired, and then they raised the "retail price" 2x in the past year... So I was locked into an incredibly bad contract. What the heck???!!! I canceled anyway, and as soon as I got home, I realized that my internet performance has deteriorated significantly. According to internet speed tests, my 50Mbs download speed has been reduced to 2Mbs. Wow. These are spiteful b___ards.

Cox has horrible service, the number for help on my TV is for internet. I haven't had TV in 2 days and they aren't going to do a damn thing about it until Sunday. I will be amazed if they show up, because they did not show up last time. I went up to the attic and there are cable cords everywhere and an amp that is hooked up to nothing. We're having storms with tornado watches but so what, they don't care. TV is 24/7 and they should have service out here 24/7. DON'T get COX.

I have been a long loyal customer of Cox for years & canceled my services before moving. I returned all equipment except the modem I purchased. When I moved into our home I was told I owed almost $1000.00, which I disputed. They tried to lie & say I did not return DVR, modem etc. Just to get services I paid approx 282.00 in what they "said" I owed. Over the next 2 years around tax season they send me a bill of over 900.00 saying I owe the same crap. Last month I made an in store payment of regular bill which they associate did not post and they interrupted my services. I keep my receipts so I was able to prove. So they said they would give me a 30.00 credit for their mistake. For the next 2 years they have been doubling my bills, adding charges, etc. So I am terminating my services immediately and going with a local agency.
How do I know I can trust these reviews about Cox?
741,284 reviews on ConsumerAffairs are verified.
We require contact information to ensure our reviewers are real.
We use intelligent software that helps us maintain the integrity of reviews.
Our moderators read all reviews to verify quality and helpfulness.
For more information about reviews on ConsumerAffairs.com please visit our FAQ.

I've been a Cox customer for over 30 years and they have been ripping me off for that many years! I finally changed my TV but unfortunately they are the only "high speed" internet provider in my area. I have been paying for their 150Mbps internet connection for the past year or so, but test after test shows I am not even getting 50Mbps! They reset and clear the cache but the speed is the same! I know there are many customers complaining about the same thing. Are there any attorneys who would like to start a class action lawsuit against these thieves?

After trying out Cox and getting uneven speeds (3-16 Mbps), we switched to CenturyLink - the only "competition" Cox has in our area. CenturyLink gave us mere 6Mbps but at least it was constant. However, CenturyLink kept raising our bills - at $80 a month, we decided enough was enough and decided to give Cox one more chance.
Cox technician came to set us up, which he did but he never checked our internet speed. As soon as he left, I was frustrated with how sluggish and slow the internet was. I did the whole shebang of swapping out cables, disconnecting the modem and router, reconnecting. I messed around with it for 2 days, trying one cable outlet in the living room, then the other in the bedroom, etc. Nothing - the average speed was 2 Mbps. I called Cox Tech Support - they ran me through "have you checked the cables, did you disconnect, reconnect"... they finally rebooted my modem from my end. Nothing. They said they would send someone out. Great.
Another tech comes out - he does everything I already did, alone and with tech support people over the phone. Nothing. He finally goes out onto the street, climbs the pole with his tool box, spends about 45 mins out there. Comes back and says he "changed some rusty connector, let's see if it makes a difference." We run the speedtest - 17Mbps. Still way below the promised 35, but I will take it. The tech leaves. I am happy.
Two weeks later I see that I am getting charged $75 for the tech service call. I give them a call seeking explanation why I am getting charged for this - why I AM PAYING FOR THE UPDATE OF THEIR CRUMBLING INFRASTRUCTURE, ie. WHY ARE THEY PASSING THE COST OFF ONTO ME AS A CONSUMER AND A CUSTOMER. The equivalent would be me ordering a steak in a restaurant only to discover that I also have to pay for the cast iron pan which they needed in order to cook it.
They responded that the tech guy wrote that he "changed a bad cable from the modem to the router"!!! I said that the guy was lying and that it makes no sense - 1) I am not that tech unsavvy 2) I called their tech support and we tried all of it - switching cables, etc. I also asked them if it is customary for them to make service call, not leave any paperwork, no signature for services rendered, and then have the liberty to basically say whatever they feel like making me a liar and a whiner. In other words, it would be like me dropping off my car at a car service and then they just charge me for whatever they want - they know better.
Cox said they would "investigate" and call me back with the verdict - I also spoke to the tech's supervisor. He agreed that the charge indeed doesn't make any sense. No one from Cox Billing called me though. I called back the Billing Dept - I couldn't speak to a supervisor (busy, of course) but was assured I would be called and everything would be taken care of. 4 days later, no call and I still owe $75 for a bad $0.25 cent router cable. $75 is not a lot of money but I will not pay it out of principle. It is extortion - I realize Cox is getting killed from dwindling cable revenue and there is a push to recoup profits anywhere they can. I also understand their techs get quarterly bonuses. I get it - things are tough all over.
On top of this - when I first called to dispute this charge, my speeds are being throttled. I am back to sometimes 2Mbps, sometimes 6, very rarely do I break 10. There are constant interruptions and drops - I have to restart the modem at least twice a day. At this point I am convinced I am purposefully being messed with. First two weeks were awesome - I was constantly at 16-17 Mbps, steady as steady can be. The day after I called them - bam! I was down to being on a roller coaster. These guys need to be driven out of business by honest competition. Unfortunately, they made sure they don't have any real one so they get to do whatever they want. The best way to describe their business model is "slumlord-like".

I am a new customer with Cox (3 months as a subscriber). I tried to set up the online payment when I first enrolled but I couldn't because the system was not functioning properly (or I didn't know how to work it properly). In any case, after 2 months I receive a bill with a late fee. I called them and explained to them the situation, and at that time the lady successfully helped me to set up my online automatic pay, I paid my entire bill at the time, and the lady even waived the late fee. So in February we are a big, happy family.
Then the following month (now) I receive a new in which I'm charged a late fee. I called back and they say that when I paid at that time, I didn't pay the full amount. I explained to them that I did (based on what the Cox person told me, which coincided with what the computer told me to pay as well), and despite speaking to three different people, the late fee was kept. According to them, they can only waive one late fee every 12 months, even when it wasn't my fault. I have no problem paying a late fee if it's my fault, but it's extremely unfair to charge me after I had taken care of the entire bill the previous month and had set up automatic pay. So unfair!!!

For 20 years I have been a Cox communications client - I have been satisfied. My opinion has changed. For 19 years, I used my bank bill pay to pay my bills. I paid my bills ahead of time - meaning I was always 1 month ahead - meaning I always had a positive balance not a negative/not a balance due. I wanted to become more efficient, so I signed up for Cox Comms' automated bill pay service. Their system is not programmed to understand an awesome customer. Their instructions were to stop other payments which I did. They did not explain that I should not have a positive balance, just that I shouldn't continue to pay. When their system tried to debit my account, I didn't own a dime, I had a positive balance.
Their system is only programmed to debit an account, not credit, and the bank is expecting a debit for an amount due, not an amount payable. They attempted to debit my financial institution's with an amount payable which was, of course, rejected. Instead of recognizing I didn't owe money and instead of recognizing I'm a good customer, they locked my payment account out as delinquent and labeled me as a bad customer (even though at this point, I still don't owe a dime and have a positive balance). The next bill comes due, I think I'm on automated payments, unbeknownst to me, my payment account is locked out, I still have a positive balance, but not enough to cover the entire amount. Cox doesn't debit my account for the legitimate amount due because they've labeled me, their loyal, in-good-standing for 20 years customer, a delinquent and have locked my payment account out. SURPRISE!!
The next month rolls around and I get a delinquency notice. It takes me hours and hours on the phone to get it all straightened out. It's clear the CS people are nice and gave me the benefit of the doubt, but they did not really get it... To cut this short, they never really straightened things out - we got me paid up and credits for late payments, but it all happened a second time because my account was not deactivated. After speaking to 9 people over 7 hours, it got straightened out, but they still think they are doing me a favor rather than saying they are sorry and really, really, really understanding what happened and fixing the issue. I needed to speak to a much more senior person who had access across multiple systems which I was told by the CS teams I worked with did not exist.
Everyone was super nice, but it was still a horrible, horrible experience. They still treated me as a delinquent customer rather than a wronged customer. Yet again, I see late fees and reactivation fees on my bill which are foundationless. I've lost all faith in Cox and yes, plan to cancel. I've made arrangements to leave them next month. I live in a metropolitan area with multiple choices. I can get faster service with another major provider for less per month for the like mix of services. The Cox CS teams do not have the training nor the access to tools to effectively serve the needs of the unique situations that arise. I would have welcomed being assigned to a special situations expert or to a manager or anyone who had the capacity to really assist and fix the issue. I'm severely disappointed and would not recommend them.

So I am satisfied with the customer service I receive, however, they are not able to lower my bill either. I verbally agreed to a contract for a bundle package of phone, cable, and internet service of 2 years. I didn't realize that was what happened, but that's neither here nor there. But I called to just have it downgraded to internet services since I do not use a house phone or cable at all. I was told that I had entered a 2 year contract when I began services and that it was be like $380 to cancel. So I told them it's was fine. I will keep the service I have and just wait till my contract was up. I paid like 132 dollars a month. January's bill was the regular price, February's bill was $170 dollars and I saw for March it was going to be 170 again! So I decided to call and figure out what was going on, and the rep told me that it is now 175 dollars.
Within 3 monthly bill has risen nearly 45 dollars!! No new equipment, no new services, nothing. So needless to say I am going to pay and cancel this contract. If they were an apartment lease I would take them to court since I have a contract and have been a loyal customer since January 2016 and for some reason do not have a protected rate? And they said that I was saving 55 dollars with the bundle... What that's only 10 more dollars to go up on my bill just about now. And that's probably only 10 dollars I'm saving until next month when they throw another 10 dollar increase in. I would not go with this company and I would not recommend at all. Sweet sympathetic representatives (who don't even use the service from everyone I've spoken to) but that is all.

Just found out that I have been paying for Preferred service when my cable modem was only capable of operating at 1/2 the speed. Of course Cox has been quite happy to collect $17 a month extra, for God knows how long, rather than let me know that I should be subscribed to the cheaper Essential service. I suggest everyone check they are getting the Internet speed they are paying for.

I have paid for Cox to send someone out three times, had my internet rewired $150 charge, bought a brand new cable/wireless modem and router, had my internet wired from the box to my house, and the guy said the neighborhood probably had 40 to 50 year old copper and had never been replaced (my house was built in the 80's). They said they sent a "box truck" and looked at the issue.
My internet stops and starts working almost 50 to a 100 maybe more times a day. I pay for 150mgb, but even plugged in directly, I usually only get from 10 to 70. I hate Cox and their corrupt lobbying, which won't allow for any competition in the Phoenix metro area. DSL can't compete and sucks, so most people are basically ** by Cox because they are a corrupt monopolized corporation. I hope they get broken down with enough outrage from people who understand the system is rigged and needs to be unrigged. Terrible monopoly, horrible service, and frustrating internet!

I've been having continual but intermittent problems with sending email through the Cox server, my primary email server. This usually happens when sending to other people with Cox email addresses. Several days later, the messages bounce back saying that the SMTP server timed out or that the server was "unreachable for too long."
I called Cox Customer Service today. The first person told me to update my settings from POP to IMAP and to change the port number, which I did. After we hung up, I couldn't send any email. I called back and was told that my original email was set up using POP and that I needed to revert to that, as well as the previous port number. That worked, but it did not resolve my problem with emails not going through the Cox server.
I called again and after some time on the phone with another clueless Level 1 representative, who kept telling me he was "sorry" I felt that way, every time I told him that my problem still wasn't resolved, I asked for a Level 2 rep and waited some time before I was with a Level 2 rep. That rep was just as clueless as the Level 1 person. She kept looking up information in her instructions to read to me. I asked about sufficient server capacity, and she claimed it's just fine but that the servers can handle only so many emails at once, and if people are spamming, which I am not, it takes too long for some emails to go through. I again said that sounded like insufficient server capacity to me, and she then said it sounded like a Mac problem to her! All over my neighborhood in AZ folks are having identical problems with Cox, and they're sure not all on Macs. Cox service is abominable.

Never ever choose auto/easy payment option with Cox Communications. I am suffering from last 3-4 months. Every time they put unnecessary charges on my bill due to their system issues (that they won't fix, it's their very unique payment system not similar to any other auto payment system in the world). Once you come into this trap, then every 2-3 weeks you need to spend at least 1-2 hours talking to their customer care representatives/supervisors, and believe me every time you get new information, every time their customer care representatives will blame the guy whom you talked last time saying that guy gave you wrong information. There is no way they allow you to trace/track any issue with them. Worst customer service I have seen so far in USA. God bless Cox Communications and their customers.

Run as far and as fast from this inept excuse for a joke of a company as you can. I signed up to have internet and the most basic tv installed online. They missed the installation date so we rescheduled for the next day. The bill was 59.99 with internet, 58.99 for internet and basic tv. They waived the $150.00 installation fee because of missing the installation date. They said I could buy the modem but when the installer came he said I needed to pay $9.99 per month to lease it. They were fresh out of the ones you could buy. Bait and switch all the way.
I got my first bill today for $421 and change. Called them and asked about the installation fee. They waived it. Asked about the lease vs purchase of the modem. Today I could buy it for $150, imagine that. I then asked what my total bill would be, knowing I was going to buy the modem. He said $93 a month. I asked how $58.99 turned into 93? Taxes and fees were $34? He then said $77. That still was $19 for taxes and fees. I said I would drop the tv and take the internet for $59.99 a month. Mind you we were only with them for 4 days. He took 10 minutes to tell me my new bill without tv would be $74.99. $2.01 less than if I kept the tv. I said "this is why I left the company I had been with for 17+ years."
Also I never missed a payment or was late with a payment. The old bait and switch. 58.99 turned into 77 and then they said you cancelled the tv and they could not honor the bundle price. Hello the bundle price was less not more??? I said I wanted to cancel and I was in my 30 day cancelation period. 30 seconds later my tv went dead. What a customer service minded terrible company. I should have heeded the warning... do not drink the Kool-aid. This company is crazy stupid.

Do NOT listen to any Cox retail employees who try to upsell you or tell you they want to have you try something free, particularly a TV service for a month. I was told it would be completely free and that I would be able to take it off my Internet service which was all I wanted in the first place but that is not the case. I just initiated services with them and should have been paying $54.99 but because I agreed to try HBO Go free for my first month with them, my promo has been nullified and am being forced to pay $74.99 or go up to over $90 if I cancel the TV service that I was pressured into trying. If anyone tries to upsell you or add anything for "free" just say no or at least ask LOTS of questions. Failing to do so is going to cost me much more money than I anticipated and I just canceled with AT&T thinking that Cox was a better deal. I am NOT off to a good start and no one seems to be able to change that.

Two weeks ago I went into the store located at 51st Avenue and Olive in Glendale, Arizona. I wanted to see if it was possible to wifi a nearby 4-plex that I own. I occupy 2 units out of 4, so I was looking at the possibility of getting a package deal. Customer Service Rep Tyler stated that I could get the Bronze Bundle and that it should be sufficient to cover 2 units (for both internet and tv) if not more units. I agreed to that and the installation was scheduled for 4 days later. The guy charged with installation showed up but stated that the order was not set up correctly, that he couldn't do it, that what I was told was incorrect, and that I needed to set up a bulk account.
When I asked how much that would cost, he said that he would have his supervisor give me a call back within 48 hours (supervisor never called me). He said that he's been encountering the same problem for quite some time with other clients, but that he has nothing to do with sales. I asked him if he could call the store so they could all be on the same page. He said he was prohibited from contacting the store. The next day, Tuesday 2/21/17, I proceeded to visit the above-referenced store. I spoke to a lady (didn't get a name). When I told her what had happened. She curtly said that I should come back to the store in 2 days, on Wednesday 2/22, because Tyler was not working that day and he had been the one to make the order.
I asked her if she or anyone else could help me because it was burdensome for her to ask me to come back when I had already taken time out of my busy schedule to visit the store to clarify the situation. She rolled up her eyes. I then asked to talk to a supervisor. She said the supervisor (who was in the store) couldn't/wouldn't talk to me. I explained what had happened and she immediately became defensive. I assured her that I didn't have a problem with her and that I was merely explaining what happened so they could take steps to correct the matter via communications or training. She said she was not interested in any of my feedback.
She then called Tyler on his cell phone. She came back and said she couldn't honor what Tyler had ordered. She seemed frustrated and said that I could go commercial bulk or not do business with Cox. She said that she was trying to help me, but seemed extremely annoyed by me. I asked how much the bulk deal she mentioned would cost me, and she said that she didn't have that information. I then asked how was I supposed to make a determination to something she was suggesting if she didn't have the pricing. Very annoyed, she said that she was trying to help me that she could have someone give me a call with the prices for a bulk account.
Because she was visibly upset at dealing with me, I told her that she shouldn't be defensive, that I was merely trying to straighten the situation. She then yelled at me by saying that she was trying to help me. I reminded her that it was her job to help me, and asked her what else she needed from me. She asked me to jot down my phone number and assured me that someone would be calling me with bulk pricing within 48 hours. I said ok. 6 days later and no one called me. So I went back to the office. This time I spoke with a lady with short hair who claimed she was an assistant manager and with Michael, another Assistant Manager. I told them that I still had not received a call back with pricing for bulk. I asked if they had passed on my number to the appropriate party.
I reiterated to both of these Assistant Managers what had happened. Michael said Tyler was in the back. Michael said he would go get Tyler, but came back saying that he was busy and couldn't help me. I tried to explain to the Assistant Manager with short hair my frustration that I hadn't received a call back. She said: "I don't want to talk about it." Michael came back and said that Tyler was busy in the back. I tried to provide some feedback to Michael as to what I had gone through. He said he couldn't help me. He wrote down a number I could call for information about bulk pricing. I told him that I was being treated with a lot of attitude, like I had done something wrong. I asked him if I had raised my voice or offended anyone at any point, and he said that I hadn't.
I then said, thank you for the number, and left the store. I went home and called the number Michael had given me. It turned out that bulk was too expensive. The next day, I went back to the store to see if I could modify my order. This time I spoke with Ryan, who initially seemed very friendly. I asked him if I could still go with the Bronze bundle but have a tv in one unit and the internet in another. He said he would look into it. He looked up my account on the computer and then said he had to excuse himself for a few minutes. He went to the back and, I assumed, he talked to Assistant Manager girl (with short hair) and Assistant Manager Michael (short guy with glasses).
Ryan came back saying that he couldn't help me, that I was asking the store to commit fraud and threatened to personally call the police if I didn't leave. I asked him at what point I had asked the store to commit fraud, and he didn't answer. He got close to me, he was pale and nervous, and reiterated that there was nothing he could do and that he would call the police if I didn't leave. I asked him what I had done to merit such treatment, given that I hadn't even raised my voice. Assistant Manager Michael was nearby and I asked Michael if I had behaved inappropriately, and he said that I had not. Ryan said that my account had been blocked because I had dealt with various Cox agents and because "my issue" had gone up to the highest levels.
I told Ryan and Michael that I came into the store to find a solution, that I was offered a solution, that I understood and accepted that what I was offered was no going to work, and that I was prepared to accept the Bronze bundle for just one unit. They both said it could not be done. Ryan said he would call the authorities. Puzzled by the threat, I again asked what I had done. I told them I already had an account with Cox and that, at this point, I was merely seeking to upgrade, and to treat me like they would any other customer seeking a bundle upgrade. They said they had blocked my account and no transaction would be performed on my behalf. I then told them their actions and attitude smacked of retaliation. Assistant Manager Michael said he was sorry I felt that way.
I asked how else I could interpret their behavior and actions. I received no response. I then asked if I had done anything wrong, I told them to put themselves in my shoes. Michael finally offered to call the number from the store and allow me to place my order that way. He said he would dial from the store and that I could talk to a Cox rep on the phone. I agreed to that. I was so puzzled with the treatment and the threats to call the police, so I reiterated to Michael that I was willing to modify my request, that there was no need to treat me that way, that it had not been my mistake but Tyler's, all this while Ryan called the line. Michael then said he no longer wanted to talk about the matter, that he no longer wanted to talk to me, that I could talk to a rep on the phone.
I proceeded to call a lady on the phone, who was rather courteous. I then upgraded to a Bronze bundle over the phone. As I was leaving, I said "thank you" to Ryan who didn't look up to me or say anything in response. I then went over to Michael and touched in in the arm and said "thank you." he said: "Have a good one." I then left the store still confused and flustered. Got home wondering if I had make the right decision to still place my order with Cox give the extremely bad treatment I had just received.
Needless to say, there is a dire need for training and customer service at this office. Listening to your customers would go a long way. The red tape is worse than what you see in government. I have never before been threatening with calling the police simply because I was trying to find the best solution or gave feedback to a company. Please do something Cox! I still have my account with you, but I'm seriously considering jumping ship if this kind of treatment/incompetence continues.

I ordered the service through the area representative and he assured me that the basic service will be sufficient to do homework online, which is not true. Sometimes, I have to wait up to 10 minutes before I get connection again, I called the company and their answer was, "It is, what it is." I was in total shock about their customer service skills and answers. I had basic services before back in California but never in my entire life, I had to struggle so much of internet connection like I am currently struggling with Cox Internet service. Unfortunately, I don't have any other choice since this area is monopolized by Cox communications. I need the internet to study, that is all, is it too much to ask to just be reliable? Wow, this service sucks!!! I would never recommend this service to anybody, there is no such thing as ZERO STARS, because if there would be, that would be my rating for Cox Communications.

I was quite happy with Cox for many years. But for quite some time now - a couple of months now, I am experiencing problems with Cox internet dropping internet connections every night. It always recovers a few minutes later. Every attempt to resolve it with Cox - they blame it on customer's equipment, and you must arrange a visit of technician to troubleshoot. In many cases technicians are not even skilled properly and all they can do - swap out splitters, touch wires here and there - but the problem is on Cox's side - fix your network! I can give you all the technical details over the phone - power level, SNR etc. No need to send your poorly trained technicians and charge me for their visit. I already cancelled most of my TV programming and the moment I would find suitable replacement for internet provider - I will get rid of all Cox services.

If you are considering Cox Communications in Wichita KS area for Internet reliability - expect significant downtime. Personal experience as a customer I get uptime at 96.3%. In computer networking reliability terms this is extremely poor. Most businesses rely and maintain 99% or better. This is more than 12 days of downtime annually. If your revenue is $5000 daily and relies on Internet network connection this is a loss of $60K annually. Can you afford this loss?

COX email is the absolute worst service on the planet. It's down more than it's up, suffers from slow service, and spotty and inconsistent message delivery. As a retired Chief Information Officer, I would have lost my job long ago if I ran such a poor, slipshod service. It's time for the senior business leadership at COX to step up, and make the right decision to dump the CIO and replace he/she with someone that is competent enough to run a highly reliable email service. Reputational harm to a business is hard to restore!!

I've been a Cox TV/Internet/Phone customer for over 20 years and I have seen the fees climb every year and the TV quality get worse. I do give kudos to the service people who are on time and always very nice. But am tired of the increasing costs for the cable TV. In the past the only way to save any money at all was to 'bundle' services; however, that is no longer the case with their tricky billing. My bill was $166/mo, the 'bundle' due to expire in Mar, and being retired and on a fixed income I phoned to see how I could reduce my bill. I explained and decided to remove the Variety pack and Sports pack at $7.50 each and voicemail and long distance service.
After all that my bill was only lowered by $2! When I asked how that could be I was told that I was already receiving a bundle discount and they could not lower my bill more. I had been told last year that I should call every few months to see if there were new discounts for seniors but this time was told that that was the best rate they would give me. I understand they want to run specials to entice new customers, but it's become offensive for them to effusively thank me for being such a loyal customer for 24 years, then give new customers deals such as $80/mo phone/internet/tv for a year but not have an affordable rate for long-time customers... especially seniors. I am not able to get Verizon TV in my area but can get Verizon internet & phone so will be changing my service over to them and using Chromecast to get the tv shows I want.

Haven't been with Cox a year and they are trying to lie about bill. They lie to their customers and don't even care... Can't even tell me why my service was disconnected. Just give me the runaround... Very pissed off about how they are treating me and others after reading reviews. This company really need to be stopped... Something has to be done. How can we stop this from happening to so many innocent people... I really regret getting service with them. Old saying "be careful how you treat people".

Oh my God, I just had the worst experience with the customer service person ever in my whole 24 years of life so I call the collections and I have a conversation with him. I told my whole situation and WE WERE IN DISAGREEANCE so I asked to speak for supervisor and he was talking about; I have to wait 24 to 48 hours to speak to that which I know it's not true so I said, "Well fine, let me talk to someone else in the office." He was like no no no so many times and just so very rude and I had to three-way my friend (who once worked for Cox) on the line just so he could hear how he would speak it because I can't make this up.
This was the worst experience ever. He said his name was Steven but that's all the information he gave me because I told him I was going to report him and he refused to give me any information. Trust me your best bet is to call a Cox store locally or go into a local Cox store to get your problem figured out because I don't know who train these PEOPLE but it's not right especially when it's a customer service field.
I was very mad and confused so I'm like transfer me to billing and he's like MA'am, "I advise you to hang up and call back because I'm not going to hang up and WE REALLY THOUGHT HE WAS CRAZY OR PLAYING A GAME BUT OMG He was so serious. And now I have to call back and explain everything that just took a hour out of my day to report this **! I need a new internet company to come back and hire very well trained customer service who don't smoke drugs all day and come to work just for drug money smh; seriously he sounded like he was on drugs smh!!! Worst experience and mind boggling experience ever!!!

In November I had a sudden death in my family. December's bills came and went until mid January when everything in my house stop working, as far as internet, streaming, and well Cox Communications goes. I immediately paid the bill and the service was back on, one week later I paid the next bill due. Now it's the beginning of February, my "bandwidth" is too low to stream... odd considering I have the second to the highest available, so I pulled up my account to find that I have another chunk due immediately!! This is to include a $20 reactivation fee. I politely explained the situation to the representative on the phone (I'm in customer service) and also explained that we have had this account for 20 yrs and never missed a payment!! After a brief hold she told me her supervisor said there was nothing they could do.
Now at this point I'm on fire! I ask to speak to said supervisor who comes on the phone ready to fight. She said and I quote "ya, I'm sorry about your loss (severe sarcasm) but your account was deactivated and you have to pay the $20 like everyone else". Wow! Loyalty gets you nowhere with this company! I said to her, not so politely "after thirty days shutting off someone's service with a perfect payment record seems like a scam. I was actually calling to upgrade my internet service and modem but you have made me want to look at other options". She then told me to hold on so she could look into something. I told her not to bother, and that I hope that this call was recorded for training and quality purposes.

I have been with Cox since the 90s. I had the Preferred internet and TV Packages. My frustrations with them is that this year they jacked up my rates from $97 as high as $161 because I added Preferred TV and one extra line? The quality of the programmed TV is antiquated for my area and many of the channels are not available unless I want to pay more? I complained to upper management about getting bill down to $107. Management did assure me these changes would be made, but the next month my bill was jacked up again. I went through this 3 times and supervisor finally told me to take it or leave it. So, I chose to cancel services rendered immediately. They hit a switch and bam! Service was cut.
In a nutshell, they will jack up your rates frequently and have no regard for customer loyalty even though they host a dept with that name. They will give you a lot of sugar over the phone by throw promotions at you, but these don't last long & in the end, you pay more? Now I have to search for another internet provider in BA.

I signed up for Cox services on a lifeline and connect to complete account in August 2016. In September I moved. I was approved but told I had to talk to the main Cox to update my address. When I talked to them I was told services were already active at that address and to bring a copy of my lease. I did, I was given a quote of about $58.99 monthly for cable, Internet, and home telephone services. I had an installation scheduled for that Saturday that included 5 televisions. They did not show up until the next Saturday. I received my first bill for 10 days of service a few days later for $127 and change. I immediately called to have my bill corrected or services canceled. Instead Cox tried to sell to me. I called several more times with the same request.
Once the due date came around Cox blocked me and routed all of my calls to a very rude collections department. I ended up paying the bill just to get through and requested a 30 day money back guarantee along with cancellation. Cox refused. My last Cox conversation was that Cox has done this to many people and they will get away with it. Cox has since picked up their equipment but I keep getting communication from them. They are now asking for over $1400. I asked one last time in writing, to stop communication and return the funds to me that they were not due. I just receive a call from the home security department and they have even started harassing my family. Please help me get some relief.

I contacted Cox to downgrade the Internet service given that it typically wasn't delivering anywhere near the advertised speeds anyway. On my next bill I see that suddenly and inexplicably the cost of my TV service has jumped up $27! For the same exact service! My bill is now higher than it was before I downgraded the Internet service! Do they really expect people not to notice these shenanigans? Nice job Cox, I'll now be canceling my service entirely.

Last month I called Cox to complain about my bill, they adjusted it down to $196.00 and assured me that it would remain at that amount for another year. Received my bill due in January and it was at $216.00. At no time during my conversation with Cox agent did he tell me that my bill would increase in the next month. I have been a Cox customer on and off for over 20 years and now feel it is time to look around for another provider. Will discontinue my service as soon as my contract expires 11/17.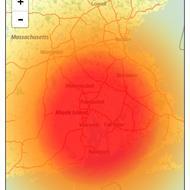 So for the past two business days 12/20 and 12/21/2016 the internet and television services provided by Cox Communications in my area has been really subpar. As of this posting any individual online can still go to downdetector.com and clearly see that Rhode Island and Southern Massachusetts both have a giant Orange almost Red blotch covering the outage map of my areas. Concerning. Not an issue until it is an issue right? So Tuesday 12/20 around 8:00 am I needed to get a presentation ready for work using my OneDrive (which requires internet access btw, it is a cloud storage service). Of course, no connection. This in all honesty started just before midnight on 12/19 when I purchased a video game for myself as an early Christmas present on the Xbox Dashboard as they were having an incredible sale on a title I had been yearning to play so I decided to indulge and pulled the trigger. That's when the problems start.
My purchase went through initially, about the only good part of this situation. Once it goes through the Download status bar is now stuck on "Pending". Awesome right. Spend $50 on a video game you were hesitant to get in the first place because of the download to own method of buying games has not always worked out so well in the past. I immediately blame Microsoft and Xbox LIVE for not being able to handle the amount of purchases that were most likely being made at that time. Call the Xbox customer support who has me run some quick basic diagnostic checks on my machine and everything seemed to check out except one. When I ran the Advanced Network Statistics test it was continually coming back with a message stating that I was receiving anywhere from 20-30% packet loss in my WIRED connection. Why wired connection?
From a Gaming and Video Streaming standpoint wired connections have always provided me with the most reliable connections so if I can wire it, I will and hide the wires somewhere later. :). So I call Cox. Oh yeah. It's time to let them know what's going on and why am I losing 30% of my data through their connection to my single family home. I mean this is is MY connection only, I am not good at sharing and I'm a data HOG, apologies to future roommates. They immediately shift the blame to Microsoft's Xbox One and claim, packet loss? Wait a minute, the funniest part was when I had explained my issue initially, the first Cox Customer Support Tech had no idea what "packet loss" or "data packets" were and asked me if they had something to do with tweets? Tweets? What? So I politely explained to her what they consisted of and then politely asked to be transferred to a Tier 2 agent.
This agent knows her stuff. She immediately understood my issue, but once again, decided to forward the blame unto others and not Cox themselves. I mean really why would the cable internet company have anything to do with the cable internet being poorly managed. Really guy? Well once she put me in my place and told me facts, I immediately was referred to downdetector.com not by myself mind you. By the Tier 2 agent who barked it at me to check to prove I was the one who was wrong. Did I mention she was most likely in a foreign land and had no idea where I was and surely she didn't have the motivation to type in my personal location into downdetector.com because that would be too easy. So I did it for her. I compiled a 2 day report from the site and took screenshots of the giant red blotch covering my area.
When you type Cox Communications into the website it recognizes the business immediately and puts you on the page. Right away it shows "Cox has problems" in a Big Red Box and individual reports and comments were flying into the site by the dozens as I read the consumer complaints. I demanded a 2 day credit and was refunded a whopping $5. They still have not addressed the issue as of this Consumer Affair review.
My entire neighborhood is out right now in Tiverton Rhode Island and the Holidays being just around the corner, not only is my business stifled and at a stand still because as a graphic designer I rely on my internet speed for my business and with the approaching festivities that means business for me but my deadlines can't be met because Cox Communications, the only high speed internet option in Bristol County Rhode Island is monopolizing the industry and I have no other choice but to pay these crooks an insane monthly bill for a service that rivals that of a communications company based in Aleppo, Syria with the continuous and repeated service blackouts and outages.
The Holiday Season is now a travesty in my house because we currently cannot get anything done. We hope you all have a better experience this holiday season sincerely and shame on Cox for not addressing this sooner, trying to save face and just pawning the isse onto a business that is based on the West Coast. Xbox isn't the problem Cox, you are.

ConsumerAffairs Research Team
The ConsumerAffairs Research Team believes everyone deserves to make smart decisions. We aim to provide readers with the most up-to-date information available about today's consumer products and services.
Among the largest ISPs in the United States, Cox covers 18 states, with its primary coverage areas in Arizona, California, Nevada and Virginia. Cox is one of the longest-operating ISPs, having started operation in 1996. It often wins PC Magazine's Reader's Choice Awards for its high-speed service.
Advanced tech: The smaller coverage area means Cox can devote more resources to speed for its customers. It is introducing 1 gigabit-per-second speeds in many markets by the end of 2016.
Rapid growth: Cox is aggressively trying to enter new markets in Arizona, California and Nevada while rolling out Gigabit service and expand its coverage area.
Bundle designer: Instead of a limited number of bundles to choose from, Cox allows customers to create the ideal Internet, TV and phone bundle for their needs.
Some services are free: There are no initial setup fees with Cox, and it offers free cloud storage services that vary based on the selected package.
Best for Consumers in the 18 selected states who want the fastest Internet service for high data usage.
Compare Internet Service Providers
Cox Internet Company Profile
Company Name:

Cox

Year Founded:

1962

Address:

1400 Lake Hearn Drive

City:

Atlanta

State/Province:

GA

Postal Code:

30319

Country:

United States

Website:

http://www.cox.com/