Consumer Complaints and Reviews

I have been a member of AOL since 1991. Paid when they wanted payment, free since the service was free. They have just cancelled my email account and denied me access to all my emails. This was because I had exceeded my size limit and the temporary passwords were not active for long enough for me to delete and/or move my emails, which the service agents repeatedly asked me to do. A couple of days later, 'so sorry we can't reactivate your account', 'so sorry the supervisor is not available', 'so sorry... so sorry', 'perhaps you could post a letter to the legal complaints department in London', 'so sorry we are unable to inform you when you exceed your limit', 'so sorry...' phone goes down.

Compromised account, 2 times in 2 months - In December 2016, logging in I had a notice that I was locked out of my account and I had to call this number to fix the problem. When I called the foreigner said I had a compromised account and that a few foreigners are accessing my account. Stealing my info. They had me click on and they showed me a black screen with this on it. It felt suspicious so I refused to give them any info. An hour later, I went back, signed in and changed my password. Then they called me back and I told them I was reporting to police. I did go onto internet fraud and wrote a report. Something funny going on on AOL.

I have been using AOL mail for over 10 years. Had 2 accounts, one for bills, business etc and one personal. All of a sudden the personal account disappeared. I have no way to regain those addresses. Requests for assistance from AOL did nothing to solve. I was told since I am not a paying customer, I would have to subscribe to a paid account in order to get assistance. That is really poor business practice in my opinion. So they have forced me to open up another one, try to assemble all new info, and now I am worried the remaining account will disappear too. Wonder if anyone else has experienced this?

Email News from AOL - I can't stand when a company uses their business to push their own "fake news." Please stop pushing your crazy left wing opinions and fake news onto your customers! Now I know what fake news is and how it is just a pinch of truth with a whole lot of lies. It's twisted facts and totally unbalanced viewpoints. The reason our election went the way it did is because of all the dishonesty that our supposed news programs have been thrashing about to help their own agenda or because someone has paid them to lie. People are sick of it. I for one will no longer read your trash!

When I browse through the news on AOL, they are often advertisements disguised as news to get you read them. This is very unprofessional and trickery. I no longer have respect for AOL news and will find my news elsewhere... real news. You have hit a new low, and I have been with AOL for many years. You are going downhill fast. My account is free, but I'm beginning to wonder if it's worth it.
How do I know I can trust these reviews about AOL?
766,190 reviews on ConsumerAffairs are verified.
We require contact information to ensure our reviewers are real.
We use intelligent software that helps us maintain the integrity of reviews.
Our moderators read all reviews to verify quality and helpfulness.
For more information about reviews on ConsumerAffairs.com please visit our FAQ.

Aol is - and has been for the last 18 years - the most unbelievably dysfunctional piece of garbage that I've ever encountered online. Right now - I am staring at a computer screen where literally every 20 seconds a message pops up - "Oops. Something happened" Not other details; the content I was viewing just disappeared. I first got an aol account 18 years ago. I've checked every six months or so to see if it's improved. It's just absolutely unbelievable! No improvement whatsoever - from unavailable email, to dead or misdirected links on the front page, errors, errors, and errors. I finally decided to call, connected with a gentleman in India who had to spend quite a bit of time looking up everything I inquired about, and then got disconnected. How can they possibly stay in business???

I have been with AOL for over 20+ yrs. I had a free account with them but I noticed after looking at my bank statements that I was being charged each month. I contacted them and they stated they did not show I was being charged. Gave them bank info. Asked for my money back for my Free Account and was told they would escalate it but what I got was terminated without notice and all my emails are gone. They say there is no way to get them back or open my account back up that I am out of luck and no one on the weekend can help me or deal with my complaint. But they still took my money for AOL this month but now I don't have AOL. All of this because I made a complaint. And years of emails gone legal emails there, and family that has passed it's all gone they say. I really need some help here!

I have been a member of AOL for 15 or 20 years. Without a warning, AOL deactivated my account so when I wrote & asked as to why, they reinstated my account, but I still couldn't sign in. I called support & the tech said someone in Russia hacked my account. That was odd. Anyway, tech then asked permission to check my PC system, followed by stating they couldn't repair but they had another tech who could fix it, but at a cost of $300. I said, "No thanks" and signed off. Immediately after signing off, I had no internet connection. Obviously, AOL screw up my computer. Now I have no network adapter. They are scammers & there should be a class action lawsuit against them, as I'm sure I am not alone.

It is a political season with political ads - I get it! But 1/3 of a page of Hillary's face every day now till November bashing other candidates and telling me how to vote is enough! It's intrusive, offensive and invades my privacy. I do not mind the smaller ads surrounding this site but 1/3 of a page of Hillary's face or a rip on Trump and other candidates is going overboard and enough! I repeatedly asked to be removed from this and their explanation was that there was a glitch!! ENOUGH!!! AOL needs to learn a little restraint and if it's all about the money - then maybe that's a hypocrisy of the very thing they're screaming about!!!

AOL has been billing me for their AOL email service after they switched to FREE email service. I had been using their service for over 14 years. When we no longer need them as a Service Provider, they gave a reduced rate to continue with just the email account. A reputable company would have contacted the subscriber to let them know that the service they were paying for is now free. Obviously AOL is NOT a reputable company. Today I talked with one of their 'service reps' and switched over to the free email. They said that I chose the plan that I had. I explained to the lady that this was what AOL required at the time to continue with email only. She again said that that was the plan I had chosen.
After explaining again, I asked for a refund for the past payments since they changed to the free service. She said they do not give refunds. To top it off, she says that since the billing cycle just ended that I would owe another month's fee of $17.95. What a bunch of **!! The only reason this is one star is because that is the minimum. There should be a negative or 'Zero' to choose from.

Do not create an email account with them. Their customer service sucks. Make a Gmail account. You'll save yourself the grief. This company is so outdated. Nothing but unhelpful scammers.

I have been with AOL since 2004. I enjoyed its info and have purchased many products through its connected websites. But now I learned that Internet Explorer and AOL wants to charge me $34.00 START-UP FEE AND $10.00 A MONTH THEREAFTER!!! This is unacceptable and I will not fall a victim of this extortion! Goodbye AOL.

The worst! Spam doesn't stay spam. Small window to see email and read. Mostly flashing advertisements. Spent the long minutes trying to opt out of this gaudy, angry ad machine, and it came back saying: "no real reason". Maybe technical. But out of the over 100 companies that I will NEVER purchase from due to the horrible ad push... only 21 respected my wishes to stop having to try to read email through god awful ads. Guess what? Most of the purchases I've made in my over 60 years of life have been MY Choice. Not some eye straining, crazy, dancing ad machine flashing in my face!

My free AOL account was recently cancelled out of nowhere and for no reason. When I tried to sign in, they asked me to call a phone number to reactivate which I did. To make a long story short, my free account was canceled because AOL had this Indian scammer try to sell me junk I did not need and the jerk asked me for my secret code, which I regret giving him since this scam caught me by surprise. I legitimately thought there was a problem. This Indian scammer told me that there had been some shady activity in my AOL account and that is why it was cancelled, then that jerk proceeded to try to sell me protection subscriptions of different kinds. So when I activated my account, I found out that there was a request to cancel account!! So in conclusion, my free AOL was cancelled by AOL just so they can sell me bogus services!! What will these garbage companies think of next??

AOL sends their fraud team home at 7 pm Central Standard Time and are unavailable evenings and weekends. I am locked out of my account and it is Friday night. Someone is hacking into my account. I have been loyal to AOL for 20 years, even when they increased the monthly fee from $9 to $22. I thought it was too much trouble to change to a free account but after this I will take the time and trouble to stop this nonsense. Fraud occurs 24/7 but a company that is not available 24/7 to address fraud does not deserve anyone's business. They have kind people answering the phones evenings and weekends and leave them impotent to assist customers.

I have tried to cancel AOL since 2011. I have no idea when it became free to use, but I continue to be billed $26.99 every month for a service I have not used at all for years. I should not have to change my card number because AOL is unethical. I am 83 years old and did not know AOL was free or that I did not need it. They say it is cancelled, yet I continue to be billed to this day. I know I am not the only person to be robbed by AOL and it is time this stopped once and for all! Obviously past lawsuits have done nothing to stop them.

The unfortunate decline of AOL is very sad, and has become almost unbearable. I remember when AOL was the best, but now there is no technical service, my mail disappears, mail doesn't send and often mail cannot be opened. Important mail that cannot be replaced vanishes in the AOL service. Even in AOL news articles in their WELCOME site the comments in response to the articles are consistently not available to read, and if you write a comment is doesn't even submit nor send.
If you write AOL about myriad problems, you receive a form letter telling you how to get help for yourself, using the AOL Help System, which does not work. AOL should be ashamed for letting what was once the very BEST provider to decline to this extent of unworthiness. I wish I had the money I have paid AOL for over twenty years per month!! And what I am still paying them for this tawdry service is money down the drain. Losing valuable documents, emails and pictures is unacceptable and unprofessional and is due to the failure of AOL to repair their service and make it reliable.

I have had America Online email for three years as a non-paying user. It has always been very reliable and easy to use. However, recently it has become a problem to just open and write mail. The ads that are placed on the side are becoming a nuisance and a hindrance to the overall performance of all functions. I cannot discard mail, open mail or read mail without a problem being caused by the non-stop advertisement function.

I left AOL once because I was having issues with receiving and sending email messages. I switched to Yahoo (not much better) for a few years, until Yahoo had known security issues, among constant issues with identifying spam. I switched back to AOL, which was fine for a while, but now it's extremely slow and I get more spam from AOL than I do from your typical Spammers. AOL keeps sending me ads asking what's wrong with my slow PC, offering their computer junk cleaning service. I finally wrote back that AOL was the only thing slow with my PC and that I don't like their constant ads. I'm probably going to give Google mail a try to see how they operate, as I'm using my Yahoo account a little bit, which is better than it was a couple years ago, but not much better than AOL is now. I'm glad to see I'm not the only one having slow speed issues with AOL.

Within the last year, AOL email has become tremendously slow. I am seriously thinking about ceasing from using AOL email, plus accessing AOL, period. One can began typing an email and the letters do not show up.

I have had account with AOHELL since 2001. I have not switched because no way to move mails to other provider. The few times I have reached a rep, asking for some kind of credit because of service rejected. I do know when I get rid of it, will close credit card account so they cannot charge me.

As soon as you read about 10 emails a blue circle starts spending around in circles. It doesn't happen on certain days. How can you buys sale items if you wanted to? I'm thinking companies should complain that their ads can't be read.

This is about the fourth time you idiots screwed up my account so I could NOT get my e-mail service! Who do you have working for you, a bunch of brain dead idiots? If this happens just one more times I will find another service that knows what they are doing as it sure seems you people don't!

AOL Services are antiquated yet they make it very difficult to cancel. I was paying $30 per month for completely unnecessary service; you cannot cancel directly online and customer service is very difficult to deal with. 20 year veteran AOL user but that means nothing to them.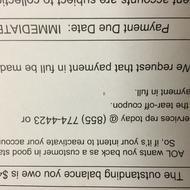 The last few years I paid over $20 per month for AOL. It has more than doubled since I first started. I wanted to cancel for years on more than one occasion.
I have been a member for years. I am almost 60 and didn't realize I am one of the last on the planet paying for my AOL. I couldn't figure how to contact them since they make that invisible, however when I stopped paying them (I switched account info) I suddenly got addresses and a phone number. I called them in October 2015 to close or to convert to free and to complain about an overdue bill of non-payment.
Then I call in November to hear that the previous person never switched me to free and I would have to pay $47.98 for 2 months. From what I have read on this website they never want to let go of their revenue stream at my expense. I am basically getting the same as everyone else so why do I have to pay $200 a year?! How can I get them and keep them out of my pocket. I thought changing my account would be enough. Perplexed and Frustrated.

I was checking my emails on my phone & noticed it said "no mail" when I in fact had 10,350 emails in my inbox. I called AOL & they said I am not a paying customer & I could get all my emails restored if I start paying a monthly fee for technical service! Apparently they are deleting customers' emails so you sign up for their tech device plan because that is the only way you can have your missing emails that were mysteriously deleted restored!

I have an email account with America Online since last 15 years. Their monthly bill are outrageously high. $27.95 per month. Many service provider have free email accounts for their clients. In today's competitive market paying $27.95 for email account is outrageously high.

Originally in 1999 or so I signed up with AOL as my Internet provider. Along with my seven screen names (which is a free service) and subscribed to pay an additional $10 (roughly) per month for dial backup service. That subscription price has since increased to about $24.99 monthly. Dial backup is no longer necessary as a service and have called AOL on at least 2 occasions to cancel this subscription. They continue to bill me and call me constant. My request to cancel has gone ignored. All I am interested in keeping are my seven screen names.

Several years ago my father passed away. AOL continued to bill a credit card for years even though there was no AOL activity. When I asked AOL to provide some time of credit they absolutely refused. AOL is likely ripping off thousands of other families in similar situations!

While viewing my aol mail and managing it, there are commercials that pop on the right side of the screen and I have asked for help from aol in an email earlier but these commercials constantly scroll (change) and aol mail is not manageable basically will not function. How do I get them to stop scrolling so many commercials that it slows my e mail down this badly?
Compare Internet Service Providers
America Online Company Profile
Company Name:

AOL

Year Founded:

1985

Address:

770 Broadway

City:

New York

State/Province:

NY

Postal Code:

10003

Country:

United States

Website:

http://www.aol.com/