Consumer Reviews and Complaints

If anyone is interested in the purchase of a new build home by Richmond American Home Builders... RUN, RUN AS FAST AS YOU CAN AWAY FROM THEM!!! Don't make the mistake like everyone else has... The quality and workmanship of these new build home is ridiculous and unacceptable. Don't buy a Richmond American Home.

We were disappointed from the get go. There were many things that were not done right and it was very hard getting a response to get anyone to first come and look at the issue and then get them to get someone out to fix it! One of the issues they never fixed is fairly early on we were already seeing cracks in our ceiling and the person they sent out told us that was "Normal" from the house settling. Normal? How is that normal when the house was less than a year old when it first started occurring! Now that we have had contractors come out they told us that it was very common especially with this builder for the supports to be placed further apart (but still within code) instead of closer together which is what is actually recommended. I do not get why that is not required!
Our house is 7 years old and we have had to have our driveway as well as the sidewalk leading up to the front door lifted 3 times and needs to be done again and we were told this is because they did not have the land excavated correctly! We have already had to replace the kitchen floor as it kept getting holes in areas that had little traffic and when we replaced that the people who did this showed us how the glue that was put down was allowed to dry a lot before they finally placed it down. They barely had to do anything to lift up the floor to replace it.
This company is just about getting in and getting out to get their money as quick as they can. They are not about quality at all. We also have had neighbors that have had to repair their foundation because of the excavation issues and they had to take them to court before they finally agreed to cover the costs since the foundation is guaranteed for 10 years. I would choose another company before ever coming to this one and do your research on finding one that is honest and does good quality work!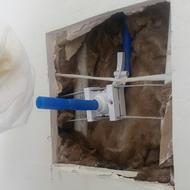 I have owned a brand new Richmond American home for less than 6 weeks and already have had 5 issues including electrical, plumbing, faulty fixtures, bad circuits, bad plug outlets, and now a big hole in my garage in the drywall. Richmond workers only work 8:30am to 4pm Monday thru Friday. Which means if you work during the day. You have to take a day off work or at least 1/2 day so they can come at their convenience and fix the problem they caused. THEY SUCK... Buyer beware. I wish I would have read this website before I bought from this builder.

Our experience has been a nightmare, to say the least. We signed the construction agreement in July of 2016. We continually had to monitor the process due to poor workmanship, i.e. crumbling concrete in the foundation, framing not done to specs, etc. Then in early January, someone set a propane heater in the kitchen/ great room, and left it on high over a weekend. The kitchen cabinets had been installed at that point, as well as the tile. The cabinets melted and warped. The windows in the great room and dining room warped, and the ceiling started to fall down. The heater was found discovered and shut off just before the house was ready to catch fire. Since then, there has been nothing but problems with this house. On the day of closing, the house was not finished. When we told them we weren't going to close, suddenly Paul **/ VP of the Utah Division, was on the phone to us trying to convince us that the home was ready.
We felt bullied into closing on a home that wasn't ready, simply because it was the last day of the month, and Richmond didn't want to pay interest on the construction loan for an additional month. We signed on the condition that the issues on the punch list would be fixed. One of these was the dormer window above the garage. It was initially left off until we brought it to their attention. The roof had already been shingled, so, instead of doing it properly, they built it while we were standing there and then nailed it through the shingles -- in the wrong place! It was removed and moved to the correct location about a month later--once again nailed through the shingles. The flashing could not be done right because of the cold weather. We were told they needed to wait until it got warmer. Well, it is now June 8th, we have been in the high 90's for a week and the 80's before that -- how much warmer does it need to get???
The tile has also been an issue. The grout is discolored throughout the house and crumbling in several places. The walls and floors crack -- not creek -- crack when you walk in the master bedroom and the great room. We were told that the glue for the walls must have separated when the house got so hot from the heater, yet here we are, 3 months into it, and nothing is being done to fix the structural issues! Another issue was with the concrete for the driveway and back patio -- poured during a rainstorm -- really??? That had to be replaced 2 days later but the back pad has still not been fixed. And now the final straw -- the air conditioning doesn't work! How can you even justify a brand new house with broken air conditioning already? Please DO NOT EVER sign with this builder! It will be one of the biggest regrets of your life if you do!

Buyer Beware! We have had more problems then we should, it's been a nightmare; to the landscaping company they hired to the builders! Shoddy workmanship!!! All of my neighbors are so dissatisfied! We all are constantly having issues which costs us "out of pocket" expenses that we should not have to incur! We're seriously considering selling the house and chalk it up as a learning experience!
How do I know I can trust these reviews about Richmond American?
885,935 reviews on ConsumerAffairs are verified.
We require contact information to ensure our reviewers are real.
We use intelligent software that helps us maintain the integrity of reviews.
Our moderators read all reviews to verify quality and helpfulness.
For more information about reviews on ConsumerAffairs.com please visit our FAQ.

We purchased in 2015 and after the contract was signed and gave the earnest money, our nightmare began. Starting with the poor customer service of the sales associate, making us believe that they were doing us a favor with the building process. I have no words with their finance department as they were always too busy to reply to the questions. The only "good" experience was the design center, in which more than 45K was given to the "upgrades" because all the standards were poor quality and design. Needless to say, the community is nice, the area around is dangerous and the builder sucks. Please stay away from them, there are much better options, maybe a bit more money, but is worth. It is a home, not clothes, electronics!

We built a New Home with Richmond American Homes (Chandler Estates, Apopka FL), for us it was a Great Experience. Now mind you, we did have some bumps in the road but this is not the first home we built new so we knew how to handle things. First and Foremost, I Highly recommend hiring a Home Inspector before purchasing any New Home. Make sure you check their references thoroughly, let's face it... We're spending a lot of money here! Every Homebuilder uses Trades, they do the job they are told... doesn't mean it's done right and that's Exactly why you need a home inspector. Also, get a Final Inspection. Pull Permits, get involved in your building process, this is how you can make this experience less regretful!

Don't make the same mistake we made, and not do your homework first about the builder, and more specifically, ask the current homeowners what their experience was for this community. Everyone here in Sossaman Estates will tell you it was/is a nightmare - including us. Chad, our superintendent, is unresponsive and appears to not only not care, but genuinely appears to have no idea what is going on inside your home during the build process. At first I just thought he was overwhelmed, but now I believe this is the Richmond culture and they too just don't care about quality, commitment, integrity and customer service. We are not asking for anything more or anything less than anyone else in our community. But if the model(s) have a particular feature, upgrade or otherwise, then our homes should too.
Simple features like arches are not consistently included in the non-basement homes like to basement models, as an example, and they only state it is not "in the plans" when you question why your home was not built like the model, upgrade or otherwise. And if it was not in the plans, why was my upgraded Master Bath built with a standard bathroom configuration, with walls built right over my drain pipes; upgrading for a "study" and not getting a wall built per the plan. It's written right on the floor as you walk in - how could you get it wrong? Was that in your plans? We asked for the Study Option to be removed from our contract and leave it the way it was built because it sat that way for weeks (month plus), only to find it walled in the next day (not to plan by the way). We asked why we were the only home in the community not to have the Taexx Pest Tubes installed and responded, "They're not?"
Chad stated he would have them installed the next day after our frame inspection - and they did - along 1 wall of our garage, and 1 or 2 walls in the bathroom(s). They could NOT complete the installation because the drywallers also showed up the next day to wall up the home. Common sense build dictate you hold back a trade until the other completes the job. Not Chad. They did return to fix it - by cutting 14" of drywall off 100% of the bottom interior side of the exterior walls. The Taexx installer then proceeded to run 8 additional port protrusions to the exterior around the perimeter of the home, roughly 18" off the ground. This was also "fixed", by cutting more holes in the drywall to fish the pest tube runs up into the attic and to the front of the house. The insulation has now been compromised by compacting it in the walls with the fish tape and I don't think they know what to do next.
The holes in the walls are still there and have been that way for almost 3 weeks, but wait, let's go ahead and tape and texture the walls while we figure out how to fix the holes in the drywall. That's what Chad did. I fully anticipate they will be there tomorrow (04/10/2017) to paint, only to have to come back at a later date to drywall, tape, texture and paint the holes. This is just the tip of the iceberg regarding our construction issues. This doesn't includes our Master Bath Tub base leaning to one side and out of square (not built to plans or as strong as the other homes - even though it was spray painted "build more strong" by someone at Richmond America on the floor in front of the tub area; the arches are a nightmare and not centered, the coffer ceiling was not built to plan depth).
If anything was repaired, it was always a shortcut. The homes that I have seen "close" and are now occupied, still have construction going on inside and outside of their homes. Homes that were started almost 4 months after ours are now almost at the same stage of the construction process. I'm almost convinced this is retaliation for notifying the corporate office when they continued to build under the wrong plans. We are on Lot 106 if you would like to stop by and compare notes - I have hundreds of pictures. For those thinking of buying a Richmond Home - DO NOT - until you have spoken to ones that did not want to walk away from their deposit/earnest money.

We have been less than thrilled with our new home experience up to this point in time. From the sales rep that should be on a used car sales lot, to the incompetent mortgage company RA partners with, we are regretting our decision to work with this builder. They have no concern for customer service and the entire process has been ridiculous. We are spending over $700k with this company to build our "forever home" and you would think that they would maintain some level of professionalism. I would really do your homework before moving forward with this builder.

Purchase Lot #3 in May 2016. We are nearing the completion of our home and walk-thru are close. Our experience has been a total nightmare, to say the least! All attempts at communication fall on deaf ears. Our Superintendent, Chad never returns texts, emails or phone calls. Issues concerning errors within the home are not resolved, even after showing him that there is a problem. His boss doesn't appear to care about his inappropriate attitude and lack of concern for customer satisfaction. Cabinets were placed in the wrong bathrooms, glued to the wall and never put in the proper bathrooms. Lights on the outside that were cut and wired have been stuccoed over. The home is filthy even after a cleaning crew had been there.
We opted for the 4-car garage and major engineering error with the driveway has been noted by management but not fixed (a vehicle cannot be driven into the first garage). The inside paint is absurd and needs to repainted again. There are holes and grout missing so bad you can see the framework of the home. The finance company is a fiasco and very rude. Find your own finance even if they offer you an incentive. We are concerned about the integrity and dynamics of the home after our move-in. We are concerned with plumbing, heating and A/C running correctly and feel that we will hire our own inspector to make a final report. Walk away while you can and find another builder.

I've been in my home here in the Fox Hollow subdivision in Saratoga Springs Utah for 2 months. So far I'm happy with the completed home and am loving the floor plan, the neighborhood and the city! We were told construction would take about 8 months, and it took 10. I work in the construction industry and know that the reasons to took an extra 2 months were legitimate reasons. As each phase of construction went on, I paid close attention to the quality and integrity and with the exception of a few minor things, I feel they built a high quality home.
Concrete was not the greatest, but acceptable. Framing was on point! Plumb, square, and level. They even glued hangers, bearing plates, and more supporting joints than I've ever seen! That makes for a quiet house. Drywall was a notch above too. Very few gaps and very flat. Textures we're kinda poor. I think they needed to sand more, but not horrible. Trim is my biggest problem. Though it's done very well, it looks like it belongs in an apartment. They say crown under window? A flat piece of 2" against the wall with a miter at each end is NOT CROWN. And the stair skirts are 1/2" not 3/4". And all base returns are square cuts with a miter. This is absolutely ridiculous. For any home in this price range, this is just cheap. So not happy. Doors, windows, shelving and paint is good, almost great. Flooring! I love it! Looks great!
Good warranty, and probably the best part of the house. Granite is number two, but not top notch but still very attractive and had a good selection to choose from while picking it out at the slab yard! (That was exciting!) Appliances are LG, and I love them! Faucets are very nice as well. I give all interior trims an 8 out of 10. Exteriors are only going to be as good as the framing so stucco, soffit and Facia, And stone look really good! I'm happy with the colors I chose, but I really think they need to show every color with a picture of a house that has them. We just didn't know what to expect! Luckily we love it!
We're on the corner so they will be landscaping front and side as it's included in the sale and they are willing to work with me to do some minor upgrades at no extra cost! So if that speaks about the team of service people I've been working with, it tells you how great they are to work with! I know there's a lot of bad reviews here, but everyone in my neighborhood seems to be happy.

The stove I purchased through Richmond American finally went out after 10 years so I purchased another stove and tried to have it installed but ran into a huge problem. Whoever installed the gas line didn't install a shut off valve. They just ran a gas line from the wall directly to the stove. My wife, the installer and myself spent about 45 minutes looking for a shut off valve throughout the house and never found one. So now I'm stuck with a broken stove in the kitchen and a nice shiny new stove in my dinning room until I can pay someone else to come out and shut the gas off so that we can remove the gas line and install the correct shut off valve.
I called Richmond about the problem and was advised it was not their problem because my home does not have an active warranty even though the city of Houston advised me this is not up to code. Out of pocket I have paid for 3 roof leaks, broken pipes in the attic, shower leaks and multiple plumbing issues and Richmond American still refuse to make it right. Never, ever will I purchase anything associated with the Richmond American name.

Craftsmanship and professionalism severely lacking. Our experience building with Richmond American has been disappointing. They have shown no care for quality and have very poor customer service and communication. We had our walk-through today to inspect everything a week before we close and the house was in terrible condition. Aside from missing several things that are clearly written in our specs (I seriously question whether these people can read!), the house was filthy. It was hard to tell what was damaged or what was just dirty because the house hadn't been cleaned. We were even given the special experience of finding someone's pee left in our master bedroom toilet (seemingly for several days judging by the lovely smell), complete with pee all over the toilet seat!
We spent 5 hours going through the house and taping all of the paint and drywall imperfections, loose cabinet doors, dysfunctional heat vents, paint and scratches on floors, and dirty smudges on almost every surface. Could they not have had someone else go through and clean, mark imperfections, and fix them before presenting this disappointing mess to their customers? Richmond American tends to forget that their customers are in fact CUSTOMERS and should be treated as such.

Do NOT buy Richmond American Homes. Zero Quality. We paid for a 515K home, upgrades everywhere. A joke. We've been in our home 7+ months, circuit breakers still popping, wet air filter... because of holes in our roof, hardwood floors with open sections you can fill your change with, central vac system repaired once, but still unusable due to its 1/8 inch rise above the floor, so crumbs get swept under kitchen island... not into central vacuum system, back door, chucks are chiseled out around dead bolt inviting anyone in, hot water furnace circuit popping. When no one is home, trim is gross, paint on carpet, hardwood floor, do not pay for upgraded paint, you can breathe on it and it chops, the most disgusting is, in your backyard, will not appear in your contract, Richmond Homes will fill it entirely with ROCK. Richmond American Homes will lie to you & tell you it's a city, county policy, which is garbage.
In our contract we signed for certain landscaping in the front, etc. That's it, the night before closing, after Richmond American homes promised they wouldn't do anything regarding our backyard and the rock, we drive by to see our entire backyard covered in rock. Had to fight with them for 2 weeks to remove the rock. Only after I got Tom Martino (consumer advocate Involved) did they agree. Richmond American Homes was worried about bad publicity. Don't buy Richmond. Don't buy Lennar either. They are connected & your backyard will be filled with rock! Richmond American Homes Andrew ** (the president) told us, "It's Mulch... Rock Mulch". Absurd.
Honestly, if you want high quality, spend your money ANYWHERE else. Too much more to mention, we've retained an attorney, filed numerous complaints with the Better Business Bureau, & filed with the Colorado Attorney General on Fraud. Don't make the same mistake we made, buy a home elsewhere. Please look at pictures of our backyard "rock mulch" and ask yourself if this is what you envision for your family. I paid over $16K for upgrade to larger yard & this is what I get. I was looking forward to a backyard of dirt... so I could plant trees, have a garden, perhaps WALK! Everything has been a struggle. If I was unable to receive quality after spending $550K, I'm not sure what hope there is for anyone else spending less... or, God forbid, more.

I called a few weeks back about the electrical outlets in the 2nd and 3rd bedrooms which caused the circuits to turn off repeatedly. In a few days, electrical techs were sent to those primary concurs were corrected. I just move in a few weeks ago and I am noticing that the electrical circuits are not functionally operational. Some of these the top work or maybe it's the bottom. I have found 5 outlets with this problem. As this is a new house, I want to request that a professional company come to my home and check each electrical circuit. This is very necessary to get my home with working electrical outlets. Currently, a few work and many do not work. Please advise as soon as possible.

I'm so disgusted by this Richmond build home. We have been here for 15 years and in the last 6 years, we have had to file a claim with our Home Insurance Company for leaks. Both leaks stem from the bottom of the toilet and/or shower on the upstairs floor. Leak was found to be in the main supply line. The latest leak is as of 9:15 PST. I'm having a plumber inspect it and replacing it all. I would never buy another Richmond build home.

So far my experience with Richmond Homes is going south unless they give me my earnest money back. I have canceled my contract with Richmond but no one has called or sent over documentation for the termination of the contract since I have spoke with the sales rep about canceling and that was on December 2, 2016. I am writing this experience on December 6, 2016 and no one has reached out to me. I feel that Richmond can keep a future prospect of a future buyer if they do what in the best interest of the customer not the bottom line.

Earlier this year we purchased a brand new home from Richmond American in the Crystal Valley Ranch subdivision of Castle Rock CO. The home is covered under a one-year warranty and Richmond American has been out to fix a few small issues that were identified in our initial walk through and home inspection. What is prompting me to write this review however is the poor service we are currently receiving for a major issue.
Approximately 3 months after we purchased the home we noticed large cracks appearing in the grout work in the master bath shower. They continued to get worse and we contacted Kevin our home warranty rep. He came out and agreed there was an issue with the tile so he scheduled an appointment with a tradesman that specializes in tile work to inspect it. The tradesman came out and not only let us know the grout was improperly done but a water barrier was never installed when the tile shower seat was put in. The gentleman passed the information along to Richmond American and Kevin let us know that we would be put on a schedule and someone would be out to re-do the bathroom tile. We were also advised not to use the master shower stall. This was well over 3 months ago.
After following up with Kevin several times he let us know that there were a large number of homes in our subdivision with improperly installed tile and that was the reason it was taking so long to get a tradesman to our house. We are normally patient people but this has gone on long enough. Kevin has since stopped returning my emails and we will be filing complaints with every organization I can think of. Buyer beware Richmond American does not stand behind their warranty.

I have serious problems with Richmond American Homes. In June of this year my wife and I purchased a home from Richmond American in Elk Grove, California. The purchase process was far from smooth. The Design Center staff is rude, arrogant, and uncooperative. It was a roller-coaster ride through a minefield littered with do-it-our-way-or-the-highway attitudes. We almost gave up several times. In retrospect I can see that we should have taken the fastest highway away from Richmond American Homes.
There were many road-blocks and speed-bumps placed in our path to purchase. One specific argument was about the granite in the kitchen. Our previous home had an island in the kitchen much larger, yet there was no need for a seam in the middle of the slab. Yet, your design center staff responded to our repeated requests not to have a seam with, "The seam is at the discretion of the fabricator." After taking possession of the home, the warranty issues have been overwhelming. Some were potentially deadly. For example, one of Richmond American's subcontractors left a live bare wire in a utility cabinet. When the Comcast technician opened the panel to activate our Internet, his quick reaction is the only thing that saved him from electrocution.
On the day we conducted the final walk-through with your Warranty representative, we noticed that the kitchen island granite slab has a seam. We also noticed that the two sides of the seam do not match. Approximately two months after close of escrow, I submitted a warranty request to replace/repair the mismatched granite. Their warranty representative placed several bureaucratic roadblocks in front of our ability to gain a response to that request. I received a phone call simply saying "denied".
Since that conversation, a wall of silence has risen between me and Richmond management. I have made repeated requests of Richmond management to address the issue and communicate with me to resolve this situation, with no response. Additionally, all new warranty requests are being ignored. I have made contact with an attorney to inquire about my rights to enforce the terms of the warranty. I am appalled with the treatment of their local management. The local managers are aware I am a disabled veteran with have limited resources to fight a legal battle with Richmond. If you have a problem with your Richmond American Home, write directly to their CEO – Mr. Larry Mizel at MDC Holdings/Richmond American Homes, 4350 South Monaco Street, Denver, CO 80237.

I have been extremely happy with the house that Richmond has provided. I bought in CA however I have gotten nothing but awesome customer service. From the sales, construction, and warranty staff all around. They all check in with us to make sure everything is perfect, or as perfect as can be. I have not had any problems with them at all. But will post more later as we get more settled in. So far everything has been great. I have recommended the builders to others.

When we were buying our home, Richmond American made many promises. They said that the home would be done in 6 to 8 months. It took them 8 months. Every home around here took 8 months. So why say 6? That one. We purchased solar. We have been in the house a month. Guess what no solar. Ben the foreman never turned in the permit to SMUD. But SMUD has been so good to me. Calling me to make sure that when it is installed I knew how to turn it on. They said the builder should help. I told them that the builder said I had to go to the solar company. So the guy from SMUD walked me thru it.
PG&E made me wait at the home all day to check the gas. He said once again that Ben had not turned in the permit. And yes they both (PGE and SMUD) named him. We perched a camera system. The DVR was missing and once again they said to go to the company. The company said it was here in the house. There were big marks on my kitchen cabinets. We say that putty had been splashed on them. REALLY. I was also just told to go thru the home warranty company for any of my complaints. I guess I did piss them off. And, yes, I have called Richmond American home office. And they won't call me back. Now I see why there are so many lawsuits.

We are one of the buyers who is buying a new construction from Richmond American Homes at Auburn Stonegate, Irvine, CA before their Grand Opening, and here are experiences so far. The floorplan that we bought, Chelsea w/o basement, has no Model Home; however, the salesperson walked us through similar one that they built on Lot#5 to show us what the house look like, and what included/not included with the house & options that we are going to pay for. Because of the house design and options that they were included in the price, we decided to purchase.
We visited Home Design Gallery and the headaches start ever since. We constantly have to 'wrestled'/proved to them what came the house/price we are paying for. There are number of things that we were told or have seen from the sale book at their Sale Center that stated as "Standard", when we came to the HDG, they rejected those facts, and we had to go through 1 by 1 'wrestled'/proved to them those came the house/price. For example, in their 'sale book' the kitchen cabinets came with 6 stain colors, the HDG kept denied and saying 5 'till we proved it.
Couple weeks ago, they came back to us saying that our "Artist Loft" Option didn't have the little 'Juliet Balcony' like what they showed us @lot 5 before we signed the contract. Even though couple of their staffs, including the superintendent agreed that is part of the "Loft Option Package", but the HGD manager said that was the mistake and refused to honor that. We wonder if other buyers have similar experiences like ours, and how did they deal with.

What an experience. Richmond American "A different Home buying experience". Take pride in what you do or don't do it at all. Buying my home at Cadence Henderson Nevada has been nothing but a headache. Six months and still chasing employees around to get the work done. Let's stop playing games and get the job done. Don't blame the contractors. Take responsibility and own every situation so that you can deliver on your promise. Can't expect the employees to do an excellent job when the management won't do it. Changing Superintendents is okay if you intend to change the culture of just telling the home buyer what they want hear at the moment and never following up. Nichole ** won't return or answer her phone for a home buyer because she wants her employees to handle the issues and do their job. So who do we call when no one does their job?

These people did not even try hard to help us, our time was wasted going to Home Gallery etc... and their sales agent Roger lied to our face and told that everything was all approved. We complied with everything, meet the superintendent for our pre-drywall appt. and then 12 hours later they emailed the cancellation notice, and not only that to add insult to injury these guys get to hold our deposit hostage for an additional two months so emotionally we get to relive the nightmare over and over again. Horrible experience, I will never buy a house from them in the future!

We selected Richmond knowing and accepting that a builder is always going to be focused on themselves, and the burden is on us as home buyers/builders to make sure things are done. Unfortunately, Richmond doesn't just fall into the category of making their buyers make sure things are done, they are unreliable and unless you're home all day with nothing else to do but manage them - no items will ever get completed.
I STRONGLY encourage anyone looking for a builder to steer clear - I have friends who built at the same time with all the other major ones around Denver and no one else had an experience to this level of dysfunction. To Richmond you're a number and they want your money, it's that simple. The quality of their work, customer service, and your customer experience do not matter. Here are the highlights - or lowlights - of our experience:
Our lot was dug Feb/March 2015 but was forgotten about, not our interpretation. They admitted this directly, until we started hounding them about completion, they did not touch the lot again until the last week of July 2015. At that point, I had to call, email, text, find the phone number for the COO and start having weekly conversations with him to get any effort put back into the completion of my lot. This took time away from my job and family as I had to, with no exaggeration, be in constant contact.
Due to this oversight on their part with moving forward on the lot after digging, we did not close until two days before Christmas when we were slated for an October/November close. Drainage was a major issue on our lot from the day it was dug, we flagged this and provided documentation of the drainage issue starting then through when we moved in, including leaving it as an open item at close. Richmond always acknowledged that it was an issue and it would be taken care of - as no one is okay with standing water on a property. Unfortunately, Richmond does not stand by their word and is now refusing to deal with the issue that has become a health risk with constant standing water breeding mosquitos. Luckily we have the documentation that will force them to deal with this issue, but it shouldn't come to that for something that's literally under $1000 for them to fix and mitigate.
Since moving in we've had a change in home care representatives 3x. The new representatives do not pass on our information and every time we get a new rep they claim they cannot do the work that the one prior has planned on taking on, which leads to many phone calls, emails and frustrations in trying to get work completed on your home.
When Richmond schedules home care, they choose vendors that do not show up, however they require you to take multiples days off work to be home for when their vendor might show up. They will not allow you to find a more reliable vendor to perform the work. At this point we have had the AC repair vendor not show up 3x (yet they refuse to try a different vendor, enforce that the vendor shows up, etc), and we've been without working a/c in our master bedroom since the first week in June (it's August 16). They know that there is an issue with the house, but they refuse to send out the vendors recommended by the previous vendors to address the issue.
And, due to the changes in home care reps, we've had to have the same diagnostic tests performed multiple times with each rep before moving forward just so they can see that it's really an issue. We have to constantly contact Richmond in attempt to get this resolved and have been having to sleep on our first floor couch due to the heat. At this point, we have no faith that it will be solved before the fall cooler temperatures hit. We've talked to other vendors and know that it could be completed within a days work - if we're willing to pay for Richmond's mistakes out of our own pocket.
At the end of the day, while we love our house, we feel exhausted by the experience and completely and totally let down by Richmond as an organization and the quality of their work. The time taken to manage them has lead to issues with our jobs (no company wants you to keep having to take a day off for repair work, or understands when it's the same repair work you have to take off for since the vendors don't show up, nor do employers like when you have to put your job aside to manage your builder), taken valuable and irreplaceable time away from family, and all-in-all taken something that should have been a fantastic experience and made it horrible. We never expected a perfect house or for there to not be issues, but we expected a honest and reputable builder to take care of those issues when they were to arise and one that would stand by their word.

I'm an owner of house built by the Richmond company in May of 2015. One week before the closing, my family, my realtor, and I had a walk-through of the house with a foreman named Daniel. Daniel provided us different colored sticky notes to mark areas around the house that needed to be fixed or redone. After 30 minutes, the entire house looked like a rainbow with all the different colored sticky notes placed on areas that needed fixing.
Almost all the doors had water damage, almost all the windows had issues opening and closing, the walls and the ceiling had paint and texture issues, the concrete on the front porch had cracks in it, and there was plumbing and hardwood floor issues. When we asked why such obvious issues were not fixed prior to the walkthrough, we were told it was because the house was not a custom house.
I was shocked by this answer, but by the end of year I've realized it's the company's politics. All of the issues above have been recognized and noted roughly before or a little after the closing date, and it has taken the company over a year to fix some of them - some of these issues have yet to be fixed. You can imagine the frustration the buyer is experiencing after a year has gone by and the cracks the representatives promised will get fixed have not even been touched yet.
I've reached out to Dan **, a home care manager, about the cracks and he responded that the company is not responsible for fixing the cracks, even though before our closing date, I was told the Richmond company will fix everything. The tree and bush that were planted before I moved in have died almost a year ago now and has still not been replaced without any good explanation, even though they were supposed to fix everything within a year. Bottom line, the quality of Richmond builder is very poor. They do not follow the contract between them and the buyer. It is extremely difficult to communicate with them.

While residents have to live with noise and construction they are completely ignored by the builder for any requests that pertain to issues from the builder. The builder is also the HOA board majority so this creates a problem with getting anything done except the bare minimum and also fosters an environment where the community gates are left open inviting crime just so the builder can provide easy access to potential buyers even when no subcontractors are working on home sites and the office has been relocated.

We purchased a home the end of 2015. Richmond allowed our family to endure a winter and spring without adequate heat. We have had to leave our own home to go to a family member's because the heat would not reach the setting on the thermostat. We still do not have a quality or adequate furnace at this time. We have put our all into this home, financially and otherwise. When one purchases a new home, they expect the heating system to be adequate for the home's size, efficient & reliable. We requested a reliable company to give us the specs for a furnace to adequately heat our home, discovered the heater installed was too small & the thermostat location incorrect.
Richmond has not communicated with us nor have they followed up in a business like manner: standing us up for appointments, not returning phone calls or e-mails, giving flawed excuses as to why the furnace didn't perform, dragging the situation out since we moved into the home. They finally agreed to replace the furnace with another inadequate furnace installed by the same vendor. Neither the vendor nor Richmond addressed the proper performance to our home and demands of specific functions or criterion when it was installed originally so why should we trust them to install the furnace now? Their reply: "This is not a 'debatable' situation." Where is their customer care?

My wife and I found a new Richmond American home community in St. John's County, FL, near our current home. We signed a contract in mid February 2016 to purchase a Paige model home. In April, we cancelled the contract due to lack of interest from their lender and the incompetent sales folks that seemed to ignore our calls and e-mails. After 3 homes were started on lots that were offered to us first, we knew that we'd either been forgotten, or completely ignored. Please find a home builder elsewhere. Richmond American just doesn't have the people, professionalism, or expertise to build much of anything. Their affiliate mortgage lender is absolutely horrible.

We were wanting to downsize but stay in our town of Castle Rock, CO. We found a ranch model (the Alcott model) by Richmond American only ten minutes away from our old house and fell in love with it. We started construction November 2013 and moved in March 2014. For the first 6 months everything was good but then we started having issues. All of our concrete was cracking very bad, faucets became loose, light fixtures stopped working. We called Richmond and did not get a response for almost 2 months!!! Finally someone came and looked at it. They did replace our concrete and the bad light sockets but not the faucets.
We also at that time (right before our year walk-through) reported that our hardwood floors were splitting. They said they would fix it. On our year walk-through we showed them how our basement was sinking at the back wall but they said because it did not sink a foot they can't fix it. In summer 2015 we started to have more electrical issues. Our fireplace would go on but not stay on. The flood lights in the kitchen stopped working and would not work with new bulbs. We reported this to Richmond but did not hear anything for three months.
Finally in fall someone came and said they would talk to the manager of our area. Just a month ago was when we finally heard back and they said they would come out on Monday. They never came. When we called to figure out why, they said that the manager was no longer working for Richmond. Yesterday someone came and said they will fix the electrical issues. We asked when the hardwood floors will be fixed that we reported a year earlier but when he looked in our file, the issue of the hardwood seems to have (magically) disappeared. We can't get the hardwood fixed as you can only get cosmetic stuff done in the first year. We're now nervous that Richmond will lose our papers for the electrical issues and will not fix them (electrical is only a 2 year warranty).
Our issues though are minor compared to our neighbor. Their foundation is sinking in the middle. They have been having flooding in their finished basement for 2 years now (they hired their own engineer and found Richmond did not grade the property correctly). Richmond only replaced the sinking concrete and the lower part of the drywall leaving a horrible line in the wall, and now there looks like a mountain under the carpet in the middle of the room. With all the machines that Richmond had they ruined their stair's carpet and won't replace it. They are now suing Richmond. My tip to all of you: If you get a Richmond home take pictures of issues with the date and record the date you gave it to Richmond, and record that they say they will fix it. Otherwise they might try to say you never reported it and will deny to fix it.

Joseph TruiniHome Improvement Contributing Editor
Joseph Truini is a home improvement expert who writes extensively about do-it-yourself home remodeling and repair, woodworking projects and tools and techniques. His work has appeared in several national magazines, including This Old House, Popular Mechanics, Country Living, Woman's Day, and Today's Homeowner. More about Joseph→

Richmond American grew out of a local Denver operation and became a homebuilder that has built over 175,000 structures in nine states.
Quick move-in option: Consumers who need a home right away can purchase one that's already under construction and can be moved in to quickly.
Three follow-up appointments: Richmond American has in-home appointments with consumers one month, five months and ten months after move in to make sure that everything in the house is acceptable and working properly.
Available in nine states: Users on both coasts can get a custom-built home through this company. Richmond American builds homes in Arizona, California, Colorado, Florida, Maryland, Nevada, Utah, Virginia and Washington.
Online information: Prospective homebuyers can learn everything from how to choose a home to how to improve their credit score and how to secure a mortgage on Richmond American Homes' website. The company offers 10 free and downloadable guides, covering such subjects as, Basic Floor Plans, First-Time Buyers, Comparison Home Shopping, and Buying a House After Bankruptcy.
Complimentary design service: Consumers can work with a design consultant at no additional charge. The company works closely with prospective buyers to design a home that meets the personal needs and tastes of each buyer.
Best for Richmond American Homes is best for people on a budget, first-time homebuyers and highly independent people.
Compare Home Builders and Developers
Richmond American Company Profile
Company Name:

Richmond American

Year Founded:

1972

Website:

http://www.richmondamerican.com/