Consumer Reviews and Complaints

Horrible experience, I'm in the military and recently purchase a new home. After my first month living here we noticed there was drainage issue that covers a large area on my sideway and part of my back yard. Water from my neighbors due to irrigation of theirs back yards and rain doesn't quite drain right. I've got in touch with the sales rep and other field managers, they responded my phone calls at the beginning and making promises they will address the issue and have someone call me and keep me in the loop with news.
Many many calls later my issue was covered up with more dirt but they didn't solved the main issue. Now my sideways and part of my back yard looks awful considering this is a brand new home. Only excuses and phone calls being ignored making mad and frustrating. How is this possible that this team is not taking care of the homeowners, at the end of the day we are customers and we paying a high amount of money for a brand new home. Really disappointed with the customer service, field managers and sales rep which provide no help nor solutions.

Love my house. We built our house in 2014. I thought this builder was reasonably priced, and the options/upgrades were also much more affordable than with other builders in the area that we considered. My father who has several years of experience working for different builders approved of this builder because the studs were a reasonable distance apart (I think 16 inches) while other had 24" apart. The house was started in April and done in July, just like they promised. Overall, the finishes are all fine. We did have a leak in our living room ceiling that took a couple of people to figure out (flashing around one windows in the second floor was not done correctly) but once they figured it out, they fixed it right away. Yes, we've had a few nail pops that they came and fixed at the 1 year warranty time. I expect that with any new home builder.
The only thing I don't like is the windows - they are cheap. You can feel air leaking in during the winter months. I've had friends with a home by another builder complain of the same issue. The glass on one of the windows broke within a month, and they replaced it. I will say some people in our neighborhood have had problems with the HVAC units needing to be replaced within only a few years of the home being built. Ours is fine, but I also insisted on gas. Gas furnaces are always know to last longer. The gas water heater is also fine. We have a 3000 square foot house and the AC and heat are both able to keep up fine even in extreme temperatures. We upgraded the house to include wood floors throughout the downstairs, granite counters in the kitchen, and marble bathroom vanities. The quality of these items is very good. Overall, I would definitely consider using this builder again.

Have paid $2000.00 as earnest money and they said that IF I don't approve for the loan will return. Pulte Mortgage keep on saying until the last minute that I will get approve but the day before the proposed closing they denied. The salesperson is very rude and does not have any good knowledge. In short, they send me a letter that they will not give my earnest money back. I lost $2K plus another $260.00 for appraisal. So please be careful when you are buying from Centex. The construction is average but try to avoid from them as we have lot of other options. Please read all other reviews and decide yourself. In my experience PLEASE DO NOT GO WITH THIS COMPANY.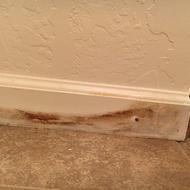 We purchased a Centex Home in Aug 2016. The home was built in 2007. Our home inspection went well with only having a faulty garbage disposal which was replaced before we purchased. Once we moved in we noticed the baseboard in the guest bathroom seemed a little swollen. Eventually the corner piece just fell right off and we realized the entire baseboard is cardboard. The baseboard has swollen and turned brown instead of white with what appears to be water damage. I am assuming this is from the precipitation from showers. So I contacted Centex and requested that they replace the cardboard baseboard with a different material because who puts cardboard lining a bathroom floor?? Still no response from Centex.

I bought my house in November 2012, from previous owner who had house built in 2005. I have been noticing my community has green residue on siding of the house. I just spotted on my house now. Both of my neighbor had for over a year now. It has be problems with the builder or was land built on something toxic. It looks like mildew. I need someone come out and fix this situation. If you could have an certified license inspector come out and look at Canal Highlands subdivision and see it numerous of houses over 30 or more with mold on the off side of their house. And about 5-10 on front of their house. I'm going reach out to House Association.
How do I know I can trust these reviews about Centex Homes?
885,935 reviews on ConsumerAffairs are verified.
We require contact information to ensure our reviewers are real.
We use intelligent software that helps us maintain the integrity of reviews.
Our moderators read all reviews to verify quality and helpfulness.
For more information about reviews on ConsumerAffairs.com please visit our FAQ.

I've put in a few jobs through the "Home Owner Portal," to come and fix my windows in the front of the house. I went to clean my windows and seen the wooden board underneath the window sticking out. I've contact the builder and he apologized that he didn't notice it. I have also put in a request to have a lighting fixture put in one of my hallway closets, since forever. I got a response back. They wouldn't do it because I COULD HAVE made the room adjacent the closet a full bedroom, which I never did, and that's besides the point. It's supposed to have a light switch in there. Who wants to go into or use a dark closet? When is somebody going to come out and address these issues? Every day it rains, I get more and more upset with Centex warranties.

I hired a home inspection and was delighted that the home I was to purchase was given a go ahead, everything was 100%. After moving in there was a problem with the compressor to the air conditioner. Few months later there was 3 leaks in the roof. A few months later I found mold & mildew in the quest bathroom. Months later the adjuster from the insurance company found water damage under the master bathroom shower floor and behind the shower walls. I took pictures showing that the walls in the shower were not constructed with sheet rock or USG Durock cement board.
Discussing my problems with my neighbors I was made aware that a good majority of the houses in my section have all had water damage. The association is well aware of all the construction defects and water damage issues and is now telling the homeowners that we must have Homeowners Ins. Since my insurance co. would not renew me, I have tried to obtain HO insurance that I could afford. $6,300.00 is out of my ballpark. The association is threatening to issue me a summons and put a lien on my home. I am 78 yrs old and looking at health challenges that can strike at any time.

We chose Centex as our first (and what we thought last) home purchase in Killeen, TX. We build this house from the ground up (even choosing the specific lot) and were so excited to build. During all the walkthroughs and inspections all seemed to be going well. Soon after purchase little things started to go wrong and show themselves, nails popping out of the wall, the wood paneling (that we were told was solid wood) became detached from the island, the floor in the kitchen floor (linoleum) literally started changing color (it faded to this purplish color). Centex response was these were things not covered under warranty as they were natural wear and tear.
First my parents have lived in their home for over 40 years and I've never seen the floor change colors! Second, how can it be normal wear and tear when we had been in the house less than 3 months?!? We finally decided enough is enough and went with a truly reputable builder and have our quality forever dream home, but during the inspection process of trying to sell our previous home we have learned we have way more problems than we thought (all the trim around all the windows had to be replaced, the posts on the back patio had to be repaired, and more things like this). We will NEVER, EVER buy a Centex home again. BIGGEST MISTAKE OF OUR LIVES!!!

I've had my home for 7 years. I have roof leaks, nails popping from the ceiling, and the ceiling detaching from the wall as well as the sink in the kitchen and bathroom detaching from the wall. There have been at least 7 fires burning homes in the 7/8 year. Fairly high new Centex area where homes have completely burned down due to electrical issues. I fear mine may be next.

I purchased a home in 2013 at the Highland Creek Subdivision in Raleigh, NC and at first the model home and the house I purchased seemed great. However, the problem started during the inspection. I noticed some minor issues with the construction, issues with the sink faucet chipped, poor quality of woodworking with floor baseboards and thought they were minor. As time went on I started to notice major construction issues with the house mainly related to faulty workmanship and substandard materials. There are numerous nail pops throughout the entire house including the ceilings and walls. The floor baseboards are separating from the wall. There are cracks along the corners of walls which run the entire length and the most blatant is the drywall seams and joints are visible and bulging outwards throughout the entire house.
Centex tried to correct the drywall issue by covering the seams with plaster throughout the entire house and leaving paint drops on my carpet and walls. I have asked Centex to come back and finish the job by repainting over the plaster back to the original paint color however they stated that I was outside my 1 yr warranty even though I put the original work order in within the 1 yr. I think the most frustrating thing with Centex is that you can't reach anyone. The main line number goes automatically to a recording and all you can do is leave a message. I have talked to Loretta with no regard for anything I said and left a message with Randy ** waiting to hear back. I would never purchase a home from Centex again and would try looking at houses of a higher quality and with more respect for the customers.

I purchased my house in new just 3 years ago (Feb. 2013). Several shingles fell off the roof the first year, which the warranty covered. They've continued to fall off in several other places and now I'm paying $500 out of pocket as initial expense to fix with more to follow. We also had a problem with the water heater setup. There's no one I can talk to about the problem.

We bought our new house from inventory in Sept 2009, Washington state. In March 2011 we had a roof leak that ran down the inside of an interior wall and was only discovered because we discovered wet carpeting and baseboards. Centex came out and checked on it pretty quickly, but initially only patched it with a rubber patch. I pitched a fit, said a band aid was unacceptable and requested a more professional job.
They came back within a week, told me that the leak was the result of a poor design, that my house is the ONLY floor plan like it in our development of nearly 100 homes because they had to modify the original single storey so it would fit on this 10k sq ft corner lot... And that the modification required a change in the architecture of the roof, and that the valley in the roof did not allow proper run off, and that water was puddling so deep that it rose above the flashing and down into the attic and interior wall.
THEY decided to build a "cricket" to divert the runoff, they patched and retextured the wall and ceiling, blew new insulation into the attic where their workers had trampled on it while searching for the leak, but refused to replace the carpet that was stained by my antique armoire bleeding on to WET carpet or pay for professional inspection of water damage to a very expensive antique silk oriental rug that was hanging on the wall.
In 2011 we were grateful that they admitted there was a structural issue and that they seemingly fixed it... UNTIL this last week. Leaking again... EXACT SAME PLACE, SAME BLISTERING OF PAINT AND KITTEN SIZED WATER BUBBLE ON THE WALL, NOT CEILING. 2 "emergency" calls to Centex, and they call me back 24 hours later to tell me that water invasion is only covered for 2 years and to call my insurance company. I advised her that this was the same leak, had to be a structural issue and should be covered under warranty because of workmanship. She said she would check it out and call me back.
24 more hours of rain and no call back. I called her again to advise her that my insurance company had been notified but I was not filing a claim, I merely wanted it documented that if Centex/Pulte continued to drag their feet, that water damage was possible, including introduction of mold being that we are in a wet climate. She said she passed it to her supervisor and would call me back. 24 more hours, I call the regional guy and requested that he check on what was happening. He said it was out if his hands but he would call her... 30 minutes later and she sends me an email to tell me that they concluded it was not covered under my 2 year full house, or 10 year structural warranty... wth?
I REQUESTED FACTS SUPPORTING THEIR CONCLUSION SINCE THEY DIDN'T EVEN COME LOOK AT IT... in the meantime, we are expecting another storm this weekend. I won't even tell you the story of our electrical issues or my TWO fireman neighbors who had electrical issues and had their houses completely re-wired. Aarrrg!

We decided to build in Highland Creek Preserve located in Raleigh, NC in July 2015. I got my 10,000.00 deposit in on time. House was done before expected, did final walk through and that's when the nightmare began! We were set to close and due to Miranda ** at the office not having the permit on time, we could not get the appraisal done. Closing was set for the 17th of December. That same day I received a termination letter from James ** stating that he would keep my earnest money if we did not close on the 22nd of December. The change order for the house came in late on the 22nd, and with the holidays, everything was closed until the 28th. Centex attorneys were closed on the 28th so we were to close on the 29th. Mr. ** informed us that we now owed 2,000.00 in late fees. To no avail, even though things were closed, they would not budge with the fees.
My realtor finally agreed to just let them have it out of her commission and we were set to close in the 30th. We literally waited all day to hear what time, and finally heard they had cancelled our contract and were going to keep my 10,000.00. I then heard from James ** and Miranda ** that they would do me a favor and sell me the house at 243,000.00. 3,000 dollars more than it had appraised for, but only if I went through them. We took it to the next level and spoke with Matt ** a vice president in the area. He was supposed to contact my lender; however, he called me at work and proceeded to yell at me and refuse to give me his supervisor's name or number stating he didn't have one over and over. He screamed (literally) at me and refused to call my lender three way and even called my lender a crook because the appraisal was only for 240,000.00. He then hung up on me and called my realtor and yelled at her.
We finally made it up to Richard ** one of the CEO'S assistants. He was at least polite, but sent us back to Matt's boss. To make a long story short... a waste of time. Thank goodness it was an FHA loan and I will eventually get my money back (talk about crooks). I feel like I dodged a bullet. Found a MUCH better quality home that is much prettier as well. The company is awesome to work with as well. I feel sorry for whoever buys **. I was told by the builder to check the heating unit when it rained, it might slide down the drop off by the house. Hopefully the foundation doesn't do the same.

Moved in new home Jan 2 2016. Discovering construction issues. Garage has damage above wall of garage door. Garage door not aligned properly thus creating more damage on sheetrock on sides of nearby walls. Really substandard work regarding installation. Not observable during walk-thru prior to closing.

Purchased townhouse in 2012. Few minor issues that they took care of and some that I fixed on my own. Quality was good for a production home. Materials are good but far from top quality. Overall I am very satisfied. This is my second Centex home, first on was in 1988 when I first got married. We had a few issues then and were very dissatisfied, I can tell you they have made very great improvements since that time. Lived in the first home for 4 years then purchased a custom home that was a resale. I can tell you that the construction and materials in this custom home were the same as the Centex. I owned that house for 20 years and during that time I completely remodeled it myself. I used only the very best materials and my work is superior.
I found so many cheap defects in that house that never should have passed inspection. My first Centex home was constructed better than it was. My current Centex home is also superior to what the custom house was. Bottomline is that you will find issues with any builder and any house. Get a home inspection before you close and again before the warranty runs out. I did not because I have the skills to do this myself. Inspect the property around the house and look at the surrounding area by driving around and by looking at it on google map satellite view. Go to the county page and look for future road construction and also look at who owns the land in the area.
Very few sales people know very much about construction and about their product and will tell you what you want to hear. You need to verify everything yourself and do research. Inspect the house while it's being constructed. Bring the workers snacks and drinks etc. You will get a much better home this way. I am getting ready to sell my current home and buy yet another home in central FL from another builder who has multi-complaints.

Centex fooled me good. When you buy a brand new home wouldn't you expect the roof to last you at least 20 years without any problems? But unfortunately for me it isn't so. At just 8 years and 6 months my roof started leaking. Please see pictures of subpar roof construction fundamentals. Two to three inch non-roof nails were used exposed above the shingles which are susceptible to rust over time and ultimately water would seep thru causing the plywood to rot and leaks would ensue. That's what happened to me and my brand new Centex home of 8.6 years. This is something uninspectable when you buy a home, but it was incumbent on the home builder to make sure they hired professional roof builders and had good QA in place for something as important and costly as a roof.
Basically I trusted a reputable home builder like Centex and they burned me, pure and simple. They left me holding the bag as they got away with the loot so-to-speak after any warranty claims could take place. I will write to the Attorney General and the consumer protection agency of my state and voice my displeasure concerning this fiasco that's causing me thousands of dollars. What could you do to protect yourself when buying a new home? If you could hire an inspector that would inspect the roof, usually something not done, then do so. It would be worth the $300 to 500 it would cost. Something I did not do, because I heard good things about Centex Homes and Pulte Homes who owns them now thought the same as I. Buyers beware.

Purchased a 2400 sq. ft. home in Goodyear, AZ in 2007 from Centex Homes (now Pulte). We've had AC comfort issues (hot/cold spots in the house) and have had multiple failures of our 2 outdoor condenser AC units. After a 3rd failure, and the exorbitant cost of replacing a R-22 compressor, I requested a quote for replacement HVAC systems for upstairs and downstairs. What should have taken the designer an hour to draw up a proper new installation, it took him over 3 hours of trying to design a proper new installation that would provide properly sized plenum and ducting for the two air handlers in the attic crawl space.
After 3 hours, he came back saying that it was not possible to put in the correctly sized plenums and that this was why we've had so many issues with our outdoor condensers, because they've been working overly hard to properly cool down the house. I should have realized this sooner, as less than a year after purchasing the house, a 'third party company' came to inspect the installation due to the numerous complaints that other home owners in the area had been raising. This has cost me thousands of dollars over the last 7 years in parts/labor for the outdoor condensers, and it's going to cost tens of thousands to replace with a properly installed system.

We bought our home in 1995. Grant you it was a long time ago, but we keep finding things that were improperly installed. We're talking major problems: Electrical outlets with wire touching metal, shorts throughout the house. Most recently after thousands of dollars of expense we determined that when they installed the air conditioning unit, they installed it at a slant AND the PVC pipe running under the house for drainage was created with pieces of PVC pipe - not fitted together and not glued. They used duct tape. My A/C was backing up, flooding the garage, finally flooded the house. No one could determine the problem until today - 20 years later.
How do you make a claim against the builder now? I think they plan this. I strongly recommend no one buys a Centex home. Lord knows what else poor unsuspecting consumers have found or may find. We even found a sandwich in the wall. All these things were happening while my husband made daily trips while they were building. These people need to be put out of business.

Before you sign a contract with Centex/Pulte homes, walk through one of the new homes being built in that subdivision and look at what they are using to build the home (not just the finish details). I failed to do this. I thought Centex, formerly well thought of in Texas, was still using standard construction and materials in their tract homes. That is very important to the longevity of a house. Today, 2015, Centex is using PEX (hose) for plumbing, which is run overhead in the attic, Thermo-ply 1/8" for sheathing (no OSB), very low quality of wood for framing (why?), fiberglass exterior doors, and drop-in fiberglass tubs that are unusually small (not standard tub size), with the 3-part surround, just for a start, and the thinner drywall. Sadly, these things are very similar to what you might see in an RV or mobile home.
Should you decide to proceed, it is very important that you hire your own inspector prior to the foundation being laid/poured. This will save you a lot of problems and money. The more reputable inspectors will not come in half-way through the project because they will not have been able to inspect the foundation prep and pouring -- a critical issue in Texas due to expansive clay and foundation cracking of new foundations (under 10 years old). The inspector will make sure the foundation prep is done correctly, then they may actually watch the pour of the slab and do a post-pour inspection. After framing, the inspector will do a pre-drywall inspection helping prevent problems from going uncorrected behind walls, and then a final inspection of the home and grading of the land, prior to close.
There are no perfect builders, but not all have cut costs in the basic structural components of a house as are being done by this builder. I don't see that they save that much by making these substitutions, but the quality of the structure is well below what they used to build. Very sad it is. Proceed carefully and thoughtfully before you lock into a 30 year mortgage with any new construction, by any builder. Past reputations are no longer intact. You cannot assume you are buying what you think you are buying. You must take the time to really check out what the builders are actually doing.

We went to go under contract with a to be built home in Bulverde Village San Antonio TX and gave a $2000 earnest money deposit as a guarantee to secure the lot last May 2015. We mentioned to the sales rep that we want a good size backyard that fits with our budget. We want to move in by November 2015 to allow us time to save money for the closing date. We had a notice that our house will start to be built the week of August 10 knowing that we will have a 2600 sq ft home and decent size backyard fit on our home. After almost a month, we checked what has been built on our house and we saw that there has no backyard at all and from our house, the back wall is just 5 steps away (please refer to the picture below).
We shared the concern to the sales rep and he never admitted that he should have given us specific measurements on how the house will cover a portion of the lot we chose. This should have been prevented. The sales rep just sweet talked us looking at the good resale value of the house, good location, etc just to cover his fault. And now we are in a situation that we can no longer refund our $2000 dollar deposit if we drop the contract. So, to anyone wanting to buy a house over there, make sure you ask specific details of the house and lot you want to purchase. We are really disappointed. We just want to get our hard earned deposit back.

In Central TX, Centex are the worst builders. They take lots of shortcuts when building. Please beware when buying a Centex home.

I purchased a Centex home in Columbus, Ohio. Two other identical homes were also built on my street. About 8 years into our warranty we all three discovered that our porch columns were rotting - some worse than others. Centex builders put trim boards in direct contact with the concrete porch, causing wicking into the column which caused the columns to rot from the inside out. My two neighbors were lucky, Centex agreed to fix their porch columns. When I contacted Centex they said I could not get a remedy until I proved the rotting existed (which would mean I needed to disassemble my porch in the middle of winter).
I sent them pictures which clearly showed rusting nails and wood that was falling apart but they said this was not good enough. So this summer it was clear the boards were rotting off, I had to do something. So I disassembled my porch, it was a safety issue. The workmanship was silly. Centex builders (now managed by Pulte warranty) placed multiple fiberboard trim boards directly on the concrete causing massive wicking and rot.
I contacted Centex and they said I missed my warranty window by 3 months and they have refused to help me. I can take the blame for not being more persistent the first time around... but I am certainly upset that a company who has clear evidence of poor workmanship would hide behind a warranty and not take care of their customer. I would recommend against buying from such companies.

I purchased my home in 2005 in Suffolk, VA. I called Centex Homes about a leaking ceiling twice. The first time they bought in people to pre-plaster and paint the ceiling. The second time, I hired an HVAC person and investigated the problem and he told me that the condensation from the AC pipe is leaking through the ceiling. He told me that the pipes are not insulated and eventually the ceiling will fall. I contacted Centex Home Corporate Office again in 2013 and I spoke with a customer service person about the problem with the pipes sweating and leaking into the ceiling. I explained to her what the HVAC person had told me about the pipes not being insulated. She told me that the housing code in Virginia did not require them to insulate the pipes. So to me, she was aware of this problem because she explained everything about the housing code. I would like Centex Homes to fix this problem before someone get hurt.

This complaint has been resolved.
Original Review
Bought a Centex home in Silver Oaks in San Antonio, TX. One problem after another. Appraisal came in lower than my purchase price. Vice President of San Antonio Centex lied to me and my agent. Lived here for one month. No sod. Tons of excuses.

I bought a new house in 2014. The contract people that built this house half did this roof. It's been leaking for long time and my concrete floor is cracking. This house isn't that old to be having so much problem. What are y'all going to do about and I have black mold in my attic.

Water pressure low to non-existent in the Master and 2d Bathrooms' bathtubs, but since our home was built in 2007 Centex/Pulte tells us they can't resolve the problem since they only have a 2 year warranty for plumbing. This is the second time we've contacted this company about a problem with our home and received a less than satisfactory resolution or response, so this is the last time we'll buy a home from any of Pulte's subsidiary companies or Pulte. Buyer beware when it comes to dealing with Pulte/Centex.

Several outlets were not put together... Some had wiring dangling. Several times a month, the circuits would fail when the vacuum was plugged in. Front garage lamps wouldn't work. Costs us a few hundred dollars to temporarily fix the power surges. Door won't stay open or shut...wondering if the ground is level. Fungus growing in 2 windows; replacement was expensive. NEVER AGAIN, CENTEX!

I purchased my home in 2006 from Centex with a full 10 year warranty. Pulte bought Centex shortly thereafter and to this day uses both the Pulte and Centex names. I was assured my warranty was fully covered by the new company. The first spring, the stucco would "melt" off. The underlying stucco would turn to sand and the paint was the only thing holding the surface together giving it a melting appearance.
At one point during a rainstorm, water poured into the home and damaged the drywall. The drywall was repaired, but no mention to mold. For the first 2 years, they would patch the areas and promised they would fix for years to come. Here we are at spring, and like the flowers, the stucco is unfolding. I feel the dampness may be contributing to mold that could harm my family. The warranty person came out, was very nice, then went back to the cowardly position behind my computer to deny any claims. Beware. I find this company unprofessional, uncaring, and without pride of workmanship.

I am representing a buyer (I am a Realtor) who had planned to build a home with Centex in the Mt Dora FL area. After 2 months they still have not even applied for the permit to start building. It should have been submitted 2 months ago and we should have the permits within 3-4 weeks. This poor couple doesn't have a clue when they will even get around to pulling the permits.
Once they get the contract signed and get the earnest money, they don't care about you or your circumstances! They are also very hard to get information from, they don't communicate well with buyers. There are too many good, reputable builders out there, that respect their customers and really try to do a good job and in the time frame that is reasonable. As a Realtor I find this behavior to be unprofessional and I have worked with many builders in my 28 years of being a Realtor in FL. Centex has been one of the worst. Run to the nearest good builder and avoid Pulte/Centex!

I have been in my home for 9 years and I have had to have the ac unit worked on every year. The unit almost caught on fire one year because the blower motor blew up in my attic. My home and ac unit is clearly out of warranty, but people need to know that Centex is using poor quality equipment in their homes. I ended up having to get a home warranty because the repairs are so expensive. I may now have to replace both units, which may cost around $10K. This is so unfair that families purchase their homes from Centex believing they are doing a great thing for their family and end up getting screwed by a reputable company who obviously care more about profit than providing quality service.
Centex Homes Company Profile
Company Name:

Centex Homes

Website:

http://www.centex.com/