Consumer Complaints and Reviews

I am sure this will be removed quickly... But my advice to my fellow consumers is do not purchase Whirlpool appliances. They do not stand behind their products and they are a nightmare to deal with. I purchased my range (Model WEE730H0D50) May 8, 2017 and from that day the oven never work (the board was out on a brand new product). They arranged a service tech to come out 3 times. Each time the service tech discovered the replace board was damaged. So I have not been able to use my oven since I bought it in May. 3 months later now the stove top stopped working. You would think after all these issues they would replace their product. But nope I have to wait 2 weeks to get this lemon "serviced" again... I have young children at home which makes things worse...

During the initial warranty the oven was not heating properly. Several service calls within the warranty issue was not resolved. Whirlpool extended the warranty another year as of this date and several service calls problem not resolved. When a tech comes out there is a diagnostic check that checks the temp for 10 min. Since the temp drops after 10 min they cannot detect problem. I asked for the tech to remain for the complete cooking period which they cannot do. I have wasted many meals and still have a oven that does not work.

I purchased this Whirlpool Aqualift oven at now bankrupt HH Gregg so my recourse is limited. I loved the look of the slide in range and the salesman raved about the quality of this appliance. First the ceramic top is a nightmare to keep clean, not mentioned at purchase. The Aqualift feature is totally useless. I use my oven on a very limited basis. Putting water in the bottom of oven does absolutely nothing to clean oven and even less on sides and oven door. I spent a substantial amount of money on this so called self clean oven and I am so disappointed in results. It does not get off even a minimum of spots, I would hate to have something actually spill over. Aqualift does not work and then you are advised to not use anything else to clean it, so what now?

I purchased a Whirlpool electric stove WFE540HOES 3 weeks ago from Best Buy. 2 Main complaints: Extended cooking time when using the oven. Food that should bake in 14 minutes was taking 25. Food that should bake in 30 minutes was taking 50, etc. The big issue was that the exterior of the stove was getting extremely HOT when using the oven. The area behind the handle and the storage drawer were so hot I had to use a towel to open it w/o getting burned. Thought it was a faulty stove so I exchanged it for the same model. Just got the replacement and it's worse than the 1st one! The heat permeates from the bottom of the door and heats up the storage drawer below. The area behind the handle and the enamel edge of the stove get so hot. It's definitely a safety hazard if not fire hazard. Anyone else experience this??? It's going back!

Purchased electric double oven range WGE555SOBS02, from Lowe's end of 2014. Couple months it came on by itself, middle of night, 879°. Repaired panel 3x, then Lowe's replaced stove, middle 2015. 6/26/2017 error message F2E1, control panel... stuck / shorted key. Out of warranty. Lowe's and Whirlpool both claim no previous complaints. They will send repairman to assess problem, $150.
How do I know I can trust these reviews about Whirlpool?
855,731 reviews on ConsumerAffairs are verified.
We require contact information to ensure our reviewers are real.
We use intelligent software that helps us maintain the integrity of reviews.
Our moderators read all reviews to verify quality and helpfulness.
For more information about reviews on ConsumerAffairs.com please visit our FAQ.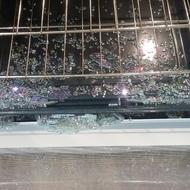 The inside glass of the oven door shattered. I have not used the oven for months. Only the the top cooking burners have been used. It's a mystery to me!! I have read complaints where the glass shattered while the oven was in use or being cleaned, but have found none where this happened to a cold oven. The large front burner is too hot. Even on the lowest setting everything burns. You cannot simmer, only boil. The control knobs have (in my opinion) no safety mechanism. I thought that the control knobs on stoves needed to be child proofed, hard for a child to turn on. My last stove you had to push down quite hard then turn to the setting. Not this stove. I have to be so careful when I'm cleaning the area around the knobs. The slightest pressure and the knob turns.
When I first purchased the stove while cleaning it, I unknowingly turned the knob and the kitchen filled with gas before I realized what had happened. I called Whirlpool thinking something was "broken". They sent out a repairman. Nothing was broken. That is the way it is made. Customer Service said they had had no other complaints about the knobs. I find that hard to believe. My toddler grandchild can turn on the stove with ease. I'm sure other concerned parents etc. have had this complaint. To sum it up... I will probably never purchase a Whirlpool product again.

Whirlpool claims this technology works to clean the oven; however after one month of use and one casserole spill, we attempted 3x to use this system and the cleaning process was a total failure. The gravy spill on the bottom and mild oil residue on the sides from roasted vegetables was the same as before the cleaning cycle was tried. The cleaning kit accessory from the company was a joke. It consisted of 2 sponges and a small scraper! We purchased the slide in model WEE745HOFS. Buyers of any and all Whirlpool products with Aqualift BEWARE... It does not work. We have since replaced the product with a range with the traditional cleaning process system that has worked for decades in most major brands.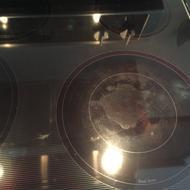 I bought a Whirlpool Range 19-Jul-2016. It has a 1-year manufacturer warranty. The cooktop stains very easily and finally (after 10 months use) I could not get it clean with any recommended product and lots of elbow grease. I was referred by Hudson's Bay store to contact the manufacturer as the product was still under warranty. I did so and explained the problem and said in my opinion the cooktop needs to be replaced. I was told that Whirlpool would not honour the warranty and in fact would charge $120 for the first 30 minutes for a technician to visit, and costs would escalate from there. My experience shows this company does not honour its warranty, so beware!

Remember the old movie classic Network, with the line, "I'm mad as hell and I'm not going to take it anymore"? Well, that is me and my new self-cleaning Whirlpool ranges that requires a manual cleaning kit (provided by Whirlpool after my purchase). I am angry enough that I have approached an attorney and I hope that if you have your own story about an AquaLift fail, you will include it on my website **. Thanks...

Purchased a Whirlpool gas range (WFG320M0BB0) about one year ago. It looks very nice with a glass cover oven door but the quality is poor. A simple four burner gas range with no fancy functions. 3 months ago the glass plate covering the oven door is falling off. It reveals behind the glass that it was only taped to the metal door frame with a double sided tape about 8 inches long. The tape failed and the plate glass is loosely hanging from the top. Last week, the boiler and the oven would not turn on. Use the control board to set the oven/boiler temperature to 350 and push start. Only hear a click sound, the display shows 100 degree and the oven and boiler would not start. Unplugged the power to try to reset the control board. Did not correct the problem. The particular unit is only about one year old. I find the product is of general poor quality.

Purchased double range ovens. Enamel is flaking off within 2 years. Whirlpool denies defect. They won't replace it. Any other folks with similar problems? What can I do to have it replaced? I remember the old ovens and how the enamel just stayed and stayed and stayed. Never a rust or flaking issue in those old time models. Any expertise on how the enameling process may be compromised in the newer manufacturing process (cutting corners or costs). Any options for a class action here if a commonly experienced occurrence? If similar experience drops comments/review below as a one liner - just state 'enamel defect'. That way can figure out the number of folks with issues. I'd like to take action if given the opportunity, and more so if this is a common occurrence. Lawyers are costly for one-off complaints, but there is power in numbers (think United Airlines).

I'm a renter, and I know the landlord purchased the least expensive stove for this apartment, but that shouldn't mean one has to absorb ongoing off-gassing fumes for well over a month now. The stove was installed 2-18-17, and it's now 4-6-17, still haven't been able to use it. Is this really off-gassing or is this what Americans have to contend with now! Oh and there's the little sticker that says Made in America and in small print it says designed and assembled in America, but no mention as to where the parts came from!!! The only reason I'm giving even a One Star rating is because I can't continue through this review without at least marking one star.

Why does your AquaLift self-clean feature not work? Tried numerous times & have been scrubbing all afternoon... Horrible!!! My last oven (Maytag) self-cleaning feature worked awesome, just had to vacuum out ashes & wipe down with regular soap & water. Have no idea what to do to get this oven cleaned!!! Very frustrated...

The stove started having problems about 5 months after I bought it new, it had a 1 year warranty on it so the first repair was covered but it begun to have the same problem a few months after the repair. By the time I contacted the company they told me the warranty was expired and ask if I wanted to buy another year of coverage for $300, of course I said no. I repaired it myself and once again it worked for a few months and now the problem came back. Will not heat up so don't waste your money.

My oven is less than 2 years old. The blue enamel has had cracks for over a year & was told it's cosmetic & there's nothing that they can do about that. Now it's starting to pop off. I found a few slivers in a vegetable dish! Now I can't even use the top oven because of this! It seems to only affect the bottom of the top oven. I feel that the temp may be getting too hot for the blue enamel which is another safety concern. I have contacted Whirlpool/KitchenAid to be told that if they send out a repair person he would just use a marker on chips. I was told they would give me an employee discount from $3000 to $1800 to replace but I would have to act right away for that price! Really? My oven is only 1 & a half old.
When I started researching this problem I am having I found many complaints of people having the same problem! As a consumer I feel so mad & frustrated that they are not doing anything about this since it's an ongoing complaint from so many dissatisfied consumers. I do believe it is a safety & health risk now that it's showing up in the food that has been cooked in that oven. I would urge anyone thinking of buying a Whirlpool/KitchenAid cobalt blue enamel oven not to! They will not stand behind their product & you will have to replace at your own expense. Shame on you Whirlpool!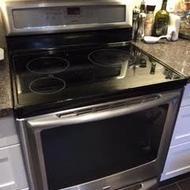 I bought this stove 4 years ago from Lowes. I have had nothing but problems ever since. My family is now afraid to use the stove and Whirlpool refuses to stand behind their product. The last straw was a bill for a service call that took 6 months to complete without correcting the problem. Whirlpool sent me a bill for $100 to pay for the privileged. When I complained, WP said if I paid the invoice, they would give me a deal towards a new stove. Meanwhile, the old stove does not work and we are afraid to use it, given our experience with its reliability and safety. I plan to return it to Lowes and buy anything but a Whirlpool product. Beware of Whirlpool Maytag anything!! The customer service is shameful!!

I purchased a range top from Lowe's and a month and half my burners go out. I call Whirlpool and a service technician came out. Said that he can't repair the stove because a bug had burned out the burners and he can't repair the stove. I call Whirlpool and they told me that voids my warranty with them even though my stove is not even two months old that will not repair it and I will have to pay for it to be repaired. I asked Lowe's and they told me that they only take back big appliances back before 30 days. Now I am stuck with a stove that I paid 700.00 for that does not work and I have 4 children to feed. I am sickened on how Whirlpool can do this to a hard working family that just wants a good stove. I hope this helps another hard working family. Do your research before buying from Whirlpool. I wish I would have.

First time owner of a Whirlpool range and will be the last time. Nothing but junk! I liked how the top grates were and electronic ignition. The knobs turn too easy and often when bumped will turn gas on without igniting. Very dangerous. The oven grates guides rusted almost immediately making it difficult to pull racks out. The oven light works sometimes. The glass on the oven door at the bottom came unglued. The bottom door under oven is a total waste. No use for it. In my adult life I have had different brands but this is the absolute worst and will never recommend this brand to anyone period.

This is the first time I have used a gas range. I like that the stove top is easy to keep clean and has very large capacity so I can cook anything without worrying about the pan not fitting. Pretty basic model, but does have a self clean option that I have not used yet.

I just purchased a brand new home. I have an electric wall oven with the microwave over the oven. They are both built into the wall. Can anyone tell me why a massive amount of steam is coming out. It is really bad it makes my microwave glass so bad I can see through it. It is also making my cabinets so wet I have to use a towel to dry them. Plus I got a steam burn. Can someone tell me if this is normal.

Purchased a Whirlpool Electric Range August 2015. Purchased it because it looked pretty and the Aqua Lift Cleaning feature sounded too good to be true. As it turned out it WAS too good to be true! I have just read a # of reviews about this range and I agree with all complaints. Does anyone like this range? The AquaLift cleaning technology is a joke! The baking temperature fluctuates & I could not figure out how to improve on that (for the longest time I thought it was just me not being able to figure out my new oven). The most serious concern however, happened a couple of weeks ago when I turned on the oven & immediately the oven started to smoke and an electrical smell permeated throughout the house. Had I started the oven and immediately left the house our house would no doubt have been destroyed by an explosion/fire.
Phoned Whirlpool & because the problem was so serious they had a serviceman at our door within 2 days (yes I am being sarcastic, it did take 2 days). At no time did the call centre express any concern nor did they advise me to unplug the range and to make sure I did not use it. Obviously, I would not use it but shouldn't that be something they advise as part of the checklist talking points.
Serviceman arrives 2 days later & advises us that the parts alone would cost $650.00 & oh yes the labour costs to install the parts would be charged by the minute. I didn't even ask him how much per minute because only an idiot would repair this piece of junk!! The power cord to the range had basically melted right through; you could scrape the char right off the cord. The computer part of the range was shot and had a strong electrical smell to it. The serviceman basically said that I shouldn't shoot the messenger and charged us 93.45 to tell us that it was going to be a very costly repair.
I disliked this range almost immediately and was looking forward to the day when I would have an excuse to purchase another electrical range. I did not think I would be shopping for another range within 1 1/2 years from the time I purchased this piece of crap!!! Nor did I think that there would be a possibility that this appliance could potentially be hazardous to my family and home. How long is Whirlpool going to ignore all these customer complaints? This range should be recalled! It not only is selling features such as the Aqua Lift technology that do not work properly, it is selling a potential fire hazard.
I will never again purchase any appliance that is made by Whirlpool. Whirlpool makes a lot of appliances and uses names such as Maytag, Amana. KitchenAid, etc. I have purchased another range and this one is made by Frigidaire (no connection whatsoever to Whirlpool). I don't know what my experience will be with my new Frigidaire Range but so far I am loving it! Hopefully, my new appliance will not nearly burn my house down. Whirlpool: Step up to the plate & take responsibility for the defective electrical range you are selling before there is serious harm to persons or property! THIS ELECTRIC RANGE NEEDS TO BE RECALLED - MODEL # YWFE715HDEHD.

I have a Whirlpool induction range and so far so good. I like it very much, but they can improve in overall design. Other brands like Samsung got better designs but I want it an induction range and Whirlpool had an induction one on sale.

I purchased the Whirlpool Gold series cook top range-stainless steel. It is of good quality and looks very nice. It is also easy to clean and for the price it has a self cleaning oven. I didn't think that I would like this range but over a period of time I truly love cooking on it.

Whirlpool gas range Model WFG5245LAB2 has serious flaws that are a danger. I noticed the handles to turn on the burners seem sloppy. So sloppy in fact that just brushing up against the knobs will turn the gas on. This happened when I had someone visiting and we returned you could smell gas in the house. We were none the worse since we were out however my 3 cats were in the house the entire time. Tonight I removed the large grates that go over the burners to clean the porcelain. Once again I brushed up against the handle and the back burner ignited causing me to burn my hand. This stove is a danger to all.

We moved into a new home in December. We purchased the home too late to choose our appliances or upgrade over what they install. From the start the oven has been aggravating in both the noise that it emits and the variance in actual temperature. We have had the Appliance Service out twice for these ovens. We are told that the noise which sounds like a wind tunnel is normal. It is there to keep the circuit board cool especially during the cleaning process. The noise is quite aggravating and is amplified throughout our "open" floor plan to all parts of the house.
The temperature variance has been calibrated to be more accurate, but I'm not convinced it is on the right temperature yet. I continue to give it a try, but I'm not sure if the noise of the fan in the oven is making me feel negative towards using the oven at any time. We hate to have to replace these new units with another set of double ovens, but I doubt if I can continue with this noise much longer. It will definitely not be a Whirlpool or KitchenAid double oven of any sort.

Aqualift Self Cleaning - JUNK! JUNK! JUNK! The oven does NOT heat properly and it is NOT self-cleaning. Whirlpool should be ashamed of itself. We ALL need a refund. Class Action suit looming. DO NOT BUY THIS PRODUCT!

My new Whirlpool Stove, has two grill like tops, heavy duty and awesome looking. It has a special burner to keep food warm, a stainless steel front and bottom drawer for broiler storage. Broiler is also on top in oven, broiler flame.

Our new Maytag (i.e. owned by Whirlpool) oven/range is a stainless steel pile of junk. It takes FOREVER to pre-heat. The range elements take FOREVER to heat up. And like others on here, the Aqua Lift cleaning simply does not work. We put the oven through 3 back-to-back cycles and only the bottom gets a "little" clean. What a scam.

In April of 2016 I purchased an aqua clean self cleaning oven from Colder's Furniture in West Allis Wisconsin. We were told by the sales associate that the oven was top of the line. This was a complete and utter bold face lie. I cleaned the oven for the first time the day after Christmas after having prime rib. I followed the instructions to a T on how to clean the oven. I had to turn the oven on 6 times and scrubbed the oven until my fingers were bleeding, not to mention the enamel on the inside of the oven is completely bubbling. I called the customer care center on December 31, 2016 and the representative basically said I was an idiot and did not know how to cook. They made an appointment to send a technician out on 1-5-2017.
Before hanging up the phone the technician informed me that if there was nothing wrong with it that I would have to pay for the call. At this time I became irate and refused telling them that I have not even had the stove for 8 months and that it was still covered under extended warranty. I will see what kind of smoke is blown up my rear end. The technician is sending a new sponge and scraping stick. How about someone to also clean this piece of garbage. My advice is to anyone is if anyone tells you to buy an Aquaclean self clean oven from Whirlpool run in the other direction and do not buy it. Thanks Whirlpool for the garbage and for sending me cleaning products that are not even worth a damn.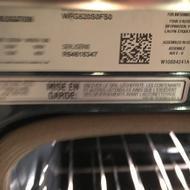 I purchased a Gas Stove from Home Depot on 11/23 and it was delivered on December 3rd. My God, I'm having a dinner party tonight and the stove doesn't heat up past 170.. Unbelievable!! Need a replacement gas range. Tried to chat and call Whirlpool unsuccessfully. I am very one disappointed customer right now!

ConsumerAffairs Research Team
The ConsumerAffairs Research Team believes everyone deserves to make smart decisions. We aim to provide readers with the most up-to-date information available about today's consumer products and services.
Whirlpool is one of the oldest names for home appliances in the U.S., with a company history stretching back to 1911. It currently sells more than $15 billion of home appliances and other products in more than 170 countries around the world.
Kitchen stylist tools: Whirlpool's kitchen styling tools make it easy for buyers to pre-visualize how given models for cooking appliances will appear in their kitchen design.
Extensive heating technology: Whirlpool offers one of the industry's most extensive selections of appliances equipped with advanced heating technology like convection and induction heating.
Flexible appliance pairing: Whirlpool maintains multiple product lines that can be easily mixed-and-matched with other products to maintain consistent usability and design.
Easy support: Whirlpool offers extensive resources online for customers who need to schedule warranty support or find information about replacement parts, even for discontinued models.
Standalone cook tops: Whirlpool's collection of standalone cooktops is one of the largest in the industry.
Best for Users cooking for one, users cooking for families and users cooking for businesses.
Compare Ranges, Ovens, and Stoves
Whirlpool Ranges & Ovens Company Profile
Company Name:

Whirlpool

Year Founded:

1911

Address:

2000 N. M-63

City:

Benton Harbor

State/Province:

MI

Postal Code:

49022

Country:

United States

Website:

http://www.whirlpool.com/