Consumer Reviews and Complaints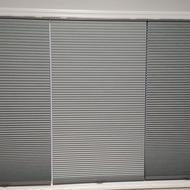 The experience you will have with Select Blinds will depend on if they manage to get your order right the first time. I made one order consisting of one "top down/bottom up" double-cell cellular and 3 blackout double-cell cellular. When my blinds arrived, I was disappointed to see they sent the wrong color for the 3 blackout shades. I literally spent over an hour on hold waiting to speak to someone. I finally get a representative on the line and they sent me 3 new shades after sending them pictures to prove my complaint.
Once I received the replacements and installing them, I had to spend time learning how to adjust the up/down blind because it was hanging at an angle. I was also not happy with the hardware mounts Select Blinds uses as they keep the blinds sticking out more than other manufacturers. This was a problem to me because I was mounting them inside my window frames and wanted them to be as flush as possible. I accepted this as a "it is what it is" thing and did not make any complaints as I already mounted them and there is really not much that could be done besides purchasing new blinds somewhere else.
Less than a year in, I notice one of the three blackout shades cellular structure is falling apart. I called their support, again on hold for a very long time and I talk to a very nice representative that told me they are getting lots of shades falling apart due to the adhesive used on them letting go under the hotter temperatures. I did not enjoy hearing this but again, "it is what is" so they send me a new replacement after providing a picture as proof via email. The new blind was crooked when mounted and I had to align it. Thankfully, I learned the first time I did this and it did not take long. About a month or two later, I notice a second blackout blind failing so I call them and they again very quickly send me a replacement. At this point I am sure that is is just a matter of time before the 3rd one fails.
About another month passed and what I was expecting happens - the 3rd blind started to fall apart. I call them again and get a replacement. This time around the replacement they sent me is not the same tone/shade/dye as the blinds they previously sent me. I was really disappointed and I call them again and sent them picture with proof of the issue. They said someone would get back to me and once I finally got a email response from them they were stating that the dye is correct and they will not correct the issue. I tried calling on multiple more occasions but I did not get any resolution. Attached is the same picture I sent Select Blinds. As you all can see, The middle blind is noticeably lighter than the two blinds surrounding it and the only thing I can do about it is to buy new blinds elsewhere. Select Blinds is not backing their product under warranty.

I've purchased numerous roller shades and faux wood blinds from Select Blinds over the past few years and would wholeheartedly recommend them. The prices can't be beat, the quality of the products is wonderful, they're easy to install and their customer service is terrific!

I tried to order online but had a problem that I thought would be easier to resolve person to person. Customer service called back within 5 minutes of my call and not only took care of the issue but placed the order directly while we were on the phone together. The "frosting on the cake" was a savings of approximately 25% less than I had figured for my online order. I do a great deal of online ordering in my business and my experience with Select Blinds was exceptional, thanks to Alexis ** taking her time to make sure my order was correct and complete.

After struggling to contact SelectBlinds about a messy delivery gone awry, and after losing my temper last week, SelectBlinds went above and beyond to reach out to me via phone and email to figure out how best to resolve the issue. At the end of the day, the problem was a result of broken communication and the delivery service, FedEx, refusing to accept the package at the delivery point, thus unfolding the series of unfortunate events.
I'm amending my rating, as the company has heard my cries and taken me very seriously. I look forward to receiving the blinds and installing them in our apartment.
Original Review
The absolute worst e-comm retailer. I placed an order for blinds, they shipped rather quickly, and then select blinds stopped shipment the day they were supposed to be delivered and had them rerouted back to the warehouse. After three days without an explanation from customer service, claiming they simply had no information, the package is still stuck en route, going in the opposite direction of my city, no one will give me any information, they've already taken my money, and everyone is claiming ignorance. How is this company still in business?! Their customer service is mysteriously unavailable. I've been sitting on the phone for hours trying to get in touch with someone, and no one picks up. No one replies to emails. I've been able to contact someone via the chat bot, but they're completely useless. BUYER BEWARE. DO NOT SPEND MONEY HERE, they literally steal it from you, never deliver product, and claim they can't do anything about it.

2 out of 6 blinds were visibly damaged. After speaking with Select Blinds call center operator Brady **, I was advised to go to the hardware store and purchase items to repair the broken shades. I purchased the 5 year warranty which is the maximum that Select Blinds offers and Brady's remark was "This is kinda tricky". Another favorite saying Brady used was, "You bought 'em. You got 'em."
I seek a full and complete refund and have been refused by the customer service manager, Zachary **. An entire month has lapsed and I am still waiting for a resolution and a return call from the CEO Al Silverberg. As published on the Ristal Inc. Select Blinds website I understand Al lives by a simple philosophy which is, "Boil any issue down to the root matter, and then make the decision that is best for the customer."
How do I know I can trust these reviews about Select Blinds?
851,205 reviews on ConsumerAffairs are verified.
We require contact information to ensure our reviewers are real.
We use intelligent software that helps us maintain the integrity of reviews.
Our moderators read all reviews to verify quality and helpfulness.
For more information about reviews on ConsumerAffairs.com please visit our FAQ.

Alexis is an excellent salesperson. She was able to answer any question I had concerning my order. In addition, I was able to get a great price for my order of blinds due to the determination and quality customer service provided by Alexis.

Alexis (sales rep) was excellent to work with and she took the extra time to ensure our order was correct and offered up additional discounts. We will be returning to Select Blinds and working through Alexis again for our living room and bedroom blinds.

I ordered 4 roller shades from Select Blinds. They arrived very promptly, actually a few days ahead of schedule. However, when my husband went to install them he found that they all were about 1/4 to 1/2 inches wider than our measurements. Since they are for an inside mount we could not use them. He called and the company asked that he send an email with pictures to show the issue. He complied and they sent out the correct width blinds right away. He has installed them and we love them. We would recommend selectblinds.com.

I needed some new blinds for a house we recently purchase so I ordered samples. Got them right away and Nathan was super helpful in helping me with order. I had an order on save and he was able to add another shade and help me with some discount. He was super nice and convinced me to order now and get the sale price even though the three woven wood blinds will not be shipped until the 20th of next month.

It was a pleasure to deal with Alexis at Select Blinds. She was very knowledgeable and easy to work with. Alexis made sure all of the applicable discounts were applied to my purchase. I highly recommend Select Blinds.

Alexis, a consultant from Select Blinds, gave excellent customer service! She spent a lot of time answering our questions so we would be satisfied with our order of window treatments. She talked very clear, was very friendly, and was very knowledgeable of the product. We have ordered from Select Blinds in the past and are excited to receive our new order. Thanks again to Alexis! Your business is successful because of employees like Alexis!!

I went online to review window shade options and found Select Blinds to offer exactly what I hope to achieve in our master bedroom; light filtering for privacy and natural lighting options as well as blackout, cordless, white, customizable fit shades for a great price and dependable quality. I Saved an order in my shopping cart and received an email from Alexis in your sales department and had a wonderful experience communicating with a live person about my questions, comments, concerns and complaints. Alexis listened and responded according to my needs and comfort in making such a transformable purchase. It was a great experience. I look forward to receiving a great product that sparks joy in my home.

I originally tried placing an online order, but it failed to go through. Alexis ** assisted me with getting my order placed. She was tremendously helpful and answered the many questions I had. So glad to have her friendly expertise.

I found Select Blinds through Google and thought I would give them a try. I am redoing my home and found that the website was very easy to navigate. I had some questions on their products. Requested a live chat. The customer service representative that helped me was very informative.

The customer Service Rep (Alexis **) was wonderful! She took her time working with me, and was able to provide a very good price. I will be contacting her again for all my future needs, along with recommending her to family/friends.

The first time I attempted to contact customer service, I had no success, and I felt the time it took for someone to get back to me was unacceptable. However, when a customer service representative did get in touch, the experience was very good. Alexis ** is a good representative for this company, and she helped me through the entire process with skill and professionalism. She is an asset. The only suggestion I have to make is that you make certain that a customer trying to reach you is contacted in a prompt fashion.

Select Blinds does a terrific job of customer service, based on two different telephone support experiences, and with the online live chat function--though I waited a LONG time for the return call. The knowledgeable staff answered my questions, offered useful advice, and took my order painlessly over the phone.

I was very pleased with the experience both via email and over the phone with Ms **. She was very helpful and will to accommodate my needs. I will highly be recommending the product (ie Blinds) and Ms ** as the sales person to go to.

I am purchasing blinds/shades for our whole house. Amber ** was able to place my order and hold it while we double (triple) check our colors, and measurements. She has been super helpful and available. I am excited to see the finished products!

The wait time to get to speak with someone was quite long - 15 min, but once I had Dillon on the line, he was truly excellent. He was able to help me make sure my order was correct and reassured me on the process. Wonderful job, Dillon!

On Sunday, July 16, 2017, I tried to contact Select Blinds by phone with a few questions about their motorized window shades. The website specified that personnel were available until 6 pm PST. I was calling from the East Coast at 8:15 pm local, but got a recorded message with the hours of operation. Turned out they are actually in the Mountain Time Zone, which if I had known would have stopped me from trying to call. So I went to the contact page on the website and filled out an online form, and submitted it. A few minutes later I received an email stating "Please note this mailbox is unmonitored. If you are need of assistance, please send your request to customercare@selectblinds.com"
So I sent an email to the supplied link, and soon received the automated reply that I would have a response in 24 to 48 hours. After 48 hours had passed I sent a second email. These messages contained the questions I had wanted to ask Sunday. On Wednesday, July 19, I received an email that did not really answer one of the questions, so I replied to it with such a response. An hour later I received a call from Mike at Select Blinds. As I couldn't speak right then I asked him to call back in a few minutes. 30 minutes later Mike called again. Now things got accomplished. All of my questions were answered, as well as a few extra that weren't in the emails. When I explained what I had experienced up until then, Mike apologized for my inconvenience.
Since I now had all the information I needed, I ordered the shades through Mike. He asked pertinent questions during the ordering about options I wanted. Before the transaction was finished Mike extended the limited warranty to 5 years from 3 years as recompense for the problems I had experienced. Mike also included the extra discount that had expired during the wait. He then explained everything I should expect up to, and including, delivery. Yes, there was quite a bit of frustration from the website, but Mike more than made up for that. His knowledge and professional demeanor made the phone call a pleasure rather than a chore. If you plan on buying shades or blinds, I can sincerely recommend Select. But, until they get the glitches out of the website, you should call and talk to Mike.

We ordered 6 sets of blinds. The wands that arrived for 3 of the blind that were the same size were all different lengths. Overall the length of the wands was inconsistent to the sizing of the window. I called to obtain correct sizing. The person resolving it was not interested in correcting the problem and sent six wands of a different color, which I received as a sarcastic response. I attempted to resolve it again by sending photos and measurements and then a single wand was sent after the third attempt and me having to react more aggressively requesting a manager or superior speak with me. They sent additional wands that matched. No apology nor contact from anyone in supervisor or manager status. We enjoy the blinds but the customer service is non-existent and would like to forewarn any potential customers to the potential frustration.

I have been ordering from Select Blinds for years without any previous problems. I misunderstood during my last ordering process and Brady took the extra time needed to guarantee my satisfaction. I have always recommended Select Blinds and after this experience I can say I will continue to refer them. I cannot Thank Brady enough for taking the extra time and making sure I continued to be a happy customer. Thank you Select Blinds!

The agent contacted me by phone and email to ask if he could be of assistance in placing my order. He also wrote that he would give an additional discount on the order. I called him back and he said that he couldn't give me an additional discount - maybe because the online discount for the day was better than the discount that was offered the day before, when he first tried to contact me? However, he did offer to add a longer warranty on the product, and I appreciate that. I would definitely recommend Select Blinds to a friend.

I saved a cart with my order. I needed the color switch before I made the final purchase. Alexis reached out to me and assured me I would still get the discount and to let her know when I was ready. I called her and got everything ordered. She was great to work with! I can't wait to get my blinds!

From start to finish the customer service and sales experience was hassle free and pleasant. Alexis was Very helpful and knowledgeable. I will purchase again in the future and will recommend to friends and family.

Ordered blinds on 5/07/17. Was promised the product in 3-7 business days. The status of my order showed "Estimated ship 7/7 Delivered...", and it have not changed to a week. All attempts to call the Select Blinds failed, finally managed to contact the company via live chat on 13/07. They admitted that my order had not gone to the production. I decided to cancel, but even that was not easy, had to cancel with my credit card. Very dissatisfied.

This is the first time I ordered from Select Blinds. We bought a new house and need to buy shades for the whole house. We ordered 2 bamboo shades to try the product and services before we order for the whole house. 3 days after my order, I received an email saying back order until Oct. I want to change my selection to another shades. Emailed customer service for several days and NO reply. Tried live chat for 3 times and eventually reached Gabe in the 3rd attempt. She said she will help me to change the order selection and will email me back in 1-2 days. Never receive her email!!! Lie!!! Emailed customer service again and only got automatic generated email. No reply!!!
I used the order number to track the order status online to see if that Gabe helped to change my order. Nothing was done!! It's still back order!! After my busy work, when I have time to contact live chat again, they are closed. Email customer service 5 times for over 9 days and NO RESPONSE!! I have no idea how the other people gave so good review and said customer service was good for them. I got nothing. No service at all!! Cannot reach anyone!! The only time I "chat" with Gabe online was a lie and did nothing, never email me back as she promised!!! I don't know how much time I have to waste on this order. They are surely losing a customer who need over 20 blinds for big windows!! I have NO time to wait as I need to cover my windows ASAP!!!

Upon visiting Select Blinds In Mesa, their representative Amer ** was a remarkable attribute in assisting me with the selection, samples and estimate. Next I had to arrange on their website for the installation process which was a tad complicated in that the installer was initially not willing to handle my location and
this took back and forth for a few days and Amber was amazing in assisting with this concern. Finally all was worked out, measurements done and shades ordered today. Amber did an extraordinary job to assist with my project and will continue to recommend not only for their products but their excellent customer service.

The gentleman that helped me was extremely knowledgeable and thorough. I really enjoyed the whole process from beginning to end. I wish most customer service experiences were like this. Thanks again for the great service and professionalism.

Jami Barnett, Ph.D.ConsumerAffairs Research Team
Jami Barnett, Ph.D., is an experienced researcher, and she believes consumers have a right to clear and honest information about products. In her role at ConsumerAffairs, she thoroughly researches products and companies by interviewing experts, reviewing research studies, reading governmental regulations and investigating customer service responses. Her work gives consumers the information they need to make smart purchasing decisions. More about Jami→

SelectBlinds manufactures custom blinds and window shades in a wide variety of materials, colors and sizes. You can shop online and then order a sample of the materials you're interested in before making your final selection. SelectBlinds is a part of the SelectShops company and is headquartered in Mesa, Arizona.
Child safety: All products sold through SelectBlinds comply with the U.S. Consumer Product Safety Commission's standards. Many of the blinds can be upgraded to a cordless system, and all corded blinds come with free cord cleats to help keep cords out of the reach of children and pets.
Free shipping: All products under 94 inches wide ship for free. If your windows are 94 inches or wider, you'll have to pay $70 per oversized item.
Warranties: All SelectBlinds products come with a free three-year limited warranty. It covers defects in materials, including brackets and internal mechanisms, and workmanship. You can extend that warranty or get a five-year unlimited warranty for an extra fee. The unlimited warranty covers all types of accidents and damage.
Free samples: SelectBlinds will send you a free sample piece of any blind or shade, so you can make sure you like the look and feel of the material. If a product is on sale when you order the sample, SelectBlinds will honor that sale even if it ends before you receive your sample and make your purchase.
Selection: SelectBlinds has a huge selection of blinds and shades for windows. You can get wood blinds, vertical blinds, interior shutters, roller shades, Roman shades, solar shades and much more. Because they're all custom made, you have more choices in size and color than at many other stores.
Best for online shoppers and those with unique windows.
Compare Blinds and Window Treatments
Select Blinds Company Profile
Company Name:

Select Blinds

Website:

http://www.selectblinds.com/