Consumer Complaints and Reviews

On March 22/17 I purchased 3 blinds by telephone. I was told I could get my blinds within 4-5 days if I paid $75. Express delivery. I received an e-mail 48 hours later stating my blinds were back ordered till April 3. It asked to have my $75 back since they could not deliver fast. Instead they put my whole order on hold. I told the person I wanted the order and to proceed with it, not to place it on hold.
On April 7 I chatted with a CS rep and he told me my order was on hold. I told him the story and asked they produced them fast. He was going to verify and get back to me. I tried calling and left a message after 35 minutes of being on hold. I tried several times to chat but cannot get through. I spent $1087 and cannot get my blinds. I cannot speak with a manager nor a customer rep. They keep sending me e-mails that they care about their quality and that they will contact me with 48 hours but they never do. I am so frustrated. I will never deal with this company again. This is the worst experience I have ever had with a company.

Their faux wood shutters are not very nice and are pretty much a waste of time and money. To be fair they are "ok". But you will be overall disappointed. They have gaps, poor fit and finish, and don't stay closed. They want to pop open. You must rely on magnets to keep shut, but because the hinges bind, the shutter wants to pop open. See photos! Almost forgot they didn't even include the 8 screws necessary for installation, only 6.

Select blinds did remake the blind for me. However their customer service did not follow up. I went from "were deciding if we are going to remake your blind" to a notice in my email saying that "your blind has shipped." Between these two states there was NO communication from Select Blinds. Upgrading their rating to a 3 star.
They still need to get rid of the loud music on their music on hold, and follow through on their customer service better.
Original Review
I am a repeat customer with Select Blinds. I ordered a series of 2" faux mini blinds for my house. A year later one of the blinds failed. Calling customer service I found the following issues: They will bombard you with loud music while waiting for help on customer service - this is unprofessional and childish. Customer service does not pick up. Instead of fixing my blind they sent me a part with the assurance that it would be easy to fix - it's not easy to fix. They will not cover shipping on their broken blinds. Their customer service staff seems disinterested and uninformed. You can do better than Select Blinds. Highly recommend that you shop elsewhere. They are not what they used to be - terrible customer experience.

Worst service and product ever. Ordered Faux Wood blinds. They arrived with absolutely no instructions. No biggie, we installed them and they fit the window fine. HOWEVER, they are supposed to be cordless, tilt to open blinds. Problem is, you have to pull the blind down past the window sill to get them to open and then as soon as you put the bottom of the blind back in the window sill they close! Essentially, these blinds are worthless. They won't stay open. The quality is also atrocious. This is simply plastic - not faux wood. It doesn't even look like faux wood.
So I call their Customer Service - no easy feat and was told there was nothing they could do and that the blinds weren't returnable because they were custom (what blinds aren't custom). When I asked what I was to do with blinds that didn't stay open, they actually told me I should just donate the blinds instead of just throwing them away. This is simply a sham to get a couple of hundred dollars for something that is simply not what they advertise, not of good quality and to add insult to injury, the product doesn't work. Do not buy from these people. This is not an ethical company.

I had ordered blinds from Select Blinds years ago without any problem. This time I ordered new faux wood blinds for my kitchen and plastic vertical blinds for my bedroom. The box with the verticals arrived in terrible condition due to carrier mishandling, and all the slats and the valance were cracked and I called Select Blinds to replace the order. It took forever to get through to Customer Service. You have to wait hours before you get someone to get back to you so I used their online "chat" which also didn't seem to be available, or I got constant updates as to when an agent would be available and instead of the time span going down it was going up, so I had to wait longer. I had to call them a few times to find out the status of my replacement blinds and commented that as the blinds were damaged my order should be a priority. They assured me it was but in actuality it still took 1 1/2 weeks to replace them.
I also called them twice to see when my blinds would be delivered and was told by the agent that he would email me with that information the next day, which he didn't. I then called back and that agent seemed to have the information immediately. The original order was also missing the brackets for the valance and have absolutely no instructions as how to hang them, so I had to hire a handyman to put them up. My two main complaints are that they are very short staffed in the customer service department and should hire a few more people if their volume is so large. Also, instructions on how to hang the vertical blinds or any blinds should be in every order but they weren't in either the original or the replacement blinds. I don't think I will order from Select Blinds again because if there is a problem it seems to take forever to get it resolved.
How do I know I can trust these reviews about Select Blinds?
742,108 reviews on ConsumerAffairs are verified.
We require contact information to ensure our reviewers are real.
We use intelligent software that helps us maintain the integrity of reviews.
Our moderators read all reviews to verify quality and helpfulness.
For more information about reviews on ConsumerAffairs.com please visit our FAQ.

Product I order was very nice and easy to order and install. I had a problem with one of the products in my order and that was after their rep helped me finalize the order. When I tried reaching out for customer service post delivery the process took forever. I had to wait on hold for very long, representatives did not call me back when they promised, and they were not familiar with their own product line and so things they promised me to fix it they later retracted. I would not reorder from them.

There are absolutely no customer service with SelectBlinds.com. You can call at any time of their hours of operation with no luck of reaching them. Unless you speak with sales. I made an order and was charged the full amount. I see the charge on my credit card on the same day. After a week, I did not see any tracking of my order. I reached out to them. They said the order price was wrong and need me to add another 100 dollars to the order. I checked the website and called back to request for the current discount which came out to 250. They said the order can only be at 290. I requested for them to cancel the order instead. They transferred me to a cancellation department which never picked up the call. I tried calling at different days and different times. I end up disputing the charge with my CC.

I ordered 5 blinds on sept 10th with the measurements taken by select blinds preferred installer. I paid him $75. Select blinds charged my card in advance when the order was placed. It took 5 weeks not 3 days and over a dozen calls to get my order. The blinds were manufactured wrong and are too small. "One is even 30" too short. They are not answering the phone, emails, or vet chat. Worst customer service ever. My only option is the dispute the CC charge and it's been 2 month... Do not buy from them...

Original Review
I have tried to contact Select Blinds customer service department by phone several times. Every time the wait time is very long so I leave my call back number. In the last 2 days I have waited 5+ hours for a call back. I just have a simple question that is not addressed on their FAQ or Technical links. I ordered 2 blinds and both of them droop on the right side. It is the same exact droop for each one so there is some kind of a simple fix like a cord adjustment that I can make myself. I just want the answer to my simple question. Why has it taken 5+ hours so far to not get through to them? Very frustrating.

I have been wanting these types of blinds forever and I finally came across an awesome sale at Select Blinds. We bought sixteen blinds and I was very nervous because we had to purchase the blinds that were mounted outside the frame. We added 4 inches in width to all our measurements and they block the light out well. If I could do it again I may only add three inches to the width. But they look really good and I love the fact that I can have too much natural light with the top down, yet still have the privacy I want. Since we are extremely challenged in DIY it took us a bit to figure out how to mount the frames, but once we got one, the rest were one quickly hung. Highly recommend this company! Great quality and excellent sale price.

Website efficient. Selection of products well organized. Video instructions were helpful. I placed my order by phone. Phone representative was very knowledgeable in the blinds I inquired about. Shipping on time (standard), product received without any damage. Thank you for a job well done and a value on the blinds ordered.

I recently purchased a set of the top down bottom up window blinds for my bathroom. They fit perfectly and I plan to purchase more blinds from Select Blinds. I really liked the way they fit and worked. I especially liked that they are cordless. My next room to purchase blinds for will be my living room. I would recommend Select Blinds.

They sent me the wrong roman shades, completely different from the sample they provided. I called and sent pictures in and got no call back for an entire week. I had to call back and ask to speak to supervisor who asks me to use them and she will give me a discount. When I told her that they do not fit with my door so I cannot use them, she proceeds to blame me saying that I did not match up the sample to the picture they have online! Their website clearly states to order samples because the pictures online are not accurate. She tells me that it's company policy to not issue refunds and that if I want them re-made, it would be at my expense. I am appalled at their unethical business practice of having the customer pay for their mistake. Their "satisfaction guarantee" is a big fat lie. Yelp reviews are consistent with my experience and I DO NOT recommend this company.

I ordered a total of 5 window treatments. One of them being a 2" faux wood blind. The mechanism where the wand attaches that is used to open or close the blind was bent, so when the blind was opened or closed the valance would completely pop off. Long story shortened, I called many many times. First I was told 'we will send you magnets to extend the valance out'... This did not work. The valance is heavy and would slide off. Then I was sent replacements blinds, TWICE. All were also bent.
I then had to take pictures of each blind and send by email, then I had to return the blinds, which I refused to send all of them back. I was told 'we have to have our engineers look at it'. I sent one back which was a complete fiasco. After they finally received I was told by Kayla that the engineers are looking at it. I never received a return call. After 1 near miss of an injury, and 1 certain nasal injury (the valance popping off and hitting 2 people) I have had enough. I called and spoke to Rashelle, which of course I haven't had a return call.

I ordered two large black out blinds. They are not inexpensive. The internal strings on one broke. I texted the company with the order number and they said they'd replace if I sent a photo of the blind. I have now emailed with photos on five occasions and tried to get through on live chat and telephone and have been unsuccessful in all attempts to get a response or replacement blind.

I will never purchase blinds from this company again. I purchase 2 identical blinds, both black in color, one blind came with black brackets to hang the blind from the wall but the other blind came with white brackets. I have been trying for a month to get Select Blinds to send me black brackets for the one blind but still do not have them. Every time we call they say they will send them out right away but we still have not receive the correct brackets. The last 2 time they promised to send the next day and email us the tracking number for the shipment, none of which never happened. Stay away from this company. If there are any problems you will not get satisfaction.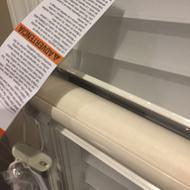 We ordered the arctic white. According to a sales rep we talked to on the phone, it's the brightest white. We received the blinds today and these are more vanilla than arctic white. Very disappointed with the experience with Select Blinds. They offered to send me the color samples to arrive 3 days later to determine if I was sent the proper color. This defeats the purpose of ordering online to expedite the whole process for semi-instant gratification. Now, the kicker is that I was told if this was the correct arctic white (more warm than arctic), then we have to pay another 50% to correct the issue. So much for customer satisfaction. I would definitely order from competitors that have non-deceptive and accurately named colors.

The blinds did not have the pre-drilled holes they were suppose to have. We had to do that and it caused a pull in the fabric. The instructions were poor and L brackets were so big they show above the blinds. Further, the screws were of so low a quality they stripped during installation and we had to purchase higher quality mid-project. All-in-all installation was a nightmare that took hours. One good thing I can say is the fabric quality is good.

I contacted select blinds and requested samples, several samples on two different occasions, which were shipped free of charge. Later, when I placed an order, the rep (Brittney ** ) was courtesy and professional. I received a follow up email that same day. And also when it was discovered there was a delay on the fabric I wanted, they gave me a date when the fabric would be in and since I ordered ahead of time it was no problem for me. I also received an email when the shade were shipped out. I was also told to inspect each blind and if there was a problem, I could return them within 10 days (of their arrival), even if the mistake was in my measurements and receive replacements if needed. They were all made exactly as described and the quality exceeded my expectations. I am not associated with this company or anyone who works for or with them.

I ordered blinds from Select Blinds on December 7th. A person named Danielle ***** took my order. Select Blinds immediately charged my credit card. She claimed that she would send me an e-mail with contact information and status verification. After receiving no communication, I called and Ms. ***** and she told me that she had made a typo in my e-mail address and would send me another e-mail with the information and her e-mail in case there was a problem. I still received no communication.
On December 12th, I finally got through to a Representative named "Jose". He said that they had sent me five e-mails. He claimed that he would ask the IT department about the problem as to why I did not receive any e-mail and that he would call me that evening or the next day. He stated that their e-mail sometimes end up in their customers junk e-mail box. Good to know! "Jose" said that my blinds were still in production and that he did not have the status of my order. "Jose" never called back. I decided, after not being able to communicate with the company and/or to find out the status of my order that things seemed somewhat suspicious and canceled my order on 12-12-2010 through their e-mail system as directed.
I also called and left a message on their answering machine as a follow-up to the cancellation of my order. I sent an email asking for confirmation of my cancellation. After receiving no response I sent a second e-mail asking for either an email or phone call confirming my cancellation. As of 12-22-2010, I have received no communication from Select Blinds. I also contacted my credit card company and placed an investigation of the charge. I am waiting on a response to the inquiry.
On 12-23-2010, after eleven days of no communication with Select Blinds,and having already cancelled my order, FedEx delivered the blinds. I promptly refused delivery. FedEx marked the delivery as "Refused by recipient - Not ordered". After sixteen days of not being able to track my delivery and three times being told by Select Blinds that they had no information on the status of my blinds, FedEx gave me tracking numbers for the shipment that I refused.
Select Blinds Company Profile
Company Name:

Select Blinds

Website:

http://www.selectblinds.com/