Mr. Rooter Plumbing
Mount Vernon, NY
Consumer Complaints and Reviews

The guy who came to my home was nice and courteous and seemed knowledgeable. I am talking about Mr. Rooter out of Hamilton, Ohio. Every time I asked for a final price after given an estimate, it changed and increased which is very shady. He finally worked up an estimate and I agreed to it. Then I was forced to pay $145 for a joke of an "Advantage plan" that supposedly saved me 20% on my final bill and on any future bills (there won't be any future uses for them). I was told at first there was no charge for it then all of a sudden on my credit card bill was a dam* charge of $149. I am challenging that charge. Then I did some digging and research of the parts that were needed for my job and the price of their labor. I found that these as* clowns charge over 5 times the amount for plumbing parts. I compared them to parts I saw on Amazon and Ebay.
I understand you want to make a profit, but that's robbery and fraud to charge those high rates and prices for parts. There's no excuse for that. I will be contacting the BBB and Angie's List. Whatever you do, DO NOT use this company. They totally screw customers and their prices are exorbitantly high especially compared to other Cincinnati plumbers.

Dumped raw sewage into my sump pump after being told not to. Used our stuff, buckets, rags, flashlight and bleach. Then through all the sludge and fecal matter they got out of the pipes in the middle of our backyard. When we called the office they had the plumber call us back and he actually accused us of lying. And told us it was nothing he could or would do.

Mr. Rooter sent Will ** to my home for pricing on a repair to my water main break and Will explained how the work would be done. He stated they would bore through the ground to replace the broken water line. That was on the Sept. 27, 2016. On Oct.14, 2016 after coming home to find his contractor had dug a long trench from the sidewalk to my house. The contractor stated this is what he was told to do by Will **. I explained that Will ** said the line would be replaced by boring through the ground. Will ** (Mr. Rooter lied to me and my son; now I have a trench with heavy dirt that need to be filled in this trench). I will not have Mr. Rooter do any work for me.

I called this afternoon for possible service with the company. First his brother Steven answered the call and quoted me $190 + 59 for after service while they are supposed to be operating 24 hours a day for 7 days. And then he tells me that his brother will call back to schedule time so when his brother Brandon called me he said, "I don't know what my brother told you for the prices. Our cost is 132.31 plus $59 after hours." So when I mentioned about franchise coupon on the website for $25 odd with no provisions and expiration date of 11/31/2016 then he tells me that only applies during weekdays. And he kept on mentioning, "That is not that we don't want to come out on the weekend."... etc. The company needs to be shut down especially when they cannot provide service or don't want to come out on the day it says they are supposed to be operating and inconsistent pricing between brothers.

Our water heater was not working and we needed a new flush set for the toilet. The plumber came on a Wednesday, took a look and said we need a new water heater and couldn't come back till the following Saturday. He couldn't even do the simple fix on the toilet until the following Saturday! Saturday he showed up and didn't have the parts for the toilet. He said "oh, I didn't know you wanted the toilet fixed." I told him I had been VERY clear that of course I wanted the toilet fixed! Well, now he can't fix the toilet for, at the least, 2 more days! He put in the new water heater but didn't take the old one out. He said "oh, yeah, I couldn't get it out." OMG!
Then I looked at the new water heater and the electric cord going in to it was all frayed! I showed it to him and he said "yeah, I'm not an electrician." I said "but it is the cord going in to the water heater you just installed!" His answer again "I'm not an electrician". Then I asked him to look at the sink fixture as it was loose. He tightened it with his fingers and it was still loose. He said that was as good as he could do. He didn't even use a wrench! So now we have an electrical hazard, still a broken toilet and sink, an old water heater still in the basement, and he charged us $1030.83! I am calling to complain!
How do I know I can trust these reviews about Mr. Rooter Plumbing?
697,993 reviews on ConsumerAffairs are verified.
We require contact information to ensure our reviewers are real.
We use intelligent software that helps us maintain the integrity of reviews.
Our moderators read all reviews to verify quality and helpfulness.
For more information about reviews on ConsumerAffairs.com please visit our FAQ.

I was double billed for $3,250 and had damage on the basement floor from the jackhammer. The company stated they are not responsible for collateral damage as I signed a landscaping waiver. I don't want this company on my property and will repair the damage out of my own pocket. I reported the double billing to the bank as fraud and I am working with the bank.

I called Mr. Rooter to fix my leaking showerhead. They came out & told me the price was $371.00 to fix and I agreed to pay. After 2 hours of work the plumber got the leak down to a slow drip and said I needed to have a hole knocked in the wall to fix the valve there at a price of $1400.00. The job was not completed as shower was still dripping. I called a friend to look at the problem and he replaced the valve in hot water handle and the shower no longer drips. I was way overcharged for an incomplete job and Mr. Rooter refused to give any money back to me. The valve that my friend put in to fix the drip cost $2.00. If you don't want to get ripped off don't call Mr. Rooter.

I have tried for over a year to get a local plumber, all too busy for such a puny job I guess. Called Mr Rooter out of Weirton WVA. He came on Saturday to check out what needed to be done. Yes, I paid through the nose. But no water for four days? Pump was fine? Water supply was fine. Old galvanized pipes needed replaced. They showed bright and early Sunday morning and got right to work. I haven't signed off on the work order yet, but I'll be making a note that I want a warranty on parts and labor. *** Edit: already a warranty written out. Thanks guys. Drive safely.

I had Mr. Rooter come to fix my septic back in December of 2015. They were to replace my old clay line between the dry well to the septic. I still had problems after the work they stated they did was done. I had to call them back out to snake the line because dirt got in there and another time because it was doing the same thing (coming out of the inspection port) only 6 months after they said they replaced the line. When they came out to check it I was told they would have to do additional work for a piece I said on the original job I didn't want they to touched (because the price was too high for that job proposed). I told the gentleman thank you and if we wanted to use them we would call. I didn't use them.
I went thru another company. When they came out to fix the piece (Mr. Rooter said was an issue from the original job in 2015) we I uncovered that not only was that not a problem (bc it didn't exist) we also say that they left my septic not hooked up to my dry well. I have called them serval times to finally get a call back stating they would make this right but I had to talk to the manager as well. Well he called and was as rude as ever. He basically called me a liar and said my other guy lied and took stuff out (which isn't the case).
The guy said he would come out to look at everything which means my yard ripped up again to show only the work my second contractor did. I told him I have pictures showing the way they left it and that my contractor would be here as well to back me up on the work they said they did but didn't. Long story short please don't use Mr. Rooter out of any state. They totally ripped me off for 4 grand plus they act like they are not going to make this right, which means more time for me at small claims court.

Costed me $330 for a snaked sink. Nice guy came the same day but he charged me more than switching the whole sink. Granted he told me the price before but he made it sound very bad (like I have to switch the pipes etc). After he finished the job I look at the receipt and it said he snaked it... I could have bought drain for 5 bucks or called any other company and they snake any drain for $99. I manage 40 apartments and because of one stupid thing like the price on snaking a pipe did they lose all that business.

DO NOT EVER USE Mr. Rooter Plumbing from ADAMS, MA.!!! I needed to replace my kitchen faucet. A Do It Yourself for many but I am not talented in that area. My daughter was present for the ONE HOUR the technician was there and I came home to a bill of $223.52!!! Yes, two-hundred and twenty-three dollars for LABOR for ONE HOUR OF WORK (no parts)!!! To install a simple kitchen faucet!!! SERIOUSLY, DO NOT EVER USE MR. ROOTER PLUMBING FROM ADAMS!!! I didn't call an MD, who might charge $223/hour, I called for a very simple job and feel the cost was totally unreasonable and the company disingenuous!

Save your money. I wasted $605 dollars to clear a line, and they left the job without it being cleared. They wanted me to spend more. It was a scam to see if I would start spending thousands on redoing the plumbing for the house. They actually left my house in worse shape than before they came. Was that on purpose? I won't go that far, but they are at least incompetent. Let me be kind and stop there.

These guys are a bunch of idiots. If there was a zero star rating they would get that 1 star is too much. My parents called on a Wednesday afternoon for them to "snake" the pipe. The guy they sent out broke the snake inside the pipe, so he said we had a broken pipe that need to be replaced. Thursday morning they dig up the front yard, (2 hrs work) take out the "broken" pipe and we don't see them again until Saturday afternoon, when they finally come to fix it. During the 2 hours they took to fix it they also broke an outlet in our garage (now we need an electrician). So we had an Open sewer pipe in the front yard for 72 hrs, and no use of the bathrooms.
My Dad is disabled. He can't just get up and run next door to the neighbors (who kindly let my Mom and I use theirs a couple times). Monday morning they finally finished it. They are trying to charge us $5,000. As of this review we are going to fight this. They only worked maybe 6 hours in the whole 6 days it took them to do the work. Will NEVER call them again!

I called this company in the Youngstown, Ohio in March 2013 area because our basement would flood whenever we used the washing machine. The plumbers show up and attempt to unclog our line, to no success. They come back a short time later to camera the line, which they do after a clearing of the line and tell me that the main is broken and will eventually collapse. Long story short, they tell me they can dig up the old line, and that altogether, a new line, sidewalk, and labor would be around $15,000.
It's now 2016. Today we have a local plumber come out and inspect the line after the gas company replaces the gas lines in our neighborhood and informs us of a leak in the sewer line because of tree roots. The local plumber clears out the sewer line and informs us nothing more is needed to be done. The sewer line is intact. It just needed the roots cleared out. Mr. Rooter is not a trusted company, at least in this area. The company was recently in the news for doing some shady deeds to customers.

Thought I needed my garbage disposal replaced, but Tony ** (Lawrenceville, GA) diagnosed it as a jam in the disposal, reset it (which I didn't even know you could do), and didn't charge me over appointment fee. Honest nice guy, could have not been honest and charged me for a whole new replacement. Hope I don't run into anymore plumbing issues, but if I do I will definitely call him again!

Stay away from this company! First of all, they have a $65 dispatch fee which is not clearly explained. They give the impression that it's refundable if no work is performed. They are very unprofessional and discourteous. I called this company to check out a copper pipe leak in the attic, which I thoroughly investigated and confirmed that the leak was very small and only about 2-4 inches of pipe needed to be replaced. When the plumber came on site he informed me that there was a $140 fee to diagnose the issue.
Are you kidding me? Is this a computer or some sort of electronics that need a diagnostic fee? I decided to call the company and asked them if I already know what the problem is and where the leak is if I still need to pay a diagnostic fee and the lady put me on hold and then came back and said no fee will be required. The plumber said it's too hot to get in the attic now so he'll come back the next day. Which I agreed it was too hot to be crawling around.
The next day the plumber came back and asked me if I will be accompanying him in the attic to help him, because it's a two man job. WOW! who is paying who here? I said, "No, I can't do that." He then climbed up and a few minutes later stated that he was too tall to fit in the attic and it would be better if he could cut a hole in my ceiling. Also it would now cost me $450 because he has to use a special clamp tool instead of the torch, because it's dangerous. Wow! again. The tool is an expensive tool, but it makes the job easier so why charge me more? Don't charge me because the tool is expensive.
At this point I already lost confidence in him. The plumber said he could not do the job and left. He didn't even call headquarters for a possible solution. After all this... I called customer service and asked about a solution or refund and they told me that the plumber said he quoted me for 14 feet of copper pipe. Huh? We agree that we only needed to replace 2-4 inches. I told the supervisor that it's up to him to do the right thing based on the unprofessionalism. I will not ask again for a refund, but they lost my business to another company who gladly took care of the issue the same morning for half the price. Oh, and they used the clamp tool. Stay away from this company, there are too many plumbing companies out there that do not need a $65 dispatch fee and $140 diagnostic fee. They are a complete rip off. Shame on you MR. Rooter! You failed!.

My wife and I have had a horrid experience with the chain plumbing company out of League City, Texas. They have rude, disrespectful workers who answer the phone and schedule the services. The office manager has zero empathy or concern for the customer. The only employee of the company is the supervisor although he could not get our water heater serviced any quicker. The overall experience has been so terrible that I would never recommend them and will never do business with any Mr. Rooter companies ever again.

Let me say that the Mr. Rooter on November, Keeneland Dr. in Richmond, KY, has a great professionalism about them from the dispatcher to the technician! My technician's name was Shane **. Very nice young man! I am a pretty manager at the Outback Steakhouse here in Richmond. I will definitely be recommending your Richmond location to my patrons! Thank you Shane for helping solve my problems!

I called for overnight service for a kitchen sink overflow, it was corrected. Last week I called for the same problem and ask why after only 3 weeks of using the kitchen I was having the same problem. They said the manager will call me. I keep on calling back multiple times, for 7 days, at the end have to pay another company to fix the problem since they didn't do a good job. Very irresponsible and unreliable company. This is Mr. Rooter, Pembroke Pines.

We had someone from Mr. Rooter come in to give us a quote for something that needed to get done. Mr. Rooter had done work on our home before and we thought it would be great to bring them back. This time around it was for a different circumstances (funny how the first time around they didn't mention any of the things the second guy said). When the guy came in he didn't quote us for what we asked. He went on telling us everything he wanted us to fix. He even took our information and reported us to our city inspector. He was threatening us to get these things fixed because he was going to report us anyways. Talk about losing a customer.
I felt like that was a breach in my confidentiality. I trusted them to just come through and give me a solid quote on what I wanted fixed, not threaten to report me and then actually doing it just so he could get the job. I have rights too and I will continue to pursue them, as I felt my personal information was shared without my approval. I'm sure if an inspector went through his home there would be things the city inspector would find fault in too. Trust me, I'll never use or refer them to anyone.

We had Mr. Rooter come out for FREE diagnostics to determine the cause of a sewage overflow in our basement. Our FREE appointment turned into a $278.00 appointment in order to be able to determine the problem. Their camera "determined" that we had a broken pipe under our water heater in the basement. They wanted to jackhammer up our floor to replace the pipe for $3,400.
A few days later we had another sewage overflow after spending $400.00 to clean up the first. Therefore, we rushed to the phone to get Mr. Rooter out to break up our basement floor and replace the pipes. It took them 2 days to do all of this and cap off the sewage pipe because we removed the toilet. We spent $3,475.00 on this and $200.00 to clean up the second sewage overflow. We were told everything should be good to go.
HOWEVER, when my husband was getting ready for bed last night, he smelled the same smell we encountered with the last sewage leak. He went down to the basement and lo and behold the sewage had leaked all over the floor FOR THE THIRD TIME. We called the Mr. Rooter 24 hour line and were informed we may have to pay an $89.99 service fee in order for them to come out! Luckily, we got them to check out the problem for free, but now they are saying the constant over flow is due to a tree root that has uprooted our PVC pipe in the back yard. Of course, they now want to dig up our back yard and charge us another couple thousand to fix this pipe! I feel like this service should be free because they didn't fix the problem they originally diagnosed! I DO NOT TRUST THEM and now am in desperate need of a trust worthy plumbing company that can dig up our yard and secure our pipe for a reasonable price!

Mom is in her late 70s. They totally took advantage of her charging her 3700.00 for a job that lasted 2.5 hours. Then collapsed her sewer line then come back the next year stating they would gladly charge her an additional 4000.00 to fix what they ** up. The worst!!!

Do not ever use Mr. Rooter plumbing services. I have had nothing but awful experiences! I needed new water heater which will cost me $2,000. We set a time in the afternoon to do the work. I rearranged my day, cancelled work meetings to be home and they showed up an hour and 20 minutes late. What's worse, not a single phone call from anyone saying they were late. I had no hot water and water and gas were shut off and no other plumber could get to me before 3 days so I had no choice. Save yourself disappointment and just don't use these guys!

I had a bad flapper in my toilet. The part costs less than $5. It took the technician about 5 minutes to repair. I was charged $143.09! Absolutely ridiculous! I will not use again. Shame on me for not calling and getting prices.

I called them 8 pm and they promise to come and clean backed up sewer line in one hour!!! I was waiting almost till 10 pm and operator told me: "I was trying to call you to say that technician won't come..." I lost two hours on waiting and now at 10pm no other plumbers would come. Also I can't go take a shower, I can't use toilet... I wish I would stick to a Benjamin Franklin, they would come in 2 hours.

I made the mistake of calling them, Mr. Rooter. They were out on Friday to fix a water main leak. They said if they had to fix it more than twice it would void my warranty. They asked if I wanted a refund. I said yes. So they cut the parts out and left me without water at all. They should have least left me with water. Very upset. I can see why they only get one star.

We had a leak in water heater and it cost over $400.00 to fix and the next day they came back because we had no HOT Water. They could not figure out the problem and left after 3 hours with us still having no HOT water and said we needed some part and maybe we could order it and put it in, and this is Saturday and they wouldn't be open till Monday, so oh HEY! Would not recommend to my Worst Enemy!!!

Called Mr. Rooter to unstop my kitchen sink. This line runs from the side of the house to the street.. almost a straight line. Their plumber? Frank, told me that the only way to clean it was to do a "hydro scrub". He forced water into the pipes throughout the house. Sewer water backed up and came into the house through the air conditioner vents, soaking the lower walls and floors. He told me that cleaning the sewer water out of the house would have to be done by a restoration company and that I would need to pay for it with my homeowners insurance.. not even close to my deductible. His explanations.. my lines were very greasy and the water took the route of least resistance. REALLY? Calling the 800 number for Mr Rooter, always got me rolled back to the local number. They never took care of the mess he made. NEVER call MR. ROOTER and NEVER let them talk you into a HYDRO SCRUB.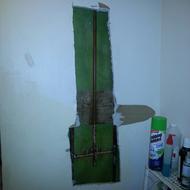 My wife called Mr. Rooter to repair our Shower Faucet that was difficult to turn off. It was an older model. The plumber came out and called me at work to give me an estimate (name Ted but on the receipt it says Edward **). He gave us an estimate of 300 dollars to get the part and drive down to Ft. Lauderdale to get it. I was at work all day. The technician convinced my wife and my mother in law to upgrade faucet and charged us 774 dollars for the upgrade! I never approved it.
Here is the worse part. He left a gaping 4 foot hole in the wall of my bathroom. He told my wife that he is not dry wall man, but he had to get to the pipes and left. For almost 800 bucks Mr. Rooter and company should have repaired the hole as well. It was not there when he started the job. I warn everyone who reads this to stay clear of this company. I may not have the prettiest bathroom or house, but if this happened to the owner of that company he would have had a heart attack when he came home. They have ruined our bathroom and our holidays. Lord help us.

I have a rental property that was having a draining issue, going outside. I had to act fast due to it being a rental and it was back flowing in basement. So I called Mr. Rooter due to the fact they had cameras for clog and could make it there that afternoon. Once they got there, they were unable to locate main trap? So they went in and did something. I'm not sure. They told my husband and I, "Problem was fixed but no guarantee..." Asked my husband if he brought credit card. I was shocked that a professional asked like that. So they charged us $268.00 for doing whatever is was that they did. It was never explained to us what the problem was. So today I receive a call from tenant. The water is coming in basement yet again...
Mr. Rooter wants no part of information. Their job wasn't guaranteed. We called yet another local privately owned plumber. He was on site... Not even knowing about previous issue. He comes walking out back with a shovel in the pouring rain, located the vent pipe, put shovel in ground... And surprise. There is the trap that Mr. Rooter could not find, said we may have to pull up boards off deck...
So our private plumber digs the hole, gets to trap, it was so clogged!! He cleared out trap and cleared line all the way to street. He was in disbelief once I told him I had Mr. Plumber there. He stated there was no sign of anything being done! So our situation is fixed, guaranteed for a quarter of the cost of Mr. Plumber. And they didn't fix nothing. I was ripped off $268.00 for absolutely nothing. :/
Mr. Rooter Plumbing Company Profile
Company Name:

Mr. Rooter Plumbing

Website:

http://www.mrrooter.com/