Consumer Complaints and Reviews

We had our units installed on 7/12/17. It's 8/1/17 and they have never worked! They have tried to fix the issues since day one and failed. They also destroyed the facade of our house with their initial install mistake. (I have photos to show) Customer service has been horrible and their install crew are always a no-show when they say they are going to show! My husband and I had to go to Walmart to purchase two window units to try to keep the temperature down.
According to their customer guarantee, we have asked them to take the units back today, and even though they scheduled it, again they are a no-show. They also overcharged our account! I have recorded each incident, kept my emails and work orders with every single piece of information pertaining to this matter and we are seeking litigation.

Per our contract, our completion date was May 15, 2107; they started the job May 17th, 2017. My installation was postponed until 05/24/2017, they were a no show. They showed up on May 26th, without a call ahead with a time frame. Today is June 17th, we have not had our final inspection. We wrote a check in full prior to them beginning the work; I received a call they accidentally shredded my check and asked for payment. When I told him the job was not complete, he felt apologized for calling me.
The installers were fantastic, but sales and customer service is poor. I called every supervisor on the list our salesperson gave us, not one of them has returned my phone call. This was at the end of May, today is June 17th, no response to my messages. The salesperson sold us on service and their affiliation with Home Depot; they are a very poor representation of Home Depot. I dread the day I have to call for any type of service if this is any example of what I can expect. I don't want anyone else to go through this frustration, they need to figure out where the breakdown of communication is and fix it within their unorganized company. I feel bad for the installers, they work really hard and deserve to work for a company that backs them up.

Last year when my water pipes leaked I called them. Waited several hours for someone to come. My drains are clogged. Decided to give them a second chance. Called them 9 a.m. this morning... as a emergency situation. Raw sewage coming up my drains. It's now 330 p.m. still no plumber or call from them... Terrible service. Will never call them again.

I purchased a home AC unit from Home Depot ARS on Dec 3, 2013. The install was good, works fine. Fast forward: May 2017 we are selling the house. We find out ARS pulled 4 permits, 2 by accident during Dec of 2013 and never had the work inspected and closed out the permits. Lots of communication issues and unity of command issues at ARS. So I called Hillsborough County Florida who advised these permits have expired and I will have to hire an engineer to inspect the work and submit a report. I called an engineer $700.00. WTF. Because of ARS failing to do their job I have to pony up 700 bills. Finally got a call back from ARS who said to send them the bill, ya right. Our closing date is two weeks out. Let's see what happens. My experience is there is a lack of integrity with some Florida contractors. My first contractor is in a Florida prison doing 20 years for fraud. I'm leaving.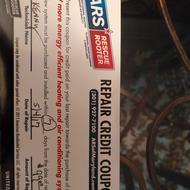 I spent $99 on May 4 for a technician to tell me what I already knew, that I would need to purchase a new hvac unit and that the $99 would go towards the purchase of a new heating and air system. The technician was amazing. He then contacted a "comfort salesman" who came that same day and said he would look for a system and get back to me the next day with a quote.
That same day, the comfort salesman and I went to my condo office and arranged with the building manager to have the water shut off for my tier the day of installation on May 8 and the salesman also spoke with our building technician. Tuesday May 8 comes and I still have no hvac. I called the comfort salesman and he said "we're still looking". I trusted that the salesman would be able to find a unit and waited.
By the evening of Wednesday May 10 I had given up and called to talk with a manager about refunding the $99 as they were not able to fulfill my order. A manager called the next morning and said "sorry, we cannot refund the $99". I was so upset -- I have been using this company since 2006 for plumbing issues. I gave up and called another company who immediately was able to assist me. I will never use ARS again. All over $99 -- really?? Bad management.
How do I know I can trust these reviews about Rescue Rooter?
851,761 reviews on ConsumerAffairs are verified.
We require contact information to ensure our reviewers are real.
We use intelligent software that helps us maintain the integrity of reviews.
Our moderators read all reviews to verify quality and helpfulness.
For more information about reviews on ConsumerAffairs.com please visit our FAQ.

I used ARS Rescue Rooter in Chester, VA to install a new water heater. One year, one month later it was leaking. They said it was the tank leak when it was actually the pipe. They charged me for the visit with WRONG diagnosis as I discovered where the leak was after they told me to call RHEEM the manufacturer. The ARS manager called me that afternoon and said they will come fix it after I complained to the service tech.
The next day the tech calls me back and says they'll do it for $350 after I was told they would fix it for free (I already gave them $77 for the service call). Very POOR customer service and poor tech service too as I determined the problem after he missed. They also charged me $100 this winter to come check it out as my hot water was not heating properly (this was under one year). If you want a frustrating experience with poor service, then ARS is your company. I used a local plumber who charged me $150 to fix ARS's poor workmanship.

Called ARS to come out and check my parents AC for them. They got my credit card info over the phone and took money out of my account for the technician to show up between the hours of 12-4. Well, he never showed or called. We waited all day long for them and called 4 times to be told we were the next in line. They rescheduled to tomorrow morning. Let's see if they show!!!

I wish I would of read the reviews prior to purchasing a new ac unit with ars. Like most of the people I went through Home Depot, I think of Home Depot as a reputable company. I continued to have the unit checked biannually. 2 1/2 years later they claimed the evaporator coil has a leak. The employee never did a leak test. They said part is under warranty, but the labor cost will be 850 dollars. I declined. I called another ac company who came out and did a leak test and did not even find a leak. The cost to replace the evaporator coil would of cost me 350 dollars. It's disgusting.

Rescue Rooter very high cost, triple cost of most other plumber companies. They quoted a job to fix a leaky toilet for $489 before they even looked at it. I told them that cost was too high. They lowered the price to $369 since they said they would probably have to run a snake through the lines, maybe there will be a crack toilet, reseal, change out bolts. It kind of scare me thinking I had a big problem. I agree, I stood there and watched him and he did nothing but change the seal. He said the drain line was fine and the toilet was fine. He spent 15 minutes and charged me the full price. He said it was a worn out seal. 15 minute job.
I asked why were they charging so much and the plumber said, just in case he had to clear the drain line, which he did not. There was nothing wrong with the drain line. He still charged me the full price. He was rude. He took advantage of me since I'm an older woman and I feel I got screwed by Rescue Rooter. When I complained to him, he said it's the company not him. This is completely true what happen. This company is awful. Don't use them especially if you're an women.

Issue: I purchased a home with 2 comfort maker systems installed by ARS in 2002. Subsequent to that I have used ARS for the past 14 years for all things HVAC. In 6/2013 I purchased a new unit from ARS - (ARVF30B14 & GSZ13024 Invoice # **). On 10/14 2016 I had it serviced because it was not working properly (Invoice # **). I was told that the compressor was (1) weak and (2) not starting every time and that a Hard-Start kit "may" help. I had the hard-start kit installed and it did not improve the unit's performance.
I have been calling ARS on 888-242-4ARS at 9010 Maier Road, Laurel MD 20723 every other day since 10/14/16. Each time the person who answers asks me to explain and then they offer to send someone out to diagnose at my expense. They then tell me that they will email the service supervisor and I will be contacted. Now it has been a solid month with no call back, it is getting cold and I have a 10 year warranty on this 3-year old unit.
My complaints: Why should I have to pay to have them come check a unit that is under warranty that they just checked less than 30 days ago. Why wouldn't someone reach out to me by phone or other correspondence if I call every other day which would be about 15 calls at this point. I tried to resolve this situation before it got cold but NOW IT IS COLD! I don't think that someone who has been a customer for 14 years and who only uses ARS for HVAC should be treated this way Remedy: Send someone out to diagnose this unit. If it is under warranty deal with the manufacturer, if not I will pay. Thanks for reading.

As some other people, we started our problem by listening to a Home Depot rep (ARS is a contractor for Home Depot) to get a $59.00 tune-up on our American Standard furnace. It was the most expensive $59.00 we have ever spent. ARS service came home & told us both capacitors needed to be replaced. However, one was special & needed to be ordered from factory. 15 mins later technician told us he found something similar in his bag & will replace it. We end up paying over $420 for this tune-up. A week later, when we turned the furnace on, there was a terrible noise from motor. I called ARS and was told that for additional $95.00 someone will come to our home to check this issue. ARS refused to comeback & check this issue for free. Now, after spending over $420, we have to replace the furnace. We will never buy any appliances or services from Home Depot anymore.

Probably the worst customer service in the nation. Bought our unit via Home Depot (over $9K) installed and maintained by ARS (two plus times per year). Due to bad install but mostly maintenance, mold developed in the coil. Coil damaged by maintenance causing water buildup. UV light does not work with lots of water. Air handler, clean effects unit, ductwork and entire home contained by mold. Ductwork installed by ARS one cause of mold as it was installed improperly. Years of repair requests resulted in damaged ceilings and water spots due to not being insulated properly by ARS.
ARS refuses to address their responsibility and hands off to their insurance company (Liberty Mutual) that stalls for a few months and then refuses the claim established by their mold inspectors. Liberty Mutual said, "Sue us." So far out around $15K and counting. ARS refuses to warranty our unit (Carrier 10 year warranty) or honor their service contract (current from install to today). No refund and waiting for Home Depot to intervene. Fort Walton Beach ARS office but mostly the ARS HQ in Memphis refuses to take any responsibility for their product and service.
BEWARE - their written warranty for lifetime ductwork and 10 year Carrier warranty is only as good as the company. This company refuses to accept any responsibility for their service. Time to pursue via legal channels, BBB, and state consumer protections. Would recommend anyone except ARS - Does not stand behind product or service contracts.

We started our problem by listening to a Home Depot rep (you maybe aren't aware that ARS is a contractor for Home Depot) to get a $38.00 summer check on our A/C. It was the most expensive $38.00 we have ever spent. ARS service came out, told us we needed 4lbs. of coolant (but didn't have the tools with him to see where it was leaking!) and the controller was bad. To the tune of $597.00 we let him fix it. Stupid YES, however, we were already a day late for our paid for vacation and had housesitter at our home for us to leave. The next day the unit was smoking and needed to be cut off at the breaker as to not have a fire.
Then with a different ARS serviceman, the serviceman previously here should NEVER have put that much coolant in a factory confined unit AND he wired the Controller upside-down and backwards! We were forced to buy a new unit. That Lennox unit was not properly installed OR was a defective unit causing it to not drain the condensation out and was filling the units insulation with water and the units casing to rust from the inside out. It was also filling our home with moisture to the point that (from 3 other company servicemen here for advice) would have filled our vents with mold and soon to be in our home.
5 months later of arguing with ARS, Home Depot, and Lennox to be compensated for the original unit being destroyed (the initial serviceman from ARS was FIRED after this incident) we had a Rheem installed by a different company. This started on May 31, 2016 and we just now Sept. 28, 2016, have been paid back for the Lennox installed and we are to get the service call refund of $597.00 in 3 days. We had to sign a Settlement Agreement with both Home Depot and ARS to get this much back and of course now we can't take them to court. I filled a complaint with the BBB of Lake County Florida and to our amazement they wouldn't take on the case, instead they directed us to the Attorney General's Office. Lessons are learned, but this is BAD business for us consumers.

In June of 2014 we decided on a new unit. After purchasing our townhouse and a few A/C problems we thought it was best to invest in a new unit. The unit was installed mid June and things seemed good, we were very happy with the technicians and the services that was provided. As a matter of fact they had a few hiccups and they worked through the evening to make sure we had a working unit. August of that same year the unit began to give some problems, this problem was taken care of under the warranty. My husband and I did have some concerns, after all this was a 2 month old A/C. As per the invoice the condensation drain line was leaking and this was replaced. The technician departed and we were up and running. A year later is where the problems began.
In September of 2015 the unit stopped working, approximately 1 year and three months after the labor warranty is up. This time the technicians said the evaporator coil needs to be replaced and one is ordered. On the 21st of September 2015, I am quoted a $695.00 amount and I am sure this did not included the adding of freon. I am blown away, how is it possible for your service men to do poor work and I have to pay for it. I basically told him to pack up and get out of my house. He proceeds to call his supervisor and they work something out and the labor I'd now covered under warranty. Good, I feel like the problem is resolved.
In his comment he writes the initial diagnosis is incorrect there was "no leak at the evap coil, the leak was found at the heat pump low side tubing at main side pipe". He re-brazen, retested and I am good to go. In March of 2016 ARS has a maintenance promotion and I accept, they say, things running well. On September 7th my husband calls and said the A/C is down again. Called ARS they sent a tech and he said the leak is actually in the evap coil like the first tech stated. I will have to incur a cost of 695 plus the cost of refrigerant. So basically, there were two leaks, the tech came out fixed one and left the other. This unit is roughly two years old and I have to spend more money to fix a problem that should of been fixed initially.
I honestly don't know what to do, my house is 89 degrees and I have two small kids. I know that I have to repair it but I feel like we have been robbed by this company. I would not recommend this company to anyone. Although the service guys are professional and polite, they can't seem to get the job done. I am almost sure if I did give in and called them to fix it, like clockwork next year around this time I will be dishing out another thousand dollars for another problem. I am absolutely dissatisfied with the company.

Had made an appointment with these people for the sole purpose of unclogging my ac condensate drain line. Had seen an ad for drain cleaning for $88 and asked to avail of such. Was not informed at this time that this special was for plumbing drains only and DID NOT specify in ad. Appointment was made. Sat around home majority of day and waited throughout the window given; NO CALL!
Called company and after being passed around informed that special was plumbing only and would need to set up service call (no cost of such given) to diagnose problem. Just wanted compressed air injected in line as had done so well in past. Went ahead and took another appointment. Started asking about age of equipment. Why! This should make no difference!! After considering, cancelled appointment. Felt like with all questions, giving blank check to these people! Received call today and young lady very rude, condescending, who finally hung up on me as I was attempting to inform why I did not use! I sincerely hope that I never have a reason to call these people again!

These thieves just left my house an hour ago. Little did they know I had a remote camera in my bathroom. The so-called, plumber came into my bathroom and never looked at the toilet. He just got on his cell phone with someone and then went down and tried to talk my wife and her medical adviser into spending way more money than we were quoted. They had him call me. And then he tried to get me to spend, about doubIe, with no final price quoted, to fix the problem. I called him out as the bait-and-switch, thief that he was. I told him that I had been in business for over 50 years and to get out of my house, immediately.
He, obviously, didn't realize that my housekeeper had just serviced that toilet, earlier that morning, and when I got home later and checked the toilet, it had not even been flushed, just as my video supports. These guys are a total rip-off and if they like tell you they're going to clean your sewer for $88... they're lying! It's going to be more. Run away as fast as you can.

I called in about a repair Thursday the 23 of June about 7 pm and was told someone will be there between 7 and 10 pm that night. At 9 pm I called back and rescheduled for Friday am the 24 of June. On Friday am 2 trucks and 3 men appeared to give an estimate on the repair. The man gave me an estimate of a whole plumbing system changeout of 3600 dollars... now if I understood this was a free estimate. I then told the man I was on social security and I could not afford that and would like to repair just the hole in the pipe. Now when he and the other man with had made an estimate were in the truck for 30 minutes and came back earlier with 3600 dollars.
The man comes back instantly saying it would be 525 dollars without conferring with anyone else either the other man with him or his office. I said it was okay to fix it with my senior discount. He said he had to go and get the parts and would return to fix the hole. He was under the house for about 30 minutes and came back saying it was fixed. Then went to his truck to write up invoice. After the man returned with the parts that was when the other truck and 2 men left. That was 90 minutes they had been at my house and so the man left behind did the repair and by the time he did the repair and paperwork was another 90 minutes with the repair being 30 minutes and sitting in front of my house an additional 60 minutes.
So I guess it breaks down that I paid 3 hours for 3 men and 2 trucks 525.00 dollars with 25 dollars going to materials 500.00 dollars going to 30 minutes labor and 2.5 hours. Since they got my money this review is futile but word of mouth and contacting the referral service who recommended them and let them know what happened. It's too bad this same company did a good job hooking me up to the sewer 7 years ago.

If you got a letter in the mail offering routine maintenance of your system for $40, Beware. The particular offer I got offered a $50 gift card at local restaurants and a free service call if I had any problems with my system within 30 days of the maintenance call. This is a brilliant scam because when the technician came for the maintenance call he conveniently left the caps off of the unit after he checked the Freon. By the way he informed me that the Freon was OK and I didn't need any. I didn't discover that the caps had been left off until about two weeks later. And a few days after that my unit stopped cooling. So of course I called for my free service call. The technician told me that my coils Were so dirty and rusted that the Freon had escaped through the coils.
He then proceeded to call a salesman to sell me a new unit as replacing the coils Would not be cost-effective because my unit was so old. 11 years. The salesman quoted me a new unit from Home Depot for $7100, and if I buy it Today, two years financing with no interest. When I didn't go for that he said I should call the office tomorrow and bargain with them because he happen to know that there were some installers who weren't busy and sometimes they would give discounts when the installers were not busy. He tried every high-pressure sales tactic he could but I insisted that I would get at least three estimates before making a decision. I called an independent repairman The next morning. He recharged the unit with Freon and checked for leaks. He could find none. That was over a week ago and my unit is still cooling just fine. So I have no doubt but I was the victim of a scam. Leave the caps off, let the freon escape then go back and make a sale.

I was threatened to not discuss anything regarding my opinion of their work. After 7 years of misery dealing with them, 15,000 spent and over 50 service calls the humidity in my house remained above 60% constantly even with the units running at 69 degrees additional dehumidifier while house dehumidifiers they said I needed. My home began growing mold, doors wouldn't open, I couldn't see out my windows from the moisture. Finally I had enough, replaced their system with a different company and amazing enough all the problems went away. ARS didn't even install dampers and the installation was the worst three other companies had ever seen when looking at their work.
I asked for a partial refund from ARS as I had spent 15,000+ 7+ years of humidity damage to my home to the point I had to spend 8,000 for a new unit and 3,000 repairing moisture and mold damage to my home units. Even though they were under an extended warranty protection I bought through them as well as a money back guarantee the company refused. They were threatening to the point I had to ask service managers to leave my home for their profanity and degrading remarks towards me.
I finally obtained an attorney who was able to help me a great deal in getting some of my money back but the stress and harm caused by ARS can't be repaid. I seriously warn anyone to do their homework on this company, as this was the most incompetent, deceitful, and threatening company I have ever dealt with. Unfortunately not many people will write true reviews as they have to sign a gag order in order to get any service at all.

After waiting several hours after being told technician was on his way, I told the tech that we had no hot water. He opened the top panel and tested the wires with a voltage meter and flip my fuse panel box off and back on and told me my water heater was no shot and proceeded to tell me he could sell me a water heater and installation for several thousand dollars. He basically said that my water heater could not be repaired. I called Whirlpool while technician was still here. At that point tech. hurried up and collected my 89.00 for service call and on the way out told me to tell whirlpool water heater has a bad circuit board.
The whirlpool guy informed me that the circuit board could easily be replace. No need to replace the water heater. I can not believe this company would hire such liars. This company is the worst company in the world. I wish I had read these reviews before I wasted my time and 89.00. I hope consumers will read these reviews before calling this company because this company is a ripoff.

Hired this company to clean a clogged drain at a rental. They advertise $88 special for exterior clean out which we didn't have. Said they would call if any more than that. They never called but rather charged the tenant $275. While doing the work they broke the drain but said it was existing and charged me $315 to "repair" which ended up being a $7 no-hub coupler rather than repair. They offered $100 refund to both the tenant and me which didn't seem adequate. Now going to our credit card company and State Contractors License Board.

Extremely aggravated with the way I was given the runaround from this company. I will never utilize them EVER again. I had to file a claim with the Better Business Bureau and Division of Weights and Measures after consulting with my attorney about this matter. I attempted to contact the company for numerous days to correct the amount they charged my account for services rendered. They quoted me $2,200 for the work they did. I was charged $2,300 in my account on March 2, 2016 after they stated that the payment did not process, but it was pending the whole time in my account. After further discussion with my insurance company they stated that the costs associated with this work are: Cost for leak detection: $200-300 average; where Rescue Rooter charged me $325; Cost for jackhammer access to line: $1,200-$1,500 average; where you Rescue Rooter charged me $1,875.
After further discussion with other plumbing companies, I was averaged the same quotes that were provided to me by my insurance company. I would like to give you guys an amazing review and would like to continue business with your company at my property but this is absurd. After I noticed my account was overcharged I contacted Rescue Rooter and was hung up on, placed on hold only to have no one answer. I wanted to dispute my charges considering the cost was greatly inflated to my homeowner's insurance average and the local competitors average.
It was not until I mentioned that I was going to the BBB, that eventually they transferred me to a manager. After a few short minutes of this debacle for over a week with this company and my aggravation, the manager became very unprofessional to the point that I had to get off the phone. I will never utilize this company ever again and suggest everyone else do the same. Even my insurance company stated that nothing good came out of Rescue Rooter. Do not fall into their trap.

I had a $7000 air conditioner installed a few years ago, it stopped working this month 03/2016. When I called I asked if parts and labor was covered. They said I was 100% covered except for the $89 service call. Then they get here and want to charge me $257 to look for a freon leak and then more to fix it, plus the $89. The very rude mechanic said I wasn't covered for labor. I either sign for the repair or he was out of there. You should never need freon in an AC. It's a closed system. It means they didn't seal it to begin not. They never responded to my complaint.

I suspected a water leak in the wall behind my shower, which is also the area where our washing machine lines are and the hot water heater. The tech came out to find the leak and come up with a repair estimate. When he arrived, he looked in the area where water was, which was seen from an outside wall. He turned off the water supply to the house and said he can see the meter moving which would confirm a leak. He then said it was "probably" a slab leak, and that they were running a special on their moisture detector... Normally $450.00 per hour but the "special" is $285.00 per hour with an additional $180.00 per hour after that. He guesstimated the repair to be between $2000.00 and $5000.00, but didn't know where the leak was coming from. I thanked him for coming and I told him I have other plumbers coming out to look as well. I like second and third opinions. He was clearly upset when I told him that.
I called Jack Jones Plumbing who is in my neighborhood. Two guys came out at 6pm (already getting dark), showed them where the leak was. They got their moisture meter (free) and found a small area in the wall that had moisture. I also noticed that the thermal pressure relief copper line was hot and it had hot water inside the line. I asked them if that was normal. They said no. As a result of that, they removed the pressure relief valve from the top of the water heater. Found it was bad due to our terrible hard water. They drove to Lowe's, picked up a new valve, installed it and modified the relief line. End result... No more leak, cost was $151.25. They finished up around 8pm. I gave them a tip and couldn't be happier. Do yourself a favor. Stay away from ARS/Rescue Rooter!!!

I own a property in Orlando that had a water leak and flooded the utility room and a bedroom. My maintenance man called the 1st company that came up on Google which was ARS Rescue Rooter. I called around 2 PM and they gave me an appointment between 4:30-8 pm without after hours charge. It was necessary to make 2 calls to check stat, I called at 8:20 and 10:10 pm. The 1st time I was told the tech was tied up and I would be next. The 2nd time I was told that the appt had been rescheduled for 2 days later and the local office was closed until 8 the next morning and I would be billed an after hours fee if someone was dispatched that night. The following morning I called to speak with a manager. I was told one would call me.
I then received a call from someone who identified himself as a tech but when I advised I needed a manager he said, "Actually I'm the manager." and promised to go out. He arrived about 5-1/2 hours later. He stated that there was a leaking pipe and he could repair for 1,100.00 and they usually bill 187.00 for leak detection but he would waive that charge (the leak had already been identified by my maintenance man). While waiting for him to show up I contacted another plumber who gave an estimate of 295.00 (which included removing, draining and re-installing water heater). I will never ever deal with this business again and cautioned my maintenance man about calling a company on the basis of it appearing first on a list.

The service man diagnosed the issue in about 5 min. which is where the good service stopped. He spent entirely too much time trying to convince me that I should buy a new furnace instead of giving me an estimate. He told me that the inducer motor was bad and that it would cost me $1046 to have it replaced. Then he scheduled a salesperson to come to my house the next day to give me an estimate on a new system. He said he would order the part in case I decided not to get a new unit. He could not give me an idea when the part might be available.
When he left I searched online for the part number and found that the online price ranged from $125 to $300 with the highest MSP of $500. The replacement of this part will probably take about 5 or 10 min. It is right in the front of the unit with one hose clamp and 4 screws and one electrical plug. I called ARS the next morning and cancelled the part order and the salesperson coming to my house to give me an estimate for a system that I am not interested in replacing. My house is only 9 years old and I am sure that the system has several good years left on it. I will never call ARS or recommend them to anyone.

This company had me. They charged me $549.00 to replace a small part. The only reason I used them is the water in my house could not be turned on until the part was replaced and they knew it and took advantage of the situation. HIGHWAY ROBBERS! DO NOT USE THIS COMPANY!

Salesperson overcharged me for the work that was done. Salesperson first said it would be $2400.00 to repair broken pipes. But then said that would not solve the problem, that all the pipes would have to be replaced all the way up to the sinks and bathtubs and that would cost $8741.00 with a discount of $600.00 = $8141.00 and finally to replace all pipes would be $5400.00. They only replaced broken pipes.

I used a promotion that made the cost of a mechanical sewer cleaning $88 + tax (normally around $400). When the technician arrived, he immediately began upsetting the hydro jet cleaning at almost $1300 (about 14 times the cost of the mechanical with our coupon). I was fine with him giving us the option once, but he continued to pressure us after I declined. After performing the service, he wrote a misleading note on the report that might lead people to believe that our sewer was still obstructed with root intrusions, which isn't the case. They also neglected to send us the sewer video - something that was supposed to be included with the service. It was a very frustrating experience, and I would not recommend this business.

The reason for this email is that my mom was looking at the invoice/receipt given to me on 6/22/15 and read that it states that roots were taken out. I did see roots from the camera that was shown to me but those were supposedly from the front part of the house not the back where the line was flushed out. The reason for this submission is because my mother ** owner of ** was looking over invoice/receipt and the question is that it mentions roots were found in pipes and forced out which never were shown and I the daughter ** didn't know that was put on invoice/receipt.
The reason my mom was asking was because she was never there at the property because she had fallen on Friday June 19, 2015 and basically broke her left wrist so I was informing her over the phone what was going on and what was said to me and then to her over the phone. You can understand that basically we had so much stress from her injury that now will become surgery this Friday and the problems with the overflow of the toilets and bathtub/shower we basically had no choice and from the $88.00 it became $1125.00 because I was told that the pipes had to be flushed otherwise the problem would come back again.
I asked our neighbor who had taken out a small bush/tree I had by my bedroom window and the machinery he used which actually made the roots become saw, to hear what the guys that went to our house had to say because he has more experience than I would or my mom. Our question is how were these roots taken out when no tools were shown to remove roots nor did I see the roots? We have been told from persons that have had major plumbing problems, example my uncle owns a grocery store and he said that the pipes get clogged up due to lard and toilet paper but he has never paid anything as ridiculous as the amount that was charged to my mother.
What we're looking for is why was the fee so high when there were no roots shown that were supposedly flushed out? We are happy that everything is working now and we have the one year warranty but the question is still there and we would like an answer where were the roots that were supposedly found and taken out. How did they take them out if they had no machinery to cut any type of branches or roots? We have spoken now that things have calmed down with plumbers that have been referred by acquaintances and they have all told us we were cheated out and charged too much money. The employees that went were nice and professional but back again to the price why so high when we did not see any roots or told roots from the backyard were stuck in line.
Rescue Rooter Company Profile
Company Name:

Rescue Rooter

Website:

http://www.rescuerooter.com/