Consumer Reviews and Complaints

Masterbuilt signature series electric smoker - Have had my smoker for approx. 2 years. In the last 6 months the wiring in the back has burnt up 5 times. Had to rewire each time but running out of wiring. Will work until you are about halfway through the smoking process then heating shuts down due to burnt wiring.
We are sorry that you had this experience with your smoker and sincerely hope you will give us the option to assist you with it. We do offer replacement parts which may prove to be a better resolution for you. Please give us a call @ 800-489-1581. We are available to assist you Monday-Friday, 8am-5pm EST.

I bought this unit a year ago so by the time I realized it wasn't working correctly, it's out of warranty. Problem is it only has heat settings to 175 degrees. Could not figure that out, since the book said I should set to 275 to cure for first time. Since their website and manual give no troubleshooting info or anything else of meaningful use, I was stuck wondering **. I was able to smoke fish, took twice as long. Big flaw in whole is, as soon as the unit gets to set heat setting, the heating element shuts off (expected) and chips stop burning (no smoke) then it never remains on long enough to burn anymore. Save your money, I wasted mine. Funny how the company website search does not find their own model number.
We sincerely apologize for the inconvenience. We would like the opportunity to assist you with this issue and hope you will take a moment to give us a call so that we can help you find a resolution to the issue you're having. Our number is 800-489-1581 or you can use the email submission form under the Support tab on our website: www.masterbuilt.com We look forward to assisting you.

2 months ago I ordered a part for my smoker grill and for 2 months I was told it's on back order. Now I was told that the part I requested was not a high priority part so your company will not send it or even make one. I requested my money back and I want this review posted so people become aware of your terrible treatment of a consumer who will never recommend any of your products again.
We are very sorry for this issue and promise you that each of our customers is a priority. Above all, we value your satisfaction. We hope you have been able to reach a resolution to this issue. If not, please contact our Customer Service Department @ 800-489-1581. We are available Monday-Friday, 8am-5pm EST.

Bought the Sportsman Elite Smoker as a gift for my husband last year. He used it one time in the summer and the second time was in the winter. The second use was kind of iffy... we attributed it being so cold outside. We brought it up to lake this weekend to smoke some meat for a family outing and it won't heat up at all. Of course Masterbuilt is cussed for a "team building" event and is not taking calls. Very frustrated. Bought this from Cabela' s... Maybe they should think about the products they sell.
We apologize for this situation as well as the delay in responding to your message. We hope you were able to find a solution to the issue. If not, please contact our Customer Service Department @ 800-489-1581. We are available Monday-Friday, 8am-5pm EST.

Wife and Kids bought me this smoker, size is 30, has the Bluetooth so newbies can smoke the meat and monitor it from the ease of your couch. This does not work at all, the smoker goes and changes it's temp from 225 to 800 on its own and the Bluetooth does not communicate with the smoker at all. I called the company and they sent out another control panel which does not work either... Just a big piece of junk that burned up $100 worth of meat... Scared it will burn my home down and catch fire since it wants to change temps to 800 degrees on its own... I want my money back please for the smoker and the meat.
We apologize for this situation as well as the delay in responding to your message. We hope you were able to find a solution to the issue. If not, please contact our Customer Service Department @ 800-489-1581. We are available Monday-Friday, 8am-5pm EST.
How do I know I can trust these reviews about Masterbuilt?
884,672 reviews on ConsumerAffairs are verified.
We require contact information to ensure our reviewers are real.
We use intelligent software that helps us maintain the integrity of reviews.
Our moderators read all reviews to verify quality and helpfulness.
For more information about reviews on ConsumerAffairs.com please visit our FAQ.

Bought this smoker about a year ago. On July 4th weekend I had friends coming over. Meat had been marinating for many hours and ready to have a great meal. Went out and started the smoker and returned 15 to 20 minutes later only to find the smoker would not heat up. Checked the reviews to see if anyone was having problems with the heating element going bad only to find numerous complaints. I wrote on the Masterbuilt web site of my problem over 3 weeks ago. To date, I have heard nothing form Masterbuilt! I even told them that this was only the 4th time the smoker had been used. I strongly recommend no one buy a Masterbuilt smoker, evidently they do not support their own product!
Please accept our apologies for this situation as well as our delayed response to your message. We hope you were able to find a resolution to your issue, however, if you have not, please call our Customer Service Department and see about getting a replacement element for your unit. 800-489-1581, Monday-Friday, 8am-5pm EST.

I enjoyed using this smoker, easy and fun results. After about 25 uses, it failed to heat correctly. It would heat up to 212 degrees max, then drop temp to 120 and stay there. I replaced the heating element. Same problem. Contacted Masterbuilt tech support. They said the control unit is the problem. Purchased the control unit for $36 and installed it. Still same problem. Contacted tech support again, I wanted to purchase the thermostat. They do not support that part. Are you kidding me? Nope. They suggested I purchase the smoker housing and swap out the old door, shelves, handle etc. Would cost $250. No thanks. I removed the back panel, found the thermostat had a broken terminal. Went to my local appliance repair parts store and purchased a thermostat for $11.86. Sure better than $250. If anyone needs that part, it's part number is SLS300 Automatic Rollouts. Thanks Masterbuilt. But no thanks!!!

Masterbuilt Smoker is a horrible product. Don't waste your money on something for only one or two good use and paying to replace the crap they made is ridiculous. You are better off buying another piece of crab unit. I would never again.

After two units purchased and put together to find problems with the units and a total of 3 hours of waiting for someone to answer from customer service, the best the company tells me is return the unit and purchase another one, putting it all together again. Really this is customer service. I put more time and effort in trying to get a product that would work and is correct and found this company to be a horrible example of customer service. I could go on to explain how I was hung up on and my email was never returned but it really does not matter. I would tell anyone that wants a product they can count on and also a company that will stand by it to look elsewhere.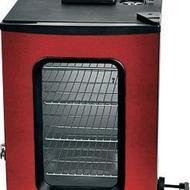 I am not shy about expressing my displeasure with a product of company when I have a bad experience so when a company does well I think it's only fair to give them kudos. I bought a Masterbuilt electric smoker about 4 years ago. Shortly after I bought it I started have trouble with the electronic control unit. I should have addressed it then but I did not. Recently it quit working completely. I e-mailed their Customer Service only asking for some technical help in diagnosing the problem so I could purchase the necessary replacement parts. After reviewing my e-mail Masterbuilt felt it was justified to send me a new electronic control unit AND new heating element completely free! The unit's warranty is 90 days. Mine is about 4 years old. How's that for GREAT customer service! Thanks a bunch Masterbuilt! That is how you retain and gain customers!

I used my Model 2007910 electric smoker TWICE. Both times excellent results. When I tried to set it to use for a weekend cookout, all I get is 300F on controller. I can set the temp and timer but it reverts back to 300F. After reading all the other problems I am very disheartened about this product or the remedies.

I did so much homework before buying this electric smoker with glass door for $350.00. All the reviews said how easy it was to get replacement parts, how great the company was. The competition was from Canada mainly, I wanted a USA built product, so I thought we did it right. Wrong. The smoker didn't last 2 years, with under 20 uses. The unit would not heat anymore, they sent a replacement element, still didn't work. The units are only warrantied for 1 year, and by the looks of everyone else on this site, 2 years in the magic number for product failure. I almost think everyone who purchased in 2015 received faulty products.
The customer service people were very nice, it's not their fault that by the looks of it, the company they work for makes a use by date product. We recommended this unit to friends and family, they bought it also, but we will not purchase another Masterbuilt again. Too much money for a cheap product that doesn't last 2 years. So disappointed in Masterbuilt.

Masterbuilt Smoker 20075315. After two years connections to heating element have burned out. Smoker was kept inside except for use. From what I am reading here and on other sites, it is a known common problem. Now I can't find a replacement element (after hours of searching) to try to fix this $300 piece of landfill material. I wouldn't spend the money had I known of this problem.

Received as a gift a Masterbuilt (20070910) electric smoker less than 1 years ago, used it sparingly, probably about 6 times. It worked well initially and I loved the product that came out of it. I have not used it for about 4 months, now when I try to start it, it will not take a temperature set point, so the unit will not heat. I displays no error codes to even allow a diagnosis of the problem. I contacted Masterbuilt customer service and they did send me a new digital control panel, but still the same problem. So I called them back and was told that if that did not fix the problem it would take a body replacement to resolve the issue at a cost of $199. About the cost of a new smoker.
A body replacement is the entire smoker except for the control panel. I would need to replace the entire body because they tried to explain that no other parts are serviceable, boy that is hard to understand why. They did say that they "might" be able to help if I had a receipt for the purchase, but because it was a gift no help there. I don't see how receipt would change the poor quality of the product that they sold. So after about a half a dozen uses of the smoker and it is junk. My experience seems to like everyone else's here, Masterbuilt smokers are crap, stay away from them!

I am the owner of a MES30, Mod#20070910, Ser#CU041335. The unit is approx 2-3 years old. Purchased from Amazon. It has about 12-15 smokes on it. Approx. 1 year ago it began to shut itself off before it reached desired temperature. Turning it off and on seemed to work. In Oct. 2016 it quit & ruined several pounds of salmon. I called Masterbuilt, they were kind enough to replace the control unit which worked once. Feb 2016 it ruined more meat. Again they replaced the control unit (great service). When I plugged in the new one & set the temp to 250 to test, it went to 275 before I shut it off. Masterbuilt offered to sell a frame kit? For what a whole new unit costs. I am stuck with a $200 junk. Customer service people are nice and helpful but the product has a flaw. I see complaint after complaint about the same problems, both on smoking forums & YouTube. So I know I am not the first with issues on the otherwise good unit.

So I bought the 40" electric Smoker model #20070311. I have had the unit approx. 2 years. The entire time the unit has been kept in a temperature controlled environment in the original box. The second time I used it the control panel started flickering and shut the machine down completely. I have asked Masterbuilt for a special exception in this case. Waiting for a response. So far I have not been impressed or satisfied with Masterbuilt products and would not buy again or recommend them.

I have had my Masterbuilt Electric Smoker for 14 months. Overall I was pleased with the device except for the dismal bluetooth range, but then it started tripping GFCI every time I turned it on. I then connected to a standard outlet and it worked for a couple more uses. Then it started tripping the 30 amp breaker. Then it would come on but it would not heat up so I ordered a new $40 element thinking that it was defective. When the part came in, I disassembled the connections for the element to replace and found that when I removed the protective cover off of the back, the wiring was melted. I don't think having the main wiring for the unit directly up against the metal is a good idea. The only protection was a little spray foam that was brittle and fell away when touched. I am lucky it did not burn down my house.

20070512 electric smoker - Used smoker 5 times cost $379.00, found unit smoking from electrical panel in back, it tripped breaker. Took unit apart, here it had started melting foam inside box, POOR design. Seen there was a recall on unit, called Masterbuilt, lady said only recall is on firebox. It gets too hot and may blow door open. Bunch of BS, thing almost caught on fire next to my shop. If I could post pictures of what it looks like inside after I peeled off cover on back it's very poor design, wires are spray foamed tight to hot metal so they heated up and shorted out. Please don't buy no smokers from Masterbuilt. Poor customer service, product sucks. Masterbuilt has no quality!!!

So I bought the smoker about two years ago. Used it four times. Worked great when it was working. Had my next batch of meat all seasoned and ready to go and plugged it in the smoker and it turned on for about 30 seconds and then beeped and turned off and it has been dead ever since. It's been sitting in the garage for probably close to a year now since that happened because I don't know what to do with it. It still looks new but just doesn't work? PURE JUNK!!! So frustrating.

The first one we had, the door fit so poorly we took it back to Lowe's. They looked at it and agreed it wouldn't work. Gave us a new one. Got it home and the inside drip panel wouldn't go in. Finally forced it into place, scraping the sides of the smoker. Have used it 8 times and today the part that holds the water tray fell off. The electronics seem to be ok, but the physical construction is not acceptable. I will just take this to my local recycling drop off, as I personally don't like things that are not right. I have smoked with charcoal for 30 years and thought this might be better. I was wrong. You get what you pay for. I have not owned this a year.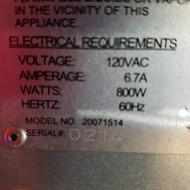 I bought an electric smoker model number 20071514 in October of 2015 and now after two or three uses the heating element has gone out. I don't think I will mess with trying to get another heating element after reading all the reviews on here because if I order another one it looks like it will just go out again so I won't buy any more junk from Masterbuilt unless they can get this situation resolved.

We have had our Masterbuilt approx. 3 yrs. After 2nd time using, the seal around the door leaked all the smoke out. We replaced the door. Then the drip pan fell off and the tray for the wood chips wouldn't go all the way in. Called Masterbuilt and they said there was nothing they could do because it was out of warranty. I wanted to smoke my turkey for Christmas and it wouldn't heat up. We have used this smoker less than 10 times. We have always kept it in the garage and cleaned it properly. We purchased it from Sam's Club and paid $300 for this unit and it is a piece of garbage. I found out that my brother-in-law and nephew recently purchased Masterbuilt smokers. I advised them to return the units before using it and after hearing about my unit they both returned the units. Definitely not worth the money. Very frustrating!!!

Extremely disappointed in Masterbuilt. I have a stainless steel digital smokehouse I purchased in 2007 from Cabelas, used it about ten times to smoke turkey, jerky and fish. Keep it clean and pristine and in my garage covered, looks like new. I purchased this model because I wanted something that would last me for many years. Works well when it works but it failed me this Christmas when I went to smoke some eel and venison. The unit beeps 5 times and the GFCI outlet keeps tripping after a few minutes of heating up.
I called customer service and was told that the heating element is bad and they don't make them anymore and there is no replacement option. I am told the unit is old and no longer viable. That's a crappy response from a Customer Service department. I paid $250 for this unit and it is in perfectly good shape but because they don't make the part anymore, I have no recourse to fix this? Masterbuilt touts it has over 60 thousand parts available, but that doesn't help me here. And they offer no recourse other than sorry you are SOL. I will be appealing to Masterbuilt CEOs as soon as I find their contact numbers and I will be sure my next replacement smoker is not a Masterbuilt and not an electric unit. Very disappointed.

I received my Master Built Smoker as a gift Christmas of 2015. I thought I had a very good product, but after reading all the reviews, I'm having the same problem as a lot of the people that's giving their reviews. My smoker worked great for about a year. Now when I plug it in, I don't have to do anything, temperature goes to 300 and stays there!! Now keep in mind, I just plug it in without turning unit on!!! I wanted to replace the digital control panel, but as I've read the reviews, that too will fail also!! The product was a gift so of course I don't have a receipt!!
The really big problem I have is, I cooked for several people when my unit was doing good, now my son and brother-in-law just received the same smoker for Christmas as gifts!!! I guess I'll have to break the bad news to them and tell them to fill out the Warranty paper and sent it in, or maybe try to get their money back before it's too late!!! So... Where do I go from here??? I'm I basically screwed, or can I get any help to get a new unit or a new control panel, which will fail in time!!! HELP!!!

My first Masterbuilt Electric Smoker lasted about 5 years and finally wore out. The heating element got fried because of moisture collecting on the element where it connects with the controller unit. I ordered the exact same 30 inch Masterbuilt Smoker model and it lasted for about 2 years. After plugging it in, it trips the switch at the plug after about a minute. I was thinking about ordering a new smoker from Masterbuilt but after all of the poor reviews, I decided against it. It's sad that the company put its name on crappy products.

I received a Masterbuilt Signature Series digital smoker model # 20071514 Serial # 1113 approximately a year ago and have only used it about 3 times and kept it in dry storage when wasn't in use. I took it out today and tried to use it and just like a lot of other reviews I've read I got no power. I tried different outlets and still no power to it. I am very disappointed with this. This is the first smoker I've ever had and now I don't if I got a lemon but I don't know if I'd buy another Masterbuilt after seeing a lot of the reviews about the problems with this. I loved my smoker but don't know what to do about and tried to find something online to troubleshoot the problem but nothing can be found. I am very disappointed with this and hopefully they can do something about this so I can change a negative experience to a positive experience and give a different review.

Bought 30-inch Masterbuilt Digital Smoker last year on Black Friday sale at Ace. Used it 3-4 times. Nice job. Smoking the turkey for Thanksgiving this year, went to turn up temp and the digital control shorted. Beeped. Took it off the unit, jiggled wires, checked the quick connects, reset, boom, shorts again. Needless to say did it 6 times, gently laid controller down and finished smoking. But now it won't turn on, just beeps and clicks and won't start, that is the controller. It is done for, being of digital build, not worth buying controller. Saw on here that replacement controller fails also. Don't buy this smoker due to controller.

I have chosen to review as per my experience. Bought 40" unit perhaps 3 years ago. Have successfully smoked at least ten times. Not more than 15. Have been satisfied with the results. However, aside from that. I once noted a very slight shock when touching the unit barefoot upon a use. Upon later use the unit would trip the GFI. Then not. Then... The last time the unit was used some months ago I received a shock when touching the unit. The GFI was repeatedly tripped. Removed the element cover plate. Found the wiring burned. Masterbuilt suggested element replacement. Given the cost and use of the unit replacement of the element is a bit much. Have considered buying a replacement thinking I may have purchased and used the lemon of the year unit. Given so many others with similar experiences, I realize I made a mistake.

Bought this smoker a year ago. Worked great first 2-3 times we used it. Now, here on thanksgiving I woke up early to get it going and of course it won't work. Same electrical issue being described by everyone else. Turns on, runs for a minute or two, shorts out and turns off. Unreliable piece of junk. Will never buy a crapster-built product again, and I mean that. Reading all these reviews, it's the biggest con going.

Masterbuilt electric smoker is Garbage. I received smoker as a gift in 2014. Used it 4 times and element went out. Replaced element and it too went out after 3 smoking sessions. DO NOT WASTE YOUR $$ ON THIS PIECE OF CRAP!!!
Thank you for reaching out. We looking forward to getting this resolved quickly!
Masterbuilt Smokehouses Company Profile
Company Name:

Masterbuilt

City:

Columbus

State/Province:

GA

Postal Code:

31907

Website:

http://www.masterbuilt.com/