KitchenAid Stoves & Ovens
Consumer Complaints and Reviews

I purchased this stove because it had a very large oven and I bake. Two weeks after installation I realized when I leaned up to get something from the cabinet above the stove I turned on burners, sometimes just enough for a gas leak and sometimes enough to burn my arm. First problem with design. A month later at Thanksgiving the turkey was in the oven and my grandson touched a knob with his arm and actually burned it. That's how hot the knob. I see were due to a vent directly below them. Second design flaw.
Later that afternoon. We realized the turkey wasn't getting done. Oven turned off by itself. Luckily I have a second oven. Very nice competent repairman (outsourced) checked the temperature of the knobs and they came in two degrees under government top number. He replaced an oven valve. This valve was replaced three times before the oven would function without failing. I took these safety and oven problems up with KitchenAid only to be told they were within government standards and be glad I bought a warrant for the oven. Cold, disrespectful and dismissive people. DO NOT BUY KITCHENAID products.

Weeks after buying a KitchenAid 2 slice toaster it stopped working properly and only toasted one side. The appliance was returned to the store and sent to the service centre, after 2 weeks it was returned and tested in the store and still only toasted one side of the bread therefore nothing was fix and I doubt if it was even looked at. Again the appliance was sent back to the service centre and it's been there 4 weeks and I have no idea when it will be returned to me. I contacted KitchenAid directly. They advised me to take the issue up with the store. The store insist they only sell the stuff and can only send it to the approved service centre. High end product looks and feels the part but quality is questionable and brand reputation is equally questionable and I strongly advise against buying this product.

My wife and I bought a KitchenAid Oven years ago. The Overlay for the controls started melting after the first year. We never tried to replace it which was a big mistake. Now the Overlay is pressing on buttons so out of nowhere it starts doing whatever it wants because the cover is rubbing the computer controls making errors. I called where I bought it and they told me that they couldn't replace it because it was discontinued. I called KitchenAid and they told me that they quit making it because it was made in 2007. I explained that I bought it new in 2011 from BrandsMart and was told the only thing I could do is look online and try to find it. I looked everywhere. I can't even find any place that will make it for any price. Now I have to throw it out and buy a new one even though the Oven is in very good shape. What a rip-off.

Purchased this expensive gas oven less than 3 years ago. Three of the five burners now have frozen valves and do not work. The middle burner went first, then the right front and now the left back burner. Very disappointed. Would not recommend this range to anyone for purchase.

Purchased range on 2015. Told the dealer the oven did not bake properly, sent certified appliance repairman. "Sweetheart" don't know what your problem is, it is right on. After two smart boards, it still does not bake! Should you have to bake chicken breast 3 hours, and rearrange on baking sheet to get each one to edge. Drop cookies should not take more than 8-10 minutes.
How do I know I can trust these reviews about KitchenAid?
848,010 reviews on ConsumerAffairs are verified.
We require contact information to ensure our reviewers are real.
We use intelligent software that helps us maintain the integrity of reviews.
Our moderators read all reviews to verify quality and helpfulness.
For more information about reviews on ConsumerAffairs.com please visit our FAQ.

I have never been treated more poorly by a company in the United States. I was sold a stove with a defective cooling mechanism and ever since it has caused me hell. KitchenAid outsources all of their repairs to Whirlpool who has DESTROYED my $1500 stove in order to fix the fan. They have forced me to stay home from work for over 2 weeks worth of time due to repairs caused by the previous repair damage that they've caused. Every time they leave I find another rookie mistake that has caused additional damage. I am FED up with this company and will never buy from them again. They refused to provide me a new stove when asked. I have had it. Still waiting on someone to come back out and fix the last damage they've caused.

Bought KitchenAid stove about a year ago, model KSDB900ESS0 and I'm 100% displeased with the AquaLift self-cleaning technology to clean the oven. Tried several times and the oven looks just as dirty after the cleaning cycles. I Can't even use chemical cleaners because I may damage the finish on the oven walls. My previous stoves were also KitchenAid and they were 100% efficient. Paid a lot for the last stove and I have to stop using the oven because I can't properly clean after each use! I'm extremely frustrated!!! Any recommendations?

They rust out, and they sell it as, stainless steel. Then when it rusts, they tell you, "You should have read your owner's manual!! It explains it and tells you the type of steel it is..." Like I'm supposed to read owner's manual before I get appliance??? They lie and sell it as stainless steel. It's "look alike stainless".

Three years ago I upgraded my entire kitchen with stainless KitchenAid appliances, after much research - with a hefty price tag. I liked that the products were made in the USA and that they were considered high-end appliances. I even replaced a Bosch dishwasher (it did not live up to its reputation). The oven cost $1500 and change at the time of purchase, and the model is now over $1900. Two and a half years later my oven started having problems - it turns off during cooking and will not come back on. I had repair people out several times but they could not fix it. Turns out it needs a whole new keyboard, which is over $800 just for the part. I tried to contact KitchenAid customer service - yes, this was out of the 1 year warranty but I felt that it should not be having such problems after only 2.5-3 years (the oven that I replaced was 15 years old and was in perfect working order - and was a much lower-end appliance).
Anyway, I have tried in vain to get KitchenAid to help me but they will not. My dishwasher has also had several pieces fall off that have had to be replaced. You would think this company would help their customers but no, they ignored my letter. All I wanted was to purchase a new oven at a discount - which they would normally allow but they will not let me do so because I have a home warranty plan (which I had not used to help in any way other than to diagnose the issue). Shame on KitchenAid for such horrible customer service, and for selling overpriced appliances that do not last and definitely are NOT worth the high prices. I would definitely advise NOT purchasing KitchenAid.
Anyway, I have tried in vain to get KitchenAid to help me but they will not. My dishwasher has also had several pieces fall off that have had to be replaced. You would think this company would help their customers but no, they ignored my letter. All I wanted was to purchase a new oven at a discount - which they would normally allow but they will not let me do so because I have a home warranty plan (which I had not used to help in any way other than to diagnose the issue). Shame on KitchenAid for such horrible customer service, and for selling overpriced appliances that do not last and definitely are NOT worth the high prices. I would definitely advise NOT purchasing KitchenAid.

This is a large built-in oven. There's a large convection oven at the bottom and a large convection microwave with a baking element on the top. The microwave cooks pizzas with the element and when the microwave cooking is used, it is very quiet. It has an easy to clean stainless steel interior. The lower convection oven has three racks and is also a self cleaning oven. It cooks very evenly.

My mother passed 4 and a half years ago and gave me some money so I decided to invest in a nice gas stove since my daughter went to culinary school. Less than four and a half years one burner went. Locked up. Second burner went. Handle locks up. Third burner went. Handle locks up. This week my oven quit working. It has a small oven on top. Big convection on the bottom. Now the big oven convection oven totally quit working. What a waste of money.

Warm up time of oven is very slow. The Baking (bottom) heating element lasted a year and is VERY DIFFICULT to replace. The thermostat is inaccurate and fluctuates with different amounts of error at different points in its temperature range. Oven door removal is not straightforward and can be jammed requiring replacement parts for repair.

Architect Series II Electric, free standing range: Overall, DO NOT BUY A KITCHENAID product due to user error, we needed to replace the oven door seal/gasket. After searching online & by phone in our area and being told that part is not available, I called KitchenAid. As we had registered our appliance they were able to verify our range was only 5 years old. THEY NO LONGER HAVE GASKETS FOR THIS MODEL. No other model gaskets will fit this model. Instead of the anticipated $60.00 repair cost we were told all they could do was sell us a comparable model for employee cost... not including shipping, installation and haul off of our current unit. I blew MY gasket & told them absolutely not. Not one .00 over the stated cost!! The upshot? $700.00+ later, with a wait of over 2 weeks, we will get a new range. They had us over a barrel with no other options for the price.
I am flabbergasted, frustrated, disappointed & without a working oven for over half a month. I have always thought of KitchenAid as a quality product & in fact have been happy with the unit. I cannot recommend KitchenAid any longer with its program of planned obsolescence. KitchenAid as a company is horrid. Decent products, lousy policies with employees stuck in an awful position.

I've owned my slide-in KitchenAid range for 13 years. In all these years I've had no problems whatsoever. I use it daily and it still looks like new. I'd highly recommend this product!

I purchase it from Sears scratch and dent. Use the top oven for prepping other smaller dish or if I just don't want to use the larger oven for cooking. Though, the one larger burner can't be adjusted to have a low flame and if I did the flame goes out. I can live with that.

Multiple defects on KitchenAid KSGG700ESS Range - The first problem was that the bottom drawer did not fit properly and closed on one side but not the other. After two attempts the slides were replaced and fixed the problem, despite being told on the first visit that "it's supposed to be like that". Second issue was heat escaping from the sides of the door - mainly on one side so cabinets were getting very hot. Simple fix - remove the rubber stop that is there during shipping, but they forgot to take out when installing. Simple one that.
Next issue - Aqualift - doesn't do anything and we aren't supposed to use regular cleaning products. Very common issue, so much so that there has been a class action filed on this problem. Service can't do anything about it. Last one - is a big safety issue. If you bump the knobs on the front you can have gas escaping WITHOUT the igniters coming on. This looks like poor design and engineering as again the service tech said "it's supposed to be like that". Their suggestion - fit child safety caps!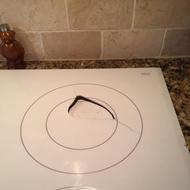 Horrible Stove - I am on my second cooktop and the stove is not quite 5 years old, already had to replace the touch pad also. Two years ago the smallest chip at the edge of the cooktop cause a "huge" crack line to encircle the back burner and it fell in, WELL it happened again. A small chip on the edge of the top again cause this huge crack line that encircled the back burner and it fell in. Crummy stove, DON'T BUY Kitchenaid - run and buy anything else. KitchenAid was once respected name now it deserves total disrespect. Expensive but no quality here and the heat from the stove turns the oven handle yellow and streaks appear inside the glass window which cannot be cleaned. All in all a horrible product. Now I have to pay for another cooktop on a stove that was VERY EXPENSIVE TO BEGIN WITH.

The element on my Kitchen Aid Stove Architect Series which was less than 4 years old stopped working. I was told the element would be covered under warranty but not the service call which was 112 for the first 30 min. The technician arrived and informed me that I needed a new switch and it is not covered under warranty and it is $170 plus tax. My final bill came to $320. What really pisses me off is that when I looked up the switch on Amazon, it is priced at $61 + 7 for shipping. Whirlpool just charged me an extra $100 for the part. That is highway robbery.


Oven Model KGRS505XSS - Knobs on the front of the stove are dangerous. They turn on with the slightest brush. I'm glad I don't have small children living with me although my grandkids visit. My autistic grandchild turn on the burners but we were there. Recently my griddle knob locked in place and won't turn. I have an extended warranty with Lowe's so we will see how that goes. I paid 1,700 for the stove plus 150.00 for the warranty. The stove is 4 years old.

Purchased the oven on July 15, 2015. Used the self-cleaning feature for the first time today. The oven blew up. Fire Department came and condemned the oven. Said it was defective. KitchenAid is refusing to acknowledge that this is defective. On the phone for 3 hours, transferred everywhere. This double oven cost us over $3000.00 and they are refusing to offer any assistance. The snottiest customer service rep I have ever encountered... MARCIE IN BENTON HARBOR, MICHIGAN. I was traumatized by the explosion and the resulting smoke. KitchenAid... You should be ashamed of yourselves. How do you sleep at night reading all of these terrible reviews of your supposedly premium products?

Great looking 30 inch range with double oven and four burners and center hot plate. Bottom oven a little too low, tough bending over to pull up a 22 lb. turkey. Other than that it's a beautiful thing.

We built a home and bought all appliances new. The flat top stove is KitchenAid and we bought all in May 2016. Moved in Oct 2016 and used the stove several times to find out even with the stove cleaner it was not a good stove. You can see the eyes that we use they have like white built-in marks on top and I text the Co. - no answers back. No response.This cook top is bad.

We bought this KitchenAid Range in December 2015. One year and 2 weeks later the oven stops working on Christmas Day. No longer on warranty. This is the worst appliance I have ever owned. It takes a long time to preheat and the bottom baking drawer doesn't seal well. I wrote an email to KitchenAid customer service and have not received a response. I hope this review prevents others from buying this expensive, undependable range. This is a real lemon.

We purchased what we considered to be a top of the line Kitchenaid wall oven 3 years ago. On Thanksgiving morning this year the oven display said meat probe thermometer error. I was not using the meat probe, and have never used the meat probe thermometer. I cannot get the message to clear and cannot use my oven. My oven purchased ONLY THREE years ago!!! Will never buy another Kitchenaid anything! We thought we did our research – this oven received good marks from Consumer Reports. In addition while reading the manual that came with the oven shortly after purchase, it warned against using the self-cleaning feature. What?? Kitchenaid includes a feature and I'm sure we paid extra for it – that can cause the glass in oven to shatter. And then warns you in their own manual against using it! Do NOT Buy a Kitchenaid wall oven.

We recently bought a used KitchenAid stainless steel stove. The control knobs are at the front of the oven and we discovered that they are easily turned on with even the slightest touch or bump. Unfortunately, when working in the kitchen, I did not notice that I had lightly touched the control knob which turned on the High setting. Within minutes the high setting ignited the oil in the pan on a front burner and flames were shooting up hitting the over-the-stove microwave oven. The flames covered the bottom edge of the microwave and the plastic edge melted.
Luckily I was able to extinguish the fire, but my house has extensive smoke damage and could have completely gone up in flames. As well, the microwave oven is no longer useable. The stove knobs are a serious safety hazard as they can too easily be turned on with a light touch, a child's hand or even a dog sniffing the front of the stove. We are going to throw the stove out and never buy a KitchenAid appliance again.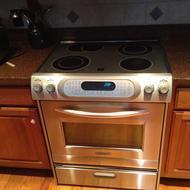 We work with many Architects and homeowners that demand quality. When time came to remodel my own home, I wanted to go with the best appliances that we could afford at the time and the ones that offered the most value. Our research led us to KitchenAid appliances. Since the time we installed KitchenAid dishwasher, range, and microwave, all have been replaced except the range. With spending as much money on the range as we did, it was hard to just throw it away. When I mention my concerns and problems at the NAHB shows, the KitchenAid sales reps state "that was the old KitchenAid, we did have problems with them, but things have changed since then."
My point is if you're selling your product as best value, and a high-end product, you earn that title not just display it. You don't acknowledge that you had a problem then sweep it under the rug. You earn it by standing behind your product. I write this as I decide to throw another $500 at the repair of this stove or throw in the towel. Did I mention that we too had to turn our electric breaker off because the stove top would not turn off, then another time it would come on without turning the knobs. If this had happened to one of our projects, the range would have been removed immediately regardless of price and replaced with a manufactured product that cares for its customers.

I am writing this review to help others avoid getting into the situation I was in with the purchase of the KitchenAid KFGG500ESS gas range. I ignored reviews which warned of the same problems I ended up having so I thought I'd confirm that I think there is a problem. Buyer beware! I had to have service out immediately because the oven was not true to temperature even after calibrating it up 30 degrees. I ruined several meals because they just wouldn't cook thoroughly and finally gave up trying. Also, the control panel was extremely difficult to press and hurt my fingers. I ended up using the back of a spoon to press the buttons which seemed like a ridiculous way to have to use a brand new appliance.
It took the service company two weeks to order the parts and get the tech to come out - all that time without the use of the brand new oven. The range needed a new control board and temperature sensor which didn't fix the problem to my satisfaction. The oven still baked unevenly and the control panel was still difficult to use.
The biggest problem was that the stainless steel panel behind the knobs got extremely hot and when you touched it or brushed by it, you could get burned which is very dangerous especially for small children. I was told by the service tech that KitchenAid told him that is just the way it is and there is no way to fix that issue. He said that KitchenAid tests the products before they are sent out and they are up to standards. I do not want to have a stove in my house that will burn someone if they touch it (along with the other problems with the stove that were not resolved) so the store I purchased it from agreed to exchange it for another range.
In the end (2 months after my initial purchase of the KitchenAid) I got a Bosch range installed and it works beautifully and is perfect in every way. Unfortunately, I was told by the assistant manager of the the big box store that the KitchenAid I returned was put back on the floor at a discount to try to sell to someone else! Shame on them!

Have been in home for four years. Have a KitchenAid built in Oven, Electric with Microwave model number: kems308sss04. Microwave works but does not heat. Called in service. After three hours both sensors were replaced... then after being placed back in the location the code F1 E5 inverter appears. Total of four hours... Not fixed... now 569.00. Called KitchenAid... Would charge 296.00 plus one year warranty... which I agreed to do. Although, they could not get the service tech out for a month... which is UNBELIEVABLE! Maybe a good product... but service is terrible.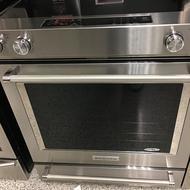 I got this new KitchenAid stove 1500 and was so happy with the way it looks, but... What a horrible product this company made! First, I had to exchange this stove, because of the computer problems it had (exchanged it two times). Unfortunately it was over 30 days so I could not return it. Second, it takes over 30 minutes to preheat the oven! Third, after a month of using it two light bulbs went off!! At the same time!!!
Last, but not least their service team checked and stated that the temperature in the oven is right, but to roast or bake it takes twice as long! Not to mention that the glass top is made from some horrible material and it is very difficult to clean! And one area of glass is already chipped off!! I bought it in June 2016 four month ago! Don't buy Kitchenaid products!!!

ConsumerAffairs Research Team
The ConsumerAffairs Research Team believes everyone deserves to make smart decisions. We aim to provide readers with the most up-to-date information available about today's consumer products and services.
KitchenAid has been an iconic name in household appliances since its founding in 1919 and the introduction of its flagship automatic mixer. It began producing cooking appliances in 1985.
Product selection: KitchenAid's line of cooking appliances is one of the largest in the industry, giving buyers a wealth of choices.
Freestanding options: KitchenAid's selection of freestanding appliances provides an array of options for buyers designing cooking islands and other non-traditional kitchen layouts.
Heating options: KitchenAid maintains one of the industry's largest selections of options for heating technologies.
Robust support: The company's online support options are easy to access and provide a wealth of information and replacement parts.
Traditional quality: KitchenAid's maintains that its tried-and-true quality is attributed to its long experience in the industry. The brand frequently eschews technology-driven special features in favor of dependable durability and use.
Best for Users cooking for one, users cooking for families and users cooking for businesses.
Compare Ranges, Ovens, and Stoves
KitchenAid Stoves & Ovens Company Profile
Company Name:

KitchenAid

Address:

P.O. Box 218

City:

St. Joseph

State/Province:

MI

Postal Code:

49085

Country:

United States

Website:

http://www.kitchenaid.com/