KitchenAid Stoves & Ovens
Consumer Complaints and Reviews

Just had our 2 day old oven door shatter. We replaced a 1982 wall oven this week with a KitchenAid wall oven, model KOSE507ESS. It was installed yesterday. Tonight was the first time using the oven. I was preheating it to 400 degrees when I heard a loud pop and then glass was flying out of the bottom. The inside glass window shattered and glass is everywhere. I will be calling our appliance store first thing tomorrow morning. At the moment, no other damage has occurred to anything else other than the oven. I just want it fixed.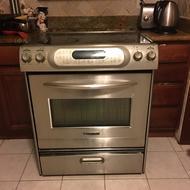 KitchenAid stove - KESA907PSS (ARCHITECTSERIES). Almost burned my house down last night - 10-05-2016. Well one of the knobs got stuck on this stove and had a mind of its own sometimes. I worked on and off. Then last night I was cooking on one stove top and baking at the same time all of a sudden the panel got piping hot and started to smoke. Could not touch the panel and I smelled fire and then I lost power to the stove. I read reviews about this particular model and two people said that it caught on fire and they caught it in time. I threw it away and I will never buy this brand again. I paid 1500 dollars for this slide in glass top stove. I don't know why KitchenAid is not standing behind their products. Why don't they admit there is a problem with the stove and recall it. DO NOT BUY KITCHENAID.

The door panel and control panel get too hot to touch. I had to wear my oven mitt to change the functions on the control panel. This KitchenAid oven (KSGG700ESS) is a safety hazard for anyone with children or others as the exterior becomes so hot, it is untouchable. I had the same oven delivered as a replacement, and had the exact same issue. Plus, KitchenAid is in denial, and takes multiple departments and calls to try to argue with them, this after a service tech came out, confirmed it was extremely hot, but wouldn't write the word defect. Did I mention that KitchenAid (KRSC503ESS) also delivered a new refrigerator that was a lemon with a freezer that did not get cold?

The oven pan is cheaply made. Horrible surface. Not easy to clean. Circular with 1" lip is fine. Wire thing fits inside fine. The pan itself is tarnished and may rust out over time. Should be able to make cookies on it but it is in too poor a shape.

The knobs on this range are made plastic on metal posts. The first knob wore and broke within the first year of using the range. The ceramic top range is slow to heat and then superheats once cooking begins. The oven temps are way variable and cooking times are way off from recipes. I have ordered two new knobs at the cost of almost $40 and I know that the other two should be replaced as they will break any day. I use my range nearly every day and thought that KitchenAid was a good brand when I bought it. I am sorry to say that I do not recommend that anyone buy this brand right now. Maybe they will improve but I think that they are making their money on replacement parts.
How do I know I can trust these reviews about KitchenAid?
608,728 reviews on ConsumerAffairs are verified.
We require contact information to ensure our reviewers are real.
We use intelligent software that helps us maintain the integrity of reviews.
Our moderators read all reviews to verify quality and helpfulness.
For more information about reviews on ConsumerAffairs.com please visit our FAQ.

We have had this range for 6 years. If you check the service calls, 3 have been for the oven not reaching maximum temperature. Each service call is close to or more than $200.00. The temperature works for a while and then returns to 259 degrees. Never been fixed properly. Now we have an error F2E1, service call $125.00. The repairman said we have an error F2E1 and we would have to order a new keyboard. Really $125.00 to tell us what we already knew. Now, to make matters worse he said this part, estimated cost $500.00, may not correct the problem and further work/parts would be needed and he wouldn't know until he tried the new part. The most frustrating part is he said the keyboard part could not be returned if further work was necessary thus increasing the price and that couldn't be determined until he started the work! So, we have decided to buy a new gas range and a new fridge and obviously neither one will be a KitchenAid.

I have purchased KitchenAid stove the latest model and the top glass cracked within 6 Month of the purchase and I have called KitchenAid and they told me that they will not cover the cooktop. I am not sure what the warranty is for. We do have a lot issues with Kitchen product in the house. I would recommend that do not buy kitchenAid products as the products are expensive and issues with quality and reliability.

We bought a new KitchenAid gas range Model in 2014. The model# is KGRS505XSS. Within 1 year, one knob got stuck in off position. We had to pay $150 to service appliance person to get that fixed. Then less 1 year later a different knob has been stuck in off position. This is completely random and happens when we're not even operating the knob. An amateur layperson cannot fix it. For the 30 years that we have been owning other gas ranges and operating it in similar home type situations, this has never happened to us. This KitchenAid unit is defective OR this could be a basic design flaw. Beware of this type of problem and do NOT buy KitchenAid for this reason.

Buyer Beware! My partner and I bought a $6,000 KitchenAid 36-inch dual-fuel range about 12 years ago. Since then, the oven has failed three times, the last time for good. When I called the manager of the expensive appliance store where we bought it, Cocoplum, in Essex Junction, VT, he told me that we had "a lemon" and went on to say that the company was no longer any good.
The problem, according to him, is that the high temperatures of the self-cleaning oven (which we have not used often) "do not play well" with the complex electronics of the stove. Bottom line: after 12 years, we have had to plunk down $7,000 for a new stove, this time a Thermador with gas only. There is a class-action lawsuit being brought against the company in New York, and other reviews online confirm our expensive bad experience.

Stove is just a couple of years old. Put foil in bottom and now can't clean the residue. Outside the stainless steel is pitting. Lastly heat doesn't seem distribute evenly. Would never buy this brand again.

This is probably the worst oven I've ever had. It take 20 minutes for it to heat up to 425 degrees and just as long for any other temp. The noise it makes is annoying. Why they put the fan in the oven is beyond me. I wish I was told that it was noisy and slow! It gets hotter as you bake also. I would not buy another one.

Provided by contractor - 6 burner stove top, large oven. Gas range, electric oven - the preferred method of most cooks - at least the ones that are getting up there in age! Great size oven so when whole family gets together - over 20 and adding - it is big enough to accommodate all dishes - top with 6 burners is big enough to let 2 people cook comfortably - the more the merrier!

Kitchenaid Gas free standing range. I always thought Kitchenaid was a dependable brand. I believe this range cost us $1700. I liked that it had convection oven and that the grates on top covered the entire top so no matter what size pan or griddle you used it did not wobble. This range turned out to be the worst range I have ever owned! The repair man knew us by name including our dogs! The other terrible thing about it is we had to order this range and had to pay in advance of receiving it. Purchased at Westar in Tucson Arizona. The range did not come in for 5!!! Months.
AND to make matters worse our warranty started from the day we ordered it! Kitchenaid policy! I went on facebook and wished I had done that before the purchase because there were literally hundreds and hundreds of complaints. When I suggested we all get together and start a class action law suit Kitchenaid blocked me from posting on their wall. I will NEVER buy a Kitchenaid again. My advice would be stay away from Kitchenaid. They are not what they used to be. You pay alot of money for nothing!
I now research completely before I buy any appliances. I take my time, I ask around. Sometimes the less expensive brands are 100% better. It took so long to get this range that after my complaining weekly (because every week they said it would be in that week) they finally gave me a GE use in the meantime since I had NO range. The GE they loaned me was a $700 range but after finally getting the Kitchenaid I realized the GE ran circles around the KA.

I bought this range during a kitchen remodel some months ago. While it is a good-looking range, it is dangerously easy to turn the knobs on without noticing. If you lean against the knobs, I'd even say brush up against them, they turn on with no flame, and you end up with gas escaping until somebody smells it. My spouse has no sense of smell, so it's usually me that notices. I'd say this happens weekly at least. (You also have to be very careful not to lean on the control panel on the top of the stove, as that will turn on the ovens.) Overall, as I said, a nice looking range but this is a design flaw that so far KitchenAid have refused to acknowledge. When I contacted them about it, they told me I could buy bushings to prevent this happening - so why do they sell bushings if they don't think it's a problem? Very disappointed.

Bought a kitchen high end gas double over stove and refrigerator. Thought it was best. Boy was I wrong. Was 4 years ago November, first the paint on bottom oven started to crack and peel. Call CS and was offered a 700 to go toward a new one which I paid 2500 for in the first place. Since then the top oven doesn't always work and when opening the top oven door it falls off. We are older so it's not been abused. Still looks new but junk. Going to go with LG or Samsung next. I am done with anything KitchenAid. They do NOT stand by their product at all.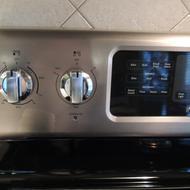 Stove - YKERS303BSSO: The coating on the control panel is peeling and the lettering is part of this coating, this is going to affect the readability of the knobs in future if we cannot get this resolved. Since we bought this stove in June 2014 should be a warranty on this type of thing happening? We always use only mild dish soap and a soft cloth to clean it. Sent an email to http://www.whirlpoolappliances.ca twice, second time included photos was told both times, that they recommend calling into their Customer Service Department at 1-800-807-6777 to have this issue resolved. They'll probably tell us to change the control panel, which will probably cost 1/3 of what a brand new stove would cost. Also, the oven inside window has water/steam stains, how do we get them clean?

Apparently when you buy KitchenAid top of the line range (KDRU783VSS), it does not have the auto shut off baking function. It just basically alerts you when the time is up like the timer. Does turn on when delay time is used, but you have to manually shut it off. What a crock. I'm glad Whirlpool bought them out. Maybe they will terminate KitchenAid. They used to be good. Nothing but crap now. I'm sure to leave a review. Also bought the french door fridge and it would throw ice around your glass and end up on the floor. We got a replacement and it did the same thing. We finally had to upgrade so it would stop doing that. Now I can't get the water filter to reset on the new one. We bought the whole kitchen including microwave and dishwasher. So far the last two are doing fine. Stay away from kitchen-headache!! Buy something else. Anything else.

KitchenAid freestanding induction range model KIRS608bss, purchased new, 4/12/13 3 months later the oven stopped working. I bake a lot so I knew when my baked products were taking 20 minutes longer than normal. I called for service and the first 2 times the tech literally said that all oven temperatures vary, this is to be expected! By the 3 call my oven started blinking message across the stovetop panel. They finally replace the computer system and told me I no longer had a warranty. At this point my range was 4 months old.. This same model although the oven is working the cleaning part is not. I have tried multiple time but the water does not get hot enough or steam long enough to clean the oven.
To make matters worse, the front glass panel has so many grease stains in between the two glass panels that I'm embarrassed to have people in my kitchen as it appears I have never cleaned the glass.. I was told the only way it can be cleaned is to remove the screws and bolts inside, clean the inside of the panels then replace. The technician also said it's a waste of time as those streaks will come back the first time you use your oven and each time you remove the screws the tightness of the door panel loosens and heat will escape..

We have a Kitchenaid Superba stove and oven model KGRT607HWH6. It was in our house when we moved in 2004. It has a glass backsplash. Three years ago the backsplash exploded with my 10 year old twin sons and a teenage friend and myself standing within three feet of it. We are lucky we were not hurt. I think the pots cooking on the stove may have been touching the backsplash and it just got too hot. But, what a stupid design for a stove top! The repairman did order a new backsplash for $100. For years I would find tiny pieces of glass stuck in corners and crevices in my kitchen. I guess I should be ashamed to admit it, but I have never used the self-cleaning feature and the oven is quite dirty. I started to look for instructions on-line, but, after reading all the complaints I am scared to try the self-cleaning feature. The instructions say to not use a commercial product. Not sure what I should do.

We have had our KitchenAid KGRS505X oven for less than 3 years and it has broken down twice. First time only after a month which was under warranty. The 2nd was a couple weeks shy of three years. It is costing us $300 for a one year service warranty so we can get it repaired. Reasonable expectation for an oven of this cost would be 10 years of trouble-free service. So, at this rate I will have purchased this appliance twice in the expected 15 years of service. I can't tell you how much I regret buying this piece of garbage.

Under no circumstances would I purchase the K-A double wall oven. Woe and pity to those reviewers who are stuck with one of these. I purchased the first one back in 2001, very excited about the great features. Within 3 years, the self-cleaning program failed 3 times, the entire motherboard once... Glad I bought the extended warranty. I had to argue with K-A/Whirlpool to finally get a replacement that supposedly had the bugs fixed. Not so; the self-cleaning cycle again twice blew out the entire oven(s). What was I offered this time? A percentage of my original purchase price to be used toward another of the same model? Why on earth would I pay for or even want another of the same failing product?
After several repairs for the same issue, K-A told me they would no longer fix the ovens if the self-cleaning problem happened again. So, for the past 5 years, I have resorted to the old cleaning method (for fear of blowing the units). Now I am in the process of a kitchen remodel. Believe it or not, most of the retailers are recommending Kitchen-Aid, how dare they? I have investigated many brands of medium to high end quality and price. I recommend the GE Profile or Cafe series for both performance, worry free use and fair pricing. (NO, I do not work for GE!) FYI- The K-A tech told me the company has known about the self-cleaning blowout for years. Cheaper to fix on warranty or charge the customer that correct the problem! Let the buyer beware!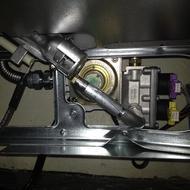 KitchenAid (Maytag) came through for me on the third range delivered. For the record, the first range was defective, probably the thermostat, and the second range was dented so that the gas line could not connect. I'm happy now with a working range, and it's a terrific range.
Original Review
I hate to write a poor review, and I hope that later I'll be able to update this to a more positive review. I ordered a KitchenAid gas range, KSGG700ESS on December 21, 2014. I have natural gas. My range was delivered on 12/21 and at first I was thrilled. The stove burners were marvelous, the grates across the top heavy and perfect. The stove top was easy to clean. The installation guys were great. But, the oven never heated above 190 degrees and my kitchen smelled like gas. I called Home Depot, and KitchenAid said that they would deliver another stove.
A week went by without a delivery date for the stove replacement so I started phoning Home Depot. After 3 days of nagging I had a new delivery date: January 2, 2016. When the new stove was installed, these installers were a different crew, and their attitude was very negative. I asked them to wait while the oven was tested, and they gave me excuses and left. The new oven wouldn't even light, and again I smelled gas. By this time I was thinking that it wasn't the stove but something at my place. Researching online brought up a Kitchenaid repair manual for self-igniting stoves, so my husband and I went through the procedures for testing, step-by-step.
We pulled out the stove and checked our valve. We checked the polarity of the outlet. We removed the oven base plate and used a handheld lighter to try to light the gas in case the issue was air in the lines. Finally we used a flashlight to look under the stove where the stove port connects to our gas port. There, we found the problem. The area was dented, and the ports could not, could never, connect. We had noticed that with this second range the bottom drawer was higher on one side than the other. The entire frame of this second range is twisted. So back I go through Home Depot to request a replacement for the replacement range. This time Kitchen Aid was less accommodating, stating that the problem MUST lie with us. Home Depot's hands are tied until KitchenAid makes some decision or arrangement. I'm waiting for a resolution on this issue.

KitchenAid double wall ovens/ WALL OVEN- ELE BI 30 - My LOWER oven (the one not used except on holidays) went out on me on CHRISTMAS as I'm cooking a prime rib (at 500 degrees). The ovens have only been installed for a year! Got an error message asking for probe temperature. Wasn't using the probe although I do have the ability to use it. Checked the manual and found I did everything right.
I then ended up with an under cooked prime rib for 13 guests. Thanks for that! Then I tried to clean the damned thing since it hadn't cleaned well after Thanksgiving (I usually try to do this when we are in bed because the fumes are so awful). Guess I know why it didn't clean! This time after waiting till everyone left, I opened the windows (glad it's a warm December) and the oven wouldn't clean. Got an ERROR message this time of "E3F3". Heck if I know what it means. They were able to schedule a service appointment quickly but if they have to order parts, then I have to have another service appointment.
All I know is, I've got an oven that doesn't work during the holidays (I'm cooking for NY Day too). I called the extended warranty number and sat on hold for 42 minutes. THIS AFTER HAVING SPENT NEARLY 2 MONTHS TRYING TO GET MY BUILT IN KITCHEN AID DISHWASHER FIXED THAT HAS ONLY BEEN IN USE FOR 6 MONTHS! It needed an entire new drum. Nice since it already damaged my NEW cabinets and NEW floor in my NEW kitchen. No offer to fix the damage they caused even though they finally fixed the dishwasher. KitchenAid used to be really good appliances. NOT ANY MORE. I will avoid them in the future!

The KitchenAid Double Oven KODE500ESS is advertised as an Even Heat True Convection with Even Heat Preheat. The machine is attractive with its huge viewing windows, it's highly polished finish, its commercial style handles, and blue enamel interiors. The electronics are elaborate. You are able to adjust almost every function of the oven should you wish to so, down to alarm sound loudness, and calibrating the oven without a technician nearby.
However, this oven is not without fundamental flaws. The engineering is deficient in crucial areas: the temperature sensors are located near the top broiler unit, a unit which is used in the preheat cycle resulting in unreliable preheat readings; the heat release vent is located at the top near the electronics components, which could be affected by the extreme temperatures, such as those used in the cleaning cycle, ultimately causing an oven computer crash.
We chose this oven based on the many positive reviews and have had the oven for 6 months. Even after talking with KitchenAid representatives and two repairmen, we have yet to feel comfortable with the ovens ability to function properly. First, the preheat operation is worthless due to the location of the sensor. When the preheated indicator sounds after 8-10 minutes, the oven is probably 20-30 minutes away from the achieving the desired heat, should it ever be attained.
Second, the highly emphasized Even Heat claim is questionable. Once attained, the temperature can, by design, fluctuate. This we understand and have no problem with fluctuations, unless the variations are large. We have experienced 50-degree swings. We have agonized with uneven cooking in many directions: dishes done on the sides, unfinished in the middle; dishes browned on one corner, not on the others; when two dishes in same oven baked at same temperature, both requiring same number of minutes, one will be done before the other. The repairmen state there is nothing they can do to fix these problems.
This is not a baker's oven. It is not even a novice's oven. It certainly is not as functional as our previous ones. It is unreliable, untrustworthy and we wish this one were not ours. If KitchenAid planned to put an extremely inferior product on the market prematurely at an exorbitant price, they have exceeded their expectations.

So I will start out by saying that I did not read the negative reviews before purchase. This was not my first oven purchase and should have done more homework. The all the positives were so POSITIVE! So, that being said, my oven is about 6 weeks old. Yesterday for the first time, I tried out the self-cleaning feature. It ran well for a few hours then completely went out. Nothing. I tried everything with the power and fuses but nothing. I have been trying to get someone to help me but I can't reach anyone. Sears repair won't touch it. I will call again on Monday to KitchenAid again.
But seeing all of these poor reviews it is making me very nervous. I will have to say that this is a piece of junk. The glass on the inside is stained and gross. I will update this complaint again after KitchenAid gets back to me. But this is crazy. If consumer affairs knew about this problem with the fan and cleaning cycle, why is are they allowed to sell this crap? Class action, I want in. Should have never purchased a KitchenAid.

Purchases and installed 2/2015. Been using the top oven. Went to use the bottom one Christmas day, it kept blowing the fuse. Can't understand what is going on. I have read reviews of the oven shutting down when cleaning both but not using. If this is the case, why isn't there a recall on these ovens? Spending over 2600 on oven, you expect it to work and the problems getting solved but it's not. Unfortunately Kitchenaid was closed but I plan on getting this problem solved or they can pick it up and dump it. Hum. American made. They're not being tested before selling them. Sorry I am not a big fan of Kitchenaid. At this time wish I had my Jenn-Air back. Old faithful never let me down. Merry Christmas Kitchenaid. Hope your ovens work today.

My KitchenAid oven sucks! This is now the 3rd time I have a problem with the self-cleaning "upgrade" in my oven. The thermostat fails with the heat of self-cleaning. This time, however, the main keypad is fried. Almost $500 just for the part, not counting labor and install. Thanks, KitchenAid, for delivering a product that is only successful in earning you more money! I could not be any more disappointed in their complete lack of responsibility in standing behind a product for which they make so much money. Brand new two years ago, and I continue to have mounting expenses for an appliance that was touted as being wonderful.

I have always owned KitchenAid appliances. We thought they were the very best. I purchased a new stainless steel electric oven. The first time I cleaned it a fuse was blown. The oven has to be removed from the wall to fix it. I then realized that every time I used the self-cleaning it would blow the same fuse. After about 6 times I asked the repair man what could be causing this to blow and he said, "I see this all the time so don't use your self-cleaning and it won't happen." Why buy self-cleaning if you cannot use it?
So I used it again before Thanksgiving and another repair man from another company came out and had to order the fuse so no oven for Thanksgiving. I told him something must be causing the fuse to blow with the extreme heat cleaning the oven. He told me the same thing the other repairman said, "Don't clean it." I have owned a double KitchenAid oven in the past that was wonderful and never had a problem. My other appliances are KitchenAid but after paying all this money for what I thought was one of the best I will never buy KitchenAid again.

I have had this stove for 5 years. It is "stainless steel" but the top griddle area has all rusted! Also, when I used the self clean program it fried the entire control panel which was expensive to replace even under warranty as they did not cover the service charge and it took 2 months to receive the part. I had a repeat of this problem again, so the panel needed to be replaced. I now have to "steam clean" my oven which does not work effectively! Also, measuring the oven temperature is NEVER close to the temperature on the display panel. I would never buy another KitchenAid stove again. The fan is very loud as well. I use my microwave as my oven instead of using this stove. Expensive and poor quality!

We bought our oven in 2008 and paid about $1500. Immediately noticed that every time we'd cook it would smoke furiously. Called the place we bought it from and were shunted back and forth between sales and repair people. Then we noticed that it was getting dirty - like super filthy with thick residue everywhere that could not be scrubbed, so decided to use the self-clean setting. I left the house and returned an hour later and the entire house was covered in smoke. Dog was literally choking, and cat had holed up in the basement. Had to open every door and window to ventilate. Called the place, we bought it and got the same run-around.
We're not a wealthy family so this oven has been our ONLY oven since we purchased it and it's a daily battle. The door has fallen off, the board has been compromised, the stove top is awful to clean and can't keep an even temperature. Every time we use the oven we end up having to open the doors and windows. Total nightmare. Surprised no one has sued KitchenAid since it's apparent they're aware of these issues. Read the reviews online and realized that this was a thing with KitchenAid ovens in particular.
Compare Ranges, Ovens, and Stoves
KitchenAid Stoves & Ovens Company Profile
Company Name:

KitchenAid

Address:

P.O. Box 218

City:

St. Joseph

State/Province:

MI

Postal Code:

49085

Country:

United States

Website:

http://www.kitchenaid.com/