Consumer Reviews and Complaints

We recently purchased the Olympia Round Shower Kit from Menards. We installed it exactly to the instructions which took time to understand - not detailed enough but felt confident because everything was level and worked great for about 2 weeks. One evening I heard a loud explosion of what sounded like rain from the bathroom. I went in to investigate and found that the large stationary piece of the glass enclosure spontaneously exploded and broke into a million little pieces. It flew everywhere! It was on top of a tall cabinet, in the sink, toilet, and flew into the bedroom. The glass door was hanging on only because there was a wall there to support it or that would have broken too. No one was in the bathroom or using the shower at that time so I was glad because no injuries happened.
We called the company which requested the serial number which we didn't have because it was on the packaging but accepted the receipt which was only 6 weeks old and requested pictures. They did send us the replacement parts but we are now having trouble installing it because it's just not lining up like it should. The door isn't closing properly and it's not leveling.
We are extremely frustrated and scared this will happen again. What if it does? What if we are in the shower this time? What do we do now? Are we stuck with this faulty system? Not sure what to do at this point. When we called the company they seemed surprised this happened but upon reading the other reviews I feel they probably weren't very surprised. This is a very dangerous system and you should seriously consider not buying this system if the glass is this unreliable.
Good day!
We are really sorry for the inconvenience and will be pleased to assist you and make your Maax experience better. You can call us at 1-877-438-6229 opt 2+1.
Have a wonderful day!

This product has been a nightmare since day one. We are installing a Maax Olympia round shower base and door The base is super cheap--thin plastic with Styrofoam underneath. The surround seems fine and is fiberglass. The door? All I can say is DO NOT buy this! DO NOT! The installation guide leaves much out and some of the steps make no sense and it seems that it would be more logical to have the sequence different. However, we are following the directions exactly and having a lot of problems. I called the helpline twice. The second call was answered by an obvious misogynist and he was incredibly snarky. One step I figured out that the support bar needed to be inside the glass - the picture was ambiguous. He then proceeded to tell me the instructions stated that-- I had them in front of me, they do not. He was just plain rude. After reading some of the reviews on here, I am not optimistic and wonder if we should even continue installation!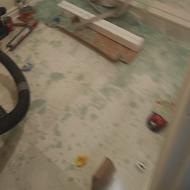 Reveal 60" shower doors - I am a contractor. Bathrooms are one of my specialties. I was finishing a project by installing a shower door. These types of things must have its instructions followed meticulously because they're engineered to deliver a specific waterproof performance. So, as usual, I followed the instructions carefully. I had installed the track and was now at the stage to install the fixed glass panel. I hoisted it 6+" off the ground as I was positioning it towards the supplied wall jamb when all of a sudden it imploded!! I've NEVER even heard of such a thing happening before... unbelievable! Millions of tiny, broken pieces everywhere... and several minor cuts and pieces of glass throughout my hair.
The client isn't impressed and is now worried about her safety after reading all these similar reviews. Can you blame her? MAAX office is closed at the moment so I'll have to call tomorrow. I'll report back here tomorrow. One thing for sure is that the doors are lighter than most others so maybe the thickness speaks to its lack of strength and quality. I would definitely NOT install this product in my house!

Had my contractor install tub in August 2016 and the control panel wasn't working immediately. The temperature display was constantly increasing during operation (sometimes to 111 deg. F). I want to point out the tub water doesn't actually increase as I wouldn't be able to stand that temp. After trying to work via my contractor for months to get a new panel I was advised to contact Maax directly.
January 2017 another contractor from Maax contacted me to assess the problem. He finally came out in February; he repaired 2 bubble like flaws in the tub but didn't fix the controls. Had to return with another call to Maax to replace control panel. Now with the new panel the temperature display still increases during operation but the pump turns on with the * function now and the light option seems to work as if I had a light. Ergo the new control panel isn't working even as well as the first panel.

How do I know I can trust these reviews about Keystone MAXX?
881,173 reviews on ConsumerAffairs are verified.
We require contact information to ensure our reviewers are real.
We use intelligent software that helps us maintain the integrity of reviews.
Our moderators read all reviews to verify quality and helpfulness.
For more information about reviews on ConsumerAffairs.com please visit our FAQ.

The problem is that the shower has been installed and in use for about 2 months, and the original silicone has now let go from the base rail track. There is no way to get the base metal rail off, short of taking most of the enclosure down. And I definitely am not up to doing that, as I had a contractor install it and I know he followed the installation directions scrupulously. Any suggestions for fixing this problem with the enclosure in place? Response: You will have to remove the metal rail, clean it with rubbing alcohol and you can sand the bottom of the base and under the rail slightly. The silicone should stick better if the surface is rough.
We pointed out that the rail can't be taken off without taking down the shower enclosure. We contacted Maax again and this was their reply: Response: "Unfortunately the only solution would be to remove a portion of the unit and install the rail again with the tips I gave you. There's really nothing else to do to permanently solve the issue. Thank you." THIS IS A DESIGN FLAW! After reading the experiences by others, I believe that a Class Action should be taken.

I purchased a Maax tub shower sliding door. The glass spacers in the package are for a different model. I had to call Maax to send me the correct parts. There is one part in the box which is not mentioned anywhere in the installation instruction. I called Maax for the second time to ask how to install this part. The person who answered the phone had no idea about this part, and said he had never installed a shower door and therefore did not know how to install this part. He also said that the part that was shipped to me after my first call (see point 1 above) is for a different model and cannot be used on my model. But in fact I had already used this part in my installation. This person is not familiar with the product.
Since I did not get any help in the second call, later on I made the third call. Another person answered the call. She had no idea about this part, either. She asked me to take a photo of the part and email it to her for them to recognize that part and how to install it. I emailed the photo of the part to the email address that she provided. It has been almost a week but I have not heard anything back from them. This is a very frustrating experience with Maax. Stay away from this company.

Maax Noble Frameless Bypass Shower Door. I installed this product a few years ago and the other day my 12 yr old son closes the door and the door completely shatters and gives him cuts on his hand (got 8 stitches), feet, and legs. Say away after I read this has happen to others.

Purchased a MAAX shower. Had it installed. The door keeps dropping down and then it ruins the water seal on the bottom which did not work correctly in the first place. The company did send me replacement seals but it did not solve the door problem. This is the worse product I have ever had or installed. I would not recommend this brand to anyone.

Our 1 year old spa has a serious problem and there is (according to them) only one person who is authorized to do the repair. This person is unacceptable due to a past bad experience. Maax Spas couldn't be bothered. Their attitude is 'take it or leave it'.

Have a Freestyle R. My stepson was closing one of the shower doors when it came off the track and literally exploded. He had cuts from head to toe and we had to dig glass out of his hands and feet. Glass was everywhere, including the top of the windowsill and mirror. I had considered getting a replacement door, but after reading other reviews, this is obviously a reoccurring problem with these products that should be investigated by the appropriate authority. This is an extremely dangerous product that people should stay away from.

We shopped for several weeks to find just the right tub and style to fit our bathroom remodel. The MAAX Sax tub was perfect for size and style. It took over 6 weeks to receive the tub. The plumbers starting pointing out problems when they unpackaged and examined the tub. First, the edging of the insert portion was extremely sharp and unfinished, leaving rough fiberglass that would cut and splinter if touched; second, the edge of the insert portion was improperly cut, that is the edge was not even around the tub, leaving one side wider than the other; and third, the metal guides that center the two portions were missing (broken).
I contacted MAAX who expressed their concern and did offered to replace the tub, but since we had already waited six weeks (and they could not offer quicker delivery), we made several repairs and installed the tub in a way that the uneven edge could not be easily seen. I will not buy any further products from this company.

Bought a MAAX Shower Corner Glass unit and white plastic shower base Sept 2013. Installed by professionals in a basement setting on concrete floor that was levelled. Installer noticed the base unit had give, but this was normal given the base unit is all one piece and uses Styrofoam on the underside of the base, designed with give to accommodate different installation needs. Sept 2013 to Nov 2015 shower is used as normal for just one person, not doing anything wrong.
Nov 2015- we have noticed a tear in the base unit. Needs repair and or a new base Unit. Very disappointed with the quality of the acrylic as it should have been much more durable. Also had to return the first unit because not all of the parts were included. COST TO TAKE THE BASE OUT AND REPLACE IS MAJOR BECAUSE THE ENTIRE SHOWER GLASS WINDOWS SIT ON THE BASE UNIT.

Purchased a MAAX Gallery shower tub from Menards and had it installed by a professional plumber. Within 1 month the bottom of the tub cracked open. I was told to bring the tub back for an exchange which I did. The new tub turned out to be defective as well and so were the next 5 tubs we looked at. So a total of 7 tubs were defective!!! After 1 month Menards got in a new shipment of these tubs and we found only 1 out of 3 to be usable. The quality of this product is terrible. To have the old tub removed and the replacement tub installed cost well over a thousand dollars. Menards had me contact MAAX to be reimbursed for the cost of the labor to replace the tub but they refused any responsibility for their products. Product is a piece of junk and I strongly recommend not purchasing any product from this company.

We had a shower kit installed a year and a half ago that we purchased at Rona by a local plumbing company. While cleaning it last week we found a 3 inch star shaped crack in the base. Rona informed us to call Maax with the ser # as it was under warranty. After two days of being put on hold we were informed that there was only a year warranty and that if we wanted a 3 year warranty we needed to buy their more expensive model. Needless to say we would not recommend MAAX products re poor after-sale help.

Purchased this product late in 2014. Looked like a very nice product. However during installation I noticed that their "setting blocks" were quite weak for the heavy doors. Sure enough a few days ago the anchor door slipped out causing the shower door to be misaligned. Tried fixing it but my attempt ended in the door exploding and projected shards to my right arm causing extensive but manageable bleeding. I later noticed that the vanity had pockmarks all over from this glass which got me thinking that it may have been a lot worse for me. My opinion, this product is too dangerous because these doors should not explode and cause a potential lethal hazard. I have picture of my arm and will leave the vanity as is until I believe there is no potential lawsuit here.

The plastic water deflector at bottom of door doesn't keep water from splashing out from the base. Gets floor wet. Not good for the floating vinyl floor just installed... Would like a remedy to the problem.

We have a Keystone MAXX shower 2 door enclosure. Yesterday we heard a cracking noise coming from the bathroom and went to investigate. The exterior sliding door (handle on the outside) shattered into pieces and glass fell everywhere. No one was in the room. No one in the shower luckily. This produce is dangerous.

My husband last used the shower this morning and tonight no one was in the bathroom and I heard a loud shattering sound that sounded like crystal falling on ceramic tile. It was loud and lasted a few seconds. I walked into the bathroom to see thousands of small pieces of glass in the shower and on the ceramic tile floor. No one was in or near the doors when one of them collapsed. I am glad to say no one was in the shower or near it. It actually exploded and broke into thousands of tiny pieces of glass sounding like glass cascading onto the floor.

I installed (per instructions - with certified plumber approval) the Neo-Round Shower w/ base in 2011. Shortly after, I noticed a cracking sound while standing in the shower. A few days ago, a 3-inch triangular break occurred in the floor, resulting in a laceration of my left heel. I have attempted to contact MAAX via the phone number given on the Instruction Manual and Warranty, but, apparently, unless I agree to PAY for a "discount" on my next purchase from Home Depot or other such retailers my call is diverted to 411 and dropped! I have attempted to continue my call several times within the automated system, to no avail. There is nobody to talk to in this company, and I'm seriously considering a lawsuit!

After owning the Freestyle Round shower for only 4 years, the base cracked causing water damage to the ceiling in the room below. I contacted Maax shower to have the base replaced as a warranty repair (which the warranty is 10 years) and was told that I would need to submit a receipt for the purchase. I told them that I only had my credit card statement showing the purchase, and I was told that that was not sufficient. I was told that particular shower has only been produced for the last 5 years, which is proof that I have not had it more than the 10 years for warranty purposes. The representative was able to locate me in their system from when I had to have repair parts for the doors from the initial purchase, which was AGAIN less than 10 years ago, try 4 years. I left a message with a manager and requested a return call from him. I feel that they are not standing behind their warranty and are looking for an easy way out of replacing their faulty/failed components. Not only do I have to have the base replaced or a new shower installed, I will need to have the damaged ceiling repaired and painted. I will be making a complaint with the BBB and with Home Depot if I am not able to resolve this issue with the company.

My shower door guides broke on the bottom of my shower and can't seem to find a website for help. For parts, curved double door; please contact me.

On 3rd April 2008, I bought a shower (Discription:Frameless 38 Shower, Magnolia Corner Entry, Model 331S-C38, 4 Frameless glass panels including corner entry, slide open doors and wide acrylic base). Manufactured by Keystone Maax from Home Depot. I installed the same in the next few days in my Bathroom with the help of my friend, as per the instructions that came with the Shower Kit, supplied by Keystone Company.
On 17th of May 2008 my niece who was visiting me from Australia, used that shower. After she finished her shower and opened the door to step out, to her surprise and shock , the entire door came out of its channel and broke. She was left with the knob in her hand. My niece screamed and I went running to the bathroom. I just could not imagine the site. She was crying and screaming with Blood all over her legs, arms and mouth. One by one we managed to take out all the glass pieces out of her legs and arms, and then gave her the required First Aid. My niece took rest for two days and is now returning to Australia Via India.
My Father who is a Doctor in India took care of her medical needs. I went to Home Depot and reported this incident. I was informed to Contact the Manufacturer. The associate at Kitchen and Bath (from Home Depot) informed me that the only thing Home Depot could do at this time was to give me a 10% discount for a new Shower.
This Shower has two glass sliding doors, I then checked the other glass door which is still intact, I have noticed that when you open the door, it jumps when it touches the stopper on the other end and there is a possibility that it might come out of its track/channel. This is what happened in my nieces case. This door of the shower is life threatening and some amendments have to be made for its security, before another customer gets hurt. I have already read one complaint like this in reference to the same Company in your Consumer Complaints. I would really appreciate if you could really take an appropriate action for the above mentioned complaint. Thanking You
I have already explained the Physical Damages, as for as Economic Damages are concerned, I have yet to ask my father regarding any medical bills. I know for sure that my father had taken her to the dentist as two of her teeth were shaking and bleeding when this accident happened.

On the morning of May 25, 2007, while visiting our friends in Ohio, I took a shower in their glass enclosed corner shower. While exiting the shower, I slid the right door to open and suddenly the entire door came crashing down upon me. It shattered into little pieces both in and out of the shower. I was left holding the handle and standing in a pile of glass bleeding from various parts of my body, especially my hands and legs.
As soon as I realized what happened, I cried out for help. I was in a locked room and had to walk over the glass with bare feet to open the door for help. My partner took me to another bathroom to rinse off all of the glass on my body before going to the emergency room. I had to keep towels wrapped around my hands as I was bleeding profusely-fortunately the emergency room was right across the street.
Once in the ER, the physician met with me immediately. She was most concerned about glass in my eyes. She carefully examined both eyes and determined that small pieces of glass had made several punctures in my lower eye. She flushed both eyes and gave me antibiotics to put in my left eye as well as a solution to flush my eyes as needed.
In addition, the physician gave me ointment for my hands and legs. The cuts on my hands and legs did not require stitches, however, one cut was deeper and has required more attention. One month after the accident I continued to soak it in hot water three times a day and apply an anti-bacterial ointment. It has not healed and I will meet with a physician if it does not heal shortly.
This was an extremely frightening experience that caused much upheaval, anxiety, concern and time among many individuals. It cast a shadow on our much anticipated trip to our friends retirement party and daughters baby shower.
Update: I was told that the medical bills would be paid. They have not and it has been several months since they agreed to pay. In addition, the scar on my right knuckle continues to be very bothersome, it hurts when touched and the big red bump has not gone away. I have made an appointment to see my physician again. I continue to relive this experience, especially when triggered by magazine pictures or tv adds.
I have asked for compensation from the company and they told me that I would have to go through an attorney. I believe that I have a just case as I question the use of safety glass in this product. This shower should not be on the market and no one should have to endure an experience such as this.
I paid out of pocket for the ER visit, and medication. I was told that they would pay the bill but they have not as yet. In addition, our trip from Vermont to Ohio was ruined. I now have a permanent disfigurement on my right hand and continued pain when touched. In addition, I am haunted by the memories of standing naked in a shower with glass covering me and bleeding from head to toe.
Company Name:

Keystone MAXX

Website:

http://www.maax.com/