Consumer Complaints & Reviews

I've had the same experience as others who have written about the GE bulbs. Ours were made in China. They exploded in different rooms at different times, both times (and now the last time we hope since we will never buy these again!) sending shards of glass flying everywhere and leaving a burning odor. When did light bulbs start to explode? What is going on and why is the selling of these bulbs allowed at all?

I like the light the bulbs give off but most of the bulbs burn out in a few months. It's irritating having to purchase and replace the bulbs so often. GE must purposely manufacture the bulbs this way because they could easily manufacture bulbs that last much longer.

My hallway light bulb by my bathroom just exploded sending little shards of glass everywhere!!! My 4 year old son could've been there. My sixteen year old son was in the kitchen right next to the hallway. I am extremely pissed. My kids could've been hurt!!! I'm sweeping constantly to make sure glass doesn't get in our feet! I want answers! This could've been a fire in my house!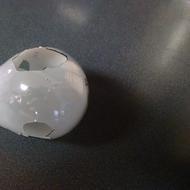 Back in October of 2015 I submitted a review about a bulb blowing up in our bedroom fixture. Yesterday on 6/13/16 another one blew up in our bathroom fixture right after my son turned the lights on. I thought the first time might be an isolated incident but obviously there is a real manufacturing problem. I am going to replace these bulbs today to avoid any other problems.

I have purchased over 20 of the GE yellow bug bulbs in the past week to install in the front and rear porches at my house. Overnight several of the 60 Watt GE yellow lights have burned out, they were the ones manufactured in Hungary, bought at Walmart and ACE hardware. The bulbs looked like they were re-soldered and re-packaged as new bulbs, very poor quality. I would expect much better quality from GE. If you experience the same problem, you can call 1-800-435-4448 and they might be able to issue vouchers to get new ones.
How do I know I can trust these reviews about GE Washing Machines?
576,064 reviews on ConsumerAffairs are verified.
We require contact information to ensure our reviewers are real.
We use intelligent software that helps us maintain the integrity of reviews.
Our moderators read all reviews to verify quality and helpfulness.
For more information about reviews on ConsumerAffairs.com please visit our FAQ.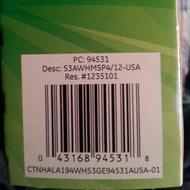 I purchased two 4 packs of these bulbs at Walmart in Alliance Ohio and all 4 in first pack when screwed in lamp popped and blew. The bulbs in second pack all worked. The # on sleeve is PC:94531 Desc:53AWHMSP4/12-USA RES.#1235101. Thank you for your attention on this matter as we were very disappointed as we have bought GE bulbs for a long time!

I've been purchasing these bulbs since the incandescent ones were banned. The only problem I've had up until now was an extremely short life (from one to four weeks at most). Today I had one explode while it was on. It had been on for about an hour and it was about 2 weeks old. Totally terrifying experience. There was glass on every surface of my bathroom. No warning... it just popped and exploded. Luckily I wasn't standing directly under it at the time or I surely would have been injured. After reading these reviews, I see that this has happened to quite a few people and it's only a matter of time until someone gets seriously hurt or loses their home because of these faulty bulbs. Something needs to be done.

We purchased 9 of these LED lamps to replace the can lights in our kitchen. They worked fine for a couple of days then started going on and off intermittently. I thought it was just two or three of them at first but after moving them to different locations in the house and over time, all of them did the same thing. It will drive you crazy as they will be going on and off at random times so you cannot read or watch TV, so they are definitely defective. This was during the winter time so it is not a heat problem, just defective products.

The light bulb caught fire. If I had not been present, my pet, home, and belongings would have been destroyed. The light flickered, then went out completely, followed by smoke, and flames. I have contacted GE, and waiting for a response. I have 8 of these bulbs in total; which I have removed all from my fixtures.

This light bulb was flickering & coming on at half brightness. I thought maybe the cord was damaged since it was a hanging light so I took the light down and discovered the wires to the socket were burnt, but not twisted or damaged. I put this bulb in a different lamp and had the same problem. I think this bulb has a dangerous defect. Glad it didn't cause a fire!

I recently moved into a new apartment. I have been wondering why not 1 but 2 General Electric light bulbs I installed in the bedroom ceiling fan burned out within 2 or 3 days. Hard to believe that bulbs that supposedly have a 1 year life could burn out so quickly. I asked the apartment manager to have a maintenance man check to see if the light fixture was shorting out the bulbs. No such electrical problem was found to exist. The bulb I have in there now is a different brand. Time will tell if General Electric has been selling substandard bulbs or if an undiscovered problem is making the bulbs burn out prematurely. I notice however that many people are complaining about problems with General Electric bulbs used in ceiling fans.

I have a overhead bedroom light fixture that holds three bulbs. When I turned the lights off, after they had been on for about two hours, one of them exploded. After cleaning up the glass shards, I removed the bulb and found the inner glass part blew out.

Two ceiling fixtures that were on in the same room had light bulbs explode in them. Thankfully, the fixtures had bowl style shades under them that caught most of the broken glass. However, my grandchildren were crawling in the room at the time and this could have been a terrible incident if the glass had gotten in their eyes or cut them. I will now remove every GE bulb from my home and NEVER buy another GE bulb again. The bulb in question here is a 1270 Lumens Soft White 72W 120V S05 and 25 also appear on these bulbs.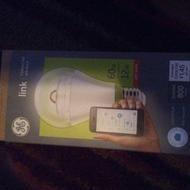 I recently purchased a few GE light bulbs, specifically focused on home automation and voice control lighting. I should start by saying that I have the Amazon Echo at home (amazing product, equivalent to the invention of the cellphone) and I preconfigured it before I went off to Home Depot. Now one of the features of the Echo is that it has the ability to control household lighting via voice command functionality (great for my wife and I as we are both disabled; failed spinal fusion for the lady and I am a disabled veteran) and the literature specifically tells you that the Echo will work with 3 home automation companies: Insteon, SmartThings and Wink.
So at Home Depot I came across GE's Link Connected LED bulb, 60 watt, 800 lumens, Soft White. The packaging is nice, clean and sturdy; so I thought we were off to a great start, it just felt like a solid product instantly. The package states that it replaces a 60 watt while only utilizing 12 watts in actuality. It's extremely energy efficient, with an estimated annual operating cost $1.45 a year; based on a 3 hr day and the piece de' resistance', a 22.8 year life expectancy! So I buy two, head home, open them up and screw the first one in.
Upon turning the light on we heard a sharp hissing, followed by crackling & popping. It then began to smoke wildly, this lamp in my living room was literally bellowing smoke. We were at about 40 seconds in at this point and the fun continued as the smoke was followed by sparks and flames. Which subsequently led to my 100 pound service dog to leap out of his bed knocking into my wife as she was walking by with a plate full of food and she lost her footing and fell through the glass coffee table.
This crash then led to my wife's 80 pound service dog becoming so scared he bolted through the room to get outside, running right through all the broken glass, ultimately slicing open his pad. So within 5 minutes of plugging in this wildly defective product, I have a small house fire to deal with, the destroyed hand carved walnut end table my wife brought back from Indonesia, an emergency room visit for my poor wife who already had fused rods in her back), two emergency veterinary visits (after hours - $$$$$$$), a huge mess to clean up and to add insult to injury the fire knocked the Amazon Echo off the end table shattering it ($199.00 and I even got to have it for 4 whole days!). I should sue GE to the Stone Age!

I replaced all my light bulbs in my house with LED bulbs, it has been 10 months they have been in service and 50% have already failed. I do not expected the remaining will last a full year. The advertising that the lights will last the 20+ years is false. There is no savings on energy when the bulbs cost 3 times and only last 10 to 12 months. I will be purchasing the old bulbs in mass quantities hopefully to last until I am 6' under. This is the biggest scam of a product yet.

These are the WORST light bulbs I have ever used. The LED light bulbs (spot and 60-watt lamp) last about two months. What a ripoff. They are so expensive and to have them last a matter of weeks is unbelievable. I will NEVER buy another GE light bulb again.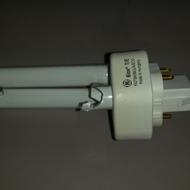 Extremely scary situation where these GE Biax bulbs randomly explode and fall out of can light fixtures. We have had over 4 bulbs recently do this in a business office. These bulbs as I have now read many reviews on are subject to poor quality control if made in Hungary. This is an extremely danger and these bulbs should be recalled before someone gets hurt.

GE Soft White (Double Life) 40 Wa 320 Lumens Decorative Bulbs - Bought at Home Depot 2 boxes of 3 bulbs each. One bulb dead after hours. After about 30 days I'm down to only three working bulbs and I suspect the balance will be out soon. The box states 2.7 years and I've only gotten about 3% of the stated life (guessing). I don't necessarily keep receipts for bulbs so I guess I've lost at this one but I'm pretty sure I'm not the only person to have seen this issue.

While sitting under the ceiling light fixture, one of the GE double Life 60 watt bulbs separated from the base and fell on the floor. It is very fortunate that it missed my head! I have never seen a light bulb separate when no one was touching it. Needed to shut off power and remove the base with a glove.

Reveal 100W Energy Efficient Light Bulbs - All four bulbs burned out with very little use and then would not unscrew from the fixtures but came out without unscrewing the metal. What a mess. What a danger. What an expense. These products should be recalled now and those with proof of purchase and harm should be compensated for their loss. Surely, you have had other complaints about this problem. Thank you.

Installed new GE 60W bug light bulb purchased from Wal-Mart on 07/05/15. On the 13th we noticed the bulb had burned out even the box says it has a 9 year life. I have installed the 2nd bulb from the pack and hope it lasts a lot longer.
UPDATED ON 09/24/2015: As stated in my prior review here, I replaced the first bulb 07/13/15. Now the second bulb has also failed as of 09/04/15. I will not buy anymore crappy GE yellow 60 W bulbs that say they have a 9-month warranty on them. They were bought at WalMart in Columbia, MO also. Purchase info date was 07/05/15 and says made in Hungary.

I bought the lights to save money and it blew up in my face...literally!! So now I have shards of glass in my hands, arms, face, and chest. Who do I talk to about a lawsuit?? I'm in so much pain I can't get the glass out its embedded so deep. I used three rolls of $20 gorilla tape trying to remove all the glass from me and my carpet. And to top it off when the light blew my light socket where it still won't work. No longer going to buy GE products!

They do not last long at all. Some blew as soon as I put them in the light socket. When we tried to change them 3 out of the package of 4 separated from the base! These bulbs are dangerous, a waste of money. I will never buy them again.

I'm surprised at how many reviews I read that people got up to six months use. We've gotten a MAXIMUM of two weeks per bulb! Two weeks!?!? I have one 4-pack left, but, it's going back to the store for a full refund tomorrow. Will never buy GE bulbs of any kind again.

Helical 13w - Purchased and installed July 2012. Stopped working March 2015. 9yr guarantee. How do I get GE to honor their guarantee?

We purchased a 3 pack of crystal clear GE decorative bulbs. We installed 2 of the 3. The bulbs had been in the lighting unit less than 12 hours. We went to bed and the light was off. When we got up this morning, 1 of the bulbs had exploded during the night shooting glass slivers all over our bathroom. I phone GE and of course they offered a replacement saying "Most people never see this happen in a lifetime." They offered me suggestions on how to clean up the tiny pieces of glass. We have cleaned 3 times and still finding tiny pieces of glass. I personally will never use their products again. I can't begin to imagine the damage that could have been done if I was standing under the lights putting on make-up.

I installed a LED11DAV3/827 800 Lumens Bulb in my office less than 4 months ago. Within the last few days the bulb would go on & off constantly which became very annoying. What will GE do to replace this bulb? This bulb is supposed to last for years. We can't stand CF bulbs. So we purchased LED. I no longer have the receipt.

I purchased a box of two (2) 60 watt bug light bulbs for my front porch from Wal-Mart. The first night it was fine. In the morning before leaving for work, I turned off the porch light. When I got home that night, I turned the front porch light switch on and the bulb just blew out. I thought that maybe it was just a bad bulb, so I replaced the bulb with the 2nd one and again that night when I turned the light switch on, it blew out. I returned the bulbs to another Wal-Mart about 30 miles away because I had to attend a class and those bulbs blew out too.
I started to think that maybe something was wrong with my light circuit. So I bought two more bulbs from Wal-Mart and this time I installed the bug light in a lamp that I have in the house and sure enough the bulb blew out. Are these lights being made in bulbs? It makes me wonder about all of GE's products. Sorry no receipts. I started losing track of all the receipts after a while. However the barcode number is #4316890402-5 and the numbers above the barcode are: PC: 97495, Desc: 60A/Y 2pk, Res: 1117862. Year life my **. China even though the box says "Made in Hungary"? Who would make products like this? It's not Wal-Mart's fault but it sure is GE's fault. No one has time to keep wasting gas just to buy.

GE light bulb warning: So I was eating dinner last night and a light bulb above my head spontaneously exploded and shot out like a shotgun in a hundred pieces towards me and my food. GE bulb made in Hungary. I was wearing my reading glasses at the time, so I think that partially protected my eyes, but shards of glass were up to 6 feet away, in my shirt my hair, on my pants, in the curtains behind me, and all over my food. Watch out for those GE bulbs from Hungary. Online you can read interesting articles about the quality control issues that GE has had making their bulbs in Hungary. Thankfully it was an incandescent bulb and I didn't have to deal with mercury all over the place.