Consumer Complaints and Reviews

Went with Frigidaire gallery kitchen appliances, and everything is sub par. Dishwasher has broke twice, fridge also and now the stove quit working the day before Thanksgiving, 2 years old. Will never buy Frigidaire again.

Purchased the group of appliances. Dishwasher, stove, refrigerator and microwave. Junk appliances. Dishwasher stinks and does not barely clean or get warm. Refrigerator top freezer does not shut securely. I have replaced the gasket and that is more junk from Frigidaire. Stove, the oven does not work. Destroyed foil (Reynolds) then oven cleaner does not clean up only leaves more of a mess in bottom. I am soooo disappointed with these appliances. I'm stuck with them now as too much time has passed. I just don't want others to be fooled by the appearance of the Gallery Group. They are junk. I would never buy Frigidaire item again.

We bought a dishwasher and refrigerator 6 months ago at Lowe's. Neither has worked well since we bought them. The dishwasher is on its second repair and I have waited for 2 weeks to get it repaired AGAIN. The refrigerator freezes the food and even when we turn it down it still did it. The ice maker sucks! The ice gets stuck and then we have to clean it out and ice goes everywhere. This happens every couple days. So frustrating!! Neither Lowe's or Frigidaire will take them back. DO NOT BUY FRIGIDAIRE!!! Very cheaply built and now I'm stuck with these appliances that I don't want. I should have gone with Costco from the very beginning. Their customer service is always excellent. It's unfortunate that we did not read reviews before buying.

Have a two year old Frigidaire dishwasher that stopped working. After speaking to a Frigidaire representative I finally found (or so I thought) the problem. I asked and was assured that the part I needed to order was returnable. After receiving and installing the part it still did not work. Now Frigidaire tells me the part is not returnable. I won't be purchasing anymore Frigidaire or associated products.

I never write reviews but for this company I created an account just so I can write a review. I bought a Frigidaire appliance from Home Depot. Within 2 weeks a brand new fridge breaks. Find out there is only a 48 hour return policy. Had to spend over an hour calling Home Depot and Frigidaire to get it fixed. Had to call the repairman myself. They gave me a list of 6 repairman and only 1 actually still works for the company. Takes 3 days for them to look at it. Takes 7 days for them to order the part. Takes another week for them to come back and fix the fridge. The whole time the fridge does not work. What to do without another fridge? Had to buy another fridge since over 2 weeks. Worst company ever. Try calling their customer number and it takes forever to get through. WILL NEVER BUY A FRIGIDAIRE APPLIANCE EVER AGAIN. Model # BA63823131
How do I know I can trust these reviews about Frigidaire?
637,576 reviews on ConsumerAffairs are verified.
We require contact information to ensure our reviewers are real.
We use intelligent software that helps us maintain the integrity of reviews.
Our moderators read all reviews to verify quality and helpfulness.
For more information about reviews on ConsumerAffairs.com please visit our FAQ.

Had a warranty issue on my washer. Service man sent by warranty came out, fixed the issue. When he put the washer/dryer combo back in he crushed the vent hose. This went unnoticeable for some time as it is a vacation rental home. Now fryer stopped working due to a crushed vent and Frigidaire said it's my problem to go after their service man to repair what their guy damaged! Buy from anyone other than Frigidaire/Electrolux! Their manager even hung up on me when I told them their guy broke it!!!

I purchased this unit in May 2016. Immediately, the dryer started with a screeching noise when it heated up. I have had 3 repair companies out 8 times since May and replaced everything possible in the dryer part and it still has the same noise when heated. When talking to anyone in the corporate office whether it be the person answering the phone or a supervisor, they have approached the concerns with apathy. I was even told by one repair company that Frigidaire would just stall until I give up.
Basically, the consumer is at the mercy of the manufacturer and how they interpret the necessity of replacing a unit. I even have the noise issue on video and it doesn't seem to create any concerns to them. This company has no integrity at all. If they treat their employees like they treat the people that are purchasing their crappy products, it's no wonder they are apathetic. Consumer protection agency should take note of sketchy companies like this and shut them down. Warranties aren't worth the paper they are written on.

Purchased a Frigidaire side by side. Within a few months the liner in the refrigerator started to crack. Called Frigidaire to have a repair done. Repair was done only to look like they placed tape over the cracks. Called to let Frigidaire know I was unhappy for them to tell me they couldn't replace because the factory didn't condemn it to be not in working order. Paid over 800 for this and to be stuck with something that looks like my 3 year old fixed.

I called customer service regarding my stove which was less than 3 years old. Spoke with them and they agreed to provide me with the parts. They did not send me the parts. I called them and they said I needed work order from their service provider which I did. After that they requested for bill of sale which I could find. They wasted my one whole month just to them to say they will not provide me the parts. What hurts so much was how rude and inconsiderate customer service was. Poor customer service and poor quality service. I regrets for buying all my appliances from them. Stove, microwave, dishwasher and fridge. Never recommend anyone for Frigidaire products.

I have six major Frigidaire professional appliances and have had issues with four of them within the last two years of purchase. Warranty is only a year. Have been without a stove since August 23, 2016. Fridge still binging and banging, fan was replaced. Washer leaks and clothes smell. Dryer door broke off. Public Electric is the service provider, not reliable at all. I think it's time to call a lawyer.

I have purchased Frigidaire Model FFHT1831QP, Serial BA53635473. It SUCKS!! Had to get the seals replaced. The air chamber is misaligned (water laying on top shelf). Freezer doesn't work. They called it Intermittent Freezing. Yet the place that I purchased it from (though nice) did not offer to replace & I think they could. They are to have someone come out & look at it again. I WANT A NEW ONE! I didn't pay almost 700 dollars to have a brand new refrigerator already need several repairs. Then later when it has more problems I'll have to pay for it. Quite frankly I'd love my money back & I'd buy a totally different brand.
My last refrigerator lasted me around 30 years with NO problems during this time. SO far I am not happy with the place that I purchased the refrigerator from as I believe they could offer to replace it immediately. I am not happy with Frigidaire so far. I will be happiest with a total refund. I would happy with them EASILY offering & providing me with a brand new refrigerator that is not this model/serial number & a better refrig. AS LONG AS IT ACTUALLY WORKS!!! Do NOT buy this model. The one guy that has been fixing these said that he's had calls on this model for these issues also.

Purchased the fridge in May 2016 model # FFTR1821QW. Within a month it started making all kinds of noises. It was under warranty so Frigidaire sent someone out to look at the problem. They said it was a fan motor making the noise and replaced it. No sooner than a day later, the same noise, called again. Sent someone out, said they didn't know where the noise was coming from. Called again, sent someone else out who stated there have been several people calling in with the noises that are coming from the product and there's nothing that can be done. It sounds like someone is knocking at all hours of the day and night plus a crap-load of different sounds. Frigidaire says it normal for all these noises and they sent me a form letter of all the noises this could make. Frigidaire says all these noises are listed in the Owners Manual. DON'T YOU GET THE OWNERS MANUAL WHEN YOU ACTUALLY OWN THE ITEM?
Do not buy this product. The noises are loud, obnoxious knocking constantly. Every day they keep getting noisier and noisier. $500+ may not be a lot of money for a company like Frigidaire, but to its consumers it's a lot of money to spend on a crappy fridge. I guess that's one way to make you buy a warranty, because you know it's gonna break down at some point.

On June 11, 2014 I purchased Frigidaire Air Conditioner - Model FFTA1422Q2 - Serial No. KK3 through P.C. Richards, which was delivered on June 19, 2014 and installed the following day. I completed and mailed in my registration on July 1, 2014. I used the unit during the summers of 2014 and 2015. I tried turning it on again on Friday, May 27, 2016 and the unit would not cool. On Saturday May 28, 2016 I called the Frigidaire Customer Service number 800-944-9044 only to get a recording to contact 2 different service companies, one in Laurelton, NY and the other in Deer Park, NY. Neither of these numbers were operational.
I then called PC Richards Customer Service to find a repair service that handles Frigidaire units so that I would not void my warranty. They gave me Aid Audio & Television Service Corp. I tried reaching them but due to the holiday weekend I could not get through until Tuesday, May 31, 2016. Told them the unit was not cooling and the first appointment I could get was Friday, 6/10/16.
When the serviceman arrived he said I needed a new control board and the office would call me on Monday June 13, 2016 with the cost. When I did not hear from them on Monday, I called them back twice and could not get an answer. I then contacted PC Richards Customer Service department and spoke with Ellen. She called and spoke with Soma who said that Paul would be back in touch with me. He called me later in the day and told me that it would cost me $416.00 plus tax for the part and labor, which included the $95.00 I had already paid for the service call. I told them I would let them know.
I felt this was ludicrous and I then contacted Frigidaire Customer Service on Wednesday June 15, 2016 and spoke with Linda. She agreed and did not think I even needed a control board since it was operational, it just wasn't cooling. She told me the main control board would be $85.56, a display board was $52.41 and a control panel with overlay would be $23.51. She felt another service company should come and look at the unit at no charge if the problem was in the sealed system, otherwise I would be charged. She made arrangements with Petro Home Services to look at the unit on Monday 6/20/16. The service man determined that I had lost the Freon and needed to put in a sealant and replace the Freon. On 6/22/16 I was told by Kelly at Frigidaire that parts were being ordered at no charge.
Petro returned on June 24, 2016 and took the unit out of the sleeve again only to find out that I needed a new compressor as well. At first I was told that the part was covered, but I would have to pay the labor charge of $500.00. I again called Frigidaire and spoke with Chanel who confirmed that I would not be responsible for any payments. The compressor was ordered (Part #5304476923). I have now been told by Petro Home Services that there was no ETA on this part. I again called Frigidaire on June 30, 2016 and spoke with Sandra and requested a new unit. She very blatantly told me that the unit was repairable, not replaceable.
I wrote to Frigidaire telling them it has now been 6 weeks that I have been without an air conditioner, with my apartment reading 90 degrees in the middle of a heat wave. I am a senior citizen and cannot live in these conditions. I either need this unit to be repaired immediately; replace the unit with a brand new one or refund me so that I can purchase another air conditioner. I am tired of getting a run-around and need immediate action, otherwise I will purchase another unit and take action against Frigidaire.
With no response I bought another air conditioner that is working beautifully. They finally came and repaired the broken one with a new compressor and freon and I sold it at a loss, but at least my apartment has been cool the rest of the summer. I would never purchase another Frigidaire product again and would certainly make sure my relatives and friends would not either.

The Frigidaire Refrigerator we purchased started developing extreme frost in the freezer from the day we purchased it. The Frigidaire Warranty Program sent 6 different repair guys out to change the freezer seal, heat up the freezer seal and reapply it, adjust the freezer door, adjust the hinges, replace the fan motor, still extreme frost from some type of air leak in the unit. They will not replace it. They've spent way more in parts and service than a new refrigerator would cost. The "Corporate Manager" who was supposed to call me back to advise on the refund of the warranty has not called back. If you get a refrigerator get the Lowe's PROTECTION PLAN. LOWE'S has resolved this problem when Frigidaire would not. This company does not take care of its customers.

I purchased this refrigerator new about a year and a half ago. Within the first month, the entire refrigerator had to be replaced. Since then, both the upper and lower ice makers have been replaced and worked on multiple times. The refrigerator is now out of warranty. Since the warranty ran out, the ice maker has had to be worked on twice. I have now had to purchase an extended warranty to pay for parts and labor that should be covered under warranty since the problems began right after the purchase.
I should NOT have had all these problems within this short time frame since purchase. I have called Frigidaire about 8 times in 4 days, and I still have not had a repairman to my house to fix the problem. To me, this is unacceptable. I am very disappointed, and I will never purchase a Frigidaire product again. Dealing with customer service has been a waste of everyone's time!

I have a Frigidaire AC/heating window unit that I invested over $600 for and purchased b/c it came with a 5 year warranty. The AC portion of the unit failed in mid-May (in Atlanta) and I called Frigidaire who confirmed that it was under warranty and they would have it serviced. 2 months ago to the day, their authorized repair company took the unit - leaving a gaping hole in the side of my house - and have gone silent - refusing the return my calls. I called Frigidaire and asked what was going on and got the runaround. I escalated to top of customer service supervisor who told me that "they are under no obligation to fix the unit in any time period and they are under no obligation to replace it at any time" - all at their discretion. Simply put, this is not an honorable company and they do not live up to their advertised warranty claims. DO NOT BUY THEIR PRODUCT. The only reason they got one star was I was forced to put in any stars.

We were deceived, as consumers, in purchasing a Frigidaire Professional (fridge) in June 2013. In less than 3 years of normal use, the appliance broke down. Many parts associated with the low-pressure header to the heat exchanger, as well as the heat exchanger, had to be replaced. The cost of the appliance was expensive and not of quality. The cost of repair was also expensive, close to $700 CAD since it was no longer covered by the ridiculously short 1-year warranty of the manufacturer. We are taking the battle using legal action against Electrolux as we could not get any decent level of service from them or their accredited repair company (South Shore of Montreal). Not-so-professional. Be careful!

I bought a new home in Sept. 2013. In November I happily purchased a full set of Frigidaire kitchen appliances from Home Depot. It is now less than three years later. My fridge has gone out. Something in the back of the freezer has started making a horrible sound until it is unplugged. My mother had Frigidaire years ago and swore by the company. There are two adults in our household. I do not believe the appliance was abused or overused. I will never buy another Frigidaire appliance if this is now the quality of their products. I now have to worry about the remaining products doing the same.

We purchased a new house and we were thrilled to have all new Frigidaire Professional Appliances installed. We immediately had problems with our refrigerator. The seals in both doors are still not working properly after having been replaced. It has randomly stopped working for no apparent reason. We have had a door replaced on it (as it was dented upon arrival). I have asked for a replacement as it is not reliable but because it is still under warranty they will not replace the unit, just continue to try and fix it.
Our dishwasher has also needed replacement parts (we have been in this house around 6 months now) as it was not heating properly. The latch on our microwave was not working so when the service company went to replace it, they broke off some plastic parts and currently it does not work at all. Three appliances all with problems within the first 6 months. I have been a homeowner for years and never had such challenges or problems in the past.

I have a warranty on my washer and dryer (purchased new 3 years ago). The washing machine recently stopped working so I called Frigidaire to utilize my warranty coverage. They dispensed a company called ABCO to my home on 7-9-16. The technician was nice and advised he would be getting the part within 3 days (M-W). I never heard back from them. I left a total of 4 messages with the last one last night (7-19-16). The receptionist or maybe temporary worker was extremely rude, very unprofessional, and had the vocabulary of an uneducated child. She argued she did not receive any messages. Perhaps she did not hit play on the answering machine (yes, answering machine). After arguing, I called Frigidaire to advise their sub was useless and I wanted them nowhere near my home. I now have a new company coming 7-25 and I hope they can do what ABCO could not.

Bought a built-in AC for my small business. Went to put the unit into place, never worked from day 1. Contacted customer service. After getting the runaround for a few days, finally someone said they would find a local service shop and get back to me within 2 days. After week 1 I called them back and got the number for the service shop. The service shop would not work on the unit because I did not buy it from them. Called Frigidaire again and got a number for another place 600 miles from my where the AC unit is, called them, set up an appointment, they never showed up.
Called Frigidaire back again, this is after about 5 weeks of runarounds. They said they could find no one to service their unit so they would have a local shop call me and I would take the unit that doesn't work in and get a new unit. After another week I called back, 6 weeks running now, they said they couldn't find any local shops to do this with so they would give me a refund. They were going to send me a buyback letter. After another week of waiting I called them back because I had not received the letter, they emailed it to me.
That day I took every tag, every label I could find off the whole unit, attached a copy of the receipt and the buyback letter, and mailed it to the address., 4 weeks later they send me a letter saying they did not receive the tag with the model number and serial number. I took a picture of every angle of the unit and sent it to them and told them to find a tag in any picture and I will gladly cut it out and send it them.
They said the tag was on the inside cover, I had taken that off and sent it to them also in original letter. But seeing as that was a very small piece, and contained no significant markings, it must have been thrown away over the last 3 months of waiting for this place to solve this problem. Well needless to say, even though several of the tags I had sent had the serial number and the model number on them, but they cant find them, they will not give me a refund. NEVER AGAIN WILL I BUY A FRIGIDAIRE PRODUCT, and will advise everyone I know to stay away from all their products.

I bought a new dishwasher prior to renting my home. During their year lease, the dishwasher stopped working and they neglected to have it repaired when it was under warranty. Five months later when they moved out and the warranty had expired, I expected to have to buy a new dishwasher or spend a few under dollars to repair it. Frigidaire customer service was amazing. They had notes from when the attempts were made to repair the dishwasher and that the renters did not follow through with scheduling an appointment. Their customer service staff was friendly, helpful, and are repairing my dishwasher no charge. :)

We purchased a complete suite of Gallery kitchen appliances approximately 2 years ago. Some observations: they look nice but the dishwasher leaked and damaged the kitchen floor. Negotiating repairs was a hassle. Since repaired, no new problem(s). Does a reasonable job but Bosch washers are clearly superior. PS: I ate the floor damage repairs rather than do the dance with Frigidaire. They are not easy to work with. The refrigerator froze items in the bins. There was a part missing (possibly an upgrade that was not with the unit) that diverted frozen/refrigerated air into the bin area. I installed it - it is better now.
The unit moans, groans, squeaks, sighs, moans as though it's possessed. We were told "it's normal". Normal? Maybe. Annoying for sure. The ice dispenser shoots ice all over the place. The exterior stainless surfaces are thin. They are generally non-smudge but the door handles are not. The range (glass top) controls suck. The porcelain finish chips very easily. The oven is fine, the convection feature is very nice. The microwave oven is OK. The controls and timer - reminder beeps are annoying. Would I buy them again? No. I'd happily pay more for a superior product.

The number on the warranty paperwork, 1.800.944.9044 has no option to get to a human being. You enter your ZIP code and I got a service center in Minnesota, 600 miles away. (Could barely hear the recording.) By using other nearby ZIPs I finally got a place nearby. Called them. They do not service this dehumidifier, but gave me another number, 1 888 203-1389. Got to a human being and was told they do not service this unit and the rep was not sure if it could be replaced. (Purchased at Lowe's.) The warranty info was a fraud. Based on the warranty info, my only option was to get to a service center on an item that is not serviceable. Unbelievable. Is the warranty a fraud?
They took all the info. I have everything... Receipt, paperwork, everything. Was told I would receive a call in one to two business days. On day three I called and was told that my phone number did not take and the claim was held up. It would be another 2 business days before I receive a call. And that is where I am. Even if they replace the unit, (I would prefer a refund). I will never buy another Frigidaire product. From the warranty paperwork to the customer service, it is clear that they are doing everything they can to make me give up and just go away. My next move is to file complaints with State and Federal Agencies. I'm not going away.

I purchased a Frigidaire washer and dryer in July of 2015. Almost immediately I need service due to the washer leaking, not filling up with water properly and the dryer would not dry the clothes completely. Since then, I have had 11 separate service calls on the units. Each time, there is a 4 hour window for service which requires me to be off work. They have replaced every part on the washer and most computerized parts on the dryer. Now, the washer has the same problem that caused the original service call. I have made numerous calls to the customer service line and always get the same response. Customer service say they are meeting to decide how to proceed and promise a return call. They never do. I have to call them, start the entire conversation history over with another customer service rep.
We are now in June of 2016. I may have had 2 weeks of continual usage of the washer and dryer until the next problem with the machines occur. I have asked them to recognize that they sold me a defective product and to stop trying to fix the unfixable and send me a new machine. I have explained to them that my unit got by their quality control department and that they sold me a lemon, a machine that obviously does not work as intended. Of course, the warranty will expire in July and they will then have no obligation to fix (joke) the units. If this was a automobile, it would be recalled. If this was medical care, it would be malpractice. You would think a company of this size would realize that they sold me a bad product and make it right.
Today I emailed the CEO Jonas Samuelson with my complaints. Hoping but with major doubts I will hear back. Buyers, beware of this company and good luck dealing with their lack of customer service. PS: I still have no washer and dryer going on 30 days from the last service call. Apparently, they are waiting for parts to arrive. Guess they never heard of USPS or UPS overnight shipping.

I purchase a Washer and Dryer in Dec-2008 with extended warranty from Sears. Last year Electrolux / Frigidaire sent me a letter to purchase an extended warranty for two years if I wish. I had call them and purchase the warranty. I called them in May-2016 to check my unit for noise. They sent a tech who says "nothing wrong".
Few days later I received a call from their Customer service to verify my SN since the one they have under contract is not matching. I did and sure enough they have a different serial number on the contract. Now they want to cancel the contract and have me purchase a new contract and pay for the service call. They also said that I should have verified the serial number on the new offer that came from their company and it is my mistake. A corporation like Frigidaire should be more organized and can fix this type of issues and not pointing to consumer. I spent more than 6 hours on the phone trying to work with multiple customer service Managers with no solution. It seems that they just want to steal your Money and not do any service.

Have to have it in air conditioned room or warranties are void. Poor refrigeration unit. Poor insulation. Heat goes in walls then absorbed back into freezer. Door is cold from poor door insulation. Very poor engineering. Cheap junk.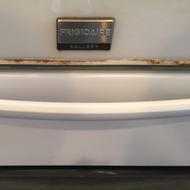 I bought this oven a couple of years ago. The oven door got rusted in a little over a year. This has never happened with other brands of appliances I have purchased over the years. I called customer service and they refused to help! I am disappointed in the product and the service. Needless to say I will never be purchasing this brand again!! My family has used Frigidaire appliance for decades and so I trusted the brand. I am extremely disappointed in them! So much for brand loyalty.

First issue at 3 mths- screws were not tightened from the factory inside the dryer properly which came loose and fell inside the unit causing the heating element to seize. (Took 3 weeks to repair this issue). Second issue- 3 mths later- Belt for the dryer broke, washer not spinning or draining. Belt was replaced, but technician replaced a motor control sensor on washer which did not fix the problem. Frigidaire will not yet replace our unit and is ordering 5 MORE PARTS to fix the washer!!
I have asked multiple times if we can have a replacement unit since the machine is intrinsically faulty! And I am told that there will be no placement of our unit until the TECH dept deems it unrepairable, which the technician that worked on the unit is saying that he feels it's unrepairable. This has taken 6 weeks now and I'm still without a washer! Not to mention the trips to the laundromat, the time off of work I have taken to be home for the repairman. This has been an absolute nightmare. I cannot believe that a company would not stand behind their product and treat a customer this way. I will NEVER buy Frigidaire products again!

In late November 2015, we remodeled our kitchen and purchased a complete suite of Frigidaire Gallery appliances. We couldn't install the dishwasher until the granite countertops had been fitted so the dishwasher went in last, a few days before Christmas. As soon as it had been plumbed in (at a cost of $120 by our Lowe's kitchen fitter), a 15 minutes rinse cycle lasted three hours. I switched it off and reset the machine. Another 25 minutes cycle last four and a half hours. I called Frigidaire and they said that they couldn't get anyone out until January 2016!
I called HHGregg who said that it's not their normal policy but they would order us a new one, but we had to pay for it over the phone, return the old one to the store (a 64 mile round trip), and then we would get a refund on the original one. So 64 miles later, we had another dishwasher, which my husband had to install, since the kitchen fitter wouldn't come back without another charge. In February, I noticed that the side-by-side refrigerator was dropping temperature on the fridge side. It went from 38F to 14F, up and down wildly, then it would settle back at 38F, then the freezer would start to defrost. In the middle of this, we lost endless amounts of food as it completely froze in the refrigerator and defrosted food in the freezer. Customer service at Frigidaire was dreadful and they would not even guarantee that someone would call you to make an appointment for a further two business days. By this time the fridge went back to its normal temperature.
I eventually got them to give me the local Frigidaire repair man and I dealt with him directly. Over period of a month or so, every time he was scheduled to come the fridge worked correctly, then froze everything in sight. Finally, we got it fixed. The damper hadn't been installed correctly and we were a filter missing. We're now holding our breath waiting for the stove or microwave to break down. I will never buy Frigidaire appliances nor will I recommend them.
Frigidaire Company Profile
Company Name:

Frigidaire

Year Founded:

1918

Website:

http://www.frigidaire.com/