Consumer Complaints and Reviews

Ms. ** from their Maitland showroom made up a specific design for my garage which I had agreed to considering the spaces I wanted for storage. When installed, they were installed with great expertise according to her exact specifications. My garage looks absolutely beautiful. I am very very happy with Ms. ** and the installer, who I believe his name is Ryan. This is a 5 star review. I had utilized their services years earlier for my closets and chose them again for this latest project.

Great company... great experience! From the designer coming to my home and measuring to the installers making everything come to life - I couldn't be happier! I would highly recommend this company to anyone looking to renovate their home.

This is my first ever review and I felt obligated to leave it because of the other reviews I've been reading! At the suggestion of a friend I decided to go with Closet Factory and boy am I glad I didn't listen to these other reviews! I had the total opposite experience - my designer Ellen was so friendly, on-time, and really helped me understand every step of the process. I told her what I was looking to spend and she helped me make decisions that would help me keep my design under my budget. I loved all the options for how I could personalize the space, from picking the colors and materials all the way to handles and door styles.
The installers were company employees, which I liked because I've had bad experiences with outsourced work. They were friendly, very clean, and the installation only took a day and a half. Would definitely recommend Closet Factory to anyone who's reading this. They have locations all over so check to make sure that the bad reviews aren't for a totally different location than the one you'd be working with. I went with Closet Factory New Jersey and they were very professional!

Horrible, horrible, horrible. Stay away from this company! I have a small home with two small bedroom closets, a linen closet and entry closet. They charge me $2600 to put in pure garbage! They have a kiosk in Costco so I figured I was protected. Their relationship with Costco protects them not the consumer! It took them over two months after I placed the original order to finally come out and put in cheap closet organizers. Then the doors of the linen closet did not fit. They said they would come back the following Monday. On Tuesday I get a call saying they would not return for two weeks! Said they were too busy .
I complain to Costco and Costco never return my calls. I spoke with someone at Costco corporate office and they told me they filled their contract on time, even though it took them two weeks to come back just to put on doors that they had measured wrong initially! The guy that did the installation was very good at his job; however he spoke very little English. Therefore he was accompanied by a young assistant who did not even know what was being done. He came in and asked me where the bedroom closets were! Shortly after they left my dog who is older and had heart problems died of a heart attack. I know that is not their fault however it was a horrible day regardless. I have since canceled my membership to Costco due to their behavior. What a complete rip off and all done under the guise of Costco is there to protect its members! Nothing could be further from the truth! Shame on both companies for ripping off the consumer.

First meeting went really well. I paid all money in advance to Angie **. As per her promise she said she will delivered everything on May 6th. So I gave her order and then we didn't received anything plus we are calling Closet Factory and Angie day and nights. No callback or no refund from them. We don't know we might take some another step now. This is very very bad experience and still don't understand why Costco people are allowing them.
How do I know I can trust these reviews about Closet Factory?
789,262 reviews on ConsumerAffairs are verified.
We require contact information to ensure our reviewers are real.
We use intelligent software that helps us maintain the integrity of reviews.
Our moderators read all reviews to verify quality and helpfulness.
For more information about reviews on ConsumerAffairs.com please visit our FAQ.

Recently hired CF to do 3 closets. While the initial meetings went well, when it was time for delivery and installation it went downhill fast. Install got pushed backed 3 weeks so I ended up waiting almost 2 months for closets. Once there to complete work, measurements were COMPLETELY OFF. I had an installer telling me one thing to my face and when I called to speak to a manager I was told Jared was in a meeting and would call me back. Needless to say, I had to call back two more times and finally reached Jared the manager who was rude and offensive and called me a liar. Jared stated that the information the installer shared with me he would never say and when I confronted the installer (who was excellent) and backed what he originally told me about measurements being off and additional charges and discounts, Jared had nothing to say... NOT AN APOLOGY TO ME or anything.
I could not get a hold of my design rep. Olga. She failed to contact me for 24 hours. I will say when she finally did reach out, she was apologetic but it was too late because of the interaction I had with Jared. Job was supposed to be a one day install job. My installer told when he got there it would take 4 to 5 days and Jared the manager had no comment on that subject. On the second day, the installer showed up almost 2 hours late with a phone call right before the installer showed up from Jared that the installer would be late and forgot product and that he himself would be bringing it. He did advise me that CF was sending two helpers. Jared showed up to my home, walked into my home (without knocking or ringing the bell) and did not acknowledge anyone but his workers. My interaction with Jared has ruined my experience with CF and I will not be using them to do work on my other closets and certainly will not recommend.

DO NOT DO BUSINESS WITH THIS COMPANY. STAY AWAY from this company. I would never do business with this company ever again. Their customer service is horrific. After incorrectly designing my space by not figuring in the design the location of a light switch (which is needed in a walk in closet) they would not address the issue with me - stating they do not do electrical work.
Obviously they do not good design work either. Besides the amateur design plan they also misrepresented the final product during the consultation meeting. Once the issue was brought to their attention they offered to send a worker to my home at an additional cost to myself to correct the issue - not the electrical work but another issue. All the communicating relating to the issues was done through text messages - they have not returned my calls in over a week. Should have listened to my neighbor who also has a bad experience with this company.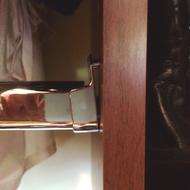 Closet Factory does NOT honor their warranty. I have called numerous times in the past couple of weeks (well over a month). I have sent emails. All I wanted was one freaking bar to be re-cut that they cut too short which I have been putting up with for a very long time. I didn't even have them schedule an appointment. I measured the bar and sent photos in an email, so all they have to do is cut it and mail it to me. All I have gotten was promises from them that they have sent it, or "oops! What, the guys in the factory didn't send it", "I am working on it", blah, blah, blah. Call too many times and they won't take your calls anymore (thanks **). I've asked for a phone call or email but nothing, nada. Their corporate office and factory is within 5 minutes of my house too.
This is a huge FAILURE of the owners or they clearly do not know what their staff is doing. It's amazing to me that a company would run themselves into the ground this way, as it is evident by all the bad reviews. I will be reporting them to the Better Business Bureau, National Association of Home Builders, ASID and NAPO, CSLB and I will be creating an Angie's List posting on them. I suggest you do the same.

I am going to say this... if you use this company and they mess up like rip out a Dryer vent be prepared for them to lie about it and make you pay for another install. The guy who installed in my laundry room moved the dryer, apparently it came out of the wall and I didn't know. The room filled up with constant moisture and debris for about 2 weeks until I climbed behind the dryer to see it. The shelving buckled and they are saying I spilled something and it's not their fault. I have pics to prove otherwise and I am only 5'2" - I can't even reach the shelf that's ruined. Over $7000 in work and they won't waive the $150. Bad business!

After paying $11,000 for a garage closet install, they had measured an entire wall wrong. Basically, we paid for a whole lot of extra inches of cabinet. Instead of sitting down and going over the overage cost that we originally were paying for, we settled with them by graciously allowing them to do a few extra cabinets, not knowing if it was actually the overage we paid for. One day after install, a door fell completely off one of the closets. The manager in the Tampa office was very accusatory that we caused the door to come off. We hadn't even put the cars in the garage yet and weren't completely finished loading it. Instead of giving us a new door, they redrilled holes in the old one.
When the installer (who was extremely friendly), came to install the door, we noticed that the doors of that closet were all uneven and noticed the foot had collapsed on itself. So he didn't put the door back up b/c he needed to get a jack and replace it. It's been over 2 weeks since that visit and no one got back in touch with me. I called this morning, and was told the manager will call me tomorrow with a price! I have about had it with this guy and it's "not their fault" attitude. I can see this could very easily end up in a lawsuit. DO NOT USE THIS COMPANY.

**... at Closet Factory is a liar! He starts off very nice, then takes our 50% deposit-- almost $1750.00 up front. Took long time to deliver goods, self-closing hinges were never installed and doors needed adjustments. Almost one year and he never took care of problems... Customer be aware!

Pretty much the same as a previous complaint. Install of new garage cabinets was scheduled for 2/26. Have gotten every excuse known to man and it's now 4/2. Install still not completed. Cabinets measured wrong, improper fit had to corrected. Can't recommend them for much of anything

The closet factory was probably the most difficult company with which I have ever dealt. The designer from the factory outlined a beautiful bathroom for us with all the plans. The shower that she said would have a seat built in never came to be after it was measured and in her plan. After we made a commitment and we're halfway through she told me it just wouldn't fit. The toilet paper holder was put in a place that you couldn't reach and then when it was changed it was put in backwards. The towel rack three months later became loose. I had requested not to have a mirror. I didn't get a credit on my bill! But they left it in the garage so I had to pay someone to get rid of it. The paint job was supposed to be a sand type stucco and it was just painted. There were chips on the bottom of the cabinet scraped probably when it was installed. The sink had a few globs of gooey stuff that is still a little sticky.
The work which was supposed to take a month took over three months I believe. One of the biggest problems was dealing with this company and getting misinformation or no information or incomplete information. At the same time this decorator was to design a desk and gave me a plan for the desk which I didn't really like. She convinced me to put down $650 so I would be first on her list after the summer and then when I decided not to do it, because of all the problems dealing with them on the bathroom, they refused to return the money. IN very fine print on the contract she had convinced me to sign, it said I had a short time to get my money back. Of course this wasn't mentioned. In that time I had surgery for a cornea transplant and feel they took a huge advantage of me. There is no way that I could recommend this company to anyone.

We had our master bedroom closet done. The installation went fine. Weeks later I had a problem with the hanging bars falling down. I contacted the Closet Factory and they never responded to my problem. I decided to just live with it. Recently I called and they said they would do a service call to check it out. When they schedule something they will always have to reschedule several times, always having an excuse for the change. I am very disappointed with the quality of the product and the service provided. We are charged 100.00 for the trip charge to correct a defect in their product. The warranty is meaningless. Best to use another company. Save yourself the trouble. Still waiting in Fort Worth!

They are very good in excuses and poor to deliver what we buy. DO NOT waste your time with this company and make sure that you keep all e-mails, forms, contracts, etc... They gave me a hard time to finish what they started. Lack of communication is HUGE.

Well, this is consistent with the rest of these complaints. This is from Hicksville NY Closet Factory. I met with Gabby the daughter of the owner, and she seemed very nice at first. My wife loved her design, and I have to admit that her design was very good. But the installers are not good at all. I am not a professional carpenter, but I feel I could have done a better job on the installation. As soon as I saw it I knew it was not level or plum, and the level proved it.. Then they dragged the materials down the steps and scratched and chipped my brand newly refurbished stairs. They said they would pay for the stairs to be repaired, but I'm still waiting. I think they might do that but I'll believe it after it happens.
But back to the closet, Gabby came and saw that the closet was unlevel and had a crew come back to fix it. All the guy did was put a shim underneath the unit and make it look even worse. Nothing lining up. Then the installation manager "Miguel" came to look at it, and he was the most unprofessional person I ever dealt with in my life. He was nasty, defiant, saying that the closet was perfect despite me holding a level to it and the level proving him wrong, he still gave me nothing but trouble. And then he made an appointment to make the repairs, and he simply didn't show up and said that they got there 90% already. Then I made a big stink called Gabby, and they sent 2 installers to make the repairs the next day. I told Miguel to bring some spare parts, and I mentioned the piece that I know was warped, and he said they won't need any materials. So he sent them, and sure enough they needed the materials and didn't have it.
I was pissed off, and said they better come tomorrow but they said they weren't gonna come tomorrow according to Miguel. So these people are terrible service, unskilled, it's all prefab materials, nothing about this is custom other than the design. These installers are off the street and not skilled carpenters. DO NOT USE CLOSET FACTORY!!! Now I'm in the process of hiring an attorney to bring these people down, I would like to see who of you would be interested in joining with me in a class action suit against this company? Please let me know ASAP, thank you.

We had a garage installation done in April of 2007 by the Baltimore Closet Factory office location. At the end of 2014, the 2 bike racks that were installed in the garage collapsed and fell to the floor. I believe the collapse was due to faulty workmanship and/or materials. Given that we are entitled to a lifetime warranty on our installation, we wanted to have the bike racks reinstalled and the drywall repaired which was damaged by the collapse.
Ultimately, we found out that the Baltimore office had closed, so we contacted the corporate office in Los Angeles. My husband and I left numerous messages for owners John and Kathryn LaBarbera. They never returned any of our phone calls. We even filed a BBB complaint against their Closet Factory's corporate office and they failed to respond to all inquiries.
The Closet Factory marketing materials extol their lifetime warranty and the benefits of working with a national company. Buyer Beware - if the office that did the installation goes out of business, the Closet Factory corporate office will not enforce the warranty. The Closet Factory uses deceptive marketing practices by fooling the customer into believing that they have a warranty guaranteed by a national company when they do not.

I hired the Jeannette location to do my master walk-in closet in my new home. I already knew the set up I wanted and they did exactly what I asked for. I love my closet and think it's great and well worth what I paid. The installer was very nice, and professional and arrived in a timely manner. He even hung one of the old shelves from the walk-in in my laundry room (after getting the ok from the main office). I would def. use this company again!

What can I say... We just experienced every single review I just read going back about two year. Our story is too long to tell so I'll try to keep it short. Don't be fooled by the fancy showroom on no less than New York's Fifth Avenue (and elsewhere). From what I understand, it is a franchise system with some company owned stores and numerous independent owners all over but the business model seems to be the same everywhere. Their polite but robust sales will promise you the sky and the earth but bottom-line, they do not deliver any of it. Everybody is always late (from designers to installers and it's always the traffic), extremely deficient design skills (completely ignorant of their own production standards), zero custom abilities lead to changes in design down the line to accommodate their standard sizes and fixtures, wrong measurements all over, endless delays, repeated incomplete deliveries, incomplete materials upon installation lead to repeated installation visits, a huge mess and damage for almost two months. They never return calls or emails in a timely fashion and when they finally do, it is an endless stream of excuses and apologies.
From what I read, they are very good at excuses for very poor work. By the time they quit, we were missing shelves, doors, handles, recessed lights, locks, glass tops and back-splashes, trim moldings to name the most obvious. It does seem we will also end up in court. I can only concur with all the previous reviews: STAY AWAY FROM THIS COMPANY.

Closet Factory came out and measured our closet and did a drawing about the layout of what they proposed. Their drawings did not take into account for trim around the entryway doors or electrical. This is new construction. When they finished the cabinets they left about an 1.5" to the entryway. They had to then redo the cabinets and make them smaller in width, but charge me the same price. They also put a cabinet over the light switch, this too was not on the drawing. Two of the cabinets were covering the recessed lights which again they did not account for in their drawings. At my expense I had to have the recessed lights moved and fix the original recessed can holes.
When I contacted the Closet Factory they said none of this was their fault because it is new construction. They said the builder should have known about locating electrical for the closet. The builder was never contacted by anyone from the Closet Factory in Maitland Florida. They would not pick-up the cost for the recessed lights relocation and fixing the drywall. Do not do business with this company because they do not stand behind their work. The salesperson Beverly ** did not know how to draw the layout properly and did not take into account the building codes for Brevard County Florida.

A few days after relocating to the US from Europe we got in touch with the Closet Factory to come and build us 5 Closets and a key cupboard in our new house which was a complete remodel after a fire. So all paint and moldings etc. were brand new even though the house is from about the 30s. The Designer, by the name of Desiree came promptly to our home and we had a consultation to determine what we required. We required 2 walk in closets, 2 normal closets, a cloakroom closet and a key cupboard.
After a price was agreed for said work I paid a deposit of $7500 and we waited for the agreed 2 weeks for the installation date to come round. It did and they came to install our "Custom Closets"... After this first attempt, not a single one of the closets was satisfactory. The Master closet was measured incorrectly and did not fit as specified. One side was some 6-8 inches taller than the other... All the others were poorly put together, all had signs of damage. The installation crew did not have the carpentry skills needed to fit the closets and cut/fit trim correctly.
We immediately Contacted the designer who went about assuring us that our issues would be taken care of. Some time passed but then, they returned to rectify the state of our closets. The master closet was made uniform on both sides and all the others were dismantled and reassembled with corrections made to them. The problem is that in doing so more damage was caused to the parts and to our home. Yet again I complained about the state of the job and was told that a more senior installer would come and inspect the job and they would take it from there. This did indeed happen and said senior installer who was very polite concurred that the job was unacceptable. He suggested a couple of changes to the designs that they would do free of charge and set a date for a further crew to come out and attempt at the third visit to get the closets to a point where we would be happy with them.
The Third visit came and went and the closets were now more damaged again than before due to sloppy workmanship and yet again there was more damage to our house. At this point after 3 visits and I can't remember how many weeks, my wife and I got thoroughly irritated with the Closet Factory. It was then That John Labarbera the CEO called me personally to apologize for the state of affairs. He stated that he was so embarrassed by the poor work of his company that he was now personally going to make sure that the situation was rectified and that we were further compensated for our trouble. He asked that they be allowed one more visit to the house to rectify the closets. This would be done personally by the polite senior installer. Finally he stated he wanted to compensate us for the bad experience and that the outstanding balance at that point was completely at our discretion should we wish to pay it at all.
We begrudgingly agreed to a fourth and final visit. The senior installer came and worked on our closets, hiding defaults with caulk, filling nail holes straightening panels etc etc. During his visit he too stated twice in front of my wife and I that the balance due for the work was completely at our discretion. After he had finished the situation had improved some but the job as a whole was still one of the shoddiest I have ever been witness to. Having grown up with interior designers in the family I have seen many, many fitted closets and these after 4 visits remain the worst I have seen.
Upon leaving he inquired as to what we wished to do about the balance due for the job. We stated that given it was a Saturday, my wife and I would discuss the situation over the weekend and get back to them with what we wished to do. It was after the weekend that the aggressive phone calls from their accounts lady by the name of Raena ** began demanding payment in full with a further threat of legal action should we not pay immediately.
Having never spoken to this prickly lady before I pointed out my conversations with La Barbera and the installer but was told that I was mistaken, neither had ever said anything of the sort, the balance was due in full. Pay up or else... As this was simply not the case and, having just emigrated to the US, I was not aware of my rights so I sought legal advice. It was my attorney's opinion that given the images (a small portion of which I Have posted) and what I described above we had a pretty strong argument and that perhaps we ought to take this in front of a court for resolution.
We have since settled and we were promised that under their "lifetime guarantee" all the issues would be rectified in all our closets... I wait to see what they will do but am not holding my breath as they simply do not possess adequate carpentry skills to do a good job. Nevertheless they must try until I am happy - tbc...

We wasted over $12,000 on two small closets and a laundry cabinet for our South Miami home. Everything was a disaster...incorrect measurements, wrong materials, design error, horrible customer service, damaged wall/door on newly constructed home, inexperienced installer, etc. Asked the Manager, Alex, to have Sal, the owner of the company to call me several times over the past couple of months and to date no return phone call. Please feel free to email me for more details and photos of this disaster of a project at **. If you want quality work completed within a reasonable time period then STAY AWAY from Miami Closet Factory.

After reading my review, the owner of The Closet Factory in Naples, Fl contacted me to see if he could fix the problem. He came to my home and agreed that the space was not useable. He apologized and promised to fix everything to my satisfaction. He tried several solutions and today, the problem has been resolved. The space is now a functional office. Mr. ** is extremely responsive to his customers and I would now give The Closet Factory a much higher rating.
Debbe from Naples
Original Review
I attempted to turn a closet into office working space in my home. After calling the Closet Factory, they sent a representative shortly with materials to show their products. I signed up and measurements were taken that day. I explained that the closet doors would remain on so I could close off the space. The woman said she understood and sketched out a design which appeared adequate and I chose the colors. She gave me an approximate date (which I postponed several days later) and said I would receive a call with an exact date and time; and I gave her $750.00 down (1/2 of the total cost). Several weeks went by and I received a call giving me a new installation date for several days later.
On that date, I waited all day for the installer who never arrived. So I called and they told me they "thought" someone from the office called me to postpone. They said they would come the following morning. When no one arrived by late afternoon, I called and was informed something had happened to the desktop and they were fixing it and would come later in the week. They showed up and installed later in the week and were ready to leave when I pointed out there was no grommet for the wires, no desk drawer and the measurements were wrong as the drawers to the file cabinets could not open unless we removed the closet doors!
They called the office and wanted 75% of the balance, and assured me they would bring everything the following day. They returned with a desk drawer that was the wrong size and a single grommet (although now they needed a double since the desk was already restored). To make a long story shorter; they had to order another drawer and eventually installed the grommets and drawer. Now I have an office in the closet that is totally unusable unless I take off the closet doors! Oh, I paid the last 25% after the final installation. I should of had them remove the entire product and return my money! Never use Closet Factory!!!!!!

I am still in the process and everything they promised when I signed the contract and I paid were lies. They are late, they didn't deliver all the material, they did a mistake in the measurements. They use one person for driving, unload and installed. A job promised to be done in a week, they do it in more than 2. They have a good sales team to sell lies. I am going through a nightmare with Closet Factory. I think I will end up in a legal battle with them.

Our issues seem to be the same as everybody else here. The Closet Factory gave us a bid for more than $35,000.00 to rebuild two closets which we accepted. They did 85-90% of the job and said that they would be back the following week to finish the job. Not only have they never returned but never even replied to the dozens of phone calls that my wife has left with them. Someone should close their doors once and forever.

Made an appointment for closet measurement and consultation. Had to cancel appointment which I did 2 weeks in advance. That morning, got a call to say he was on his way. Should have been a warning. Rescheduled the appointment for another date. The 10 o'clock time came and went. When I called, I was told there was a mix-up. Oops! Asked to speak to the manager. Of course, he wasn't available. Was told he'd call me back soon. That never happened. Don't know why, but gave them another chance after profuse apologies and rescheduled for 3 PM that same day. You guessed it... they never showed up. When I called the office I was told that the person was just not available. No call, no warning, no cancellation! Please, avoid this company at all cost. At least here in Fort Lauderdale.

After working with the management of closet factory, this issue is resolved. The project considerably longer than we/they anticipated and mistakes were made. But after Mike **(manager) got involved the communication was much better, items done incorrectly were fixed and the end product is very nice.
Original Review
We are still awaiting doors after 9 weeks. Apparently they cannot keep anyone employed. The "shell" they put up is $300 worth of white particle board and 4 inexpensive closet poles. They demanded almost 1/2 up front for the "doors" ($1800.00). Then they called us and gave us an excuse that they needed to put the shell up before the doors. That took 4 weeks (seriously - for 6 large pieces of wood and some dividers). Any reasonable carpenter could have cut this and mounted in a single day. Some pieces are read were loose after 1 day. After the carcass was installed, the installer said they had to charge almost the entire full balance (less $200) so they could once again - get the doors (now $4000.00 in). What, this place has no operating money?? Now 5 weeks later, doors were supposed to be installed today. Got an email: "Sorry one of our installers quit on Monday and another got sick." 4 Grand out, 9 weeks on a project we were told was at max "2-3 weeks". This company apparently any scheduling or project management skills. I would not recommend that you use them. Find a good local carpenter, tell him what you want and let him build it for you. It will be cheaper, higher quality and probably built in a much shorter time frame.

I won't bore you with the details. It's very similar to others on here. The bottom line is, we did a $7000 closet and had two major objectives - neither was met. The measurements were taken wrong - resulting in one objective not being met. I was told (after everything was built out) that the reason was that the 4 walls were "off" (had different heights) and that they had "never seen that before". Imagine that, a condo that is not plumb? The mistake was even caught before on one wall before completion, but not communicated to the build out team. "I didn't think it would apply to the other walls".
Afterwards, they never got all the "fine tuning" to the project done. I was lied to by the office many times - appointments missed, shipments never received by me etc., etc. I had told them that they were not authorized to make the final charge to my card as the job was not complete. They did anyway. I have declined the charge. We'll see what happens. Suffice to say, stay away from Closet Factory in Dallas/Carrolton!

Miami, FL location - On the day of installation, the installer noticed that the designer was 1/2 an inch off in her measurements of a section of my closet. He finished everything else, cleaned up well, and said he would have to get this particular section cut and return to finish another day. He told us that the designer would call us and schedule the date to return and complete the job. She didn't. Three days later, my husband called her and she said that they didn't have a Saturday installation appointment date for another 3 weeks! He communicated to her that it was unacceptable and that we would not live in this mess for another 3 weeks because of their error. The installation was then scheduled for the next Saturday.
On the day the installer returned, he showed up 2 hours late (again) after my husband requested that he come early (at least by 9am) so as to not kill our entire day. The designer assured us that it would not be a problem and that to finish the job, it would not take that long. When I confronted the installer about getting there at 11am, he said that he was doing the best he could because he got home from his other job at 4 am the previous night and that he normally does not install for the company on Saturdays, and was doing us a favor. Pardon me?! This was no favor! I paid the company full price for my closet!
After the installation was complete, we realized that I needed more shelves as some of my clothes and shoes did not fit in the original design. When I contacted the designer, she assured me that it was no problem and that she would deliver them by the end of the week and collect the money for the extra shelves upon delivery. About 2 1/2 weeks later, I still did not have the shelves. I called her and left her a message and she never returned my call. I then decided to call the company directly to ask if the shelves were ready so that I could pick them up myself. The woman told me that she was going to call the designer to ask her because she did not know anything, and that she would get back to me the following day.
Three days later, no call back from her either so I called again! Another woman answered and she did not know anything of my situation, so I explained it to her. She said that after checking my file, it says that the designer was supposed to re-measure because of the problem with the shelves that needed to be cut, but again, the designer never followed up or even returned my call. I told her I would measure and get back to her. So I did. The following day, I called with the measurements and she said that she would give it to the workers that do the cutting so they would have it first thing Monday morning. I told her that Monday is the only weekday I have off and could pick them up because they close before the time I am due out of work.
Monday comes and goes and still no call from Closet Factory to say the shelves are ready. On Wednesday morning, I called and the same lady said that the shelves are not ready and they would only cut them if they knew that I was for sure coming to pick them up. What?! How much more notice do they need? I have only been hounding them down to get these shelves to finally finish organizing my stuff for a month now. I finally got my shelves that day because I told her I would get out of work early and head straight over there. Oh, she also mentioned that it's probably best I come get them to avoid the delivery charge. Wow! Really? Crazy! They also designed my baby's closet and gave me a quote and needless to say, I will not be hiring them again! They really need to get their ** together!

This company is the worst, they change prices upon mood swings, they are not serious and their staff is not prepared to work with clients' ideas. The installation process takes forever since they only have 2 installers for the entire company. Based on my experience, I would never recommend Closet Factory to anyone. Save yourself the stress and find another company. They gave me 3 different prices to move a closet from the kitchen to the dining room, without respecting any written proposal.

ConsumerAffairs Research Team
The ConsumerAffairs Research Team believes everyone deserves to make smart decisions. We aim to provide readers with the most up-to-date information available about today's consumer products and services.
Closet Factory has been customizing closet systems for homeowners for over two decades. They can also help you develop an organizational system for your home office, garage, pantry and more.
Organizational guides: Perfect for those who don't know where to start, Closet Factory has over a dozen free downloadable organizational guides that cover topics related to home organization.
Free consultation: Schedule a free consultation with a designer to start the process of turning your closet into an organized space. Simply fill out a form online.
National company: There are 45 Closet Factory locations nationwide, so there is a good chance you can find one near you. Check their website to find out where they are located.
Design board: Pin design ideas you love from the Closet Factory website to your personal Closet Factory design board. You can share your board on your social media sites or print it out.
Blog: Find more inspirational ideas, tips and articles on Closet Factory's blog. Topics include fashion, crafts, closets and organization.
Best for Closet Factory is best for small home dwellers and luxury homeowners.
Compare Closet Organizers
Closet Factory Company Profile
Company Name:

Closet Factory

Website:

http://www.closetfactory.com/