Consumer Complaints and Reviews

I bought PlayStation 4 at it's inception. I bought an Xbox as well, but returned to a PlayStation 4. I have been playing Rainbow Six Siege online. I pay for 200 mbps internet. The entire online game is fake. Intelligent AI in my view just means they cheat you. Online play is ridiculous. I have the 200 mbps internet. I start shooting first, stay on target and still end up killed. I believe the game is hacked. Hacking is a crime. The online play in all games need to be seriously scrutinized for these hacks, no matter what the reason for them is. They are wrong and illegal. Enclosed are pictures of my paid or internet speed and a picture of the ps4's home screen.

Bought a game from PSN store. It kept freezing. I searched online and found hundreds of forums on the same game customers having same problem. Sony told me I agreed to their TOS and no refund. I replied kindly with "I agree but not for a faulty broken game I'll contact credit card company." Their reply? "Ok we will ban you. Have a nice day..." Beyond pissed. Awful advice!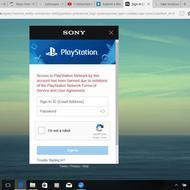 MY ACCOUNT BANNED DUE TO PRE-ORDER REFUND - With E3 around the corner, I placed 6 pre-orders on the PlayStation Network. 4 of these were SONY exclusives. The other 2 games, however, were multi-platform. When Microsoft unveiled the XBOX ONE X, I decided I definitely wanted to play these one XBOX ONE X, instead of PS4 Pro. I have been a loyal SONY customer since 2009, spending thousands per year on their products. I have earned 193 Platinums with over 11,000 trophies. My account is worth well over $25,000 with digital PS3 games/PS4 games/and movies/shows. I called SONY to request 2 refunds for games that don't even come out till spring 2018. They were extremely rude too. I was actually told by one representative to "** off, all sales are final. We no longer offer refunds on pre-orders." I called PayPal and discussed that with them.
PayPal called SONY and informed them that their business practices were unacceptable. And because I had not yet received my product, SONY legally could not keep my money and force me to keep their product. PayPal refunded me $119.98 for both games. The next day I went to sign on to play some Bloodborne PvP and found that my account had been banned due to violation of terms of service. I called them up, but it made no difference to them at all. Once again, they were rude and downright nasty. Never invest anything into SONY or its products. And, their customer service is absolutely horrible. I even asked to speak to a supervisor, several times may I add, but was told that supervisors don't take calls. The end.

Within a day of creating my account, my information was stolen and my PayPal account had money taken from it. Sony does not have a customer support number listed on their website, and their online chat is permanently broken. It took Sony several days to fix this issue, and they threatened to ban my account if I did anything to protect my own money from their screw up. Weeks later, Sony banned my account anyway, due to "suspicious activity". That "suspicious activity" was putting on two-step authentication. Yes, Sony believes that trying to protect your own money qualifies as suspicious activity.
Later on, when my PS4 stopped functioning, I attempted to request a service repair. Don't bother trying to fill one out online, because (surprise!) their website doesn't work. When I finally got ahold of customer service to get a repair, they didn't actually repair my PS4. They sent me a different one with none of my files stored on the hard drive. Great job, Sony. This may be the most anti-consumer tech company out there, and that's saying a lot. This is a company that is actively opposed to the customer wanting to protect their private information and money. Sony has provided more service to information-stealing hackers than their own paying customers. It's appalling that fanboys can actually defend this atrocious level of customer service just because they once made a pretty game about shooting zombies.

I thought I would put that question everyone is asking to rest. When will PSN fix the sign in problems? Answer is never. There is a website called download detector.com that monitors every company you can think of and every issue it has ever had is logged on that site. Upon follow the link and messing around with the choices it has an error log section. You can scroll down to PlayStation Network and click on (past issue check) when you get to that next page it will have a list of the same thing for every day and the same reported problem (sign in) since the day the system came out.
The log doesn't stop, it is every single day for years with the same problem! So no. Sony is never gonna fix it. Some may get a little better login for a week or so but the problem will never get fully fixed. Be very careful with account hackers since Sony won't take responsibility for anyone's account being abused even though their personal systems are always down and that leaves open doors for hackers to get what they want! So yes, the answer is no, if it hasn't happened in years not even for a single day, then it's not going to happen.
How do I know I can trust these reviews about Sony TVs?
849,102 reviews on ConsumerAffairs are verified.
We require contact information to ensure our reviewers are real.
We use intelligent software that helps us maintain the integrity of reviews.
Our moderators read all reviews to verify quality and helpfulness.
For more information about reviews on ConsumerAffairs.com please visit our FAQ.

I purchased Final Fantasy 14 A Realm Reborn and then later the update HeavensWard it is an online MMO. Square Enix decides to make the PS3 version obsolete not the game just a PS3 version. So my son helped me purchase a PS4 so I could continue to play my online game that I put many hours in and it is a monthly pay account to play. I called Sony PlayStation customer support and explain to them that I purchased the best versions of the game and updates and they weren't cheap. And that I would like them to either reimburse me so I could re-purchase the same games on the new PS4 so I can continue to play my game and they refuse.
I spent over $100 on those versions for the PS3 and I don't have an extra $100 to spend for the PS4 versions and if I did, why would I do that so six months down the road they make that obsolete too?? I'm not asking for much, I just would like to be able to still play my game. On this new PS4 console I was forced to get it in order to play my game. Now I'm sitting here with the new PS4 and nothing to do with it. I am sure I can't be the only PS3 person going through this unless I'm the last PS3 person playing this version of the game. Thank you.

Just all around terrible experience. I purchased something on the online store with a misleading description. I thought it was a full version of a game. Turns out you needed a full copy of the game to play it first. The refund process takes up to 2 months. In the meantime the representatives are rude and condescending. They spent the whole time trying to tell you how it's your fault. God awful company. I have no idea why I ever gave them money in the first place.

The customer service you provide is terrible. My copy of Resident Evil 7 was taken from under my ownership. They said I requested a refund but I never did. And when requested for the information on when it was done and by whom I was offered, nothing. The agent even kept trying to change the subject.

Sony's policy of holding all your previous online purchases hostage and blocking/banning you from the PLAYSTATION network when You dispute any charges whatsoever. My kids have been long time members of the PSN and we have never had any problems. I always knew what the kids were up to since SONY always sent me a e-mail for every little transaction they did even all the free add ons/updates, etc. Some days I would get 20 email's from them. About a month ago SONY started charging things to my PAYPAL credit account and then they switched over to just withdrawing funds from my bank balance. By the time I caught it there were 23 transactions that were not authorized and I also have yet to even get my regular e-mail from them confirming the transaction.
During this time there were some real transactions mixed in there but I received my e-mails for every one of those. Thankfully everything went through PAYPAL so I quickly got all the money back but SONY'S long running policy of BANNING everybody who disputes any charge for any reason period. At the same time they lock you out of the network and keep everything you ever purchased from them locked. That can add up to a bunch of money. As far as I can tell there are absolutely no exception's unless you pay all disputed charges. Why is this legal. How can they just basically steal your games.
I fully understand that SONY HAS ABSOLUTELY NO ETHICS department much less HAVING ANY ETHICAL BUSINESS PRACTICES. How can they be allowed to blame our kids for SONY'S security problem and or them tricking our kids into unwanted/downloads, downloads that look free say they are free and are free until the money just disappears from your bank. What is real strange to me is what happen to the 23 confirmation email from sony. If anybody knows of a class action suit against SONY please let me know.

I had my PlayStation for 4 years, never once did I sign up for Autopay on PlayStation Live. Well the day I traded in my PlayStation for a Xbox, they charged my account. I called. They said they'd credit my account in 3-5 days. Well the 5 days pass so I call, they stated that they credited my wallet when I told them I no longer had the PlayStation. So they then said it will show up in 3-5 days on my card. Well here we are again, they now said 1-2 billing cycles. I then asked to speak with a manager because I was lied to not once but 3 times. Then I get a "manager" and once I ask for a ticket number he hung up. Now I'm waiting on chat. It's **. Their customer service SUCKS.

I bought my son a PlayStation 4 Pro for Christmas 2016. The PS4 start off freezing up. After calling customer service several times, they were instructing my son to perform different task to making it work with no response. March of 2017 four months of buying the PS4 it played out (would not come on). April 3rd, 2017 Sony sent me a box to mail the PS4 back. On April 18th the PlayStation arrived the same day. Sony sent it back to me with no note, no email explaining to me why they didn't fix or replace, PS4 back still broke.
I call customer service 5 days straight asking why they sent my PS4 back with no explanation. I was informed that nothing was on their computer. No note in the box. No email explaining anything. After repeatedly calling and talking to a manager on the 5th day, I was told it was bug infected and can not be fixed. I ask Josh the manager when was bug infected put in his note. He said "yesterday", on the 4th day of me calling. Sony is ripping people off, lying, unprofessional, dishonest, do not stand behind it products and I hope one day there will be a class action lawsuit against Sony.

I've never been the kind of person that buys games on the digital format, somehow I have always preferred to have the physical disc, however yesterday after trying the Uncharted and Uncharted 2 games I decided that I liked them enough to get a copy of them as well as a copy of Uncharted 3. So, I connected to Playstation Store from my PS3, looked for the games and found what seemed to be the three of them, there was a pack containing the first two games and something called "UNCHARTED 3: Drake's Deception Game of The Year Digital Edition" that seemed to be the third game, description said: "The Game of The Year Digital Edition includes all of the original UNCHARTED 3: Drake's Deception components as well as Flashback Map Pack #1, Flashback Map Pack #2, Drakes Deception Map Pack, Fort Co-Op Adventure, Co-Op Shade Survival Mode, and over 40 additional Multiplayer Skins."
Now, I purchased both packs just to discover after doing so and starting the download process that the Uncharted 3 bundle did not contained any game, it was nothing but a bunch of add-ons that are pretty much useless without the game itself. As expected Sony does not grant any refund over any piece of software they sell if you already started downloading it so my chances to request a refund through the regular channels went through the drain right there. However I decided to contact their support chat and complain about the fact that both the name of the product and its description are deceiving enough to make people think they are something they are not, this of course expecting some kind of solution. The answer I got is that I should have checked the file size since that would have told me the game was not there. Long story short, the person talking to me decided at some point he had nothing else to say, informed me about it and closed the chat.
Should regular customers know the size of a game, should they understand based on that size that what they are buying is different to what the name and the description for that something say? Apparently deceptive is the key for Sony to sell stuff that probably nobody would normally buy and after you as customer pay then you are nothing to them anymore, their customer service is a joke and they should be forced to give people what they offer.

So I read a lot on this error code that bans your IP address for random reasons. Whatever the reason, mine got banned, so I had been in contact with both my internet provider and Sony. At first, they were simple chats stating that my IP had blocked their content due to some "illegal" activity and that I simply had to change my IP address. So I called my provider and they proceeded to tell me changing IP addresses is not possible because of the account I had and that they had no reason to as they did not block anything on their end. Confused, I went and recontacted Sony through their online chat to get to the bottom of this as I had paid for a year of services and bought several games online. They still told me the same thing.
The next day, it was working for some unknown reason, and then it was down again within a few hours saying my access was denied and that the account had been blocked. I contacted Sony again with all of the error code information and my internet provider having them on the phone at the same time. My service was very nice telling me what they could do to resolve the issue but at the end of the day, there were some things out of their control.
Sony, however, had the RUDEST customer service I have EVER encountered (I am using capitalization to describe how terrible it was). First they tried "dumbing it down" for me (the reps exact words) as to how IP addresses worked and that my service provider didn't know what they were talking about. They proceeded to tell me that my provider could change the IP address and that they did not block my address, my service had. After receiving an email from my provider, I then called the customer service line because the online chats were no help whatsoever. The man I spoke to was the rudest little butthead ever. He basically called me stupid on the phone, told me to take my PS4 to a friend's house to resolve the issue, or just keep using my mobile hotspot.
When I asked if he was kidding he said, "Nope, that's the only advice I have for you." After that I demanded a refund for the year's worth of service I was not going to be able to use and they refused stating I had already used 2 weeks out of 12 MONTHS and that it was not able to be refunded. Finally, I asked to speak to a manager or supervisor who told me SONY had BLOCKED my account and would not unblock it (after telling me it was not them and it was my service) and that I needed to "figure it out on my own" and that they would not be refunding me any money. So I then asked what the reason was, and they refused to tell me, refused to refund me any money or solve my problem.
They talked down to me as if I was some kind of idiot explaining how service works and telling my provider how to do their job and refusing to read the email my providers supervisor had sent me explaining the situation on their end. This was all over them detecting a breach in contract which my provider investigated and said no fraud or breach of contract of any kind had happened. I was beyond irritated and pissed and completely dumbfounded by Sony's lack of customer service. I will never be purchasing any online services from them and keep my PS4 as an extra as I already put money into it. I have always been faithful to the PlayStation, but after today, never again.

I am very pissed, I bought a 50 dollar PSN card and put it on my account, I then bought GTA V which was on sale for 30, after I had a balance of 20 dollars so I played gta v for a little bit then realized I had 20 dollars to spend on for money in the game. Well when I went to the store it said I had 1 dollar, I have not spent any money on anything and so my 20 dollars just disappeared and checked my transactions and it didn't say anything. I really hope this doesn't go unnoticed and I would really appreciate to get my money back.

So PlayStation says that someone in my home or someone using my serial number purchased a free trial for their vue service and when I seen the fraudulent charges I contacted my bank right away, I had tried reaching PlayStation many times but they never answered after hour long wait times and the online chat didn't work either. So after I report the fraud I contacted PlayStation when my account was banned, they deleted everything I've ever bought and held it for ransom by saying I had to pay the fraud charges as per their terms and service agreement or they would never give my account back.
I am selling my console today and buying an Xbox or a Nintendo. I refuse to give them more money after this unethical treatment from PlayStation who I have given thousands of dollars. I will not give in to their ways they will learn with me that they will lose more money by treating me so bad. The money I have given them already is a large amount more than they are complaining about. Another irritating thing about PlayStation is that the customer support are all from out of country and can't pronounce their words correctly at all.

I have a son that is 13 and has been ban permanently and he doesn't know why. When I called to asked them questions I got several different stories from each person. Even when I stated I wanted details since he is a minor they told me it doesn't matter and I don't have right to that information. They told me I should have an email with details and nope no email. So why is it ok Playstation can just ban someone without proof or details? I want to know why and he is a minor so parents do have a right.
Stephanie that last person I spoke with tried to tell me she is the owner of the company and that's just how she runs it. It's against the law to withhold information from a parent. The hundreds of dollars I spent on this and he can't pay which remind you he barely plays anyway because he is on his XBox mostly and has never been ban from there. I want answer and I also want address to write written complaints to as they told me there isn't a place to do that. They keep everything very hidden there which tells me they aren't that good of a company and is scared of something.

I really enjoy playing on my Sony Playstation 4. For many years now, I have been using Sony video game products from the PSP, to the Playstation consoles. I currently own four of the Playstation products, and most recently the Playstation 4. There are many features that I love about the Playstation 4 gaming console. One thing that I really love about it is the modern design it has to the console and controllers. The controllers have a sleek design and size that make for a very comfortable and enjoyable gaming experience.
Another thing that I really enjoy about this product and that I feel sets Playstation apart from its competitors, are the graphics. The HD graphics make the video games look spectacular and also very realistic, a huge difference from the last console model. The graphics on the Playstation 4 really enhance the gaming experience and make playing games like Grand Theft Auto V, Battlefront, Battlefield, Fallout 4, and many more so much fun.
One aspect that could be improved in this product is the Playstation Online gaming feature. Before with the older consoles, gamers were not obligated to purchase a Playstation Plus account in order to be able to play video games online whereas now it is obligated. For players to be able to enjoy the experience of playing online with other players and online friends, they must have a Playstation Plus account. This costs $20 a month for a very basic service, that seems unnecessary and unfair. In my opinion, Sony should not be charging its customers for a service that should be free for all its users. Overall I really enjoy this product and I would definitely choose Playstation products over other brand products because of its quality performance. The final grade that I would give this product is an A. It is a good value for consumers because the product has outstanding quality for a basic gaming console.

My son called me in tears, 16 yrs old - Autism, saying he just learned his account was banned and he has no reason why. He has had account for 4+ yrs and had just loaded over $200 in gift cards. When I called Sony they could only say terms agreement violation and gave me no direct reason. They stated I would receive an email in 3 days and it's been 5 days. When I called back representative Mario was very rude and addresses me as "lady." As I was not rude to him, I'm a psychologist, I know how to control my temper in a hostile situation. I was very upset and asked for a supervisor and he told me he could not transfer me to anyone, he was it. This was not acceptable when I have spent over $1000 in the last 5 months. I was not angry but need to know what my son did so I can correct him so it won't happen again.
I feel Sony can just say someone violated their 21 pg agreement which they entered into with a MINOR and take people's money without further explanation and then to have a rude customer service representative is the most disturbing. Upon calling Sony again, found out he gave me an ID # that wasn't correct. The case # at Sony is ** if they wish to pull the call and take action against this employee as he sounded so comfortable being rude. I'm sure this wasn't his first time!

I got my kid a 90 day Sony card for xmas. I put this 90 day membership in and we could play on live. It kept saying we don't have a membership and it was the weekend and Sony was closed. This was his xmas present so I went to where you buy memberships and clicked on the ten dollar 30 day membership and it said I already have a 90 day membership. So I logged out and it let me play then but come to find out it charged me the ten dollars even after it said it didn't. So a month later I finally get them on the phone and explain to them and they flat out hung up on me. I just now called again and she said "yea you have a 90 day membership and you purchased another 30 day membership the next day which expired after 30 days and it's non refundable" and I got mad and she also hung up.
So I put a 90 day card on then the very next day was charged for a 30 which she said I had 2 scripts at once and it's non refundable. How is that possible. I mean at worst they should add 30 days to my 90 but she said no and I never purchased the ten dollar card. It told me I already had one. How can they charge you without your permission for something you already paid for. As much money as I got into all this Sony is trash. A flat out rip off. They basically stole the ten dollars and I'm gonna find a way to do something about this.

What can I say... Pretty much every complaint is exactly what my son's account has gone through. He was told to buy a card for membership after being banned due to a double charge in December in which my bank stopped payment for a double transaction so, he was banned. He then was told to buy a card and to pay to have his account reinstated. Unfortunately, the money from the card bought was gone by 7 am the next morning stolen by another console??? How could they allow this and was told no refund would be given. Legally something should be done. It's about time a lawsuit against this company should be made a class action suit. This would have at least some of this money lost reimbursed to all of these poor customers throwing thousand of dollars to this unethical company. If anyone knows of any legal lawsuits toward this company please inform us customers. We really need to do something about all of these scams...

I subscribed to Sony Now network for a 1 week trial to see what games it had to offer. My son signed up for 1 year online gaming at the same time. I cancelled my "free" trial on day 6. Two weeks later, I get charged $90 for year subscription (I am fine with this), plus $19.99 for 2 months of the free trial that I had cancelled. Additionally, I got charged again the next month. So, I am charged $59.97 for something that I barely used and cancelled. Even worse, I could never get through the 60 minute plus wait times for support, so I chatted them and they assured my service would be cancelled, but not refunded. That didn't happen either. Finally, I put a stop payment on my credit card since Sony wouldn't stop charging me. Their response was to cancel my son's year subscription without any explanation.
Reading other posts, I am seeing a pattern of disregard for customers and some questionable if not illegal actions.

Bought our son a Playstation 4 for Christmas. Created Playstation Network account and put credit card info on file with service. Bought child a month of Playstation Now service for ten dollars to try. Immediately went into account settings and turned off auto renewal for the service. Tried Playstation Now for month and it was terrible as though infrastructure cannot support the network traffic. Game console had to be rebooted for each attempt to connect with service and often games would not load. Was not worth the fee by any stretch of the imagination. Used it for the month and that was that... or so we thought. Very next month Sony Network charges our credit card for a $20 payment despite having turned off autopay default in their service (and double-checked it several times throughout month).
Entrust Sony with credit card and on very first month they dishonestly and unlawfully try to charge the credit card. Contact bank, dispute charge and unauthorized and reverse charge. Sony Network bans account and will not reverse the ban. Contacted them by phone, escalated complaint to management and they all say the same thing: "We see no proof that autopay was turned off. The account will be banned until the $20 debt is paid". This is like blackmail since the 2 month old, $400 game console is not nearly as good nor does it have nearly the entertainment utility without access to the Sony Playstation Network. Shaken down by the Sony Playstation Network! It's quite a racket that Sony has going. Only hope that some government agency gives them what they deserve for being con artists and cheats.

Just bought a 3-month membership less than 1 week ago (Good thing I didn't buy a year!)... My account got banned for its username. Sony refuses to refund me my money. So I asked if they can just change my username to meet the rules... Nope they can't do that either... Asked if they can transfer my membership to a new account... Once again nope. They suggested I make a new account and pay for another membership and disregard the one I just bought. What a horrible company that pinches every single penny from their loyal customers. Might finally be enough to push to the other side, hello Microsoft.

My account for PlayStation network was hacked. I was able to change my password and turn on 2 step verification but whoever did it deactivated my console and activated theirs. Which blocks me from content that I purchased from them. They will not help me deactivate the other console. I have to wait 6 months so till then they have access to my content. This is not fair and they should help me out. They just don't care. So if you're wondering what game console to buy I would not recommend Sony. Their security is not very good and customer service is even worse. Do not put your credit card or Paypal info on there because they will not refund you for unauthorized charges and if you stop payment they will lock you out of your account. No access to anything you have paid them for. Make sure anything you buy is from a store if you are going to use a PlayStation.

Got my account suspended for absolutely no reason! I have been a loyal member to this company for 3 years now and never had a problem up until now. I got on to play Destiny one day and found out that I couldn't login to the PlayStation Network because my account had been suspended. I call customer service and they told me I have been sending hate speech/ images to people and that was why I was suspended. But, I have never done that in my whole life. If I was mad at a player, I would simply block them. I don't have them to write hate mail to anyone and I'm simply not childish. I'm 22 years old.
Anyways, the guy on the customers service guy told me that the PlayStation Network always 100% makes appropriate decisions when suspending or banning people's account. In my mind, I was all like, "Yeah, I heard that one before buddy". I told him I was a innocent victim and that they made a mistake and he told me that he couldn't do anything for me and that I was LYING TO HIM!!! What kind of customer service is that. He accused me for lying??? The customer service employees seem like they do not care about their member even though they support their business with their money. That's how the employees over there have jobs. If it wasn't for us players out there, the PlayStation Network and most like SONY would be out of business. If it wasn't for my money, they wouldn't have jobs.
I also think it is absolutely outrageous that the PlayStation Network can just ban or suspend anyone's account for no reason even though the player already paid of an entire year to play online and purchase pre-order games in the PlayStation Store. That means if me or any other player out there got banned, they cannot download their paid off game in the PlayStation Store. In a way, they are stealing our money. It's almost like a scam. It seems they care about the customer's money more than the customer.
I believe with extreme prejudice that the PlayStation Network has no right to ban or suspend any player's account without a proper warning first. They should warn the player if he or she has done something wrong in the past that has caught the PlayStation Network's industries attention and let them know if something like this happens again, their account will be suspended or banned. So that will give the player time to call the PlayStation Network service line and let them know there had to be a misunderstanding or something before they just suspend a loyal member's account without any reason behind it.
When innocent loyal members such as myself gets suspended or banned for no reason makes me very, very happy when time that the PlayStation Network was hacked by a bunch of hackers. So, I hope a bunch of hackers see my review and hopefully, another group of hackers actually hack SONY PlayStation Network. I encourage you hackers out there to hack the SONY PlayStation Network because all they do is steal and scam all of their member's hard working money. The PlayStation Network and SONY deserve to lose millions of dollars for unethical decisions like this. They deserve to lose so much money for banning or suspending players for any reason whenever they feel like it.
So, I hope that in the near future that Sony PlayStation network will once again get hacked by a group of hackers and lose millions of dollars and possible go out of business. That would make me very happy and satisfied to see a thousands of PlayStation Network employees to lose all of their jobs for having to the power to suspend any players account. Hope you guys get hacked soon and lose a lot of business because you guys clearly only care about the customer's money instead of our satisfaction.

After reviewing all the negative reviews for Sony Playstation on this site and the web; I'm just surprised that Sony hasn't faced a class action lawsuit in order to remedy their unethical, unprofessional, and maybe illegal practices. Unfortunately, in American society more often than not; the only way that abusive business practices get resolved is thru the Courts.
I concur with many of the reviews on this site. Sony Playstation should have a disclaimer of "buying beware" regarding the customer service people would get if they decide to purchase their products... or I should say the nonexistent customer service. I own both a PSP and PS Vita and have a playstation network account. Recently, I have not been able to make purchases because of a glitch in their system that says that the "purchase cannot be completed" and to check under transaction history... only to see a bunch of missed charges but unable to complete transaction or being able to do anything about it.
I searched the forums and other link of "customer support" under the playstation network site only to find that there is no a single thing that could relate to it. I tried live chat only to find that it's not working and it directs you to call customer service, but I have previously tried that only to get idiots on the phone who pretend that they don't understand people with accents. Then, I found their email address in which I send them the pictures with the error messages but they won't reply back... so you have bought expensive equipment only to find out that they don't give a crap about the very same people that have filled their coffers with lots of cash.

About a PlayStation 4. It was still under warranty, and I only had it for 3 months. I sent it back to Sony. They mail it back to me and said it was bug infected but they didn't show me any evidence that it was they do not stick by their products. They don't stand behind their games. They want you to pay all of that money and still want stick by their products and I think they should have fix mine or giving me another one. I can't tell anyone how to shop but before you go spend a lot of money on the PlayStation 4 you better make sure that they honor their agreement.

I am an online player like a lot of people. I am competitive sometimes so I can get mad when I'm not playing at my best. But today I was in a good mood playing an online game and I sent a joke message to one of my opponents. Then Sony Playstation decided that I need a whole month ban. I have been suspended a week before which was understandable but this, this is unacceptable. This punishment came out of nowhere for no reason! I am very much mad at them for treating their customers like this. This is the worst customer service I have ever come across! And just yesterday I renewed my one month subscription to play online!

My account got suspended with no reason or whatsoever and I called the customer services. They told me to wait. So I wait for a week and at last I got it opened. Only thing they told me was "network error". However, I had opened another account in order to not to miss the discount. I bought several games. That one got suspended too and I call the customer service. Again they tell me to wait. It has been more than 10 days and my account is still suspended with no reason whatsoever. I have been with Sony since PS1 and this is beyond acceptable.

Current users of Sony PlayStation or prospective buyers, please be aware that Sony will ban you from your account, and therefore all games which your children use on-line, if you exercise your credit card's capability to file a purchase dispute over an in-game purchase. According to Sony, your agreement with them clearly states that you will NEVER file a credit card dispute or they will ban you from using your account and therefore all on-line gaming capabilities. As parents may or may not know, without on-line capabilities, your system is pretty much useless and all of the money that you spent on their products can not be used during the ban. The ban could be either temporary or permanent.
Sony also reserves the right not to inform you before you are banned and suspended; based on my experience, they WILL NOT give you a courtesy notice of what is coming or the opportunity to resolve the issue ahead of the ban. Sony does have your e-mail address because it is tied to your account yet has determined to not use this tool to communicate with customers about a ban that is coming or to request additional information as a ban is being considered.
Here is my situation, my son wanted some weapon in a game. I approved him spending $5 on the item even though I do not understand spending $5 on a virtual item. He was unable to obtain it because he didn't have enough room in his account to accept the item (like an e-mail account from what I understand). Apparently if you buy too much stuff, you won't have room in your account to buy more (sounds like a great problem for Sony). He made room in his account. The weapon was not there. He was understandably upset as was I. I allowed him to purchase it again with another $5 from my credit card. I went on-line to see how to get my money back for the first purchase which did not work; we did not get the product that we purchased. I spend a fair amount of time clicking here and there in the Sony site only to come to one dead end after another.
A simple Google search revealed that this is extremely common and people do not get their money back. I was very frustrated that there wasn't a clear method to get a refund. I decided that I would file a dispute with my credit card for the $5, which I did. The money was back in my account within days. Sony did not dispute the repayment in any way and I didn't receive any communication from Sony. A week or two later, the PS4 system showed that my son's account was banned and he was unable to play any of his games. There was no notice that this was going to occur, no indication of how long the ban would last, nothing from Sony. Sony executed the ban on a weekend and they do not have support staff in their billing department to assist customers. There is not support a support option for removing bans on the Sony site; it appears that they don't want to make this widely known to customers.
I on-line chatted with someone from Sony who said that I would need to repay the $5 using a PS card and wait for the billing department to consider if they would remove the ban. I'm not sure what is a better form of currency to Sony than their own PS cards, so why not remove the ban immediately? Of course, this was on a Sunday and the billing department gives themselves 24-48 hours to review your dispute and from what multiple reps told me, that clock doesn't start until the next business day. On Monday, I was able to talk to someone on the phone at (800) 345-7669 and he was unable to flip the switch in the system to turn the account back on. Again, I was told that the ban would be removed in 24-48 hours. The Sony reps were all very knowledgeable about the ban process, timelines that they allow themselves internally, and that all of the decision making control is in the billing department.
I then talked to the supervisor who also does not have any capabilities to remove bans either or can not expedite the process. The supervisor also does not have any means of contacting billing. I told the supervisor that I am not trying to take advantage of Sony in any way, we simply did not receive what we purchased and their method to get customers reimbursements is confusing and cumbersome at best, so I did what I felt was my only option. My thought is that if Sony would improved their systems/processes for reimbursement, they wouldn't need to ban great customers over $5.
I probably lectured the person on the phone a bit too much but she didn't seem to understand what parents deal with when items like the internet or gaming systems are not available. My perception is that the supervisor didn't seem to care what is going on in people's lives and the disruption that these decisions cause customers. I'm not sure if the billing department looks at the whole picture before they execute a ban but I would assume that they can see every game that my sons have in their accounts, the amount likely spent on games, the system, in-game purchase, and their time on-line, to determine if it is really necessary to ban a user over $5; knowing that the user account is a minor yet the credit card is an adult.
In the end, my son's account was unbanned. Sony got their additional $5 for an item which we did not receive but I was told that I could on-line chat and open a new request to get that back. We were unable to use the system for a total of three days, one day of which was a weekend, the next day was a snow day with no school, and the next was a school day. I have informed my sons that I will get my $5 back from Sony through saying "No" the next time that they want something in a game.
Thank you for taking the time to read this review. I hardly ever write reviews such as this. My intent on doing so is to help parents who are trolling the internet trying to figure out why their kids are banned from their PS4 account as it may be because you filed a dispute with your credit card. Good luck with your situation!
Sony PlayStation Company Profile
Company Name:

Sony TVs

Year Founded:

1946

Address:

550 Madison Avenue

City:

New York

State/Province:

NY

Postal Code:

10022

Country:

United States

Website:

http://www.sony.com/