Consumer Complaints and Reviews

When I get in my vehicle and turn on SiriusXM radio I almost always have to get a signal refresh. I've tried numerous times with tech-support and their so-called customer service to get the situation remedied. They normally try to blame me or my radio for the problem, but the reality is my wife has a radio that is older than mine in her car yet it has no problems with reception. I've had SiriusXM in my vehicle since 2012 and experienced no problems until about six weeks ago. Now as I try to get tech-support to help resolve the issue of having to get a refresh signal every time I turn my truck off and come back tonight to turn on the radio I have to text them or call them on my cellphone. Meanwhile they refused to acknowledge that the problem is probably up there in as I've seen several complaints on the Internet about this. I cannot believe it is my radio since once they sent a refresh signal the radio comes back strong.
I can never seem to reach a manager no matter how long I'm on the telephone. This makes my time to waste. I've tried to get them to give me the number of a real manager. Someone who can fire and hire. But they refused to. While I enjoy my XM radio when it's working, I am seriously thinking of canceling the entire account and ensuring that none of my credit cards are allowed to be drawn upon by them again. This company sucks. As does the customer service since most of the people I talk to are from the pillow Philippines. They don't speak understandable English. I guess I am going to cancel my subscription and no longer use their service. Why pay for something if you can't get it. I just refuse to spend my time and my money to solve a problem is definitely on there.

I recently discovered that an unknown person had used my credit card to purchase Sirius on a vehicle I no longer owned!!! Fraudulent charge for cancelled account. Strange as it sounds but my former vehicle was traded in a year ago & I had cancelled my account on another vehicle in October. Luckily I saved the rep's name, confirmation number & everything. I was informed that there were 2 accounts & one had been opened in September & that it had been done online. This had gone on for 6 months. I hadn't noticed the charges before. They would only refund me back this month's payment. I'm guessing he didn't believe me when I tried explaining that the vehicle in question had been traded in a year ago!!! I enjoyed having the Sirius radio but not for $20.00 a month!!! They owe me more than $100.00 but refused to reimburse me for an unauthorized account!!! They suck!!!

I had the service for 2 years and the price just kept going up so I called and told them I could not afford it any longer. I was badgered to keep it for 5 months for $24.00 but I had to cancel by April 9 so I started trying to get them on the 1st of April and could never get through. I then e-mailed them on the 9th and told them I had closed my credit card account so they would not be able to charge me so they needed to cancel. They emailed me back and said that I had to call to cancel or talk live on chat. I got on live chat and when I put in my reason for a chat I was told I had to call. I then emailed back and told them I was printing all my emails and how I was told to go to chat and was told I could not cancel by chat and that I was turning them into the better business bureau. I then received an email and was told they had canceled my account. They also was about to charged me 60 dollars for the months I was supposed to get free.

Long story short: Got XM for free for the 6 months after getting my car. Family member added time thinking it would be a nice surprise. After the time was up my account was automatically renewed and I was never told this would happen. XM did it on their own. Received emails saying my account needed attention but that was it. They didn't give any warning that my account had an automatic renewal or that I was going to be charged anything. Turns out they were charging my account without my consent.
Called to try and cancel the account and the first woman I spoke to was VERY rude and it was very hard to hear her with all the background noise. People laughing, yelling, etc... I almost thought it was a scam. It was so loud!! She kept insisting I was trying to cancel my account because I, "couldn't afford it," did not listen, argued with me and then FINALLY gave me over to someone else. Said someone else eventually did cancel my account but not before trying to sell me a different subscription and trying to blame ME for THEIR shady business practices! That being said, I have no intention of using these guys ever again. Unlimited data and iHeart Radio from now on.

I have never inquired about SiriusXM or ever contacted them ever - other than asking them to stop contacting me. Even if you specifically request not to have SiriusXM in the new car you purchased there seems to be no way to not have it according to the dealer. Once you drive off the lot you are harassed repeatedly weekly, sometimes daily, with calls, e-mails and snail mail marketing to extend your free trial. No matter how many times I told them I was not interested, would never ever be interested and to please, please stop contacting me and remove me from any and all future marketing, they will not stop. I have had the same issue now twice. It took me 2 years to get them to stop calling after the first car I purchased, and now I purchased a new car 4 months ago they have been marketing to me weekly and sometime daily no matter how many times I tell them to crawl back under whatever rock they came from.
How do I know I can trust these reviews about Sirius XM?
744,488 reviews on ConsumerAffairs are verified.
We require contact information to ensure our reviewers are real.
We use intelligent software that helps us maintain the integrity of reviews.
Our moderators read all reviews to verify quality and helpfulness.
For more information about reviews on ConsumerAffairs.com please visit our FAQ.

Their customer service is the worst!!! No help and I'm tired of holding on the phone and spending forever trying to get things taken care of. Tired of being ripped off. I am thinking maybe no more XM for me anymore. It is more trouble than it's worth.

You can do everything online, except cancel your subscription of course. I had no email sent to me to remind me of the automatic subscription renewal, which would have been nice. So I call to cancel. You have to speak with a representative, and I am sorry, but I could barely understand my rep. I felt terrible saying "What?", after everything he said. Once I said I wanted to cancel, I was asked AT LEAST 10 times if I was sure, and given different options and cheaper rates. I understand and expected them to try and change my mind, but they would not take no for an answer! I was on the phone for 25 minutes. The rep asked me, "Do you think that is a good enough reason to cancel?", when I gave my reason that I do not listen to the service at all. They were rude, pushy, and would not let me cancel until I got rude back at them.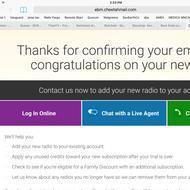 Has anyone had SiriusXM Radio cancel their car radio account because they noticed on social media and your internet searches that you were searching for a new car. My radio was shut down and when I called to find out they said it was because I had bought a new car. I told them I hadn't so they said "we will give you 3 months free to 7-1" even though I was already paid up to 7/1. Then they sent me a congratulations on buying a new car. I'm so flying mad I can't see straight. I will definitely be cancelling my account with them for such gross privacy invasion. When I asked to talk to a supervisor, at first she was supposedly busy, and when she came on the phone, she wanted to know if I was calling about the radio "In My New Car". Arggg, supposedly they are escalating my complaint to the escalation people, but I doubt it.

I received SiriusXM radio free for six months when I bought my 2016 Subaru. I renewed it for six months for the cheapest price of about thirty five dollars a month. In December I renewed it again for six months at the cheapest price. In January they cancelled my service saying that I owed 175.00 dollars more. The invoice said six months for thirty five dollars. I tried to get it resolved online and they responded that I owed money on the last invoice. I think I got three different invoices with three different amounts. They are a rip off company with horrible customer service. I am glad I paid by check after seeing all the reviews from people getting money taken off their credit card. I lost thirty five dollars but not hundreds. They still send me emails which I ignore after I cancelled my service. Beware.

Original owner of my car paid $900 for a lifetime subscription to SiriusXM radio. When she sold car she tried to transfer and after initially agreeing they changed their mind and said it had to stay with the vehicle but was still good for the life of the car. I purchased vehicle and 6 months later it cut off and offered a phone # for subscription. I called customer service and even though I gave them the radio ID they said they had no record of the account. Then they told me the year and model of my car. Interesting if they had no record. Then they said original owner had to contact them, they would have to change name and phone number and there would be no charge. Original owner contacted them and they told her the company had changed hands twice and they no longer offer this service. She shared that she had already purchased and they should honor the contract but they refused.

I want to start a class action lawsuit against Sirius Radio. Sirius has taken $221 from my account since 2014. It's now 2017. I would not have known but the credit card they used to steal from was exchanged through the bank so they contacted us for an automatic renewal. We canceled the service in 2014. After the subscription was over they kept taking monies from the account. They have taken $442.54 from my account. Please help.

My new (company) car trial ended last month and I called customer service to see about extending the subscription. After struggling for almost an hour of trying to understand the strongly-accented Filipino agent, I decided to finish the transaction online. I had been assured by the agent that the cost would be $9.99.mo to get Golf Channel on my radio, and when that was confirmed on the website, I signed up. Unfortunately, I did not receive that channel when my radio was reactivated. As a result, I spent another 40 minutes with a web chat agent trying to resolve it, but after being told that I SHOULD be getting Golf Channel, he realized that he was looking at the account for my personal vehicle.
Shifting gears, he told me that my company car had a Sirius radio, not an XM radio, and that I would have to upgrade the new package to get Golf Channel- and that be an additional $5/mo. I asked to deal with a manager, and was told that I would have to call Customer Service directly. I did so, and was again assured that I should be able to receive Golf Channel with my current package. (Once again, they were referencing the wrong radio account.) After she realized her mistake, the agent informed me that I would have to upgrade the package. Upon hearing this again, I asked to cancel the account.
In response to my request to cancel, a "retention" agent offered to give me access to the Golf Channel for a one-time promotional charge of $15; which I finally accepted. In summary, I dread dealing with Sirius. Even though the actual entertainment is good, and reliable, their accents in Customer Service can be impenetrable, and getting anything accomplished takes forever.

It's frustrated that a good company like Sirius, keep a calling center overseas where is very difficult to understand the agent English. And is more upsetting learning that your good offer has expired and a full charge goes on the account. So I have been charged $60 since December and because I want to cancel they offered again a fair deal. So because of a matter of principle I cancelled the account. Certainty that Sirius will send emails to promote their new channels but not to advise you that your contract is going to be expired and new full rate to apply. In 30 million of subscribers if half are hitting with this, then the monthly revenue is near $150M. Not right.

I have had Sirius Radio since the Company first started. I had 2 Lifetime subscriptions that I paid when I bought my 2 Satellite Radios. What outrages me is that both Radios have been shut off and Sirius Customer Service says they don't have anything that says I was a Customer. So I have two Home Kits that are now worthless. I also had Sirius in my Toyota and what makes me mad is that so many of the SiriusXM Stations have commercials. If I want commercials I can listen to regular FM Radio. Customer Service Agents are off shore in the Philippines and although friendly couldn't help much.
I have read numerous Complaints concerning Lifetime subscriptions not being transferable which I knew about. However in my case my Home Units are still like new. I rarely used my Home Units but was happy knowing they had Lifetime subscriptions. Not at all the case!! Sirius is very dishonest and runs a crooked Business. The FCC and Government need to investigate these Crooks. I paid over $500 USD for the Receivers and Home Kits plus the Lifetime subscriptions that was around $250 USD per Radio...

I purchased car April 2016. SiriusXM was already on system. I ordered and paid for 6 months. I thought I cancelled. The car was sold later last year. They will not leave me alone. I receive emails throughout the day, every day. There's no way to contact them. Should I contact an attorney? This should be against the law.

I never subscribed to Sirius but they keep calling from local numbers. I block them on my cell phone and ask them to stop. My phone is listed on DO NOT CALL. I imagine that their product and customer service is as poor as their sales approach.

We have a 2017 vehicle that had a 6 month free SiriusXM subscription that expired recently. I advised a SiriusXM salesperson who called me that I did not want to purchase the service. They have continued to call me every day for weeks on my mobile and home at all hours of day or night. I have locked the number several times but they continue to call. The total number of call is 30+. Yesterday they called my cell and home numbers at 5:30 A.M. and then at 10:00 P.M. On both numbers. This has happened in 2013 as well after I purchased a new car. What can I do to get them to stop calling? This behavior is outrageous.

Today, Feb. 24, 2017, I experienced the most frustrating and infuriating customer service and dishonesty that has ever been foisted on me by any company in my 67 years of residing on the planet! 3 months ago we traded my wife's car, for which I had purchased a "lifetime" subscription to XM Radio. The new car had a 3 month free trial to XM. Today was the last day of the trial so I called the 800 #. After several minutes on hold, I got a representative and told him that I wanted to transfer the lifetime subscription from the old car to the new one. He put me on hold, and after several more minutes, he came back to me and said I had to talk with a "specialist" in this type of transaction. He put me on hold again, and after an even longer wait, I was in touch with a gentleman with a VERY thick Indian accent.
Very slowly, I explained again what I wanted to do. He put me on a LENGTHY hold, only to come back to me and say (I'm being ABSOLUTELY ACCURATE here!) that a LIFETIME SUBSCRIPTION COULD NOT BE TRANSFERRED! I semi-patiently tried to make him understand that cars don't last forever, LIFETIME SUBSCRIPTIONS SHOULD! He put me on hold again, and came back and said for a similar package it would cost $15.98/month! Although smoke was coming out of my ears by this time, I acquiesced when he knocked a grand total of $1 off the price. (My wife is a great gal, and she enjoys the chick channels!) We confirmed the credit card, and he said I would receive a confirming e-mail. He also told me that the signal would not have to be refreshed in my wife's car. He then tried to put me on hold AGAIN to get a confirmation of the cancellation of the service for the car we traded in 3 months ago.
At that point, after 49 minutes on the phone with these yahoos, I hung up. It is now 7 hours after the call. There has been no e-mail confirmation and my wife does not have satellite radio service. Maybe she would if we lived in India? The more I have thought about this today, the more infuriated I have become. As much as I hate to be abused again by this awful company, I am going to call them tomorrow and cancel all three of the radio id's we have with them. They are a despicable, dishonest operation.

I keep seeing two billing of $18.21 from my bank within a difference date of the same month. I know I have been using radio service on leased car since 2014. I was wondering what was the second charge was and called today and was told that was for internet radio charge and I was paying since 2015. The only thing I was using was the car radio, no knowledge of the internet radio service, so with frustrations I demanded a refund for the past two years and they offered me only $36.00. I am sure there are few consumers who are not aware of this SCAM and want to share for others to be aware. The other thing you cannot even remove your account online. When I called, the salesman is trying very hard to convince you to remain as a customer by giving of $36.00 and mobile radio. But they charge my debit card $437.00 for internet radio I never used since 2015.

I just received my annual renewal fee, they automatically enrolled me in the most expensive program, even though I had selected the cheapest one the year before. When I called to ask for a chargeback and also to ask them not to enroll me next year in the other plan, they told me I still need to pay for the 15 days I have had the other plan (even though I did not use it) and if I did not want automatic renewal then I would pay $2 for an invoice, give me a break! Talk about dishonest practices!

So for Christmas my partner wanted a serious radio for his commute to work. I went on the online chat and asked which he could use and not have to rip apart his dash. Was given the wrong information. Proceeded to return the useless radio. I tracked the parcel I was returning, and it has arrived over a month ago. Yet still no money back from Sirius, and I'm still being charged for the use of it. What an absolutely scam. Are you guys really not making enough money yet? Anyway I was going to buy a new radio for him to use. I will definitely be looking elsewhere as I hope to never deal with Sirius Radio again. P.S. Give me my money back.

This company is underhanded. Once they have your credit card number, they proceed to charge to your account as they please. I signed up for a 3-month service for $66 plus tax. They turned around and charged $206 to my credit card. I see there are many others on this site who have filed this kind of review. Why can't we do anything against this company? They are shafting us.

I had been a customer for 10 years. My bank account was automatically debited once a year. Yes there were increases in the cost, but like everything else I wasn't surprised at a gradual increase. But 2015 I paid $106.44 for service and today just 2 years later $229.48 for the same service. I may be wrong but I think that's a 46% increase. So much for fun radio and I called. I first said that perhaps I missed the email notice of the upcoming charge and then stated that I was ending my agreement because of the price. The representative said she would see that I got only paper billing going forward, then I got the usual offer that I could get the year at 48% off and that I had up to 40 days free to make up my mind after I got the invoice.
Caution: If you speak with a representative get an email confirmation and read it carefully. Yes I would get a paper bill but they charge $2.10 to send it. Also the service for the 48% off price was active from the time they sent the email and I would be charged for each day of service until they deactivate the system or I called and cancelled. This is a shell game without the shells. Stay away unless you have money to burn.

Much the same as others here. Never made suspending the service doable. When my credit card expired - which apparently was the only way I could stop paying them - I received notice of that, talked with a representative, told them to cancel the service, and after a while, he agreed to do so. Here six months later I get notices that I owe $120 or so and my card has expired. Got back on the phone, complained, told them I had cancelled, she told me that it was recorded that I wanted to suspend, not cancel. She said she would cancel and take off the charges since then, and to wait on the line for a cancellation number. Then the line went dead. So I don't know if she indeed cancelled my account, or removed my charges. Thank God my card expired. This is no way to run a company. Scam city, looks like.

I purchased a six month membership on 7/20/16 for 36.00. I received a new bank card shortly after and on 1/20/17 they tried to auto bill my account monthly which is not what I signed up. I received a call this morning from overseas asking for my credit card information. I told the rep that I would not be renewing and she wanted 19 dollars for 15 days of service or the account would not be canceled. Not only is the pricing outrageous but with all of fraud going on in this world someone cold calls and asks for my card info and Immediate payment. This company will never get another cent from me and I am beyond disgusted with their customer service and deceit.

I called SiriusXM two weeks ago to cancel my account. After a 20 minute phone call, in which the representative argued with me and went on and on to convince me not to cancel, they finally agreed to cancel my service. Today I received an email saying that I will be billed automatically when the service is set for renewal. SiriusXM completely ignored the previous phone call. This is a fraudulent company.

ONE...ONE.. 1.. 1.. EASY LISTENING CHANNEL 18 and they have to put Christmas music from Nov to January. Plenty of ** MUSIC on Sirius... This Company NEEDS to CLEAN HOUSE and Hire People that Listen to CUSTOMER (Ya Know the one's that PAY your Salaries).

I received a 3 month trial from SiriusXM and I didn't use it much and there are commercials. I called to cancel, received an email stating that it was canceled with a zero balance. Fast forward a month and I receive an email with an invoice. The invoice states that I owe $25.68. I proceed to chat with them online and I am told that service was never canceled.
They somehow managed to get the bill down to $7.01. I told them that I owe nothing and will not pay anything because I already canceled and have the email they sent me. After calling them because I was getting nowhere chatting, they again, canceled the service and said that I owe nothing. I told the operator that if they send me another invoice that I will contact the state AG office. They have questionable business practices and I cannot recommend this company.

We recently purchased a pre-owned car that came with a three month trial of the SiriusXM All-Access Pass Plus Nav/Weather packages. I wasn't too excited until we received the SiriusXM promotional mailer the next week, outlining everything included in the trial and what appeared a decent intro offer for the first year. Skeptical, I called to be sure that the intro offer included both packages in the free trial. Not only was the Nav/Weather not included, but also, the intro offer only included the base service rate, despite a notation at the bottom of the letter stating I could also chose the base rate option if I registered online.
I registered a formal complaint, as the letter and promo materials clearly inferred that the price quoted was for BOTH All-Access packages, including internet apps. So imagine a road trip this Spring, when the trial is over and my new promo period begins, and my daughter suddenly loses her apps, the weather/nav is unavailable and we've lost half the channel presets... I asked how much the advertised packages intro rate was in reality and was told an additional $75, plus an increase of $45 the next year!!! OK, so I decided not to buy in to the packages, but tried to use the free trial, only to learn the previous owner's parental controls are still active, so I cannot even log in AND not one of the all-access channels is available! Do I even bother spending another hour on the phone with these charlatans? Thankfully, I can try PANDORA!

I'll make it short and sweet. We have Multiple cars w/ XM. ALL Different account numbers even though all under same name. We received service at a dealer and offered a FREE trial that NEVER worked. We get dozens of calls & multiple letters from XM that look like past due bills with a bright Red IMPORTANT NOTICE on the front. Usually 4 letters every couple of months & when you call to complain they are VERY Rude, will NOT let you talk to a Supervisor OR give you the Customer Service phone number. Had to call back & STILL would NOT be given the Customer Service # until the 4th time I asked.
The operators just keep pushing to resubscribe you. They are shysters & will charge you whenever they want. SAVE $$ go & buy iHeart radio, Pandora, ANYONE BUT XM!! They say you can ONLY complain through email & that they might or might not get back to you. I'll spend my family's hard earned $ on a company that cares for its customers. #DumpXM
SiriusXM Satellite Radio Company Profile
Company Name:

Sirius XM

Website:

http://www.siriusxm.com/