Consumer Complaints and Reviews

Every year for the past 5 or 6 years I go through the same thing. SiriusXM sends me a bill for the entire service offering. Every year I tell them I am not interested in their premium services and request to be downgraded to my standard subscription and a new bill. This year was no different except for one thing... they sent me the new bill, I immediately sent them the full payment, and then two weeks later I got a call saying that my radio would be turned off. I called them and was told, to my surprise, that they had received my check... but since I had asked for an upgrade to Premium Services and was not paid in full, they were turning my radio off.
They could not tell me why I had received a bill for standard services or why there were no notes or dates on my account regarding the downgrade (or upgrade) request. Although I have no proof, there is no doubt in my mind that the Supervisor I spoke with was lying to me about the notes on my account. I spend hours every year going through this aggravation with SiriusXM Radio, which is one of the reasons I now only pay by check. I took advantage of an expired credit card they had on file and were over-billing every year and requested yearly billing instead of auto-pay... the smartest thing I ever did with these people. If it wasn't for the fact that on-air radio is very limited in this area I wouldn't use them at all.

One more complaint about Sirius. Love the product. Hate the service. The radio in one of my cars has only seasonal use. The radio stopped working. They tried to renewal anyway for more than seasonal. They did however send a free radio. Now they try to bill me even though I have not activated it yet. I told them the car was not in use yet. They try to bill anyway. Went off automatic pay. Hope this stops them.

I attempted to renew three vehicles today. After being a customer of SiriusXM for several years, several radios and never missing a payment the so-called Customer Service Representative was rude, disrespectful and so condescending I decided to cancel all of my subscriptions! I tried to explain to the person that I also have five offices in different states that subscribe to their service and she could care less. I asked to speak with a supervisor and we were conventionally disconnected. This is wrong, this is what is wrong with business today. They do not care about the end user!!! Perhaps the stations that they carry should react.

I have to call every 6 months and get the biggest run around ever about the rates. If you call 3-4 times you will get 3-4 different rates for the same time period. They are so deceitful. Really there should be a class action suit against this company. Why would any respectable company have a ONE star review. I feel badly for the people who work for them. Surely there will come along a better alternative to SiriusXM because I truly feel like this company is something of a dinosaur. Also, I was told they could not honor a rate unless I gave them a credit card. I don't use credit cards and this is discriminatory. If you don't like what you hear from one rep, call again. There is NEVER any definite plan, they must be trained to be dishonest. This company should not be allowed to continue to operate.

There was a trial in the car I bought. I wasn't interested and so the first time they called I said, "Thanks but no thanks". They called the next day. I thought maybe the no didn't get to the trial account information so I was polite and said, "No thanks and please stop calling". They have called every single day and often after I'm asleep...every single day. No way to stop them so they are blocked and even though I once considered using them. Now no way. No way at all.
How do I know I can trust these reviews about Sirius XM?
794,387 reviews on ConsumerAffairs are verified.
We require contact information to ensure our reviewers are real.
We use intelligent software that helps us maintain the integrity of reviews.
Our moderators read all reviews to verify quality and helpfulness.
For more information about reviews on ConsumerAffairs.com please visit our FAQ.

We just got back from vacation and have an email from Sirius telling us our subscription is expiring so we called to tell them we no longer want Sirius. We very seldom used it. We lost reception so often that It was not worth the money. They asked a dozen questions why we were cancelling and they got upset because we refused the special deals they were offering. They then told us we had to pay the 5 days after the expiration date. 4.95 cents. They wanted our credit card number. We said no. This should have automatically expired. So no credit card. Write off the 4.95 because we were a good customer for the last 4 years. But the call ended with them telling us we would go to collection and our credit would be affected. Please think twice before joining a company that treats their good paying customers like this.

I pretty much echo some of what has been posted already. My service was OK, but I got tired of all the hoops to keep a decent price on the annual service. It's pretty sleazy they don't let you cancel online, so I had to make the call to do it. The rep did make a feeble attempt by trying to send me a free radio, but did say they were no longer offering discounts or promos for my account. After putting up with a noisy call center background, I finally was able to cancel the service. Something like this should be easy, but they decide not to give their customers that option. With the advent of phone apps like Spotify, Pandora and damn it, even my own CDs makes this service obsolete IMHO. No reason to ever go back. Now to work on my lame cable service...

I found out after 7+ years that the lifetime subscription only applied to car - not subscriber. After numerous conversations with customer service I was NEVER told this until I tried to transfer from a car I traded in to my new car. Because I was originally lied to about the cost of lifetime (told $4.99 a month but charged $499.99) I was given 3 free transfers as consolation. Transfers normally cost $75.00. I had to fight to get that each time. They said they saw the note on my file but wouldn't honor it. They even tried to charge me to transfer after my car was totaled (this is supposed to be free). They counted resetting the radio because it wouldn't get signal as a transfer.
I've filed complaint with BBB, was contacted by SiriusXM accounts resolution but they still won't honor my lifetime subscription. But they had the nerve to offer me a monthly subscription. I totally reject this should only cover original car. Especially since I was never ever told this when I took it. I would never try to get something I wasn't entitled but I believe I was totaled cheated. I was sent the terms and conditions last week but they are confusing and contradictory. I will be meeting my lawyer Thursday.

After buying a new car with six month free Sirius I didn't use I was charged for renewal for one year. I called and wanted to cancel. They had taken 150.00. They held the money for a month and refunded me the money less a month of subscription. I will never do business with them again. Buyer beware.

I lost reception on my car radio months ago and I thought I would try one more time to get the issue resolved. I went through all the direction on chat from my cellphone in my call and they refreshed the signal several times to no avail-told me to call their customer service for a replacement radio. They were supposed to send me a copy of that chat--never came. I called the number six times during business hours and it went to the busy signal each time. I tried chat again and they wanted me to go through the entire thing all over again only to be told to call that number again which I did and the same thing. Sounds like the President of Sirius XM needs a new customer service manager and probably a working phone number too! Lastly, never got a copy of the email as promised by Tony ** of Sirius customer chat line.

Up until today I have enjoyed my SiriusXM radio. I purchased a lifetime subscription on my 2007 Ram right after the complimentary 6 mo subscription ran out, that's how much I enjoyed it! I called today to transfer service to my new purchase of a 2014 Ram 2500 (Because I was told at the purchase I could transfer up to 3 times for life) just to be denied and told they stopped doing that in 2007. Why would I be told in 2008 when I purchased the service that I could transfer if they terminated it in 2007. Highly disappointed in the lack of trying to accommodate me or even listening to my issue!! I won't ever purchase Sirius again if this is how they run their business. I'm sure they won't even care or contact me about the issue if they read this post.

I just received an invoice from SiriusXM in the amount of $218.55 with very little breakdown information listed in the Account Summary EXCEPT for the line item showing an "Invoice Fee" of $2.00. Although nominal, I have never before received an invoice from any business entity that included an "Invoice Fee". What a joke!! I called the vaguely indicated telephone numbers and was eventually able to speak to a living entity. I reported that my cost last year was approx. $112 and wanted to know what caused such a substantial increase. I also commented on their audacity to ask for an Invoice Fee of $2.00. I was told that last year's cost was an introductory offer which had now expired. What a joke!!!
I need to reevaluate the need for having SiriusXM, especially since I only listen to one station. Through previous experiences with SiriusXM I was careful to do payments from a credit card that enables them to apply charges whenever they desire. I urge all potential customers to be leery of the billing of SiriusXM. DO NOT GIVE THEM YOUR CREDIT CARD NUMBER. Finally, if you do have a billing issue, be prepared for an exasperating experience in trying to speak to a human in the "SiriusXM Customer Service". What a joke!!!

Why do dealerships even agree to free trials? NOTHING is ever free in life!! I agree with every post on here about the poor service, impossible feat to cancel and how they continue to harass you with calls, emails, junk mail! You cannot cancel online, via chat or via handwritten communication. You have to call and go through countless hoops. RUN PEOPLE RUN!!!

I have just wasted 25 minutes of my life for cancellation. First it is the auto phone system, then the first operator verifying my address details, then a second one doing exactly the same and more, then being left on hold for a consult to a manager, finally magical offer a cheaper service. WHY can't we cancel the service through the website??? Why there is bait and switch tactics? Why do they ask if we are selling our car?? Someone needs to invite them to better practice.

I called XM radio when I was a few minutes away from the dealership where I was purchasing a new truck. I told the lady at XM that I wanted my service canceled on my old truck and I wanted the credit put back on my credit card. They did not cancel my service and the dealership ended up canceling it 2 weeks later. I was not credited the 2 weeks prior and they refuse to credit me. It isn't that it is a lot of money, but I did request that it be canceled and it wasn't and they will not credit it to me. Very dissatisfied with XM radio and will not renew the 3 accounts that I pay for. I am done with XM radio.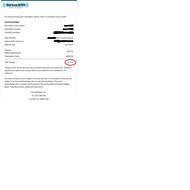 Originally signed up for one year of service. They tried to auto-renew my subscription for more than double the price, but I did not want the service anymore - and you cannot cancel from their website. You MUST call. I did. They offered another year for the same price as my original introductory offer. I still decided to cancel as I did not use the service, not having to drive my own vehicle much at all for work purposes. The operator threatened to charge me $11 or some such amount "for services already received", which I did not order, did not agree to, and will not pay - but which could disappear if I would just renew. No way, Jose. They're going to send me a lovely subscription cancellation confirmation email.
If I was ambivalent about the service before, this experience with SiriusXM help me to realize what a dishonest company they are, charging for un-ordered services, and I would never recommend anyone do business with them, ever. They can now add 1 more to their subscriber loss figures to present to their board of directors this quarter.

THE SIRIUSXM SCAM. When you buy a new car it comes with Sirius XM Radio. Beware you WILL be continued to be billed by this RIPOFF company for YEARS after you sell your car. EVEN though they call you and ask you if you would like to renew AND you decline, you will STILL be billed. DESPITE refusing service when THEY call YOU... YOU will be told that you have to call a SPECIAL number to discontinue service. Beyond STUPID. And, furthermore you will NOT be able to speak to anyone in the US. But rather a HONDURAN call center wherein you will be patronized and insulted "as uneducated." And you will be sent in several different contradictory directions wherein you will spend more time than it is worth to get your money back. NEXT car I buy THIS service WILL be cancelled before I leave the dealership. Be warned.

I'd give them zero stars if I could. I was considering upgrading to their online streaming package but they couldn't even direct me to a channel listing of all the available channels. Went through 3 levels of service reps and spent 30 minutes on the phone and still couldn't get a web address to find the listing other than every rep giving me the homepage web address like 15 times. Oh and every rep was non-native English speakers... which is not a problem as long as they can get the job done. Now I'm trying to figure out how to cancel all my vehicle, business and personal. Seriously the most frustrating 30 minutes I've ever spent on the phone.

Channel 13 Velvet dropped and replaced by rock garbage called Turbo? Real trash! Station so called moved to channel 304. ** there is NO such thing as channel 304... Sirius sat radio is destroying America!

I received a promotion in the mail for 5 months for $25 + 3 months free. When I called to jump on it, I was told that they couldn't honor it. This seemed weird because I just received the mailer 1 day prior. After stringing me along, and trying to offer me a 12 month deal for $99, I just gave up reasoning with them and just cancelled my service. Guess that money will go to Apple Music now... Thanks for nothing!!!

I had canceled my subscription to XM Radio back over 2 years ago due to not needing the service anymore. I received a notification that my credit card was billed for the services. This is the 2nd time within 3 months My credit card has been charged and I'm totally upset with Sirius. I had to call in 2-3 times for each of those times I was billed and begged to be refunded. They hung up the phone on me numerous times and kept putting me on hold after it always take forever to talk to a representative. They did not refund me, after endless hours on the phone. I told them to take my credit card off file, but they keep billing me. It has been 3 years now, and they still charging my card for no services without my authorization. Highly disappointed and they are thieves!

When I get in my vehicle and turn on SiriusXM radio I almost always have to get a signal refresh. I've tried numerous times with tech-support and their so-called customer service to get the situation remedied. They normally try to blame me or my radio for the problem, but the reality is my wife has a radio that is older than mine in her car yet it has no problems with reception. I've had SiriusXM in my vehicle since 2012 and experienced no problems until about six weeks ago. Now as I try to get tech-support to help resolve the issue of having to get a refresh signal every time I turn my truck off and come back tonight to turn on the radio I have to text them or call them on my cellphone. Meanwhile they refused to acknowledge that the problem is probably up there in as I've seen several complaints on the Internet about this. I cannot believe it is my radio since once they sent a refresh signal the radio comes back strong.
I can never seem to reach a manager no matter how long I'm on the telephone. This makes my time to waste. I've tried to get them to give me the number of a real manager. Someone who can fire and hire. But they refused to. While I enjoy my XM radio when it's working, I am seriously thinking of canceling the entire account and ensuring that none of my credit cards are allowed to be drawn upon by them again. This company sucks. As does the customer service since most of the people I talk to are from the pillow Philippines. They don't speak understandable English. I guess I am going to cancel my subscription and no longer use their service. Why pay for something if you can't get it. I just refuse to spend my time and my money to solve a problem is definitely on there.

I recently bought a car that came equipped with satellite radio. I listened once during the free trial period. Once the time had expired, I started getting calls and letters to purchase the service. I explained a number of times that I was not interested, please stop calling. The calls stopped but the mail has continued. I don't appreciate the constant solicitations. I want It stopped. I am tired of all of the paper that I need to throw away.

They give you a free account with a new vehicle. Every 5 months you need to call in and spend a half an hour of back and forth "I need to cancel my account" and "What can we do to keep you?" After playing the game since 2006 I'm done! I have an email record of cancellation and billing for another 5 month period, yet I've been being billed $18.21 a month all along. I cancelled my subscription after being with them for over 11 years and they could care less. Sound quality is poor compared to regular radio let alone HD radio or online streaming services that are free with the same XM ads or as low as $3 a month with a family plan. Sorry to see me go? Not at all.

I requested a refund back for the remaining service that I did not use when I canceled on two of our vehicles. The refund was denied as the credit card on file had expired due to me canceling it with my bank due to someone online trying to access it. They would not issue a check for the amount due back to us. I would not recommend doing business with this company!

I recently discovered that an unknown person had used my credit card to purchase Sirius on a vehicle I no longer owned!!! Fraudulent charge for cancelled account. Strange as it sounds but my former vehicle was traded in a year ago & I had cancelled my account on another vehicle in October. Luckily I saved the rep's name, confirmation number & everything. I was informed that there were 2 accounts & one had been opened in September & that it had been done online. This had gone on for 6 months. I hadn't noticed the charges before. They would only refund me back this month's payment. I'm guessing he didn't believe me when I tried explaining that the vehicle in question had been traded in a year ago!!! I enjoyed having the Sirius radio but not for $20.00 a month!!! They owe me more than $100.00 but refused to reimburse me for an unauthorized account!!! They suck!!!

I had the service for 2 years and the price just kept going up so I called and told them I could not afford it any longer. I was badgered to keep it for 5 months for $24.00 but I had to cancel by April 9 so I started trying to get them on the 1st of April and could never get through. I then e-mailed them on the 9th and told them I had closed my credit card account so they would not be able to charge me so they needed to cancel. They emailed me back and said that I had to call to cancel or talk live on chat. I got on live chat and when I put in my reason for a chat I was told I had to call. I then emailed back and told them I was printing all my emails and how I was told to go to chat and was told I could not cancel by chat and that I was turning them into the better business bureau. I then received an email and was told they had canceled my account. They also was about to charged me 60 dollars for the months I was supposed to get free.

Long story short: Got XM for free for the 6 months after getting my car. Family member added time thinking it would be a nice surprise. After the time was up my account was automatically renewed and I was never told this would happen. XM did it on their own. Received emails saying my account needed attention but that was it. They didn't give any warning that my account had an automatic renewal or that I was going to be charged anything. Turns out they were charging my account without my consent.
Called to try and cancel the account and the first woman I spoke to was VERY rude and it was very hard to hear her with all the background noise. People laughing, yelling, etc... I almost thought it was a scam. It was so loud!! She kept insisting I was trying to cancel my account because I, "couldn't afford it," did not listen, argued with me and then FINALLY gave me over to someone else. Said someone else eventually did cancel my account but not before trying to sell me a different subscription and trying to blame ME for THEIR shady business practices! That being said, I have no intention of using these guys ever again. Unlimited data and iHeart Radio from now on.

I have never inquired about SiriusXM or ever contacted them ever - other than asking them to stop contacting me. Even if you specifically request not to have SiriusXM in the new car you purchased there seems to be no way to not have it according to the dealer. Once you drive off the lot you are harassed repeatedly weekly, sometimes daily, with calls, e-mails and snail mail marketing to extend your free trial. No matter how many times I told them I was not interested, would never ever be interested and to please, please stop contacting me and remove me from any and all future marketing, they will not stop. I have had the same issue now twice. It took me 2 years to get them to stop calling after the first car I purchased, and now I purchased a new car 4 months ago they have been marketing to me weekly and sometime daily no matter how many times I tell them to crawl back under whatever rock they came from.

Their customer service is the worst!!! No help and I'm tired of holding on the phone and spending forever trying to get things taken care of. Tired of being ripped off. I am thinking maybe no more XM for me anymore. It is more trouble than it's worth.
SiriusXM Satellite Radio Company Profile
Company Name:

Sirius XM

Website:

http://www.siriusxm.com/