ReSound Hearing Aids
Reviews
Our promise. We provide a buying advantage with verified reviews and unbiased editorial research.
About ReSound Hearing Aids Reviews
Since 1943, ReSound has been providing industry-leading and innovative hearing solutions. Offering hearing aids, wireless hearing accessories, and cutting-edge mobile apps that allow our customers to adjust sound with the touch of a button, ReSound is continually committed to audiology advancements.
Pros & Cons
Pros
Affordable options available
Helpful microphone technology
Mild to profound hearing loss covered
Cons
Sold through dealers, not directly through ReSound
Bottom Line
ReSound's three hearing aid models cover a wide range of hearing loss levels. Direct purchase through ReSound instead of through dealers would be better, but additional technology accessories make ReSound a good buy.
Featured Reviews
Verified
TX
I just received my ReSound LiNX Quattro hearing aids from the Veterans Administration. I could not stop giggling while walking to the car. I could hear the wind, the birds, my foo...
Read full review
Verified
TX
I decided to get a Quattro 9. Since then, everything has been great. Controlling them with the app on the iPhone is just unbelievable. If we go to a concert or a restaurant, I tak...
Read full review
ReSound hearing aids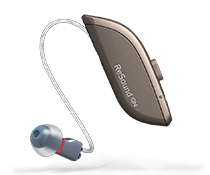 ReSound Hearing Aids
ReSound ONE
Newest design made with M&RIE (Microphone and Receiver-in-Ear) technology. Optimizes your natural and unique ear shape to collect sounds more efficiently. Comes with access to hearing care professionals via Assist Live video calls.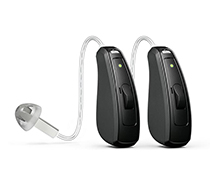 ReSound Hearing Aids
ReSound LiNX Quattro
Utilizes full microphone range to process sound in a cleaner way with less distortion. Comes with streaming compatibility to Android devices and Bluetooth. Available in RIE, BTE and custom models.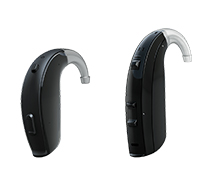 ReSound Hearing Aids
ReSound ENZO Q
Suitable for severe-to-profound hearing loss. Automatically detects the sound environment and adjusts volume as necessary. Directional microphone improves speech recognition in noisy environments up to 60%.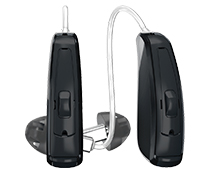 ReSound Hearing Aids
ReSound LiNX 3D
One of ReSound's most advanced digital hearing aids. Utilizes surround sound and spatial sense technology so wearers can hear 360 degrees around them without turning their heads.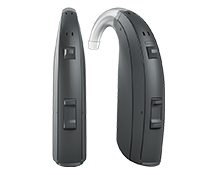 ReSound Hearing Aids
ReSound ENZO 3D
Small hearing aid suitable for those with severe-to-profound hearing loss. Utilizes binaural directionality and spatial sense technology. Available in two behind-the-ear styles and a range of colors.
ReSound hearing aid models
ReSound hearing aids can help with a wide range of hearing levels, from mild to profound. Certain ReSound hearing aid parts are designed specifically for those with the most trouble hearing. For example, the ReSound Enzo 3D is made especially for people with severe to profound hearing loss. There are three ReSound hearing aid models: the Linx Quattro, the Linx 3D and the Enzo 3D.
| Model | Type | Hearing loss | Battery |
| --- | --- | --- | --- |
| ReSound Linx Quattro | Receiver-in-ear (RIE) | Mild to profound | Rechargeable |
| ReSound Linx 3D | Receiver-in-ear (RIE) | Mild to profound | Size 13 |
| RIC | Behind-the-ear (BTE) | Severe to profound | Size 13 |
ReSound Linx Quattro: This receiver-in-ear model works for people with all levels of hearing loss. The rechargeable batteries in the RIE 61 version make it convenient to use. iPhones and Android devices can stream to the devices from most audio sources. There is also a push button for volume and program control and a water-resistant coating.
ReSound Linx 3D: The Linx 3D comes with Surround Sound and Spatial Sense technology. You can take calls from your iPhone while the Phone Clip+ lets you take calls from an Android device. The Smart 3D app from ReSound can track hearing challenges by location so you can fine-tune your hearing aid with an audiologist at a later time.
ReSound Enzo 3D: This practically invisible hearing aid is made specifically for those with severe to profound hearing loss. The Enzo 3D comes with 4 customizable programs and 17 channels with technology emphasizing clear, crisp sound.
ReSound hearing aid prices
There isn't a single full ReSound hearing aid price list because ReSound hearing aids are only sold through dealers, not directly. For this reason, prices may vary. Factors that affected ReSound hearing aids cost included location, model and degree of technology. The ReSound Linx 3D price is potentially the highest cost, and the ReSound Enzo 3D price is potentially the lowest.
We researched and found a range of pricing for ReSound hearing aids.
| Model | Price per hearing aid |
| --- | --- |
| ReSound Enzo 3D | $1,149–$2,200 |
| ReSound Linx 3D | $1,499–$4,200 |
| ReSound Linx Quattro | $2,500–$3,900 |
How to buy ReSound hearing aids
You can buy ReSound hearing aids from several ReSound hearing aid dealers. First, you will need to take a hearing test with an audiologist or ENT doctor. You can contact a ReSound professional to receive a list of local hearing aid test providers. ReSound also helps you decide between ReSound hearing aids and which hearing aid dealers works best for you.
ReSound hearing aid accessories and technology
ReSound has several additional technologies and accessories available for those who purchase their hearing aids.
ReSound Micro Mic: This microphone lets you hear people up to 80 feet away.
ReSound Multi Mic: This piece of technology lets you hear multiple people around you. All you have to do is place the Multi Mic on a table or other flat surface to better hear people at a meeting, dinner party or game night.
ReSound Phone Clip+: The ReSound phone clip lets you stream audio from a Bluetooth-enabled phone to your hearing aid.
ReSound TV Streamer 2: Just like it sounds, the TV Streamer 2 lets you stream audio from your TV to your hearing aid.
ReSound Remote Control2: You can control audio levels with this handheld remote.
ReSound app: Control the volume of your hearing aid right from the ReSound hearing aid app. It also helps locate lost hearing aids. Available for Apple and Android.
Does ConsumerAffairs recommend ReSound hearing aids?
We recommend ReSound for their affordable hearing aid options, additional technology accessories and range of hearing covered. We love that each option from ReSound can accommodate profound hearing loss. The additional microphones let ReSound hearing aid wearers be prepared no matter what social situation they may find themselves. For these reasons, we can say with confidence that ReSound is an excellent choice.
ReSound Hearing Aids Reviews
A link has directed you to this review. Its location on this page may change next time you visit.
How do I know I can trust these reviews about ReSound Hearing Aids?
4,313,342 reviews on ConsumerAffairs are verified.
We require contact information to ensure our reviewers are real.
We use intelligent software that helps us maintain the integrity of reviews.
Our moderators read all reviews to verify quality and helpfulness.
Page 1 Reviews 0 - 10
Reviewed July 14, 2023
My wife purchased ReSound hearing aids two years ago. We were assured by the store rep that he would always be there for assistance. In two years numerous calls were made and a text sent. In every case the rep did not follow up. Now we have a warranty issue, one hearing needs repair. Again a call was made, she was told the office would call to set an appointment. No call was ever received. I sent four emails and placed a call to ReSound corporate offices. No response to emails and phone call was met with the stores rep would be contacted. Bottom line, there is no support for warranty. We have a broken hearing aid and ReSound doesn't care. Just sell them and forget them appears to be the attitude.
Reviewed July 12, 2023
First let me begin by saying I have been using hearing aids for over 30 years so I'm no rookie. I'll admit, Resound sound quality is great! It's the engineer structure outside of the aid, (tubing and earbud) that is extremely cheap and completely unreliable! Never have I ever had to send any of my hearing aids back to the manufacturer until being introduced to my $7,000 pair of Resound aids. First round was due to ear buds improper fit, not once but twice. I was told a new guy was still being trained. Just great, right? And, they still do not fit properly.
I barely had these aids for six months when things really started going downhill. The wing on my left hearing bud broke off. It was replaced. The tubing connecting the earbud to the both aids began to fray exposing a very thin wire. My buds were literally dangling from a thread. Both buds and tubing replaced. Within 5 weeks the wing on my left earbud broke off and the tubing was fraying…again! There's still no light at the end of this dark Resound tunnel as I have no doubt I will continue to have nothing but problems with the cheap tubing, garbage ear buds and ridiculously thin wiring! If anyone knows of a class action against Resound, I'd be more than interested.
I told my audiologist I so regret not going with my first choice, Phonak. Had my old Phonaks for years with no problems whatsoever other than it was time to upgrade due to my significant hearing loss. I so regret not sticking with Phonak. Do yourself a favor and save the headaches. Do not purchase Resound hearing aids.
Thanks for subscribing.
You have successfully subscribed to our newsletter! Enjoy reading our tips and recommendations.
Reviewed March 15, 2023
I have had these about a year and they are a constant problem. I had Phonak for 8 years before these and never a problem. I never know which one is not going to work. First thing this morning it was the left one, finally got it working by turning it and my phone off and back on and putting it back in the charger, now an hour later the right one is not working. I have taken them back to the Audiologist many times in the one year I have had them. She has suggested I send them back. I don't want to do that. I need them daily in my part-time job. I want a new pair as soon as possible. Do not buy anything from Resound.
Customer Service
Online & App
Staff
Reviewed Nov. 26, 2022
From day one nothing but problems. I have a android phone and have been told that they have had problems with the android app from day one. Customer service representative said at this time that there is nothing that they can do. The hearing aids disconnect all the time. You can be in church and all of a sudden one of them will drop out and the sound level goes way up. If they were a good company they would let us know about this problem.
Reviewed Aug. 30, 2022
I'm a mailman and I receive phone calls and listen to music while I work. With these I can not listen to music nor can I talk on the phone because the mic is your phone! Listening to music is the worst, almost equivalent to having wired headphones with a shortage in the wire. They lose a signal and turn off and on often and they sound as if they just cut off and on. They are the worst!!!! Bluetooth, please if you have a iPhone you'll to flip between the settings and the app just to balance the sound and my left aid is never connected! I've had them serviced once and could not troubleshoot these issues. Liked them better when they were unable to Bluetooth.
Reviewed July 15, 2022
I've had the Linx Quattro for two years and for the most they work well. However, if I am watching tv and need to use my phone for anything, the tv sound becomes intermittent and in some cases shuts down. It seems the hearing aid app for iPhones is not a good fit. The tv streamer, the hearing aid app and the hearing aids do not work well together. The hearing aids by themselves only provide acceptable but not great hearing. A cost benefit analysis indicates they're overpriced.
Reviewed June 17, 2022
After owning my Resound rechargeable hearing aids for 3 years, I am told by my audiologist that ReSound no longer produces the Z battery. Since they no longer produce it, the price on the remaining stock is nearly $100 per battery. I cannot afford to be buying new hearing aids every 3 years just to get the rechargeable option. This is a disgrace and a reason for the gov't to make more stringent regulations for this industry!
Reviewed Oct. 8, 2021
I have worn hearing aids by several different brands and these are the best I have used. The sound quality is excellent and I can tell a real difference when I take them out that I have not been able to tell with other brands (MAICO and Beltone, and Marvel). I have an Android phone so I cannot do the advanced functions but I can control the volume and switch between the noise filter and speech clarity and that's good enough for me. I have the universal tulip domes therefore I don't worry with the domes being the exact size because they conform to my ears. One word of caution which is true for all domes, Make sure you replace them once a year to avoid them tearing off in your ear and having to be removed with a pair of tweezers in a doctor's office. I had this happen recently. Overall I am very happy with my hearing aids. The technology keeps getting better all the time.
Reviewed Sept. 7, 2021
I have had my Resound LiNX Quattro hearing aids for 2 years with very few problems. However I have had to purchase 2 replacement charging Cases at $200.00 each. The case insert plug gets very "loose" fitting and the cord charging plug fits too loosely or activate or charging the case. I've sent notes/emails to Resound over the past 2 years and they have NEVER RESPONDED.
Reviewed Feb. 13, 2021
Bluetooth to my iPhone. Easy to adjust volume. When sharing my phone to listen to family, must remember to disconnect my hearing aids. Have owned my resound hearing aids for 6'years. Must use 312 size batteries. I purchase by box, 8 quantity. This amount lasts me a month. Batteries are easy to insert and remove. For best sound, should clean wax trap daily. Plastic pull helps with removal of hearing aides. Batteries signal when they are getting low on charge. I have two hearing aides, one in each ear. I can check the strength of the batteries in each on my smartphone. Each hearing aid is color coded for right (red) and left (blue).
ReSound Hearing Aids Company Information
Company Name:

ReSound Hearing Aids

Address:

8001 E. Bloomington Freeway

City:

Bloomington

State/Province:

MN

Postal Code:

55420

Country:

United States

Website:

www.resound.com
Check out our buyers guide top picks
You're signed up
We'll start sending you the news you need delivered straight to you. We value your privacy. Unsubscribe easily.