Consumer Complaints and Reviews

My wife went to Affordable Dentures in Duluth MN in June... She went back a total of 10 times and never got the right fit. Yes they are nice for the first couple times. After that they are rude and accuse you of not knowing how dentures fit. My wife had blisters on her gums for the ill fitting dentures. This was not her first set of dentures. We went to a different dentist and found out these dentures are made so cheap wouldn't last for over a year. No they still don't fit right and I would suggesting going to a real dentist and paying a little more. In the long run you would be saving money, time and aggravation. HEED THE WARNING... GO TO A REAL DENTIST WHERE THEY CARE ABOUT YOU!!!

If I could give no stars I most definitely would! Worst experience I have ever had in my 63 years! I had a complete custom upper plate made to replace one I had made when I lived in the Philippines and they were five+ years old, BUT I only paid $100 for them and they fit great! The dentist at the Redding clinic was rude and would not listen to what I wanted and did what she wanted instead which caused me to have to wait two weeks for her and staff to return from vacation. After they returned on June 15, 2016 I was told I had to make an appointment for adjustment so I made an appointment for the 17th at 8:00 am. After we sat there in the waiting room for almost two hours, they finally came and took me to one of the rooms to wait for the dentist. When she came back to see what I needed I explained that I was in need of an adjustment and had to wear my old dentures to eat because the new upper would not stay in.
After sitting in the dental chair another forty five minutes the dentist came back and says; "We are too busy today to adjust your denture so you will need another appointment tomorrow." We showed up again on the 18th at 8:00 am and we sat for almost 2 hours again. Then after I was called to go to a dental room I sat in there over an hour before anyone came to see what I needed. After I explained what was needed I sat another 45 minutes. All in all I sat in that room a total of 3 hours plus the waiting room time and I still did not get what I asked for and they rip you off by making you pay in advance. I wasted $665.00 at this terrible facility and a lot of time. I would not recommend this place to anyone especially those on a fixed income! If you complain they make it seem like it is your fault for their 3rd rate business practices.
Plus she would chew out her staff in front of customers for everyone to hear. Many patients left those 2 days because of excessive waiting and told to come back another time. I forgot to mention that I had to pay $90 for x-rays I did not need! Plus I had a Free $25 consultation card that my sister gave me which as a new customer I was to get a Free complete consultation. I never received a consultation, none at all! I was so livid I could have exploded especially after 4 months one of the eye teeth on my brand new custom upper plate fell out while I was eating a cheese sandwich and before I knew it, I swallowed the damned thing! No I didn't look for it. Lol! Still wearing my old denture.

On 09/21/216 went back into the Affordable Dentures in Tracy California. Explained for the 3rd time what was wrong with the bite line in my denture. I can eat right, I bite on only one side and the other side doesn't even touch and what would fix the problem in the denture I paid $1500 buck, that is in my mouth. They acted as if I wasn't even talking to them. The staff is all pleasant until they get your money and then you're not worth the time to talk to. Also, the dentist, MARINO ** let the front desk work on patients. They don't even wash their hands when they touch patients before or after. My 5 years old can make better teeth than these rookies, how the HELL do they get a license here?
If you need **, JUST ASK THE DENTIST THERE, HE WILL SELL YOU AS MUCH AS YOU NEED... EITHER way I'm screwed out of $1500 bucks and they still SUCK!!! Please save your money and don't go to the Affordable Dentures in Tracy California, if you do make the mistake, take some grease with you... I wouldn't recommend this guy or his staff to my worst enemy.

This company has done nothing but lie and take my money. Nothing has been right and they continue to say try or we will remake it. So when it came down to remaking they wanted to charge me again after I already paid and it wasn't done right. Rip off company and NO CUSTOMER SERVICE. ONE DAY Dentures, 100% Satisfaction... what a joke. I didn't want to give them even one star but can't submit this review without it. Save your money. This company isn't worth wasting your time.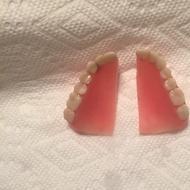 My dentures have split down the center into 2 pieces 3 times & each time I miss an entire day of work. This happened a week ago. I paid $100 for the repair & now here it is Friday & it's broke again! I am stuck at home all weekend and will be missing another day at work on Monday! Maybe if a dentist were there to properly fit my denture or figure out why it is breaking, I wouldn't be in this situation again! I have never seen a dentist there, even when I was getting a new denture. One time I did see a very dirty, ungroomed man go in with a patient and wondered who he could be but I don't think I would ever let someone like him even touch my mouth. It just seems strange to me that the patients don't see a dentist. Affordable Dentures needs to be looked into.
How do I know I can trust these reviews about Affordable Dentures?
611,030 reviews on ConsumerAffairs are verified.
We require contact information to ensure our reviewers are real.
We use intelligent software that helps us maintain the integrity of reviews.
Our moderators read all reviews to verify quality and helpfulness.
For more information about reviews on ConsumerAffairs.com please visit our FAQ.

Positive Experience!! AFFORDABLE DENTURES - Pell City, Alabama. I'm a senior citizen and had to visit this establishment summer of 2015 AND summer of 2016; and no doubt will require more visits in years to come. Dr. ** is a "GEM" with a pleasant bedside manner and a caring demeanor. He strives to achieve the best remedy to resolve every patient's particular needs.
The office personnel and assistants are delightful and present with consistency an atmosphere of courtesy, helpfulness and consideration. PAM is a veteran staple of the place and has been blessed with an "OVERDOSE" of an attractive personality. She says Lisa is a "brat" (ha ha) - I think Lisa is a "CoolCat". Heather and Jackie (I refer to them as dark-haired darlings) are also charming. In fact there are numerous "amiable" adjectives which are relevant to this organization. To sum up in "Today's" terminology... My experiences with Affordable Dentures in Pell City, AL "Didn't Suck" LOL... LOL... LOL.

I used the Affordable Dentures in Vestal Ny. Affordable Dentures - Binghamton/Vestal. Chukym **. When I made the appointment I went over specifically what I wanted. When I arrived it was never explained to me how the procedure works. I was left to try to figure out what was going on. They made the x-ray and impressions, but when I returned later that day for the extractions, they were going to administer the wrong sedation. When I questioned what was being done, they became very rude and defensive.
When I questioned further, I was told it was my fault that I didn't explain what I wanted. When I tried to explain that I had, I was told that I talked to the wrong people. The person I talked to was there. I was told that I would have to do things differently or reschedule. I demanded my money returned and the dentist and owner said, "Sue me!" I did get a partial refund, but now I am stuck with a temporary set of dentures that I can't use, an x-ray and a mouth full of bad teeth. I would never recommend this office to anyone. They were rude, condescending and belligerent.

I broke my upper denture... called Affordable Dentures, had to wait three weeks for an appt in Zanesville, OH. Purchased the Ultimate package. Waiting room was crowded and the place was dirty. Said they had to order my teeth, never comparing my current color. Teeth arrived in the wrong color, then they closed the office for vacation. The wax try in... they were HORRIBLE. The teeth were set in the wax plate like a child had completed the work. The dentist had no chair side manners, just rude and jaded when I said there was an issue with the teeth. Then they had to order more teeth in the correct color and 3 weeks later still no teeth.
After numerous calls to their office, they said "teeth just came in last Friday. Get you back in next Thursday." I still have no teeth, the ordeal has been going on over two months and I asked for a refund... they said they will have to contact "Corporate" and get back to me (what they can't find my $1000.00 I paid them in advance????). My overall experience was the worst, I believe the place is a scam. ONE DAY Dentures, 100% Satisfaction... what a joke. I didn't want to give them even one star but can't submit this review without it.

I had my upper and lower teeth pulled, and that was last May. Since then I have been back to Affordable Dentures in Asheville NC to get my dentures adjusted. The top ones fit. The lower ones I have never been able to wear and they have made the lower dentures twice and had to go back because they still did not fit. So today I was told there was nothing they could do. I cannot wear the lower dentures and feel like my Medicaid should not have to pay for my lower dentures. I feel like I was took advantage of and will be calling Medicaid to see if they can help me. People do not go to Affordable Dentures and they say 100% customer satisfaction. This is not true. I thought false advertisement was not legal.

Paid over $1000.00 to be treated like garbage. Dr had no bedside manner whatsoever. Was rude & impatient. Would never go back nor would I recommend this place to anyone. He was rude from day one. I should have walked out then. When it came to final fitting for partial, he was having so much trouble getting it right that his final remark was... "I've worked on this long enough, I'm done."
When I got home that evening I had such a hard time removing it that it actually broke one of the teeth it was hooked onto. Luckily there was enough of the tooth left that it then went on and off with ease so I've left it alone. There was no way I was going back there again. Can't believe I actually had to pay to be treated so badly. I should have gotten every penny back just based on the way I was treated... but in the end he has lost a customer. You do know the value of a lost customer... Customer tells 1 person. That person tells another... that's now 3... and goes on from there.

bought premium pair of dentures a year ago from these folks... have had top plate in for one repair (no charge for the tooth falling out) because break occurred during first 90 days... bottom plate broke while eating cottage cheese...$99 to repair it. Now the bottom plate broke in the middle while I was putting them in. Can't believe how thin both plates are. You would expect a premium pair to be a bit more sturdy. Good example of getting what you paid for... $1150 wasted. Back to wearing my old pair till I can afford a new better made pair... Redding California Affordable Dentures is fast at taking your money and fast at supplying you with cheap thin dentures, no matter how much you spend. Go to a place that makes good dentures, not these paper thin ones made to be replaced within a couple years... LESSON LEARNED

This place should be shut down. I paid 3,000 dollars for teeth that do not fit right. Can't get appointment on my day off. Used to have to sit in waiting room till your turn then started giving appointments. Made no difference still Sat for more than 3 hours. This is a cattle farm. To anybody reading this pay a little bit more and get it done right because that is what I have to do now. This was just a 3,000 dollar mistake for me. Go to a real dentist. What sucks is I had insurance that paid for this. I hate to put people out of work but this place should be closed. I'm not computer literate so I don't know how to add photos. Just trying to stop people from throwing away their money like I did and go to a real dentist. It just goes back to you get what you pay for. I can say its great if you want to lose weight.

I choose to get implants from Affordable Dentures. After starting out in Martell Ca, the office moved to Sacramento Ca, and then the dentist quit and I had to go to Tracy Ca. Worst mistake I ever made. I have not been able to eat food I use to as they fall out and float around my mouth. They click and wobble back and forth. Every time I eat, I have to go to the restroom to take them out and get the food out from underneath as they gap in the back and move side to side. I can't smile because they gave me a horse's mouth as they are too long and bite the inside of my mouth every time I try to eat. I have never has a gummy smile until I got these things.
It has destroyed my social life as I don't even feel confident enough to accept a date or even go out with friends. I went back to their office 5 times at a drive of an hour and a half one way... to get something done to fix the problem and all they did was take a dremel tool to them and place them back in and send me on my way... Never once redoing them as I ask. And last time I went the dentist told me "it is what it is"... I am going to file a case with the state attorney general's office in the morning and then with the state dental board. Then step is an attorney. Because it's going to cost me twice as much to fix the damage they have done and cost me.

One visit was enough for me. I went to their office in Abilene TX years ago where they determined they needed to pull 2 teeth at the same time. The dentist who was a rather robust woman yanked the teeth out with such force she managed to injure my jaw joints. I suffered at home for days with excruciating pain from a dry socket and could not get help from this outfit. I finally self-treated with clove oil and Q-tip. The office charges before you go into the back to see the dentist. While I was getting X-rayed the attendant who did the actual X-ray told me she just had dentures made there and showed me a mouth full of probably the ugliest looking set of dentures I ever saw. They were crude. I definitely would not ever return or recommend. This outfit needs to be sued and put down like a dog.

I had dentures made at this office. Big mistake. The ladies in the back seem to care but the office guy and owner (note father and son) protect the company and don't care. I had my first set made. Bought the 800 package. I came back 2 days later to get it adjusted. It was rubbing and was handed a piece of paper saying adjustments are by appointment only and from 10-11am. I said, "Folks work. I can't take off all the time to adjust these." Around and around we went. Finally the rubbing stopped but became extremely loose. The girl said, "Ok, we'll try a temp adjustment." They did that and my mouth tasted horrid. I broke out in blisters and got a severe headache.
I called the office on Monday. Said I was having an allergic reaction to the temp filler and they said use Listerine and hung up. I called back and said, "It not just the taste but I'm sicker than a dog from these." They didn't care. I then took a knife and pulled the filler out piece by piece til it was gone and was back to wearing the loose fitting (but the nausea and headache were gone). Went back and said I just want my final done so they did it. The office mgr, not a tech, not the dentist the office mgr did it and it was wrong. It wouldn't fit right. Couldn't eat, can't smile, can't talk.
I went back again and said, "You would fix these. They don't even line up!" They assured me they were fine but would fill in this set to make it better. I went to Aspen (2nd mistake), got a 2nd opinion and x-ray. They could not believe the horrid denture I had and assured me they would fix it and make it great. 3 weeks wait. I can't do that so Aspen is out, Affordable won't warranty the work and I continue to lose weight, no smile and stressed out. If I could find a lawyer that did dental cases I would sue Affordable. Oh and any review you put on facebook they remove and block you so only happy clients ever show. Wish I knew about this site prior.

In September of 2014 I went and got a loan from CareCredit for a full set of dentures @ Affordable Dentures. I bought the most expensive package they had because I was 34 year old and wanted very realistic looking teeth. Within 2 months 4 teeth on the bottom plate fell off. I went back and they replaced them. Then throughout the next year and a half I have had 10 teeth fall off the plate! They always tried to make excuses for them falling out and were VERY rude! They started to blame me for them just coming off. One time I was talking to my neighbor and one just fell off. I was very embarrassed!!!
Long story short the last time I went to get 1 tooth fixed that came off I paid almost $250. That was for one tooth!!! Now the whole bottom plate broke! The top has had a hole in it since the day I got them as well as they have NEVER fit right and they keep telling me I just have to get use to wearing them. I will NEVER go back! I paid $1700 to start then over $1000 in repairs and they don't fit as well as they are garbage!!! The tec that has taken care of fitting me as well as most of my repairs is so rude and nasty. I hope he never needs any dental work because karma is a **!!!

When my dad went to Affordable Dentures the guy scared our dad because he can't hear good. So it scared my dad when he came up behind him and he didn't introduce his self first. They got the dentures made, he took them home and they were loose and also had a hole in them so they took them back and told them to fix them. They then put in a cushion that made my dad's gums sore. WE WILL NEVER GO BACK TO THEM AND WE WILL NEVER REFER THEM TO ANYONE!!!

First, the dentist is amazing. Everything else sucked. If it was just this dentist with a whole different staff especially the office manager, Laura, who is a rude, very antagonistic person. I have not been able to eat right with my bottom teeth and then one drop busted them completely apart. There is no warranty though so I am just screwed.
I probably wouldn't go back to them anyway. I am eating with my temporary dentures and they fit better than my permanent ever thought about; too me, the new ones are huge and totally not what I asked for. I told them, I wasn't happy and that it wasn't right, but every time they met me with opposition and another way to do them which never gave me the results I was looking for.

I have had bad teeth most of my life, due to genetics. I have always wanted a beautiful, white smile. Unfortunately, I am not a rich person, and Affordable Dentures was the only way I could afford "new" teeth. I had several teeth pulled, which believe it or not was a nice experience, due to the care and manner of the dentist there. I have no complaints on her at all. What I do have complaints on is their lab techs and their other workers who take the impressions and such. My dentures have never fit right. They are off center, and are way too big. They are also way too long, and with that and the ill fitting way, I can't wear them because I gag. Seriously. I explained this to them and they gave me an adjustment, which was included in my new denture wearer package. The adjustment didn't do anything. They were still too long, too big, and I was still gagging. So back I go again. I heard excuses from them.
After another trip, they give me a soft liner. So I was no longer allowed to clean my dentures unless it's with bleach water! Otherwise, the liner will bubble, they say. They still were way too long, way too big. So, another trip to their office. The tech used a grinder on them some, but still it did nothing for me. In the meantime, my partial on the bottom cut into my gums, and are also too big. The tech ground them down alright. Not the part where it cuts into my gums, but the actual tooth part!! They said that the roof of my mouth was flat and that's why the denture wasn't fitting properly and they couldn't do anything for me. So I asked for my permanent denture, which is part of my package I have already paid for in full. They refused, saying they would not make them until a year was up. And that they would do a hard liner in 4 months, but not until. They sprayed my denture with something, and stuck them in my mouth and sent me on my way.
Whatever it was they sprayed on my denture made the soft liner bubble up, so now not only do I have too big, too long, ill fitting denture, I have one that hurts because the liner bubbled and went into hard little lumps. They will not do anything for me at all. The techs refuse to listen or take responsibility for their bad craftsmanship of these unwearable dentures!! Now I look horrible, with no teeth and unwearable dentures. They do not care about their patients, they only want to bring money in. They are holding the money for a denture (and I went with the top of the line Ultra package) that they refuse to do until next year. This is wrong, and they should be held accountable for what they have done and make a new set for me that actually fit!! Beware. If you can afford another place other than Affordable Dentures, go there instead.

This was the first time in 2008 getting dentures with them, permanent bottom parcel was out of line so they gave me half of the refund for them. Went back this June 2016, my full upper denture has an over bite. Everybody can see it except them. They kept saying it's a perfect bite. Somebody needs to go back to dental school. I decided I was not going to even try and get a refund or redo them. I don't plan on going back and I will not be referring anybody.

I broke a tooth off my partial. Dentist refused to fasten it to the denture unless I agreed to have a lot of other work done. RIP OFF!!

Purchased highest quality on partial you could purchase. It never has fit right, clap on front broke, less than a year old, takes 3 weeks to get in. Staff chatter about inappropriate things while waiting for dentist, and then he sees you maybe 2 minutes, literally. Poor quality.

First of all, I had to take out a whopping loan from Care credit to get extractions and dentures. It is called a package. But Affordable doesn't give you the permanent dentures for a YEAR. This means they are floating the money I paid them for a full year and I do not have the permanent dentures. This is strange. A full year to get permanent dentures when most other places make you wait six months at the most. This is not to have your gums heal, the heal within six months. It is to float your money and put off getting the permanent dentures till the last minute. I had a fairly good initial visit with the place, however the tops of the healing dentures had to be remade because they looked like buck teeth. My dentures got loose... you get one temporary reline with this place, that is it.
I went for my temp reline a week ago and now it is peeling off. I was told not to soak them, I did not soak them. I washed them with a toothbrush and soap and water. Now the temp liner is coming off. Kind of disappointed. I know the ladies where I go will make a fuss. They usually do. Well... if you didn't do this, or didn't do that, this would have not happened. Yeah, right. I want to see what their reason is for the peeling off of the temp liner. I have not soaked it. I really want to wait only six months for the permanent dentures. I do not want AFFORDABLE to float the money I am paying on credit for a year. Seems unethical.

Approximately one year ago, I went to Affordable Dentures on Stapley Drive, in Mesa, Arizona, and had the rest of my remaining teeth pulled (17 to be exact). I was immediately fitted with temporary dentures. At that time, they were staffed with a female dentist named Amy, who had horrible bedside manners, and I had to go back several times to get them relined, etc. For the last year I have tried but been unable to eat solid food with the temporary dentures. I have had to blend everything, even chunky soup! They just wouldn't work and they were so uncomfortable. I left them out most of the time. I went into a depression but reconciled myself to the fact that I would never eat a cheeseburger or anything solid for the rest of my life.
Anyway fast forward to June 27, 2016, when I returned to Affordable Dentures to get my permanent dentures. I had opted (and paid $1,700) for the ultimate package which is their top of the line dentures. So they had an entirely new staff, new dentist named Chris when I came in. Chris was amazing! He remarked, "No wonder you couldn't eat with these things -- they are totally misaligned and the bite is way off. I will make sure your new dentures have the perfect bite." Imagine my shock when I got the new dentures the very next day and I was FINALLY able to eat and chew solid food again without blending or even cutting the food up!!
The entire staff at Affordable Dentures are so friendly, so amazing. I can't say enough great things about them! My smile is perfect. The teeth look so much like real ones compared to the fake, awful temporary ones. They are so comfy. I leave them in all day now and hardly notice them. I still am pinching myself to see if I'm dreaming after biting into a cheeseburger for the first time in over a year. I am in heaven!! THANKS A MILLION TO CHRIS AND ALL THE STAFF AT AFFORDABLE DENTURES! You see, I really believe the experience you have with dentures highly depends on the quality of dentist you get.

Please help I've been talking with corporate office regarding this mess, and the woman's name is Virginia in charge of consumer complaints. I've called repeatedly and was told Virginia closed the case as settled. IT'S NOT SETTLED. I can't wear this 1000 dollar off centered nonfitting denture or the re-lined original I brought in for repair, nor the bottom partial. Plain talk... They don't fit and the teeth are off center. I went there thinking I could get a new upper plate but they totally messed up. I was a mess after waiting from 8-9am till 5:30pm. Last one out because they messed up the plate. I've been trying to get this settled. At this point I want a full refund. Please help me. I can't settle this on my own. They are taking advantage of the elderly.

Hi I live in Sacramento CA. I went to the affordable dentures last week the one of Arden. When first arrived the placed seemed clean very clean but no one else waiting at all seem a little weird. The receptionist was on Facebook showing what I later found out to be was the x-ray tech. They handed us clipboard. Not one word said. No hello how are you. No greeting. A little unprofessional but took it.
After the X-rays went to the back. The doctor looked at her within two minutes said "we have to removed all her top teeth." My mom who is a sweet middle-aged lady looked frightened (she doesn't speak a lot of English) but understood and I told her. What was awkward that the doctor stared at her without breaking eye contact for her, biting his pen and then said "well this is what happens when you don't clean your teeth" and I took that as way too upfront and aggressive. He then said we're done, quoted us $4000. After reading all this reviews I will NOT be taking my mom there. They sound like butchers. Same stories, rude, aggressive. These people need to be checked up on. Who knows what they're doing.

I went to Affordable Dentures 2 weeks ago. I had bought my upper plate then from there. I had them for 2 years and they cracked so then I went to the Melbourne, FL office. They called me back and I told them that they had cracked, and I needed to get them fixed, and while they were doing that I told them that they needed to be realigned because they felt big.
Then the dentist came in & I told him the same thing. He told me he could take my money and take my money again. I told him I was kind of on a fixed income but what would it take to do it right? He said, "Follow me," and took me to the front desk, and I said to him, "What, are you checking me out?" He said, "No charge & no I'm referring you to Aspen Dental."
Took me a couple of weeks to get in at Aspen. I finally got it & went to my appointment at Aspen. And now Affordable Dentures cost me over a thousand dollars. When I knew I could get my upper replaced with Affordable Dentures that would cost me a little over 400.00. So now I have put out 1,000.00 more but I have a warranty for 3 years now. I know they will last longer than 2 years. Affordable Dentures staff was rude and they made me feel like I was wasting their time. So what I have to say is SAVE THE TRIP WITH AFFORDABLE DENTURES AND FIND A COMPANY THAT CARES ABOUT YOU.

I've had extractions before but never one that I've been in pain with for 4 days. I will never go back to affordable dentures on Broad River rd.

I have been going to Affordable Dentures for over 10 years and I have never had a set of dentures that fit as poorly as the new ones I had done a month ago. I have been back to get ADJUSTMENTS made and they still don't fit right. The bottom denture is crooked and does not line up in any direction which I feel is creating the soreness in my mouth. I would NOT recommend this place to anyone ever. They do not take care of you as I feel they should. Really disgusted with this place.

I had a great experience at the Affordable Dentures clinic in Cedar Rapids, IA. I needed multiple root canals, which I could not afford. I told my dentist that I wanted all my teeth pulled and dentures placed. He refused because my teeth could be saved. A friend recommended the Affordable Dentures in Cedar Rapids Iowa. They were great. I told them I wanted all my teeth pulled and full dentures. They didn't try to talk me out of it at all. They set up an appointment to do it all in one day. They did impressions in the morning. I came back in the afternoon and she pulled my teeth and placed immediate dentures. I came back a few months later and she placed the final set of dentures. I had two adjustments and now they fit perfectly. The doctor and her staff were all super nice! I definitely recommend them!
Affordable Dentures Company Profile
Company Name:

Affordable Dentures

Website:

http://www.affordabledentures.com/