Consumer Reviews and Complaints

I paid $2,000 upfront. The tech abused me physically and verbally, as well as ruining my dentures. 2 additional sets made, worse than the original. It's been almost 2 years because I can't afford to pay a different place. My face has changed, people have a hard time understanding me and it's difficult to eat. Now, I get a letter saying how they value me and want me to buy something else from them. Cameron ** is the dentist, Mesquite, Texas.

My experience with Affordable Dentures was by far the worst experience and no one should have to go through the same thing. I went to have a simple partial denture made and it turned out to be a big headache and a waste of time. The office was dirty, the wait time was long, the quality of work was very poor and I was told to come back to their office several times, ten to be exact to correct their mistake. At my last visit, which started off as an 8 am appointment dragged on and I was told to come back at 12 pm then 1 pm d finally 3:30 pm. In the end they tried making 2 partials and neither fit!! I would not recommend anyone to go there!!

I made an appointment about a month ago. It's over an hour travel from my home. Upon arrival at 730 am they didn't have me down for having an appointment. They did see me though and I got in fairly quickly. The 1st part of the appointment went well although they kept trying to get me to upgrade what I was getting done (5 teeth pulled and full set economy dentures).
I was excused at 915 ish and told to come back at 1030 to have the teeth pulled. When I got back there was a new receptionist who was rude. She had been having a private conversation when I arrived so I sat to wait until she was done. As soon as she was done she asked "and you are?" So I let her know and she promptly closed the window without saying anything else. Around 1130 the dentist himself came out and told me it would be about a half hr longer wait as he had a couple of emergencies come in. At this point I was a little aggravated but what could I do?
I was finally called in at 10 minutes to 1! Now I do have quite a bit of anxiety over the dentist which I explained to them this visit and at previous visits. I was taken back and numbed. When the dentist came in he didn't say a word literally just grabbed the pliers and pulled my mouth open and started yanking! I was taken back. He didn't even make sure I was numb or say a word! When he was done he shoved gauze in my mouth practically choking me, grabbed a wipe and wiped my face and walked out of the room. I was shocked. All this without saying a word.
An assistant came in and changed the gauze 2 more times and then came in a third time with the dentist. Again without saying a word she picked up an instrument to hold my lips away from teeth and the dentist leans my head back and opens my mouth. Saying nothing he proceeded to give me stitches. This time before leaving the room he hands me the sucker and tells me to suck the saliva not to spit. I just start crying and said I didn't know how. He said, "flip the switch," stuffed more gauze in my mouth and left. I felt like crap and of course at this point what can I do? After about 10 minutes another assistant comes in changes the gauze and tells me I can wait in the waiting room or come back at 2 pm for my dentures. It's about 115.
I go out to my car where I am still bleeding pretty good and wait. I go in at 2 and they take me right back. Change the gauze once again and we wait. About 230 they bring in the dentures and the assistant practically shoves them down my throat. I tell her to please take it easy and I put in my top denture. I have been wearing a full top plate for a few years.
She puts in the bottom with some stuff on it to measure for the reline. Mind you this is where the 5 teeth were pulled and now the ** is wearing off and they are pretty sore. Pulls them back out pulling on the stitches. I tell her that one side is rubbing and she said once the reline is on it won't and leaves to put the reline on. Comes in a few minutes later and puts them in pushing on them again aggravating the tender spots.
When asked how they feel I tell her the back is rubbing and digging into my gum. She said it was from being sore from the teeth being pulled. I said no it's a different spot. These dentures are bulky and huge. Not at all like the partial I had before and cut way down where the cheek and gum meet. I try to explain this to get which is hard because I'm still bleeding and sore as hell. She says they can do adjustments at a later date after my mouth heals a bit. I have to wonder how they can adjust something so big and bulky? The reline looks and feels terrible and they look so unprofessionally made. I understand they are the economical and therefore cheapest model but seriously I just spent 1200$ with you and get such crappy workmanship? Very disappointed with the dentures and the professionalism of the dentist himself and his staff.

Came in for my adjustment at 9:30 a.m. My dentures were made in another state. No problem they could adjust them. They ruined my $2500 dentures. Haven't had dentures since May. Have made 4 trips to Tupelo. 4 hours round trip each time. All the dentist offered me is $360 off a new pair of dentures. His excuse was that my other dentures were not made by them. Is the reason they couldn't adjust them. They shouldn't have tried. 1st pair was too short, painful. You could only see the ragged part of the tips on the top dentures. 2nd set of dentures were big bulky long down into my lower lips. Making me buck-tooth like Bugs Bunny. 3rd set is too big for my mouth. They fall out of my mouth even with adhesive.
On the 4th trip. New owner of the dental practice. Saw me as I was coming in the room. He just hit my shoulder almost knocking me over. That is considered simple assault. Leaned over right in my face and said, "You're difficult." Never returning to the room. Each time they insist that the dentures they made were perfect. When I called the service representative. She said I could make a complaint. Have a mediator. Kelly called from the office. I asked what his job title was. He said "umm sorta like Office Manager. Mmm I work I the lap." He giggled over speaking to other people as I was asking for my money again. I would like my $845. He said that the dentist would only give me back $425. So much for the 100 day guarantee.
My dentures that I came in with were ruined where I am unable to wear them. The dentures they make are see through. Taste like wax. Big bulky where I can't even close my mouth. Teeth are huge. Painful edges that make my gums bleed. I have no teeth that I can wear. New owner as of Jan of this year. He won't even speak to me. Won't return my money. Charging me for ruining my dentures I came in with. Just blowing it off because they were not made there. I want my money back. All of it. He should pay for my travel expensive. Plus for ruining my dentures that just needed adjusting. I'm on a fixed income. I have explained this to them on many occasions. The office staff and dentist still push the most expensive on you. I have observed the return of money in cash for 2 clients. 2 clients that waited all day for an adjustment. By any means should I be charged $360 for that dental office ruining my dentures. Only willing to return $425.
Kelly said it was at the discretion of the owner Dr. Abby Raymond who decided how much refund you would receive. My papers say 100% refund if you are not happy. Final dentures were delivered less than 2 months ago. You have a 100 day certificate that is worthless I again want the $845 total amount I paid. Until this is resolved I will have no teeth. This has caused me pain, suffering, anxiety, depression. And unable to go out in the world toothless. No one at Affordable Dentures will mediate so far. These dentures are huge. I am unable to close my mouth. My top lips sticks out so far it has wrinkle. My jaws hurt. I was asked to try 1 more time. I did. Again I asked for a full refund. Over and over I have been refused what is advertised. Asked Kelly when I would hear from him again after he spoke to the owner/dentist about my FULL refund. He giggled and said when we are able to call you. Hung up.

I went to Affordable Dental to have a new upper done. I had a bad experience with a dentist that did my temp so I thought that I would have better luck with a company that specializes in dentures. I called about a month in advance and got an appointment for 8am on a Friday. I drove an hour to get there. I arrived to see a parking lot with at least 8 other cars that also had 8am appointments. When they opened the doors at 8 we all filed in like cattle. By this time there was at least 20 people coming in. There was a sign that said you would be seen according to what the practice deemed important. I took a seat and watched several other people file in. The waiting room had over 30 people waiting and then they started calling names. People that had later appointments were being seen before me. I finally got called in around 10:30am. I looked around the exam room and it was very outdated.
The walls needed paint and the white equipment was a dingy yellow. I asked the tech if she wanted me to remove my dentures since they were "glued" in my mouth and she snapped at me and said that I should have had them already out. Because I only had them for 8 months, she said it was too soon to have my permanents so I was just going to have an alignment done. I was told to see the lady at the desk. I was charged 175.00 and told to come back between 2 and 4. Now where am I going to go without my denture, so I stayed there and people watched. I was sitting right in front of the door leading back to the examine rooms. I was shocked to see the techs wearing blue gloves, picking up files, going into the reception area and touching paper, pens, phones and so on, then opening the door by the handle, calling another person in still sporting the same gloves.
I began to really rethink what I was doing there. But they had my denture so I felt stuck and hopeless. Finally at 5:15pm I was called to go back to the examine room. And yes the tech was holding my file, touching the doorknob and the pen with the same blue gloves on. My gut told me to get my denture and just leave but here it was on a Friday night and no one else would be able to see me that night or the next day. The tech came back into the room with my denture and I couldn't even get it to go in on one side. So I showed him where it hurt and he sent out and came back a short time later. I tried again, but the pain was horrible. I told him the same spot was not right so he went out again and I heard him filing it down. The third time he came back I was able to get it into my mouth but that same area gave me unbearable pain. He checked it while it was in my mouth, then took it out, and began to put this powder stuff on it.
I asked him what that was for and he explained it was adhesive. He said I needed it to keep my dentures in. What!!! I just paid for an alignment and I have to use adhesive now. They were too big except for the area that was giving me pain. I told him they still hurt really bad and he said, go home and give it a few days and if it didn't get better to come back. At this point I had my denture and it didn't fit, and it hurt and I'm in worse shape than when I first got there. I got up, looked in the garbage can to see if I could see any blue gloves which there were none and walked out. For 2 days I couldn't eat and I was in so much pain.
My friend who also wears dentures took a look and found that there was a large sharp piece of plastic in the area of my pain. He took out his Dremel and filed it down and polished it up. I developed a sore due to the sharp ridge. They also didn't cut back for the piece of skin that hangs from your gum to your lip so I got a blister there too. My friend also adjusted that area too. The day after I was there, shockingly I developed a sore on my bottom lip. 2 weeks later my denture doesn't hurt thanks to my friend fixing them and the sore is gone and the blister inside is getting smaller, but I still have to use adhesive everyday just to keep them in my mouth. So I ask myself - I wasted an entire day, and came out with more problems than I went in with. Would I ever go back or recommend this place? No.
How do I know I can trust these reviews about Affordable Dentures?
884,041 reviews on ConsumerAffairs are verified.
We require contact information to ensure our reviewers are real.
We use intelligent software that helps us maintain the integrity of reviews.
Our moderators read all reviews to verify quality and helpfulness.
For more information about reviews on ConsumerAffairs.com please visit our FAQ.

Dr. ** is the best dentist I've ever seen in 40 years. He cares about his work and he cares about his patients. He listens and takes all the time his patients need to feel completely at ease and comfortable. His staff is EXCELLENT. The nurses are all friendly and down to earth. Brandy is a nurse there who runs the front desk and financial along with other tasks in just about every position in the office and still finds times to answer any questions a patient may need answered.
They are a busy clan but by far surpass expectations. Please know that this is the only dentist I know that can shave off my bone and drill implants into my bone and I'm giggling about the sound or sleeping with only ** to numb. I have little to no pain. I went to 4 Affordable Dentures in 2 states, 3 Aspen Dentals in 2 states, and 2 local dentists and I found the best in Affordable Dentures in Moline, IL. Please do your research but I bet you won't find anyone better than Dr. ** and his staff!

In the beginning I was having a good experience with this place. I was going for an upper partial. Paid over $1000 for a good one. I went back to the office around 8 times because my partial wouldn't fit correctly and was putting blood blisters on the inside of my jaw. I signed a 100% money back guarantee. (And have a copy) It states it is good for 100 days. Full refund if not satisfied within 100 days. Trust me - I tried everything to make this partial work. After just having enough of going to the office and not ever getting it right - I asked for my refund. It had been 90 days. I felt like I was getting the run around when I mentioned it. I was finally told my refund wouldn't be 100% - that it would be 70/30. That the office kept 30% for their trouble.
I paid over $1000 "cash" for my partial and they are telling me I wouldn't get cash back. It would have to be processed and faxed somewhere and eventually a check would be sent to me. A check for 70% of what I paid that should have been, as the paper states, 100%. I just don't understand how they keep getting away with screwing people over. I wasn't a bad customer and I never took too much time - and I didn't even throw a fit about the 70/30% deal. But if you state in your ad, and online, and on the infomercials that are on the tv in your office, that it's 100% money back guarantee... then follow through and don't lie to get customers. And if I pay cash for something - give me cash back - Don't make me wait for a check to come in an unknown amount of time. Don't think I will be going back. And hopefully I actually receive my refund??

About two years I got my temporary dentures. I was a real newbie and I had a lot to learn about wearing dentures. From the beginning, I got lots of the sticky adhesive on my lips and it wasn't easy to remove leaving my lips super dry and cracked. The adhesive would gather in my mouth and even mix with my makeup leaving a beige streaky color to my lips that was impossible to remove.
After months of this I chalked it up to lack knowledge on my part regarding all the repercussions of having dentures. Well the situation worsened over time and I was left with a sticky residue on my lips and in my mouth. My lips have never been the same. I mentioned all this to the Affordable Dentures Dentist and was told to come into the office to have my permanent denture done.
When they gave me the new denture, I noticed that the fit seemed better on top, but the bottom denture felt too big to me. I had no choice but to give the new dentures a chance. I've done that. Now my bottom denture requires adhesive several times per day and its usually a sticky yucky mess to clean out my mouth, clean up where ever I am, and to clean the denture. I cannot eat anything because after a couple of bites the denture breaks the seal with the adhesive and ends up moving around and then causes sore spots on my gums, lips and the side of my mouth when I would bite it because of the denture movement. Worst of all though, I have had Angular Cheilitis!!! It's so terribly painful that there were times I just cried. This all went on for a while.
I called to make a follow up appointment to have the bottom denture look at and to reiterate the problems I was having with the bottom denture. During my appointment, the first person to come into was I guess the tech. I assumed that since I got my permanent denture, I didn't warrant attention any longer from the dentist. Well the tech disappeared twice leaving me sitting there for a considerable period of time. I told her about the Angular Cheilitis and she said she would adjust the denture. The dentist breezed by and I got her attention. I told her about the constant stickiness on my lips and how it had ruined the skin on my lips and how the poor fitting denture caused the Angular Cheilitis, and about how much pain I've been.
She asked me a few questions. I answered. I told her exactly what I had been going through with my new dentures. She asked if I licked my lips because they were very dry. I responded that I did and that it's just a constant subconscious thing now because the lips are so dry, cracking and I have sores at each corner of my mouth that are very painful. Desperately I asked her for some solutions to the problems; the poor fitting bottom denture, dry sticky sore cracked lips and the Angular Cheilitis. Her response? She told me to stop licking my lips, to use Burt's Bees, and to try a different adhesive.
I thought to myself that I was way beyond having those minor solutions fix my issues. I require a more drastic fix and I don't even know where to begin. If Affordable Dentures was willing to help me, the dentist would have given me a more viable solution. But that didn't happen. I am still in lots of pain because of poorly fitting dentures, and the constant reapplying of adhesive after a drink, a couple of bites of food, or a conversation continue, the stickiness is worse than ever and the Angular Cheilitis continues to rule my life. Please! If there is anyone out there that has a suggestion, I am very willing to hear you out. Post and I will read!!

Rebecca at Affordable Dentures in San Antonio, TX. Did and adjustment on my dentures today and she did an awesome job. I have had adjustments 3 times in New Braunfels TX. But no luck. Rebecca did an awesome job today. Thank you so much Rebecca. Wish I would have meet you sooner. Thanks.

I bought a new set of dentures. I had to go back because of a sore the bottom denture was making. I did not call for an appointment, as I walked in to get the new dentures and they saw me right away. She told me I had to have an appointment even though they were making a sore, and my round trip was 1 1/2 hours. I had to come back the next day. I went back and the corner of my mouth was sore so I asked for them to pull one side at a time. Jackie came back with the metal thing to make an impression. She grabbed my mouth and pulled. When I complained she gave me a nasty look and went out of the room. It could have been put in slowly. She then came back and asked me if I had dry mouth, and I told her occasionally I did. She said that was caused by the medication I was taking; which it was not as I only had it occasionally. I think that the paste I was using to hold these dentures in was causing my dry mouth.
I had purchased an upper dental, and a partial before the new management, and I had a great experience. Jackie is a terrible customer service representative. She actually is just MEAN. I WOULD NOT RECOMMEND THIS OFFICE - Hopkinsville, Ky. I have spent over a $1000.00 and cannot keep the lower dentures in, and mostly have to eat soft food. It moves when I talk - how awful!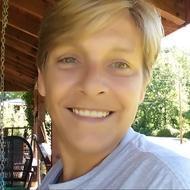 So a month ago I went in for a consult and to be honest I was expecting it to be awful... boy was I surprised!!! Dr ** and his team are so great!! Very helpful and very genuine!!! They referred me to an oral surgeon for extractions. My teeth were ruined from chemotherapy treatment and my smile was hidden for 3 years because of it because with chemotherapy everything needs to be perfect before you have dental work done because you have to go off your meds in order to get it done. I can't say enough about how great my experience has been so far!! Great team environment, knowledgeable, helpful, caring, clean, and if they say they are going to do something they do it!!! Thanks to them I have my smile back!!!

Had full set of next to best dentures made. Lower plate broke in less than a year. They charge 180.00 of repair and repair lasted two weeks. Would not make repair good and would not apply cost of their failed repair to the cost of a new lower plate. Quality of their product is inferior and service is poor. Would encourage folks to steer clear of this company.

Dreadful experience! Start by saying my app was for 9:00 am because they don't take walk ins anymore but still felt like I was a walk in because I didn't get in there until almost 11:00. Once in there the woman that put that nasty gunk in my mouth which made me gag as she kept pushing it up further and further to the roof of my mouth as she saying "breath in and out your mouth" it has to stay in for few more! As if she was saying under her breath oh god here again another gagged!!! By this point I'm ready for it to come out of my mouth as I'm trying to push her hand away from pulling that crap out of my mouth she's like, "Ma'am don't touch my hand." RUDE! No compassion for all the gagging I was doing!
The people including the dentist was very rude no compassion at all. Didn't listen to anything I said, how I wanted my teeth to look after trying to tell her several times! After all I'm spending $1900 for ultimate teeth. So finally I spoke my mind how I felt I was being treated... How I felt as if I was one of get em in get em out kind. After speaking my mind it only seemed I got treated worse from there. I didn't think it could get any worse than it already was! And wait all day to be treated like crap!
So I after all that they said my teeth should be in 5 to 10 days. I called on 10th day to see if they were in... NOPE! They would set up an app on July 10th to get teeth I was seen on June 19th!!! Needless to say I wanted my money refunded! Note to all... They want to charge me 15% for restocking??? What does that mean??? Restocking teeth that only fit my mouth??? And charging me $300. I will be contracting a lawyer! After the treatment I got from this place! I would not recommend this place to anyone! Horrible experience!!! I felt like was getting teeth at Walmart.

I been a customer for several years obviously they switch employees frequently at the Hopkinsville KY location. They don't listen to the patient. They blame the patient insisting you wear your dentures 24/7 instead of taking them out when your sleeping. They give you baby teeth & short you all the back teeth all crucial for chewing so you can't eat meat or apples or cucumbers or nuts only baby food. They fall out 'cause they are not made right. They should have dentures made in the same day. They keep you coming back 5 times at Hopkinsville & in Nashville by the airport. I spent a lot of money but I have to go somewhere else even though I just got new dentures a month ago.

My 80 year old handicapped mother called on June 27 to make an appointment to get some bottom dentures made, as her other bottom dentures accidentally got thrown away when she was recently in the hospital for a severe lung infection. When she called on the 27th the lady explained to my mother that she needed to bring 260 dollars to the appointment, and scheduled my mom's appointment for July 3. My mother had to cash in her change in order to have enough to pay the 260 dollars. I took her to her appointment on July 3rd and as we were sitting in the waiting room I saw an elderly woman at the desk practically in tears arguing with the lady at the front desk named Emily. I felt very sorry for the elderly woman I am not sure what the issue was but it was clear that the elderly lady was upset.
After witnessing the front desk lady Emily treat several elderly patients badly when my mom was ready to check out I made sure I was right by her side and sure enough they told my mom she owed 325 dollars. We said to this lady Emily that we were told it was 260. She said, "NO IT'S 325!!" And that the 260 was the sale price that had just ended on the 30th. First of all why would the lady that took my mother's appointment quote her the sale price and then schedule it after the sale was over? These old folks are being bullied and scammed! I witnessed it! Emily told my mom she had to get the other 65 dollars and when my mom asked her if she could just give her the 260 and bring the other 65 dollars when she came back to pick up the dentures the lady Emily rolled her eyes and said, "No we have to have it now!" My mother was so upset. I had to leave my mom sitting there and run up the street to get the rest of the money. I would never recommend that place.

I have been in miserable pain ever since they pulled my lower teeth and put in this ill fitting lower denture. I have made two emergency appointments. It was supposed to be $795 for their economy denture. It's going to end up being over $4000. I have been unable to eat anything but liquid. I can't bite with my front teeth. I can't eat anything that has to be chewed. Their commercials are bold faced lies. I have been totally humiliated in front of coworkers when I tried to eat a simple lunch which caused my denture to fall out. If I had any money left, I would hire a lawyer and sue them. I am a disabled adult and they really scammed me.

Different times as One year ago I went for the Ultimate top denture which at that time was $1100. I used my Care Credit. 45 min drive for every liner (4) and a year wait for permanent plate. Everything was fine until the permanent was ready. It was now $175 more for special warranty and new process. Ok. The Teeth were TOO LONG and when I put them in it slit my Superior Labial Frenulum! I have an implant in my foot which I explained I had to be extremely cautious about infections in my mouth. I usually take antibiotics before any work on my teeth that involves open wounds. I had the assistant make more room for my Frenulum but it took 1 hour and 3 ell as shortening those fangs! He was working with two other patients as well. I was very frustrated so the third time I just left. Could not wear the new denture due to the Frenulum so I wore the Temp for a week and made another appointment. When He had my teeth shortened that looked sawed off!
So next visit I get the Dentist Lady who I thought was very nice but not this day! They do not appreciate dissatisfaction at all! She claimed the teeth were NOT shortened by the assistant cause they ARE NOT allowed to do so. They send to lab. I said all I know is I gave the teeth back to him 3 times to make room for the Frenulum and shorten the teeth! Where he took them I do not know! I was here for over an hour! Could not wear new until Frenulum healed! She turned into a Shrew! Kept insisting her lab would Not do this! I also informed her that taking the impression from my Temp Plate was not a good idea! It should have been done from my mouth!!! Common sense and Logic! She argued! She had me do the bite impression and sent teeth to lab. They came back a little better fit but now they have chip marks and no good shape and still protrude a bit!
I am completely dissatisfied and wanted a new pair which is covered under the 100 day guarantee! No Way! They have you sign a paper when you get the new which they state is just for fit and color but watch out signing it! I ran into another dissatisfied customer in parking lot and we also swapped phone numbers. I was horrified when she told me her story! She put her new (added $175) to price partial in and OMG, she couldn't talk right! Sounded like she had a swollen tongue and mouth full of something! They tried to sell her more expensive too! She just texted and said the new one is still wrong! She ran into two more customers were dissatisfied! My advice is if you have to use the warranty or guarantee, you will be treated badly and get very tired of traveling! The other lady drives an hour and a half! I added the proof that I charged $1100 to my care credit but don't forget I also just charged another $175! Ripped off!

I bought their Premium Denture 9 months ago which comes with a 4 YEAR WARRANTY. Last night the lower denture cracked in half. When I went into their office this morning for repair the nurse when she saw it was cracked in half said that a repair would never hold but they would try anyway. Then she handed me a form to sign which releases them from all liability for the repair. WHAT KIND OF WARRANTY IS THAT? Once they repaired the denture it no longer fit. Then they said it would cost me $180.00 dollars for a re-alignment.
Bottom line is they will not honor the warranty they say comes with their product. They try and fleece you for more money if you have a warranty issue. That the product cracked under normal use. That their product is garbage. When I got out of their chair I felt I had garbage in my mouth. I will not allow their filthy crooked hands touch my mouth again. And I am hoping others will read this and head warning. Beware of doing business with this company.

After spending $1800 for custom dentures at Affordable Dentures of Augusta, GA, I still do not have proper fitting dentures. My first visit was to have remaining teeth pulled and the first set of dentures put in. I returned for a second visit to make adjustments on the first set of dentures and to have a second set of dentures made, which was done, however the second set was molded from the original casting. Because of the time lapse between the original casting and my second visit my gums had shrunk and the dentures did not fit properly. I complained to the person fitting my dentures that they did not feel right or look right. I was assured that would be corrected at my final fitting.
Today when I went for my final fitting I was informed that the existing second set was my final fitting. I had previously taken my paperwork to another franchise in Stockbridge, GA to see if they could do the final fitting and they confirmed that I was due a final fitting but if they did the work they would have to charge for it. After several trips from Atlanta to Augusta, I still do not have proper fitting dentures as well as one tooth missing that broke off when eating a smooth peanut butter sandwich that I could have replaced for $195.
It has been like PULLING TEETH to get any cooperation or results from the Augusta franchise. It is my belief that the franchise changed its offers and guarantees from my first visit to my most recent visit. I was led to believe that I would have two temporary sets before getting my final set as part of the Custom Made package. Oh, they will make me a third set but they will also charge me another $800 to do that! I paid $1800 for a Custom Package, which they do not have any more, I still do not have them and not one person in that office has offered a good explanation as to why.
I would really like to have some permanent dentures that looked nice and fit properly, but that is obviously not going to happen with Affordable Dentures. I would like my money refunded for services not rendered so that I can put it towards some properly fitting dentures. I can be reached at the following number through Wednesday till noon: **. I can be reached at ** thereafter. Thank you.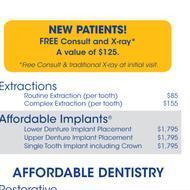 I went in for single tooth implant which I started in Nov. 2016. It is now June 8th and still don't have my implant. After already paid 1680.00 And many calls to office with no answer I finally got thru today and was told it will take 895.00 to finish. The advertisement on their website states 1795.00 for single implant. The employees will not answer phones or return calls and it's in Va. Beach Va. and I live in Moyock NC. You go in for dental work and before you leave you pay itemize work of what they did on the implant. So the 1795.00 price is false as you see I've paid 1680.00 and still owe 895.00 that just don't add up to the price that's advertised. I called every day for a month before I finally got someone to answer. Now 7 months later very unhappy with the way they treat their patients.

On August 3, 2016 I had nine teeth yanked out of my mouth by "Dr" **. Her lack of compassion and overall attitude was very unprofessional. This experience alone was horrible. Then after waiting for 6 months to get my permanent denture, which they could not do, was another horrible experience. The staff is unprofessional. The overall hygiene of the office should've turned me away immediately but I gave them the benefit of the doubt. Big mistake.
They also don't allow family members back with their patients. Why? Because they have a lot to hide. No running water in the rooms. Overall filth of the rooms. This place should be shut down and Jennifer ** should be put away. The waiting room floor has stains all over the carpet. The one good thing I can say is I found a new dentist. Affordable and extremely great experience and have been able to turn several people away from going to Bedford. I wouldn't let them work on the mouth of a cadaver let alone on anyone I know. What will it take for this place to be shut down. The filth alone should be reason enough to close their doors.

I had my teeth pulled and was given temporary dentures. After numerous times of going back with not being able to wear my bottom dentures at all, the dentist was good enough to make me a whole new set of temporary dentures. I have had them for a week. First I told his assistant that the bottom ones don't fit because they stick out on very bottom. Her answer was it is because they are temporary and in order to have them not do that, I would probably have to upgrade from Economy to avoid this when I get my permanent dentures. My mouth literally sticks out on the bottom and is very noticeable. In addition, I cannot eat anything without the bottom ones coming lose and I then have to take them out.
I like the dentist that did my work, but, I feel that the advertising for "Affordable Dentures" is really not true. I wonder if people realize before having work done there that the teeth actually are not good. I say that after talking with numerous people that wear dentures and never had the same problem. In addition, I pointed out an area on my upper left gum line that sticks out. I was told it is bone spurs. I do have discomfort in that area and do not feel it is from the upper denture. I feel like they should be checking more carefully for things that may or may not be right after pulling the teeth. You would think that they would x-ray or something to avoid these problems. I have not called the dentist again because they continue to give me the same answers. I will, of course, have to continue to go there in order to get my permanent teeth and then I still have no guarantee that the bottom won't stick out without paying more. Very unhappy.

The staff at Affordable Dentures in Kalamazoo, were so friendly and knowledgeable. I had a tooth extracted and a consultation about possibly getting a partial in the future. The oral surgeon put my fears to rest, and the actual extraction took only took a few minutes.

I finally got the nerve and money to get all my upper teeth pulled and get dentures or implants if possible. I asked the dentist about the implants and he said, "You can't afford them." I was floored by his assumption of my finances. I went in for my appointment after I paid my $1800 dollars. They told me I could have the gas for my nerves when they pulled them. I didn't get the gas, they said while I was in the chair they didn't do gas. So I let them do it anyway. It was the worst experience of my life. I still hear and feel the pain in my sleep. I have the same nightmare over and over about that day.
After several trips to the office for my permanent dentures they didn't fit or look right. The teeth were like baby teeth but stuck out like horse teeth. It made my face look ridiculous. They rubbed sores all over my mouth and is still painful to chew. I can't eat or talk very good and don't want to go anywhere in public. I feel my life is ruined. The decision to go to Affordable Dentures was the worst decision of my life. I tried to get some of my money back but they wouldn't even consider it. That place needs to be shut down before they ruin more lives.

I worked at this location faithfully for eight long years as a dental technician, before I was abruptly fired for taking 2 personal days because my 2-year-old son was sick. During those 8 years I went above and beyond the call of duty and was forced to work and do things outside the scope of my job description. Because I am from Peru I was always the one made to clean up the lab, take out the bathroom trash and do other menial things not related to my job. I was talked down to, abused and discriminated against by the management repeatedly and on an ongoing basis. I always tried to take care of the customer by taking my time and making nice dentures that would actually fit and be comfortable but I was always rushed and pushed to just get as many out as quickly as I could, with no regard for the comfort of the patient. I was called horrible names all the time, simply because I wanted the patient to be comfortable and be happy with their dentures.
At one point I actually overheard someone say, "We are here to make money, ** the patient." Then every week they would brag about how much money they made that week, it was disgusting. The dentures I put out are a reflection of my skills and very important to me and the patient but I was never allowed to do my best here. This establishment cares absolutely nothing about the customer and puts profits before patients' well-being. For you to get dentures the dentist will require forced extractions which are usually not necessary. I will be filing a complaint with the Florida Attorney General Pam Bondi and I suggest anyone (customer or employee) who is or has been abused or discriminated against by this office to do the same so that this organization can no longer abuse their patients and employees. The bad reviews here are true! The management here is absolutely horrible and the patients deserve better.

Doesn't matter what "package" you pick, you're paying to NOT wear em! Let me break it down. I received care at the Stockbridge Ga. Location. I haven't even reached the 2 week mark yet and this is horrible! I had to in the day of my surgery for them to adjust them to even fit. They told me to have a seat and they'd call me up. WHAT?! After about 15 to 20 mins, my bf went up and pointed out the fact that I was bleeding and post op and that's when they got me back in a hurry. Another 3 days later I made another appointment for another adjustment. They acted like it was such of an inconvenience to worry with and would barely let me tell her WHERE it was bothering me. She then brought them back, placed them and then when I was saying they still didn't feel right, she wasn't even in the room anymore!
I tried catching another nurse to tell her they still weren't right, she said, "Well hun it's a process and will take some time." I left a little angry, but ok. Now the problem is the sores and cuts in my mouth have gotten worse! So much so that I can't even wear them!! I had an appt. scheduled for tomorrow in Stockbridge, but I actually had to come to Tx for family issues. They assures me that the location here would handle it, now I find out they wanna charge me for an adjustment here!! Such BS for soooo much money!! I will make sure no one I know will ever use Affordable Dentures!!! A call to corp. has been made also.

I went to the Augusta Rd. Greenville office. My appointment time was 8:45. I didn't get seen until almost 10 am. That is the only negative thing I have to say about my experience with Affordable Dentures. I had 19 teeth pulled and purchased immediate dentures to be put in place after my extractions. The dentist was so great, the entire staff at this facility was wonderful. The dentist took his time when extracting my teeth and made sure in every way that I was comfortable and not in pain.
I was a nervous wreck with having so many teeth pulled at one time, the dentist was wonderful. The entire staff was great and very helpful. My whole experience besides the wait time I would have to give 5 stars. Once I received my new dentures I have to. I was very happy with them. They made sure they fit correctly. Also the look and the size of the denture was perfect. I couldn't have asked for a better experience. I would definitely recommend them to anyone having teeth pulled and getting dentures.

I called initially, asked if dentist would waive xray fee if we gave them our business, about 6,000.00, for implant work. Call taker said she would ask dentist, & let me know. Upon arriving a week later for 3:30 appt. I asked if she talked to him. She said "No". This is after driving 25 miles to appt. Salt Lake to American Fork office. She said they frown on that, that accounting dept gets upset if too many adjustments are made. Well, this isn't TOO MUCH, or too many, it's one. Anyway, after sitting there for 35 minutes, 4:05. I told my son (the patient), "Come on, let's go". This is because I witnessed every procedure room full. Clients in each chair. Dentist Adams was back and forth, in and out, seemed to be filing, working on a denture right out in the hallway.
A person came out to waiting room, then called back in patient's room. Another person came in from outside, they were called back for work, while we just watched and waited for our turn. Half hr. later I left with son. Told lady "Call us when you can get us in when you say so. Don't over book!" She said, "You don't need to come back, dentist won't waive the scan, xray cost". That was unprofessional! - and a negative adolescent idiotic comment. Should have apologized for half hr. delay, we got milked into the office with false comments. I realized when seeing hoards of clients, corralled, shuffled and packed in there, this along with her statement, means I will not go back there. If you go there, be prepared for a delay, also personalized service seems a tough call based on my witnessing how crowded it was, and only one dentist from what I saw.

My husband had Dr ** from Affordable Dentures located in Rochester NY on Sept 13, 2016 place 4 implants and a full upper denture. The quality of his service was to say the least the poorest quality work we have ever experienced. When we attempted to get help from the dentist our complaints were not given any corrective response until we filed a complaint the local BBB office. A refund is being provided by the dentist from his personal account as he did not want to go thru the corporate office he says because he did not want to delay the refund. I think he wants to avoid the corporate office finding out of his negligence poor customer service.
The pain and discomfort my husband is and has gone thru should never be experienced by another person associated with the Rochester office the Dr should not be allowed to do implants as he does not take the proper care when he is implanting the posts. The two front posts were clearly crooked and the sinus pain and the pressure my husband is still experiencing with the 1 front post is a daily and constant issue. We are now waiting for the refund and the complete set of records to be forwarded to us. We have been waiting since Dec 2016 for a solution to this situation. THIS dentist needs to be held accountable for his neglect and failure of quality service. As you can see the service were paid in full. That is one reason why I feel the dentist did nothing to respond to our numerous complaints and we had to turn to the BBB for help.

04/20/2017. I am a 74 year old man from the last generation which did not have the benefit of fluoridated water and toothpaste and relatively pain free dentistry. I let my teeth get out of control long ago and the chickens finally came home to roost a month or 2 ago. For the last several weeks I have been running an oral pain level, gums and teeth, of about 6-7 on a 1-10 scale with spikes up to about 25 if I ate the wrong thing or let the wrong food touch some of the most ill teeth. It is not the best way to lose weight but it works.
A neighbor had told me about having a great experience with Affordable Dentures in Oregon. Last week I finally got to the point where I knew I had to act, it was not going to get better on its own. No amount of sensitive tooth toothpaste and mouthwash was going to fix the damage. Last Thursday I went to my local dentist who did a thorough exam and recommended a treatment plan which would have cost many thousands of dollars and many hours of dental chair agony. He did give me antibiotics which stopped the worst of the pain after a few days. That visit and estimate really helped me decide how to proceed. The next day I called the nearest AD office about 90 miles from my home in Southern California. They had no appointments available until May. That was not going to work so I called the Sun City, AZ, office and they were able to give me an appointment Monday afternoon with the possibility of extraction and fitting on Tuesday.
Monday morning I drove with a neighbor, Bob, the 275 miles to the Sun City office for a 2:20 PM appointment. They had a crowd on hand and I was taken in a little late. I had the complimentary full mouth x-ray and one of the assistants/technicians came in and helped me solidify my decision to purchase the "Premium" package. In a short time Dr. ** appeared and not only looked me over but made impressions for the dentures as well. I had expected to have that as well as the extractions done the next morning and then to have to hang out the rest of the day until the dentures were ready. Instead they gave me a handful of prescriptions and told me I could come in at 3:30 Tuesday. We got the prescriptions filled at the Safeway Pharmacy next door and had a pleasant dinner, evening and night at and near the motel about 3 miles away from the office.
The next morning during breakfast Affordable Dentures sent me a text saying I could come in at 1:30 PM. I did not see the message until about 11:00 (I had silenced my phone) and called immediately to see if the slot was still open. It was. We went to lunch about noon. I had had a decent breakfast which was my final insult and goodbye to my poor natural teeth. About 12:30 I took the first of the 2 ** (tranquilizer) tablets they had prescribed. My neighbor drove me to the office at 1:30. I took the second ** and they took me in. The doc came in and shot me up. Beyond that it is a blur of sorts. I recall seeing teeth dropped into a plastic cup and having a couple that were not completely numb. When I yelped he immediately numbed them up and soldiered on. At some point someone came in and put dentures in my mouth and sent me on my way with Bob of course at the wheel.
We were home by 10:00. I have no recollection of any significant pain nor do I have any now 30+ hours later. Pain was my biggest fear. I have a low pain threshold and I had mentioned that to him on Monday and he took care of it. Today my face is swollen and places are sore to the touch but I have no serious pain. I have been taking the antibiotics and ** he prescribed but have not had to use the narcotic pain med (fortunately I had some from a prior surgery to use last week). I have had a protein shake, applesauce, chocolate putting, jello, Cream of Chicken soup and have tried to drink extra water although it has been hard to swallow it (especially with pills) because swallowing moves the mouth in some way that causes the bottom denture to hurt the gum more than I want. This is already much better tonight than this morning.
Bottom line? 10 stars out of 5! Great people, a very composed and good doctor and very reasonable prices. Of course I cannot comment on the fit or quality of the dentures although they look and feel fine at present. I had the technician pick the sample color that matched my original teeth. Somebody asked me today why they are so yellow so perhaps over the next 6-12 months before the permanent set is made I will decided to go to a whiter shade. I do not want a sparkling white mouth that glows in the dark but I do not care to have it look like I just smoked a carton of cigarettes either especially since I have not smoked for 30 years.
I will update this or write a new review after I have some experience with actually using the dentures. For the next few days they are mostly decorative. I have been wearing partials for the last 1 1/2 years so my adjustment to them will be a little easier than for a totally greenhorn. The bottom bottom line? Take care of your teeth but if you do meet my fate and require dentures these people are highly professional, affordable and do it right! 10 STARS!

ConsumerAffairs Research Team
The ConsumerAffairs Research Team believes everyone deserves to make smart decisions. We aim to provide readers with the most up-to-date information available about today's consumer products and services.
Affordable Dentures and Implant Solutions was established by three dentisits in Kinston, North Carolina in 1975. The dental practice set itself apart by offering same-day service. Now, there are more than 220 affiliated practices in the United States.
On-site denture lab: All Affordable Denture practices have a denture lab on site, which means consumers can get their dentures or crowns faster than they could at practices where dentures must be ordered.
Options: Affordable Dentures offers several types of dentures, including partial dentures, and multiple kinds of dental implants. The choices allow patients to select the quality and look of dentures they want at a price within their budget.
Insurance information: Not all Affordable Dental locations accept the same insurance plans. Interested patients can visit company's website to find the nearest location and see which dental insurance plans that particular practice accepts.
Clear fees: Interested patients can see Affordable Dental and Implant Solutions' fees and costs on each practice's website. Customers can contact individual practices for questions about costs, financing and insurance.
Special offers: All locations regularly have special offers to lower patients' out-of-pocket cost. Consumers can visit the website for the location nearest them to see a list of special offers.
Best for patients who need help choosing the best denture for their needs or anyone who wants their dentures quickly.
Compare Dentures and Dental Implant Solutions
Affordable Dentures Company Profile
Company Name:

Affordable Dentures

Website:

http://www.affordabledentures.com/