Consumer Complaints and Reviews

I purchased this mattress in January 2016... within 6 months I had a big indentation. I'm paying over $3,000 for the mattress and the frame. A serviceman came out to inspect the bed. He says that he doesn't see any indentation. My back is getting far worse from this mattress and I highly doubt they will replace it. I will be sending them my doctor's bills.

My boyfriend and I bought this queen size mattress with an adjustable frame less than 3 years ago from Cozy Cabin Furniture in Plymouth, NH. We spent over 5 thousand dollars in that store in one visit. The bed was the bulk of the money. Both of us have bad backs, necks, and other medical problems. I am 4ft 10 inches 125 lbs and he is 6 ft and weighs around 250. The dealer never suggested that we get a bed that would help each of considering our difference in size. We bought the bed trusting the dealer and his experience with mattresses.
Approximately a year and a half later my boyfriend was experiencing his side of the bed had gone pretty flat so we flip the bed so the foot of it was now the head of it. That put me on the flattened side. Then approximately 8 months after that we were both feeling the flattened mattress. The only part of this mattress that is good now is the middle and because it's a queen and the size of us the middle is not a large space.
Since we got this bed, I have had to have surgery on my C-Spine and have experienced back pain that I didn't have before the bed and I now have to have surgery on another section of my neck. I literally feel like I am going to roll off the bed. My boyfriend has had a multi-level fusion and his pain has tripled since getting this bed. We called the store where we bought the bed and they sent someone to take pictures and measure the bed. The bed was down on both sides by double the required amount that the warranty covers. Mind you this bed is not even 3 years old yet. After the man left the company called and asked us to take pictures of the tags on the bed. Why didn't they do that when they were here? He took pictures of the bed. When we looked for the two tags we could only find one.
We searched the bed for the other and could not even find signs of a second tag ever existing. So now if this tag is not found we may not be able to get a new mattress. It's not like they are going to re-use the bed, the covers and any other part of this bed. We paid 3,000.00 for this entire bed and they are going to not honor the warranty because of a stupid tag? The tag didn't do anything wrong. The tag didn't cost us all that money. The tag isn't causing the pain in our bodies. The tag does not and did not ever exist on this bed! Oh and the bed we bought was a floor model. They literally took that bed out of the store after God knows how many people sat on it, laid on it, and put it in storage for us so that when we moved into our new home it could be delivered. They told us we were getting a brand new mattress but when I went back to the store to pay the rest of the money we owed just 2 days later, the bed we picked out was gone.
In its place was another bed that was totally different from the one we bought. How are we supposed to know we got a brand new mattress? Most stores don't give you the floor model. They give you a bed from the warehouse to guarantee it would be a new bed, not a bed that other people touched. I didn't complain at the time because there was a plastic cover on the mattress when we got it. The question is, who put the plastic cover on that bed? Because of the length of time it took for this bed to go bad leads me to believe that either we got a very used mattress or we got a mattress that was not the mattress we paid for.
Also, why did we even get the frame that was in the store? These frames are hand made because they are made from logs. The bed was in storage for over a month. They can't say that in that time they could not have ordered a brand new frame instead of giving us the one from the store that a million people and their germ filled children touched. I made sure the frame was clean before we used it by wiping it down with anti-bacterial wipes. I just feel this company misled us and are now making us jump through hoops to get a new mattress.
Oh ya, we also found out that this mattress has been discontinued. I wonder why. I have searched the internet to find any reviews on this bed and it's like it never existed. If we do not get a new mattress we will be going to court. We are both disabled. The only reason we had money to get that bed was because we had just gotten my boyfriend's disability check that we waited 5 years to get. It was a one shot deal for us. This company saw the word sucker on our foreheads. Beautyrest and Cozy Cabin Furniture are companies to totally avoid.

Purchased King Beautyrest Recharge Kline Mill Plush Pillowtop mattress September, 2013. Manufactured 07/02/2013 at Simmons on WT Harris Blvd. in Charlotte, NC. Three years later, it has lumps, bumps, and depressions so severe that one cannot sleep upon it. Causes severe back pain for both my husband and me. We are fit, average size adults. We measured depressions at 1 1/2 to 2 inches using a level. Our retailer sent out a representative to examine the mattress for the 10 year warranty against defects. He said depressions were not deep enough and warranty would not be honored.
The mattress was supported on Beautyrest's own double twin foundation on a solid platform so no reason for the sags. It was well cared for, always had a mattress cover. We cannot sleep on this mattress and had to purchase a new one. Extremely disappointed in Beautyrest, their product quality, and their false warranty. Will never buy another Beautyrest/Simmons product nor will we recommend their products to others. DO NOT purchase a poorly designed, poorly manufactured and poorly backed product from Simmons.

This was the worst experience with a mattress. I spent 2000 and will never buy another one. After a year I started getting back aches, contacted company and they just said contact the seller, but I moved from there, so could not. That is all they could offer. Do not ever buy from them, I have to now buy a new one and this time it is perfect.

Ditto to all these negative reviews. If they had negative stars I would use them. Mattress was over-priced, I was coming off a period of bad credit and in a new relationship and trying to avoid the bowl effect of my last mattress. Out of the frying pan into the fire... $2000 later and a runaround to run out the 30 day clock for exchanges and here I am, trying not to make the same mistake again. Think I'll try sleeping on a board.
How do I know I can trust these reviews about Simmons Mattresses?
608,728 reviews on ConsumerAffairs are verified.
We require contact information to ensure our reviewers are real.
We use intelligent software that helps us maintain the integrity of reviews.
Our moderators read all reviews to verify quality and helpfulness.
For more information about reviews on ConsumerAffairs.com please visit our FAQ.

Purchased Resonance with Plush top in February 2015. Month later middle started sagging (spring mattress). Three month later back pain started. Placed warranty complaint request in October 2015. I travel a lot, and had more restful sleep in third world countries. In December, inspector confirmed 1 and 1/8 depression in two locations. Due to the 1.5 inch rule, nothing can be done. I would have to check it every 6 months to hopefully get to the limit. Gave up and decided to buy 10" memory foam. 1600.00 dollars down the drain. Sad thing is, I support made in America. I am replacing Simmons North Carolina workmanship with China product to have a good sleep.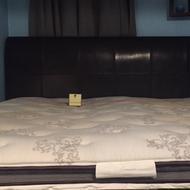 Between the crooks at Sleepy's and the terrible products Simmons puts out - I don't know who is worse! I purchased a Simmons Beautyrest Black Series less than 5 years ago and it wore horribly. I'm 37 years old, in good physical shape & 5'7" so I'm not putting the weight of an NFL linebacker on the bed. I wake up in the worst pain every morning. Paid a hair under $2,100 for the mattress alone (w/ tax & delivery) and there is just over a 1" sinkhole on both sides of the bed. Sleepy's warranty people sent an inspection kit out, did it as directed where you email them pics of the string & ruler test. Was told the sinkhole needed to be over 1.5" deep to be replaced. ON A PILLOW TOP??! It will always puff back up but the second you lay on it, what's underneath that thin thin layer that is completely destroyed. I have no choice but to buy a new bed outright as this is unbearable.
They also said the mattress was too stained but there are NO STAINS! Never had a spill (and no we don't wet the bed...). We sleep on colored sheets and there are 2 body length slight slight discolorations where we sleep from dye from the sheets. My warranty claim was fully denied, customer service treated me HORRIBLY. When I called Sleepy's they said Simmons made the decision and to take it up with them. When I called Simmons they said they leave the decisions up to Sleepy's and do not get involved. Furious with Sleepy's, furious with Simmons!!! Before this bed we bought the Dr. Breus bed. Sleepy's was peddling and that was HORRIBLE as well only they had a better warranty and took that bed back since it completely wore out. Notice Sleepy's hasn't carried the Dr. Breus bed in years - perhaps too many complaints.
Yet when you look online you find nothing negative about that bed - someone must scrub the web of any honest reviews. Moral of the story, after 2 total fails on EXPENSIVE mattresses from Sleepy's and them not wanting to stand behind what they sell, I will never ever give them business again! In case you're wondering what I ordered for the new bed, I did my homework this time as I should have done last time. I subscribed to Consumer Reports, I believe $36 for a full year - a name you can always trust. The top rated memory foam mattress they scored was the Novaform Serafina Pearl 14" mattress from Costco. Coincidentally it went on sale for the month of August and I paid only $649 delivered! Praying it is as good as they say but between Costco's reputation for quality, their easy return policy, and being backed by Consumer Reports I have high hopes. New bed arrives tomorrow.
The bed I ordered was #1 on CR's list, the $8,000 Duxiana was 6th or 7th, Tempurpedic's cloud supreme for over $2k was almost at the bottom of the list. For $8k, a bed better come with a masseuse that hides in your closet all day and massages you to sleep every night for 5 years. Done ranting, hope my honest review encourages you to do your homework.

The mattress purchased by the authorized retailer did not meet up to its end of the deal. Horrible sinkholes that have caused a great deal of back pain. This was a very expensive purchase. If you are considering purchasing a new bed, do your research and do not buy Simmons. It's not the same company of 130 yrs ago. It has since reduced quality and manufactured their products with low to no care. There is no enhanced research or testing of its products. I am very disappointed and out of a large amount of money that I could have used on a quality mattress set. There may as well not be a warranty because the red tape of any type of replacement or refund is short of a "joke".

I bought a Beautyrest Recharge Mattress from Sleepy's and it sagged shortly after I bought it. It has a 25-year warranty and it is a year and a half old, and I returned to Sleepy's five times, and each time I was referred to the warranty department, and they said that mattress had to sag one inch and one-half, or I was not considered for a refund or replacement. I have contacted Simmons and they keep referring to that warranty and did nothing. When standing on its side, it billows out and sinks in. They freaked out when I told them if I removed the tags, which is perfectly legal, as I am the consumer, and also asked if it was clean. What were they planning to do with it? I am a Senior and it took me one year to pay for it out of Social Security, and now I am sleeping on an air mattress, as I cannot afford another mattress.
A mattress with a 25 yr warranty should last more than weeks or months, and also, it cannot sag because it is a pillow top, and foam does not sag unless there is weight on it, which was not allowed when measuring. Mattress Marshals come up with a string and a washer on each end and put a cardboard measure to see how much it dips. I am normal weight and sleep alone, so there was no abuse or wear and tear. A new Mattress should not sag at all. This is the biggest scam of all and I hope a Lawyer would be kind enough to start a class action suit because others will be taken in. And also, the last visit to Sleepy's, the sales girl said: "Make sure your next mattress is not a Beautyrest," talk about adding insult to injury. All took the money and commissions and ran.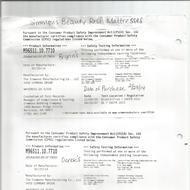 I purchased 2 twin mattresses for my children (ages 19 & 18) from Walmart. They had been sleeping on hand me down mattresses. I felt bad for them because they were getting lumpy. As I was shopping in Walmart, I saw they were on sale for $200 apiece. I saw the name Simmons & I thought "what a great deal". Simmons is a good name. When the kids got them, they were thrilled & remarked at what a difference they made compared to the old ones.
Within a year both mattresses developed a sink hole in the middle in the same exact place. Now, both sink holes are the size of a good sized pot hole. I am so disgusted. I wish I had kept the lumpy mattresses. At least they held up. As a consumer, I feel there should be some kind of class action lawsuit. This is not fair. Luckily I kept some of the info I removed from the plastic covers. Can anyone help us???

I purchased a Simmons Beautyrest from Art Van furniture store in 2012 for $1399 and it has two huge sinkholes on each side. The middle consists of a massive speed bump that you need a rolling head start to make it over. I called the store and they sent out a "mattress expert" and of course the sag was less than an inch and a half (which is the minimum size of sag to be deemed defective). BUT, the spring stabbing me in the spine could not be ignored. I got a voucher for a "comparable" mattress from Simmons. My expectations aren't high on this new one. I'm hoping to get another 4 years out of this one and then purchase something else. I'll give you one guess which manufacturer I WON'T BE purchasing. Simmons!

My husband and I have had a Beautyrest Supreme for the past 16 years and needed a new mattress so of course we bought a new Beautyrest Recharge which were on sale at Macy's. The saleslady talked us into a pillow top which gave us free delivery. We couldn't sleep on the mattress the first night. We both sank down into it like quicksand. My side sank worse than his which was odd considering I weigh 130 pounds less than he does. Was the mattress really new? I'm not for sure.
I ended up sleeping on the floor the second night so we called Macy's to come and get it on the third day since you only have 72 hours to return. We had to pay huge fees to Macy's to return. They could not come to get it for another week, then another week for different store to bring another bed so we had to sleep on the floor for total of 2 weeks. Thanks goodness a friend of mine gave me a truck mattress for camping. Buyer beware! Beautyrest is not the same company they were 16 years ago and Macy's is a terrible store to buy a mattress from!!! Look at the cut open mattress diagram on their website. It's basically a thin foam mattress with coils. I wish we would have kept our old mattress and bought a gel memory foam topper.

When you purchase a king memory foam mattress for $2,499 with a 25 year warranty, you expect a quality product from a reputable company. The mattress failed within 3 years. All necessary paperwork, photos, measurements were submitted to the Warranty Dept. Claim was denied. After two months, they sent an independent representative to our house to take photos, measurements, complete a form. (He drove 3 hours to get to our house and it was his first day on the job --- lacked much experience.) After two more months, they denied the claim. After many mornings waking up to low back issues, we bought a Tempur-Pedic. My recommendation is as follows: Do not buy a mattress from the Simmons Company. Do not buy a mattress simply because the tag says it has a 25 year warranty. The warranty is only as good as the company who produces the product!! Buyer Beware!

Beautyrest hybrid recharge mattress - As many other unfortunate buyers I wish I had read the reviews before spending 1600.00 on this king size mattress and box spring. Simmons makes a very poor product! We bought this May 1, 2016 worst purchase EVER, my back hurts, I have shoulder pain and can't sleep. I called the store after 2 days of owning this and they have a no return or exchange policy, called Simmons directly and they wouldn't help either.
We just ordered a gel memory foam mattress topper so hopeful it helps. Very sad so many consumers are out there unhappy and tired from no sleep!! All I can say is BUYER BEWARE NO NOT BUY THIS MATTRESS. We bought it at the furniture superstore South Portland, Me - HORRIBLE customer service with this and other things we bought.

Purchased Simmons Beautyrest Black Vivianne Plush has been off gassing for five plus months making my wife ill with all day headache, sore throat, dizziness, red eyes, difficulty breathing, sinus clogged, head burns/aches, throat burns, difficulty driving, eye blurriness, difficulty with coordination, other related medical problems. Contacted EPA Regional Office for guidance 7/12/16. Contacted Macy's Cust Service 7/11/16. Sending over independent company to subjectively evaluate. Off-gassing from 2/2/16 to 7/12/16. Distinct chemical odor. Independent adult entering bedroom has sinus clogged within two minutes of laying on bed. Bed aired out each day with all sheets, pillows and blankets off bed. Windows open. No apparent effect on mattress. Pillows are down. No waterproof mattress pad or encapsulating cover with Vinyl used.
There is no viable reason this bed would smell or have medical negative impact other than use of toxic fire retardant chemicals embedded in multiple layers of mattress. Mattress is sixteen inches thick. No protocol with Macy's, Simmons, mattress manufacturer to contact Federal Government and file complaint or register concerns. Mattress industry has protocols set up to avoid responsibility for chemical illness, sickness or disease. Most medical physicians have no background in chemical toxins; HAZMAT; industrial medicine, environmental medicine. No medical education; no documented training in chemistry and no access to fire retardant formularies used by mattress manufacturers. Macy's has agreed to take back mattress for full refund, after home inspection by independent company rep. Receipt # ** 10:26 am 3/23/16 (new replacement mattress issued) Macy's Northgate, Seattle, Northgate Mall, 98125 $2137.31.

I purchased the mattress one year ago. The mattress is unsupportive and saggy. I paid over $1000 on sale from Macy's. This is the worse mattress I ever purchased. I have had the representative here twice to look at it. There is a good depression on the top where my husband lays. Same as everyone reports, we only have a 1/2 inch depression. You need to have 1 1/2 inch depression for them to replace it. The mattress in the store was nice, evidently not the same as the one I received. I will never purchase another Beautyrest mattress again.

Simmons Easy Nights Queen-size mattress - Bought this Simmons Easy Nights mattress summer of 2010 and as of 2014 knew it wasn't holding up. We are two moderate weight people and were surprised to have hollows forming so soon after purchase. Plan on buying a new mattress in 2016 with hopes it will hold up better that this one.

Bought Mattress at Sears in 2015 (Simmons BeautyRest Recharge). I read many of the complaints regarding different models of Simmons Recharge Mattresses. The Firm Mattress in question. I too am experiencing sleep problems with mattress. I am having serious back pains because the mattress is sagging in the middle, and it is difficult to turn over, or sleep on side because my hip and waist are bent causing stress to my back. It's classified as Firm, however after a year it's already breaking down. I can relate to all the other consumers and their complaints because they all have the same issues and concerns I have with my Mattress. I am going to address this matter with Sears/and Simmons Manufacture, San Leandro, Ca. for direction. Possibly a class action lawsuit for manufacture defect, false advertisement if I don't get any resolution. I paid $1300.00 for mine. Many others have paid more. This is unacceptable.

We purchased our Beautyrest Hi-Loft Pillow Top 6 years ago and the whole side has caved in. This has been happening gradually for a while but now it is so bad that we must replace the mattress. We are not overweight people nor do we neglect the mattress. We are seeking assistance with replacing it as we feel that this purchase (which was approximately $1,000.00) should last longer. Thank you.

So disappointed with my Simmons Beautyrest Recharge mattress. I waited years to replace my old mattress and within 6 months this one is killing my back. There is absolutely no support and the mattress has 2 deep depressions from where my husband and I sleep. You just sink so much into the mattress it is a struggle just to turn over. I wish I had read these reviews before I purchased it and spent my money on a piece of junk. From reading these reviews I see that Simmons may have changed ownership and the quality has gone down the tubes. I don't want to exchange it as I want nothing to do with this company. Please don't buy it and tell everyone you know not to buy it.

I bought 3 mattresses in late 2013 from American Freight Company. When I was at store I was told by the sales associate that one of the mattresses I was looking at was their best mattress and it comes with 25 or 30 years warranty and if I found anything wrong after use I can just bring it in to get it replaced with a new mattress. I was so impressed by the talk of that sales associate that I decided to buy that mattress along with 2 other mattresses for my kids from them. After only about 6 months use, the mattress started to show depression in various spots. I called Simmons and told them that this is their supposedly top of the line mattress and it has this issues going on. The Simmons customer service guy told me that I need to contact the retailer who sold me the mattress and they will determine the type of damage and see how they can help with that.
So, I went back to the retailer (American Freight). The store manager at the time told me that I need to get some pictures of the issue in a certain way and send those to him through email. That is exactly what I did, I sent him the pictures taken exactly as he wanted. After receiving my email, he sent me a reply after few days that the pictures are not very clear and will be rejected for any claim if sent to Simmons. So, he asked me to do some fresh photos and send those to him again. I did that again, his response was the same. After getting same response from him again I decided to call Simmons again. They told me the exact same story that I have to file my claim through the retailer. I think that the retailer is trying to decline the initial claims on their own and not even passing them to the Simmons. It may be a mutual understanding between both businesses to handle the customer complaints in this fashion.
I have all the pictures of the mattress to show how bad this mattress is. I have never slept on a mattress this bad in my life. This is so bad that I can't offer any of my guests to sleep on this mattress because they will wake up hurting all over. Looks like this mattress was made with recycled or substandard materials because I have never seen a mattress go bad only months after the use. We only are home for few hours and bought this mattress thinking that it will provide us good sleep for whatever time we are at home but it has turned into a nightmare for us now. We need to get this resolved with Simmons and Harbor Freight Company. As I said earlier that we bought three mattresses from them. The mattress in question is the most expensive Simmons King size mattress. Though the other two are also starting to show the sign of depression in many areas.

I purchased a SIMMONS RECHARGE MATTRESS FROM ROOMS TO GO. It's the worst I've ever owned. Suppose to be firm plush. There's nothing firm about it. Within 3 months it already started breaking down, no support whatsoever. You just sink in the mattress. I haven't had a good night's sleep on this piece of junk. DO NOT BUY ANY SIMMONS PRODUCT. It's crap. I've read reviews on other SIMMONS MATTRESSES, and pretty much all bad reviews.

AWFUL!!! Do not buy!! The sales guy on the phone told me three times that I could return the address for a full refund if I wasn't satisfied. I called them the day they delivered it to tell them it was sagging and appeared to have already been slept on. Not only that, but it wasn't even the right mattress. I called to get it returned and they said, "We have a no-return policy, but you can buy a new mattress for a $200 discount." I tried multiple times for a year to get them to refund or return the mattress, to no avail. The mattress is terrible. Major back pain. No support whatsoever. We tried to make do, but after just three months I couldn't even sleep on it anymore.
I have now contacted the local news station and the Better Business Bureau as the online company will not return my calls and hangs up on me. Extremely deceptive company. I'm positive they simply put a new tag on an old mattress and sold it to me. I forgot to add that when I moved the mattress with the handles provided, both sides of the handles tore. A very blatantly dishonest company.

I purchased 2 of these awful mattresses. One is my son's, one mine. He is away at college so doesn't sleep in it as often -- weekends, breaks, summer. For me, it's my bed. The pillow top is so misshapen, it's as if it's a separate entity. I've turned it around every 2 months... doesn't matter. You have to roll uphill at least six inches to get out -- huge sinkhole. Most horribly crafted mattress I've ever owned. It should absolutely be recalled as there is definitely something they forgot to put in for shape/support while manufacturing these beds. Terrible, unacceptable. DO NOT BUY THIS MATTRESS. I have had back surgery. Came back from it fine. Bought this bed to have a good mattress. One yr later, I can't even sleep on it and need to purchase another bed. I work on my feet 10 hrs a day. My back is okay. I sleep in this bed... I experience pain.

This mattress was good for about a year. Now I have a sinking hole in center...along with back problems and a terrible sleep. BUYER BEWARE!

Mattress is crippling. After spending $3k on my new Beautyrest Black I never had a good night sleep. A painful night is more like it. After 17 mos. I was forced to return to my surgeon for a laminectomy. Now I sleep on floor.

I have had my Beautyrest firm york for 4 years. It is sagging in the middle to the point it hurts my back. Macy's came and inspected - he didn't check the 'soft spot' that is the problem. The mattress is sagging 1 and a quarter inches but that is not enough for a replacement - it has to be 1.5 inches. I think that is ridiculous. A mattress should not sag only in the middle if it is made well. I can't get another inspection for 90 days. I don't know how I am going to get a good night's sleep for 90 days. Need help!

Purchased April 2013 for $2,065 from Mattress Warehouse in Woodbridge, Virginia. Both sides of the mattress have compressed to where it is uncomfortable. Of course the middle of the mattress is fine where no one has slept. We own and have owned Beautyrest mattresses for fifty years. Never have we been disappointed with a set until now. We made a claim and the inspector measured the "normal body impression" and the company found that it met acceptable limits. The inspector did not measure the body impression with someone lying on it, which I think would be necessary to make a determination. We countered the claim and were told to add a fifth slat and they would re-inspect. They are to come out next week to re-inspect.
Updated on 06/16/2016: We had a follow-up inspection and they again claimed the mattress was functioning properly. Here is my reply: "How could you find structural failure without testing for how far the coils compress with weight applied?" After a year or so of lying on the mattress, it sinks several inches and is uncomfortable. Even when the bed is made, the spread looks like it's covering two trenches. We don't accept your inspection(s) as sufficient. Therefore, if your company will not stand behind their product, and as you say "the product is performing normally," we will never buy or recommend it again. We did not pay $2,000 for a mattress to contour permanently to the shape of our bodies!

This is the worst mattress I have ever slept on. Huge indentations in mattress after just months of sleeping. Only time we get a good night's sleep is at a hotel these days. Do not buy this mattress!

Spent 1100 dollars for this mattress. Have had it 14 months - was wonderful for about 3 months now my body aches with pain when I sleep on this. Customer service at Simmons refuses to come take a look. It does not appear to have anything wrong till you lay in it then it is a bowl. Worst money ever spent on what is supposed to be a high quality product.

Michael J. Breus, Ph.D.Mattress Contributing Editor
Michael J. Breus, Ph.D., known as The Sleep Doctor, is a Clinical Psychologist and both a Diplomate of the American Board of Sleep Medicine and a Fellow of The American Academy of Sleep Medicine. He is on the clinical advisory board of The Dr. Oz Show and is a regular contributor on the show. He is also the author of several books, including The Sleep Doctor's Diet Plan: Lose Weight Through Better Sleep (Rodale Books; 2011) and Good Night: The Sleep Doctor's 4-Week Program to Better Sleep and Better Health (Dutton/Penguin; 2006). Dr. Breus has been featured on several national media outlets, including The Today Show, The CBS Early Show and Psychology Today. More about Michael J.→

Simmons has been making mattresses for over 140 years. It offers a wide range of options and has sold over 100 million mattresses. Many of the nation's top hotel chains use Simmons mattresses.​
Variety: It offers a wide selection of beds in various price ranges, including the Beauty Rest line and the Curv line.
Warranty: Customers can opt for a warranty covering all defects on any Simmons bed.
Furniture: In addition to mattresses, it also sells other bedroom furniture, such as headboards and bed frames.
High quality: Simmons has an upper-end line providing extremely high-quality beds, such as lasting memory foam and BeautyRest options.
Best for Simmons mattresses are best for professionals and young adults.
Simmons Mattresses Company Profile
Company Name:

Simmons Mattresses

Address:

1 Concourse Pkwy Ste 800

City:

Atlanta

State/Province:

GA

Postal Code:

30328

Country:

United States

Website:

http://www.simmons.com/