Consumer Complaints and Reviews

We bought bedroom furniture from this store and within 8 months the bed frame broke. This was a solid wood bed frame, we live about 5 miles from the store so chose to pick it up rather than pay for the delivery charge. Huge mistake because now they won't honor the warranty. I was asked if I read the fine print. I would think that's something important enough that would tell you but I guess that's how they screw you. PLEASE IF YOU VALUE YOUR HARD EARNED MONEY STAY CLEAR OF THIS PLACE AND THE HORRIBLE CUSTOMER SERVICE. Check the reviews and the rating they have. That's only a 2 out of 5. I wish we had done that before buying. Also please view the picture. This doesn't happen with solid wood after 8 months.

I purchased a leather sectional back in Dec. 2014, had it delivered Jan. 2015. A few days after delivery I noticed a small tear/scrape on the recliner. I took a pic of it. Went back to the store [Glen Burnie] where I purchased it from. Showed the pic to them. They contacted the Warranty Co only to get the runaround and still today nothing has been done. Now I have issues with the Console Storage piece. The leather is fading and the coating is coming off of the cup holders. Again stopped by the store only to be told to contact the same Warranty Co who did nothing about to tear/scrape on my recliner which make me reluctant on contacting them.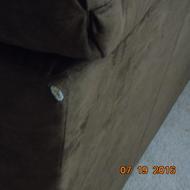 In June 30, 2016 we ordered 2 living room furniture sets from Regency Furniture, one sectional w/ ottoman and a 3-piece w/ ottoman. The sectional was already in the warehouse. We had to wait on the 3-piece... They told us that it would take them 3 weeks for the delivery to the warehouse. In about the 3rd week customer service called to set up a time for delivery to our home, but in the same breath they also informed us that the single chair and the ottoman would not be with the delivery because it has not arrived there at the warehouse. So we had the option to wait 3 more weeks for the last 2 pieces or accept the delivery without them and pick them up when they arrive. (We will have to put these pieces together ourselves.)
Delivery arrived at our home on July 19th. The guys came and put the furniture together in a timely manner. When they finished, I was prompted to speak to dispatch to let her know that everything was good-to-go, which it was until I found out that the set that we had to wait for was actually damaged. The arm of the couch was scared at the tip, which exposed some wood (a true eye sore). Good thing that I saw it that same day! I called customer service to let them know about the defect. I had to take some pictures of the damage to send in order to file "a claim" for the repair. I was informed that the repair would be done in 6 to 8 weeks. Today, August 22nd, we are still waiting for our last 2 pieces and the fabric for the repair. (7 weeks) The prices are attractive, but the effect is not worth it unless you are walking out of the store with what you have purchased.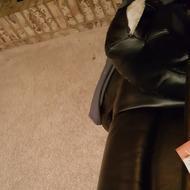 Purchased a sofa and love seat that has power recliners in May of 2015... Didn't receive it until July 3rd and it was a different set... It was close to what we originally bought but bad quality... The seams started separating a month later and all of the recliners are broken... On my love seat one of the recliners is stuck in the recline position. Regency refuses to fix it claiming that it is customer usage... How the heck can it be customer usage if one half of the couch still reclines and comes on and the other half doesn't. I am looking for any customers who are willing to join my husband and I in filing a class action suit against them. I have read several similar stories and we cannot allow Regency to continue taking our hard earned money. We also bought the warranty which doesn't cover anything.

This company is horrible. I have been waiting for 3 months for a sectional I purchased. At the time of purchased I was told that the item was in stock then I was told it needed to be ordered. Later I was told it would be arrived at the store on 14th of April. Then I was told the item should arrive in the first week of May. Later I was told it should come the end of June. The lies keep coming. The company don't care about the customer after the sale is complete. I advise anyone looking to buy furniture never ever buy from Regency Furniture.
How do I know I can trust these reviews about Regency Furniture?
638,664 reviews on ConsumerAffairs are verified.
We require contact information to ensure our reviewers are real.
We use intelligent software that helps us maintain the integrity of reviews.
Our moderators read all reviews to verify quality and helpfulness.
For more information about reviews on ConsumerAffairs.com please visit our FAQ.

They deserve a zero rating, they are full with lies and deceit... Never buy anything from them. I went to Regency Furniture and bought goods over $3,500. The items were delivered to me on the 19th of March. On the 28th of March (9 days after), the dining chair gave way. I called them since they said the items were under warranty. I got a very cold reception from the customer service agent. I later called back and a lady said I should send her the pictures of the damaged chair. I sent the pictures and till date (more than 2 weeks after), I havent heard from any of them. I called them back and another lady said she will let the same lady who attended to me to send me an email. The most painful part is that even the couch I bought that same day is already sinking in. Their goods are of very low quality, customer service becomes something else once deal is done.

I bought multiple furniture from Regency Furniture in December 2011 which included 3 sofas. For 3 sofas, I also bought 5 years Accident warranty of GBS through Regency furniture. In October 2015, one of the sofa was accidentally damaged by me, I contacted Regency furniture they asked me to contact GBS insurance. When I called GBS furniture, GBS could not find my warranty record from Regency furniture. GBS informed me that they were not doing business with Regency furniture in 2011. They started business with Regency in 2012. Then I contacted back Regency furniture and they said they will investigate. I did not hear from Regency furniture or GBS so I kept on contacting them.
Finally on Feb 16, 2016, one of the representative of GBS asked me to email invoice to them. I emailed invoice. When I contacted them on Feb 17 about the status, GBS mentioned that sofas are not covered and now it is in the last year of warranty and I need to talk to Regency furniture since Regency furniture never passed on my warranty papers to GBS. I kept on calling Regency furniture. Finally Ms. Jacqueline ** from Regency furniture asked me to send pictures of sofas on March 11. I sent pictures of sofas on March 11. Sofas are in good condition except punctures and ripped. There is no sagging or misuse of sofas.
Ms. ** called me on March 11 and informed me that Regency furniture cannot do anything since sofas were abused. I mentioned that sofas are in good condition and sofas were not abused. Then she said it is wear and tear. I asked for her supervisor name and contact details but she did not give it. Regency furniture collected warranty money from me and never passed it on to GBS. I do not know how many more customers might have paid for warranty and they are denied for warranty when furniture is damaged due to accident.

We are highly dissatisfied with customer service in the warehouse, as well as how an issue was handled with management. We bought a bed frame with under bed storage, nightstands & mattress during the sale on black Friday. We arrived for pick up once the items were in and realized there were no storage units. After hours in the warehouse and back up to the store we had no answer but they weren't ordered and we would have to pay for them in full, I disagreed since there was 60% when we made the original order and it was not on our part that it wasn't ordered. They agreed to give a discount and order them, when they came in only one side was re-ordered, which they were told we wanted both.
Again went to management and explained from the beginning and told them we needed another side but were not paying more than what we paid for the other side. He wouldn't mark it down to that cost even though it was their error. This was my second large purchase and I can guarantee I will not be making another trip back up to buy anything or recommend them.

I went into Regency Furniture one year ago and bought some furniture. They went into my bank account after one year and charge me again for the same item twice. It took me seven days to get my money back, if you go in that store do not use your bank card that claim that had a glitch in the computer but I believe some in the finance office made a huge mistake. I should have not had to wait seven days to get my money back.

I worked for this company and I know exactly what you are going through and the amount of people had wrote a complaint in here is nothing compare to what I see every day at the store. The owner and his brother are money-hungry, the brother is the manager who keeps telling the sales reps to tell lies to customers and that one of the reason (besides stealing my commission) what made me quit working for this company. I never seen money hunger more than this people. They steal customers' money and sales reps money. That's why if you go there, all the time new sales reps, no one last there. I feel sorry for you guys and good luck next time buying furniture.

My husband and I bought living room set, bed set, and table on March 20 and until today May 12 we haven't receive our furniture yet. On the receipt said delivery is 3 to 6 weeks and it been more than 6 weeks. I called them on April 30. They told me I should get my furniture on May 5 right. So after MAY 5 nothing came. So I called them again. They told me nothing is ready and I should get my furniture my it ready. So disappointed. Please people do not buy anything from this people. You will regret it. Their customer service is terrible. Run run run run run away from them.

I ordered my furniture February 28th 2015, I am still waiting on delivery of my chest. Let me backup. Sales person OK. But not helpful beyond ordering. I picked up piece by piece 2 mattress sets 2 beds. When I went to pick up the mattress they said no it's on order. Hmmm, I was there Saturday night and went on Monday and on order. Yeah right, the split to someone else. I waited. That was a 2 week process. I called after 6 weeks asking about the rest of the order, sectional in. I said, "Well deliver that for free and I will get the chest but since it's the end of the day can I call Monday to confirm?"
Well then I called first thing Monday they said I has to pay for restocking. Oh and I asked for sat delivery they said they didn't but now they do. I told them since I have to pay now you can deliver all of the rest of the furniture. It is may, 3 months later and I am still writing. Did I say 1 of the beds broke in two pieces? I just know I am going to have fun tomorrow when I call customer service

On March 2, 2015 I ordered a Hanging Bubble Chair that was safely delivered, but was missing the 6-foot chain that is necessary to connect the chair to the ceiling. Therefore, I called the sales person (**) the next day and I mentioned this issue to him. ** then sent me to his customer service colleague, **, who promised to send the replacement chain within 3 business days, but that never occurred. I then called ** back since **, the customer service rep, was not responding to my emails or phone calls and this is when **, the sales person, became a totally rude and nasty person. He told me I could go buy the chain myself at Home Depot if I was unable to wait and that I was wasting his time since he was in sales, not customer service.
I really, really wish I could have recorded the conversation so everyone could see what a total rude jerk this salesperson is. Please shop knowing that these folks do not appear to care much about providing fine service to their customers. Disgusting experience.

On February 18, 2015, I purchased a living room set with a queen bed sleeper. They didn't deliver my furniture until March 18, 2015. On March 18, 2015, I sat down on the sofa and went to get up off the sofa only to find that the bottom part of the sofa was broken. I called Regency Furniture Store immediately only to find out that they won't be able to send someone out until April 9, 2015. That is absolutely ridiculous!!!!!!!!! The customer service there is very poor. They really need to close that furniture store. In the event I had known all of this, I would have purchased my furniture from somewhere else. I paid 1,468.00 in cash only to receive some junk. They don't refund money. Because they know they are selling some junk.

We were delivered 6 side chairs rather than 4 with 2 arm chairs, as was the deal made in store. Very dissatisfied and angered by customer service. We called the same day as delivery and were promised an even and speedy swap for the store's mistake. After no word from the store in a week, we called back only to get no help whatsoever. Instead of the store correcting their mistake, we are required to pay the difference. We will not do business in the future with Regency and suggest the same for others. **, the store manager, is very unfriendly and arrogant to deal with.

Very poor experience with them. I never got my delivery on time. They want to do wherever they wanted. They don't give money back. They should closed this store.

Purchased a 5 piece sectional from this company in March 2013. The right recliner no longer comes back up, it just lays half-way down and makes the set look bad. Called Regency and the customer service rep told me that it is nothing they can do because the manufacturer's one year warranty has expired. This is ludicrous because furniture should last longer than two years when you pay a good amount of money for it. The option was presented that I could come back in and purchase the right recliner, which didn't make much sense to me. How ridiculous that would be to purchase another piece of crappy furniture.

Bought Furniture from Regency in Woodbridge. One of the dining chair flipped over the floor and got cracked (Low Quality material). Contacted Warranty Company and got new chair ordered. The Regency Warehouse would not deliver the chair to the local store, where we bought the furniture, and insisted that we pick up the chair from their warehouse or pay delivery charges to deliver it to local store. What a rip off? After talking to manager of the local store, he agreed to move the chair to his store and will call after he has received the chair.
After couple of weeks I got a call from the manager about the chair. I forgot to pick up the chair and went overseas. When I came back from overseas trip, I went to pick the chair from the store, the store does not want to release the chair and wants me to go through warranty company to release the chair. The store has received all the money for the chair and are looking to make money to release the chair. I called the store and wanted to talk to the manager, the manager won't even come on the phone and does not even return phone calls. Will never buy from them again. Buyers beware, you have been warned.

I bought a couch exactly 1 month ago and after 3 weeks the cushion on couch bunched up. Regency said it is defective and want to replace that part of the couch for me. I feel I deserve to receive a new couch, not repaired. They are going to take part of the couch apart and replace it with a new part. By loosening the bolts and screw I don't know if they will damage other parts of the couch. The couch is defective and they know that and I would like a replacement, not repairs.

I purchased a bed from Regency Furniture on Feb. 24, 2012 and they didn't deliver it until Mar. 28, 2012. Then around the beginning or middle of July, I felt the bed leaning down on the side I sleep on so I got up to see why the bed was leaning and the bed rail was broken off the head board. So I call the insurance company that I paid for with the bed and the man told me that I should call Regency Furniture because I haven't had the bed that long and that they should replace it. So I called Regency Furniture on July 10, 2012 and spoke with Ms. Cheryl **, the manager of the Services Department and she asks if she sends me an email, if I can upload pictures of the broken rail and head board. So on July 11, 2012 I uploaded the picture.
On July 13, 2012 I email Ms. ** to see if she have gotten the pictures and I did not get an answer from her so I waited a few days and call back to Regency Furniture Services Department and ask to speak to her and the man came back on the phone and said that she had gotten the pictures but haven't had time to look at them. So I waited and on July 23, 2012, I email her to see if she had gotten a chance to look at the pictures and I got no answer from Ms. Cheryl ** so I waited until July 27, 2012 and call her back and a lady in the Services Department answer and I ask to speak to her again and the lady came back on the phone and said that she said that it was not a manufacturer problem so there is nothing she could do. So I told the lady that it had to be because all I do is sit and sleep on the bed and by them taking so long to get back to me that it is getting worse and the lady came back and said if it was broken and I still was sleeping on it and made it worse, then they could not do nothing about it.
I told her that, that's what I got the bed for to sleep on it and I didn't have another bed to sleep on. She came back on the phone and said that there is nothing they can do about it. I have to buy another rail and I told her that the head board is broken also and will not hold the rail up. That's the problem and she came back and said that there is nothing they can do. I have to buy a new bed because they do not sell just the head board. So I was going to say just forget it because I do not have any money to buy a new bed. That's why it took me so long to write Consumer Affairs, but then me trying to sleep on that bed every night and I only had this bed for a few months and don't care if someone was jumping up and down on it. It should not have broken like that after having it for only a few months (about 3 months when it broke).
So that's why I am writing to see if there is anything I can do about my broken bed rail and head board. I don't want no money, just another bed because I don't think I should have to sleep on this broken bed because I don't have the money to buy a new one and I should not have to buy a new bed in a few months' time I don't know what else to do but write and attach the pictures of the bed where it's broken at to see if you can help me. So if you need to get in touch with me my information is above because I still have the picture and the emails. Thank you.

My Aunt, who is almost 90 years old, purchased 4 dining room chairs in September 2011 from the Langley Park Store. My sister and I picked up the chairs in October 2011 from this store and brought them to my Aunt's house. There we assembled the chairs. In March 2012 ,one of the legs on one chair just broke off. No warning and luckily no one was sitting in the chair at the time. A couple of weeks later, another chair also broke in a similar fashion. I took my Aunt and one of the broken chairs to the store yesterday (5/29/2012) so that they could see the damage and arrange to pick up the remaining chairs and give her another more sturdy type (we will not accept either the same chairs or a repaired chair).
They stated that they don't handle those things in the Langley Park store and that I would have to drive these chairs to Waldorf, MD. Then they would have to look at them and then decide what to do. Why should I have to drive four (4) chairs, two of which are broken, to Waldorf MD when they could send someone either to my Aunt's house or the store to pick them up? Then they want to charge me $75 to pickup the chairs but they can't tell me when they will pick them up or when a resolution would be performed. AND they told me that I definitely couldn't get my money back.
What kind of Fraganackle BS is that?? Your product doesn't hold up but if I don't like your replacement options, I can't get reimbursed? I won't mention how rude the people were both in the store and on the phone with Customer Service. They need to call that department something else because customer service it definitely is not. I need to make this right for my aunt. She could have broken her hip if that chair had failed while she was sitting in it. The store representatives fail to see that.

Purchased furniture on 5/11 with a delivery date of 5/23. Today is 5/23 and no call to arrange delivery which prompted a call to Regency. After several attempts to remedy, spent two hours on hold, promised multiple call backs from managers earlier this morning between 10:00 am and 10:30. Went to the store at 2:00 pm today to be yelled at and treated rudely by the Store Manager, Layth, telling me that he could not refund my money.
When asked for his boss, was told he didn't have one. When asked for their corporate phone #, Layth responded, "Don't tell me what to do!" After a couple more attempts to the corporate customer service #, no return call, no refund and a day of my time wasted. Not to mention...a child with no furniture due to throwing out the old furniture yesterday in anticipation that he would receive his new bedroom set today.

Regency Furniture delivered what appears to be floor model furniture that is supposedly new. It was dusty and worn. It also has a gap in the footboard. They did not deliver one piece of the order and I'm trying to get my money back. They said that the reason it wasn't delivered was because it was damaged. Now they're saying it's in and it wasn't damaged. They've changed their story up twice concerning the piece they were unable to deliver.

Purchased AIC 4815 Lavelle Blanc Sofa Lavelle Blanc CHPGN-04 on 5/30/2011. They have delivered 4 damaged sofas to my house. I have called manager and told him that sofa was examined and found to be damaged. I have had the delivery service to put the sofas back on the truck and return them to the store. I also have the store extended 5-year warranty. As of today's date, 9/2/2011, I still do not have an acceptable sofa. I have been very understanding with Regency. Their customer service has been unacceptable. Below are the conduction of the sofas that was delivered to me.
Sofa had been ripped then retouched up, then delivered to me as a new sofa. Across the top of the Sofa, the paint had peeled off. On the arm of the soft the paint had peeled off. Across the top of the Sofa the paint had peeled off. On the arm of the soft the paint had peeled off. The sofa was broken across the top.

Back in July 08 I purchased furniture from the above name store. When they delivered the furniture there were pieces missing, which were two dining room chairs and a piece that extends the table. I called them and notified them; and they claimed once they had these missing pieces they would deliver them to me. After a while of me calling and getting no answer, I went to the store to find that it was closed. They had a sign that stated that they moved but no address, it had the same number. I called for about one week and the number was busy. I found another Regency Furniture store in Central Ave in Yonkers and spoke to a representative and explained my problem. She claimed that she was going to have her boss contact me and never did. I have called the location various times and I keep getting the runaround. I have been making monthly payments for the furniture that I purchased and I have yet to receive the items.

Approx. 4 months ago I ordered furniture and the Chaise chair was damaged upon delivery. I called them for replacement and they have been giving me the run around telling me they will call me back and they never call. I have been battling them for repairs or a refund for 4 months and I am getting nowhere.

The bedroom set that I purchased less than a year ago, the bed frame splintered and broke. Which renders the bed non-usable. As a result of this defect, I have no bed to sleep in, and no funds to buy a new frame.

I bought living room and bedroom furniture in December of 2006. I also purchased a protection plan. In September of 2007, a wheel broke off of the table. I called Regency to get a replacement. They told me that Guardsman (who I have the protection plan through) will replace it. When I called Guardsman they told me that they don't cover things like that. That Regency should cover it because it's been less than a year. And if Regency had a problem, they should call them (Guardsman). I called Regency back and they told me it wasn't their problem. Mr. ** is the store manager. He refuses to take my calls nor will he call me back. I spoke with Kim and Mariam who are supervisors Guardsman. I explained that my protection plan states that it covers breakage. They still refused to honor their plan.
Regency Furniture Company Profile
Company Name:

Regency Furniture

Website:

http://www.myregencyfurniture.com/