Consumer Complaints and Reviews

I have stopped KFC 8 years ago for the horrible taste and lately, I gave a last chance try. It was awful. Made me feel disgusted about eating chicken (Dubai, Murdif City Centre branch). The best crispy chicken so far is Crispy Chicken located Hamdan street Abu Dhabi, feeling terrible sad for not having a branch in Dubai.

I stopped by this KFC location to have lunch. When I received my order and attempted to have a seat, I notice that there were so many flies on the tables and counters. I made a complaint to one of the workers about this and stated that this was very unsanitary. He said that there was nothing that they can do about it. I think that this would be a matter for the health department. I will not be returning to this KFC (5951 Sheridan St. Hollywood, Fl.33021) ever again.

We visited KFC in Piccadilly, London, England, Europe. We were lucky enough to get a lounger in the "Colonel's Suite" which is in the "Kentucky VIPs" area hidden away from view. The ordinary public aren't told about the exclusive dining area so as to keep out the day to day riff-raff. They have waitress service and serve alcoholic drinks in the VIP area. The food is very different, much tastier and healthier. Children get to eat free also. The live entertainment was amazing, especially the children's entertainer and we also loved the talking dog act. A great experience all round and we have details of the other branches which have VIP areas too.

My husband asked me to pick up KFC for him. He loves the coleslaw. I'm not a fan but went ahead and ordered a large bucket with sides of mashed potatoes, potato wedges and two containers of coleslaw. I hate coleslaw so I did not eat any. My husband, however, ate quite a bit. By the next morning, he was throwing up, diarrhea, fever, chills, numbness... Really severe food poisoning. He should have gone to the emergency room but chose to wait so he could go to his regular doctor. She gave him a lecture. My husband has a compromised immune system and she was pretty upset with him for not going to the ER. She confirmed food poisoning, gave him some sort of shot and now he is scheduled for an ultrasound to be sure none of his organs were damaged. Never again will we eat KFC. Not only is it greasy and unhealthy, now their food is poisoning people. Please think twice before you eat at KFC.

I have avoided going to the KFC location at 5734 Ritchie Hwy, Baltimore, MD 21225 because of so many incorrectly filled orders and the attitude of the staff. As I was returning home today I called my wife and asked her if she wanted me to pick up something for dinner. My wife suggested picking up chicken and 2 pot pie meals. I arrived and placed my order at 7:55 pm. I ordered an 8 piece bucket of original chicken and 2 pot pie meals. The girl taking the order said they did not have any chicken ready and it would take 13 minutes to fulfill the order and they only had 1 pot pie. She asked if I wanted her to put the pie in while the chicken was cooking, I told her to do that. When I paid the cashier said I should wait outside and she would bring the order to me. After waiting 30 minutes another employee came out and said it would be another 3 minutes.
After 5 minutes I went in with the intent of canceling the order but saw that they were packing the order. The girl handed me the bag, I asked where was the cups for the soda that comes with the meal. She handed me 1 cup and I said I ordered 2 pot pie meals, she gave me a second cup. I then asked if the cookies were in the bag and she said, "Do you want cookies?" I said I did and she put 2 in the bag, I left the location at 8:30 pm. I arrived home and unpacked the order. Rather than the 8 piece bucket I was charged for and received an 8 piece meal. Rather than 2 pot pies I only received one. This is exactly why I have avoided this location and KFC in general. How can a fast food chicken restaurant not have chicken? This is not the first time I have sent a negative review of this location but have never received any reply, apologies or explanation for such poor performance. I am sending and posting this review to every site that I can find.
How do I know I can trust these reviews about KFC?
851,761 reviews on ConsumerAffairs are verified.
We require contact information to ensure our reviewers are real.
We use intelligent software that helps us maintain the integrity of reviews.
Our moderators read all reviews to verify quality and helpfulness.
For more information about reviews on ConsumerAffairs.com please visit our FAQ.

Had not had KFC for quite a while and my wife said she really wanted to try it again. Went through drive through. Ordered two-piece Original and a two-piece Crispy with mashed potatoes and coleslaw. A biscuit was also included. Oh my gosh. Talk about disgusting. Most of it ended up in the trash. My only regret was that it ALL didn't end up in the trash. Now we are both suffering. If you want to try it... good luck! Hopefully, all stores are not like the Millrun store in Hilliard, Ohio.

Food was very dry. And the coleslaw also. They didn't put gravy in my husband and my potato bowl biscuits were cool to the touch and it just seems like KFC has been cutting back on products they use for the food. I will no longer eat KFC as it's just too dry and don't have that home taste that it use to. Thank you for your time.

I was on my lunch break. There was a customer in front of me and he paid for a large catering order. The problem was when the employee waited on him and was finished with the customer, the employee then went to the other part of the counter and helped him to his car with his large order. That was fine that the employee did that. There was no one there to wait on us. It was like the employee was ignoring the other customers. I waited almost 10 minutes before I got to place my order. I had to finally say, "Are we going to get waited on". The lady said, "Give me a minute". Then she waited on us. I only had a half hour for lunch and had to hurry up and eat my food fast, so I could make it to work on time. I know they get busy, but there should have been someone else to help us, since the other employee left his register to help a customer with a large order to his car.

Spent a total of $33.00 at Ocala, Florida KFC for cold, greasy, inedible food. Imagine going to Kentucky fried chicken and being told they only have grilled left and were not making anymore​ fried as it was 2 hours before closing! Then charging more for coleslaw that was supposed to come with the 6 meals I ordered and they forgot to include it with my take out order. No one could eat this garbage I brought home. Never again. Corporate office doesn't return emails.

I haven't been to KFC in over a year so of course the menu has completely changed. Every meal is now thrown in a box. Plates I guess are too expensive. As I was very hungry I ordered a 3 piece box with an extra side order. After sitting and looking in box I saw the smallest drumstick ever, maybe 3 inches long. The two thighs weren't much larger and as I picked one up the skin completely slid off. KFC's parent company must own a miniature chicken farm and stock in a grease company. My 2 inch wide biscuit was on the bottom, sopping up the grease. Macaroni was actually pretty good. Salt and pepper couldn't rescue the mashed potatoes. Coleslaw at one time was the best. Now so so. Had original chicken, no taste. I should have known as I arrived at 2PM on a Sunday afternoon there were only a family of 4 and a mother with 3 kids dining and 2 takeout orders.
If I had to rate the food it'd be hard to give it a 1 out of 10. I ate what little was on the drumstick, macaroni and coleslaw; the grease went in the trash. Over $11 wasted. I'd have to think twice before venturing into another KFC. As I didn't finish my meal I went and enjoyed chicken at another chicken restaurant. This KFC is located in front of Lowe's, Veterans Parkway, Columbus, Ga.

In spite of often shambolic service at my local KFC drive through, I usually buy the mighty bucket for one but when I ordered tonight, I was given without a dip. When I asked, the manager at Merton Abbey said it was no longer included and I would have to pay an extra 25p. I object! All other meals containing fillets at KFC, including the new meal with 3 fillets and a portion of popcorn chicken, come with a dip! Why has it been removed from the Mighty bucket for one meal? Bad move, KFC and bad service, Merton Abbey branch! Service was much too slow and not at all worth the time! Do better!

On 4/18/17 I went thru the drive thru and ordered 12 piece just chicken, extra crispy. When I arrived home, I had received original chicken. I immediately called back. I spoke with the first person who answered the phone. I told them what happened. The employee took my name and asked if I wanted to come back. I told her no. I had worked all day and was tired. She said, "No problem, I have your name, just come back tomorrow and we will replace it for you free of charge." On 4/19, I went thru the drive thru again and told the man working the window my problem. He was communicating with manager and another lady on the front end, all of which were wearing a headset. The lady upfront was very rude. She kept shaking her head and saying I was just trying to get free food. I was not told that I would need my receipt when I originally lodged my complaint the night before.
I had paid cash and did not keep it. The manager on duty said there was nothing she could do for me without a receipt or the food. I told her that the lady from the night before did not say for me to keep the bucket of chicken and bring it back the next day. That is unsanitary. I mean to leave the old food in a hot car all day just to bring it back the next day for a refund. She said she was just following the policy that was set by the store manager. I told her that she should make sure all the employees knew this policy because apparently, they all did not. I have lodged a complaint with the corporate office and will be calling the owner or manager to lodge a complaint as well. I want what I paid for and to not be treated as if I was trying to get free food.

I am writing about the KFC in Tulsa OK, 11104 E 21st. Phone# 918-437-7696. The customer cashier name is **. ** did not check to see if I was receiving the correct order. When I got home the order was wrong, I ordered a wing dinner with mashed potatoes and green beans, instead I received a drumstick and a thigh, no wings at all. The potatoes was dry and look like they were left over, the cup my green beans was in had smears of gravy around the edges of the bowl, the chicken looked old, was cold and not good at all.
I ordered two Apple pies. I got one and maybe a half, the second one was in pieces. My next order was suppose to be Chicken Strips, potato wedges. The chicken was not fully cooked, they were white in color with no sauce that was suppose to be with the order, they threw in one chicken nugget for some reason. My wife and myself was very disappointed in the food. This was not the first time I was disappointed with my food and service. But it will be the last time I go there.

KFC at Tottenham Hale, Tottenham, London. On arrival we asked for a few items and were immediately told "you can't just have that, you have to have a complete meal"!!! After a long discussion at the drive through window we eventually agreed on an order, quite difficult when the person serving doesn't speak clear English!
On arrival at home, when we opened the bag we had a totally different order, no drink which was paid for. The chicken was to be honest "disgusting". We never finished it. So full of fat, not a nice taste. Not an enjoyable experience! Will never try to eat KFC again.

We live on a ranch in New Mexico and there are 3 generations of us living and working the ranch. Most of us know how good KFC is from a very long time ago. And when I had to go to Show Low AZ for some special supplies, my wife called and said "the kids are begging for you to stop at KFC. They saw it on TV." We mostly stay on the ranch and this after talking to the rest of the family it looked like everyone was on board with KFC. Mind you I have not had KFC nor has anyone on the ranch had it for years if ever so BIG TREAT! So after getting the supplies that I needed off to KFC Show Low AZ. Very clean, nice folks even helped me out to the truck with all $126.00 of buckets of chicken, corn, mashed spuds, etc. NO WIPES. What happened to those? My question for that and much more would soon be answered.
I have a hot & cold box in the semi so all was good to go, 90 mins. & I was home to happy people and bouncing kids. Everybody dug in, great time and conversations to the kids of when the The Old Man started it and that we would eat KFC in the 60's all the time. The night went along. Did a few chores that were left and started into the main ranch house and realized I did not feel so hot and my gut was boiling, get into the house and come to find EVERYONE is scrambling for bathrooms running to other houses. And then it hit me and out to the corral I went. It took 2 days for most of us to get straight again, the kids took 3. After telling our nightmare to people and even your own people at the KFC said it's not the same and they all said NEVER EAT KFC. Because they DO NOT use peanut oil anymore and they use CANOLA OIL and it does nothing but cause ANAL EXPLOSION and that it truly did.
So KFC. The reason there were no wipes are the same reason some PINHEADS in corp. headquarters have taken it upon themselves to change the original tried and true ways and go to something that does this to my family. You in one night have managed to trash 3 generations thoughts of EVER going to KFC. Again, so if you are doing this for the almighty $$$ which I'm sure that is what this boils down to, you will NEVER see any $$$ come out of any of our wallets EVER!!! How dare you put this garbage in food and call it good. I should have trusted my nose and noticed just a slight rancid smell which I'm told by my Dr. that will tell you things have CANOLA OIL in them and to avoid them. I hope you are happy you bastards!!!

Cristina, the Store Manager told me I had an attitude as she refunded me money for the order that I was returning. I ordered the 3 piece chicken and asked for crispy breast and two wings. Attendant said they had 1 breast and one wing left. I replied "no problem. Let's make it the two chicken crispy!" I got home and served the wing to my child and the complaint was that it was dry and cold, and not crispy. I noticed the breast was original and not crispy, and was missing skin. I returned it and the Manager did not try to correct it in any way and threw the money on the counter. I asked her how something so simple can be misinterpreted and she said "you have a bad attitude". I told her she should consider another job, and she said "I will still be here!" She took my receipt but the location is Alameda CA 94501 on Encinal and Park street.

I always eat at KFC on Maryland pkwy and Sahara. I live just minutes away from there. Today had to be the worst experience I have ever had. Due to being pregnant I ordered exactly what I wanted hoping for it to be wonderful right after I just got off of work from a long day of cleaning rooms at the casino. Today I ordered a famous bowl and my husband ordered a two piece leg and thigh and a chicken little.
Now all the chicken tasted burnt as if they used old grease. The biscuit was so dry that it just crumbled as if it was from a week ago and have been left out on the counter since. The popcorn chicken that was in my bowl was so crispy burnt that it made my mashed potatoes taste and smell burnt. Only thing that was fresh was the cookie. How is that possible? I called to let the manager know no one answers the phone. I've called ten times already! I do not want to get up get back in the cold just to let them know they need to throw all the chicken and biscuits away. Now I believe I will never go back to KFC ever again. Thanks for ruining it for me!

Hey so I wanna let everyone know on here that KFC has the worst customer service. Called to make an order for delivery the company tried for 20mins to put my order through the store. Not one person could answer the phone. Even the guy who took my order called back and said, "I'm so sorry no one will take the order from the store." Not happy with that. People who work there should be checking the phones or get fired like wtf. So then we go to make a new order at the store 'cause they don't know how to do their job. They give us gravy that is water and I mean water. Saw others complain and they do nothing there. This is the one on St. Joseph in Gatineau smh. I would recommend going somewhere else. Who knows what they're doing in their job place.

My family had set out for an early morning run to the grocery located at Price Plaza Chaguanas Trinidad. When we had finished I decided to pick up some KFC at the newest outlet opened just a few minutes from Price Plaza. We decided to use the Drive Through since we thought it would be faster. We waited in line for over 25 mins and a further 15 minutes at the Ordering booth only to be told that the Drive Through was closed. I informed the attendant that I was waiting in line for over 30 minutes. To my surprise the person responded that it was not her fault, I should have known better when I saw no one was attending to me. I requested to see the Manager, I was told that she was busy and needed to come inside to see her. That I did.
Inside, I requested to speak to the Manager, only to be referred to a person who identified herself as the Asst Manager, who was actually the person I spoke to at the Ordering Booth. I explained that I was in the line for over 30 mins only to be told that the line was never opened, in other words all of the other vehicles who were in front of me actually did not get any service either. I inquired why wasn't a rope or sign placed at the entrance. In the rudest of manner I was told that she (the Asst Manager) could not focus on outside (the drive through) and inside at the same time. I explained that it would not take anything for her to have someone just a sign or rope etc so persons do not waste their time going in the line.
I have visited KFC outlets all over Trinidad together with Florida and parts of Europe and it is the first time I have ever encountered such blatant disrespect to a customer especially on Xmas Eve. KFC should take this seriously look into this since this would no doubt lead to decrease sales, as a matter of fact a person in the line who identified herself as the vehicle behind me, on observing the manner in which the Asst Manager handled the situation on her own decided to leave also without making a purchase.

Kentucky fried chicken is simply the worst chicken in the business. Do not buy this chicken. I've been a fan for many years but within the last 10yrs it has become crap and over priced! Do not buy this crap food!!

We bought kfc last night on 1/12/16. We opened the pack and saw a very different type of chicken. We asked the waiter and he said that it is a new flavour specially made for national day. We went home and as we started eating we felt a very different taste than the usual. I felt like the kfc was reheated several times because it was so dry and the crispy thing felt like dry skin and it had the chili powder seasoning on one side of it and it tasted very bad. That night my kids vomited. We just wasted our money for this quality of bad food. I would like the concerned authorities to take action against this. We never expected this from such a high rated food company.

Do you know what it is to live on Essex where you have so many eateries and decided you and your family would patronize just a brand KFC. Last week was the first time my 7 and 5 years old would visit McDonald's... we loved KFC until we tried Gray's branch as a family. The treatment we received we can simply describe as the worst day of our lives. Those evening staffs were extremely rude, lack respect for people of other race. My Mrs requested an extra tray then the trouble began. They started raining abuse on us as if it was a big deal.
They were even threatening to call the police despite the fact that they were not accommodating. Said the ** word etc. I insisted I wanted them to call the police but they didn't as we resolved to being refunded. That night, I pleaded with the kids to go to the Chinese restaurant just beside. One of those staffs is pregnant so it will be easy to trace the team. I have been to many KFC around the world. That experience will never make me visit any KFC again. 02/11/2016 date of incident.

Please help. I don't know what to do. Went by the Kentucky Fried Chicken on 75th ave and Lower Buckeye and saw a manager?!?! By the name of **. She was treated and yelling at this poor ** employee like he was a slave!! It was outright so hard to watch. He was very manageable and never said anything back to her. Please stop this.

We stopped at the KFC in McDonough, Ga right off of I75, on the way home from visiting family. The first clue should have been hardly any cars in the parking lot, but it was after 8 pm, so we figured they just weren't busy. My boyfriend ordered the chicken great meal and my daughter as well as myself got chicken tenders. When we got our food, my and my daughter's chicken tenders looked as if they had been sitting under heat lamps for several hours and when I took a bite, it was like rubber. I went and spoke with the manager and he immediately told me he would fix me fresh ones. Well, when I went back to the table, my boyfriend's chicken breast was not cooked all the way.
At that point, my boyfriend went up there. The manager was very apologetic and called the cook over to look at it. The cook just kind of grunted and shrugged his shoulders. I asked the manager if there was any way we could get a refund, to which he obliged and profusely apologized for the problem. He even asked for my name and phone number for the district manager to call me. My dissatisfaction is not at all with the manager but with the fact the food was horrid and when called on it, the cook acted as if he could care less.

The KFC I visit is located on Lantana Road just east of the i95 interchange in Lantana, Florida. It's basically a drive thru, but you can also walk in to order, although there's only space for one or two cars to park. What makes this KFC special and worthy of a review is the fast and courteous service, the superior quality of the food, and accuracy of the orders. I've been ordering food from this KFC for once a month over the past year and my orders have been 100% accurate. There's not many drive thru's with a record like that. In addition, the food is always hot and fresh and I've never once felt like my food has been sitting around.
Finally, the service is exemplary. All of the employees are super nice and professional and very personable. They even seem like they actually like their jobs. My favorite thing is they say "you're welcome" or "my pleasure" in response to "thank you", rather than the "no problem" I get at many other restaurants, drive thru's, and businesses. This KFC is definitely doing something right.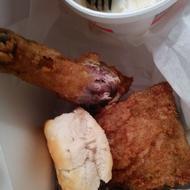 I went to KFC at 3298 State Highway 7 North, Lauderdale Lakes, FL 33319, this evening and it's the nastiest food I ever ate. The biscuit was as hard as cardboard, the mash potato and gravy nasty as heck, the gravy dry and black with no taste. Don't let me start on the chicken - it was dry and tasteless like something been sitting on the rock all day, and the Pepsi taste like it needs changing because it tasted like adulterated water. This one restaurant I will not be eating at again...

Myself and two other family members suffered food poisoning at the Portage la Prairie KFC! It was the most heinous experience we had ever felt, further complicated by the runaround that KFC gave us by not returning calls or even acknowledging that the incident even happened!! We had a lab test done on all the leftover food and it was found that the potato salad was the culprit! Along with that we had documentation from our doctor to support the presence of bacteria in the salad! KFC along with their hired advisor would also not surface when my lawyer attempted to contact them! KFC is the lowest of the low in my opinion and we will never return! My mom almost died as a result of the irresponsible and inhumane actions of KFC! No apology, no acknowledgement, no conscience! The absolute worst of the worst!!! Criminals in every sense of the word!!!

Horrible food, horrible company in general. Dry, greasy what I'm told is "chicken", chips not the best, dirty restaurant, rubbish strewn on the floor, front counter areas look dirty, so would hate to think what the kitchen is like. I was 1 of only 2 people in the place and think I can see why. On reporting my findings to Yum! (Own KFC) I'm given what sounds like some automated "Thanks for letting us know. We are sorry. We did not get things right on this occasion bla bla." The thing is I thought I would go to another KFC - it was busier and I could see the food on other people's trays, upon seeing this I walked out. So my guess would be it's the standard you can expect from KFC. How people can eat this muck puzzles me.

Last week my wife & I stopped at the KFC on US 1 in Stuart for dinner. My wife ordered the fish & shrimp combo but received the fish & chicken strips instead. When I asked when some fresh chicken would be put on the buffet the girl working the counter just laughed at me. It was 5 o'clock so I would think that should be a reasonable request. The chicken out there was not appetizing at all. I then asked to speak with the manager but he did not really care about the fact I complained about his so-called lack of customer service and that I was laughed at. Other customers sitting next to us were unhappy as well. The woman said they had laughed at her as well when she requested something.
Needless to say we won't return there for any meals and I am pretty sure the couple next to us won't be back as well. Just want to make you aware that you are losing customers on a daily basis as the employees lack the basic customer service skills. Being nice to people isn't all that difficult no matter what your wages are. I have worked many jobs in my younger years that didn't pay that well but I did my very best to do the job well regardless.

The employees there are not very friendly and I believe they are on drugs. Drama should not be in the work place and yet it is. The experience should be a good one. The manager should care a little more about the actions of the employees especially the managers. A manager should never threaten to hit an employee. I believe that the management should be reevaluated.
Company Name:

KFC

Website:

https://www.kfc.com/