Consumer Complaints and Reviews

The TD Visa CC due dates keep changing making it impossible to keep track of your payment dates. TD is the only Visa I know of in North America that uses this tactic with no email alert provisions for payment due dates. This is a deliberate tactic used to extort late fees from its clients. TD is the worst bank I have dealt with in 50 years of business and personal banking. They should be sued for unethical business practices.

They sold me a line of credit and gave me a second option of line of credit. Internally I needed to have some training of paying back the line of credit as it was two different line of credits. I kept on paying back the wrong one and the interest kept on adding on the actual one. The agent who sold me that line of credit never took any time or stress to explain that. Finally, I found out that one day myself and called TD Bank about it that it was a misrepresentation given to me. Their agent escalated this issue to their manager.
The Manager actually tried to bribe me to accept a 100$ credit instead of an investigation against the agent who sold me that line of credit in a hidden way. I said NO to the 100$ credit and said to investigate the issue and do justice to me in a right manner. The manager gave me no case number, and gave me a wrong name and Employee ID. I had been calling them myself back to find out about the process as they just keep giving me some follow up dates. I wasted my so many hours with no results yet. Lets see if this could bring me any justice.

They told me that the call will be recorded so they can provide "Legendary" customer service. Then they told me that my wait time will exceed 15 mins and that they can't wait to provide me with "Legendary" customer service. TD: Legendary customer service starts with answering the phone. It's not legendary just because you call it legendary.
A customer service rep was able to answer my questions and solve my problem, which was great. When I told him about the long wait he said that if I used the TD app to contact them that I would "jump to the front of the line" in front of everyone that made the unfortunate decision of dialing in (like I had tonight). Obviously TD wants all their customers to use the app but I'm thinking of my mother and all of the seniors out there that aren't comfortable using apps. This is very unfair to them. Wake up TD, most of them have had a lifetime to accumulate a lot more money than most of your younger customers who are more comfortable calling their bank through an app.
(BTW I had the same experience IN the bank branch on Saturday. A bank manager had to call customer service to check something that he couldn't access and he also had to wait more than 15 mins. The fact that TD doesn't give their branch managers a quicker way to resolve an issue while the customer is sitting there says something too).

I am actually completely out of energy calling and dealing with TD Bank as I am to write this review so I'll put it in as few words as possible. Although this won't help anyone understand my situation nor how I was played with and lied to please be wise enough to consider my testimony as the truth and how terrible this company is. I wouldn't sign up to ConsumerAffairs and input all my personal information to make something up and risk being sued for defamation or slander.
TD Bank is a dishonest and unethical lying company. I applied and successfully got a equity line of credit but not at the rate I signed at. The rates never went up yet they would not honor what I signed. Hours on the phone and emails back and forth with them 100% playing games with me. I spent over 40 hours combined on the phone to come up unsuccessful. They play with you knowing you'll eventually get sick and tired. I'm very persistent and I gave up. Managers never return your call or emails. No one cares. And they basically laugh in your face by telling you to speak to a manager "if they aren't providing legendary service" while waiting on hold. They are absolute scum bags. This is a class action lawsuit waiting to happen. They're going to eventually mess with the wrong wealthy person with enough time and money to start a class action lawsuit.

Made a visit to TD bank to ask for a personal loan. While the process was being fill out, the lady started to talk about their 0% interest offer for 12 months on purchases with the TD credit card. After she explained a little more I said yes to the card and got approved. One month later I get my statement and I'm getting charged almost 19% interest on purchases made on card!! I call customer service to see why I'm being charged interest and the rep said that it's only on balance transfers and not on purchases!! After speaking to a supervisor I was told to go back to the TD bank and speak to the lady who told me it was 0% which I did and now she denied ever telling me that!! I have had it with the lies and running back and forth with TD bank and advise people to say away from this untruthful bank!!
How do I know I can trust these reviews about TD Ameritrade?
851,205 reviews on ConsumerAffairs are verified.
We require contact information to ensure our reviewers are real.
We use intelligent software that helps us maintain the integrity of reviews.
Our moderators read all reviews to verify quality and helpfulness.
For more information about reviews on ConsumerAffairs.com please visit our FAQ.

Came to Georgia to see my son and help him out a little. Tried to get money from an ATM Friday. It ate my card. I called the customer service at TD Bank. They said they would overnight me a new card because I was in another state and there's no TD here. Bottom line is I've spent over 2 hours on the phone with them. It's Tuesday. I have no card no gas no money and a lot of runaround. Can I sue them?? That's 5 days. I've been left in Georgia with no means to get home because they won't send me my card.
Call customer service again today. "Oh I'm sorry. I'm sorry." they say "Will overnight you another one. We accidentally sent the one that we said we overnighted before regular mail and it takes 7 to 10 business days." In the meantime I've already lost two customers. I take care of elderly people and now I won't get my card probably until Thursday so who knows if I'll have any customers when I get home at all. Thanks TD Bank. You're the best. Just kidding. When I get back to Florida you will be gone. This is unacceptable.

I called the customer services. The lady on the phone treated me very bad, as am nut. I was telling her about a transaction that I see on the web for the card services, she tried to convince me that I am on another website or on another credit card.

I just received an e-mail from a friend of mine who lives in Manhattan. He had trouble with his leg while out uptown, limped into a branch around 43rd Street in Manhattan and asked the teller if he could please give him change of a dollar for the bus. The teller looked at him and said we do not give out change unless you have an account. What a creep! I would have given him the change out of my own pocket! And my friend is a senior citizen. So much for their "friendly" commercials...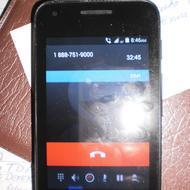 I'm NOT got to rattle on here but find another bank to do business with! This bank CLAIMS legendary service, 24/7 customer service, etc etc etc which is a lot of b/s. They claim that keeping a certain amount in your accounts prevents maintenance fees which is NOT only b/s; they charge the fee on a weekend which ends up rolling over into the next month with more fees! So you need to call their 1-888 # which ALWAYS exceeds a 20 minute hold time (see pic from today). When I called yesterday, after over waiting 20 mins; the phone just hung up on me! WORSE CUSTOMER SERVICE EVER!!!

The teller cashed a bogus check that I was not aware of. A bank rep identified it immediately and said teller was not doing her job and would be dismissed. I am now liable for the check and the teller still has her job. TD Bank in of not performing the services I rely should take responsibility or at least split the difference. I am currently in the process of closing my account with them. Chase Bank said it was part of their job to hold this type of check until it cleared.

I was charge for 2 transactions ($85.00) each transaction for SHELL OIL, I never bought oil, also I was charge for $140.00 for overdraft account. I called TD BANK and they told me that I need to wait 2 weeks for the investigation. I asked, "How can I live without money in my account?" I have my business account with Chase Bank and if it happened they added a temporary money into the account until the investigation conclude. As soon as I receive my money back I will be closing my account with TD BANK.

TD Bank Will Steal Your Money. TD Bank suspended the purchasing of their Gift Cards because they allow people to commit fraud all the time. Needed Gift Cards for the use of my business and give employees. When I walked in to the branch they recommended their TD Connect Card. Been a member of this scam bank since 2009, and when I walk into the branch they know me by first name, never had to show ID etc. So I bought the TD Connect Card which is reloadable at my home branch. So I had to login to the account to change the address, out of nowhere I couldn't log into the account even though my account information was correct. When I called these thieves on the phone, they said that security had locked my out of my own account and my own cash loaded card.
After 10 years at this scum bag bank, they stole the cash I used to load the reloadable account. So I'm closing the account immediately from my bank and filing a lawsuit against them in the morning. Account since 2009 with no problems withdrawing money with my ATM card, spend money for a reloadable card with my own name on it, and them boom they steal my money! No wonder I don't trust banks nor ever will.

Beware of doing business with TD Bank for refinancing. My experience was over complicated, resulted in paying an accountant to assist the underwriting department's bizarre computation of acceptable income to use for consideration. The worst part of the experience was the offer and acceptance for my request, only to be told hours after, that TD Bank reneged. My loan request was for another property purchase and as such, I reported to the seller's that we had finally found the financing. This has left a very stressful, time lost, aggravating atmosphere for the sellers and myself.

TD Bank is a HORRIBLE institution to work with. I was in the process of refinancing my condo and got all the way to the closing before backing out because of their poor customer service and lack of attention. Instead of giving me a list of the required documents needed to close, I got weekly emails of more documents that were needed for verification of my money that was already in my checking account waiting for my closing. The underwriter never even got done with reviewing my file under after I had lost my rate lock and I had to scramble with hours left to wait upon people to send additional paperwork. It was way more stressful and complicated process than it should have been and I will never use or recommend TD Bank to anyone again.
I have no idea how they stay in business when they expect their customers to jump through hoops and have unrealistic expectations of their customers when the customer was willing to help as much as possible. I emailed multiple people at TD Bank about my bad experience before I backed out and never received a call from any manager or apologize for the waste of my time. I hope that anyone reading this will stay away from doing business in the future with TD Bank.

TD, is a very awful bank. The are always overdraft my account, won't let me know, they can't answer questions, don't let me know who took out billing, don't send emails to let me know, who I have paid. Don't use TD banking, changing my bank account to another bank.

TD Bank service is horrible. Bank manager has no idea what to do, hold times for service exceeds 20 minutes. Then they hang up on you or reroute you to another department for another 20 or 30 minutes. 2 of my accounts were hacked, and other TD Bank customers had same problem when I was in the bank. No other bank I deal with has this problem, and other banks have fast service.
TD Bank is scary to deal with. My gut tells me the bank is either inept, fraudulent or both. How did someone hack into my account? There are challenge questions to log in, that should have protected me. TD Bank is not secure, customer service is horrible and bank staff are clueless. Be careful of this bank. Something is really wrong. They have too many breaches, can't give you debit cards because they say that service is down nationwide. Who is running this bank? At the very least, unprofessional, inept and careless. Too many problems to be a coincidence.

Customer service is absolutely and disgustingly HORRENDOUS. First off, the representative for this company has told me (plus 1 other friend) that our applications for the credit visa cards would be approved in 2 days. Not only was this NOT true, it took more than 10 BUSINESS DAYS to even get a reply. What was the reply? Answer: "We will get back to you." What kind of service is this? DEFINITELY will NOT continue to do business with such an unaccountable company. Take my advice, go find another institution!

I am writing today to complain of the poor service I received from the TD Bank representative Anna ** on June 28, 2017 in Lowell Ma. I trust this is not the way TD Bank wishes to conduct business with valued customers. My mother have been banking with TD bank for many years, until she lost her two year battle to cancer. I have never encountered such unsympathetic treatment before. I brought all documentation with me, a copy of her death certificate, the original will that named me executor of the will. I spoke with my Atty. He stated as long as she left a will and I am the executor of the will I should have no problem, but that wasn't the case with TD Bank. The only thing the manager saw was a ** man whom she felt was trying to commit a felony (FRAUD).
From the moment I walked into TD Bank I felt I was being racially profiled. The manager took the will and death certificate, turned to me and stated the signatures doesn't exactly match. I stated to the manager she was going through chemo treatments at the time will was being drawn up, and the only thing the manager kept saying the signatures doesn't match exact and the will is dated January 2, 2017. What part of cancer treatment didn't your manager understand, no person signature is going to manage exact especially in the midst of chemo treatments. The manager stated I needed to go back to the same Atty. that drafted the will and get a letter stating I am the executor of my mother's will. Do that make any sense when I have the will in hand, the manager never asked me for any identification to verify if I was indeed named as the executor of the will.
You have a right to make copies of the will, the death certificate, my Massachusetts ID. But I realize it wasn't about the will, it was about a ** man that can't be trusted. I go back to TD bank on July 1st with a letter stamped with Notary Public Commonwealth of Massachusetts. Still not good enough, need letterhead of the Atty. on the letter. If you have a WILL and do not want your loved ones to have to deal with this type of issue a stay away from TD Bank, I had no issues with her other two banks, smooth transition. I will never return to that bank, to continue to be humiliated on my mother's death...

The only reason I gave them one star was because I can't go any lower. First of all their customer service 800-number stinks. They're inconsiderate. Rude. They have no compassion. They don't know what they're doing. They transfer you from person to person. They make you wait on the phone for over an hr. What I needed done they said they could do it but they kept putting me from person to person. I think they do that intentionally so you give up. I used to be able to do the same service that I needed done at the branch by calling them but it depends on who you talk to. Some people will help you. In some way they can't which just makes me realize that they're just lazy and they don't want to do anything . When they say to be with you in one minute be prepared to wait an hour or more so have your drinks ready. Use the bathroom. Make sure you're ready to sit down for over an hour just to be told they can't help you.

I check my account everyday because this bank is very crooked. When I logged in yesterday morning I had OD fees of $140.00. I knew that was inaccurate so I called the bank. I was aware that I had one OD and the representative agreed with me and credited me back $105.00. She apologized and said she could not understand why it happened. She said that there might be one more OD fee because of a pending item and that she would notate the account to credit me back if that was the case.
The fact that they had charged me the $140.00 in OD fees incorrectly caused me to be OD when that transaction was posted. I called back today and of course spoke to someone else. He refused to credit me back because they post in real-time and the charge would have to say. This bank processes a way that causes your account to OD all the time. They put charges through and then they post credits. I will be opening an account elsewhere. I really hope someone creates a class action suit against them. Set of thiefs.

Unfortunately I have been a customer for about 15 months. During this time period I have had to contact their customer service department on numerous occasions to address late fees that should not have been added to my monthly bill. The idea that they added an additional, higher late fee based on an erroneous charge is asinine. Again, unfortunately if I do not want them to report their mistake to the credit bureaus, as they have threatened, I will have to make the payment and dispute the error. This company has been a nightmare for me from day one. In my opinion they deserve 0 stars.

Customer Service is horrid. I don't even bank here, I work with a title company and they put me on hold for over 25 minutes and transferred me three times before I finally hung up. All I need was a FAX number, not even that complicated!!!

We paid off the car and TD bank representatives keep telling different dates that when they have sent the lien release letter. Every time you call they take sweet time before they come on phone. Bad bank to do anything with. After reading Reviews online and my personal experience they are no good.

I received a Canadian check from my parents. Rather than deposit in my bank (BOA), I decided to open a TD account as I was told the processing fee was less. They gladly took my check for $8600 and the assistant manager told me my funds would be available "in 5-10 business days." Had I deposited with BOA, I would have had access to MY Money the next day. After miserable long conversations over the phone, I was informed, "It will be 30 days." On the next call, I was told, "It could be up to 60 DAYS." "It has to CLEAR COLLECTIONS, IT HAS TO CLEAR FRAUD."
I am a professional working for the federal government. I told them to hang up, call my facility, then ask my secretary to put the call through. Of course they did not. Then, I gave them the phone number for my dear parents. Of course they didn't call them either. This bank should be sued. I wonder if and when I will ever get MY MONEY! I've been receiving money from Canada since graduate school 28 years ago and NEVER, EVER HAVE I RECEIVED SUCH A HARD TIME. I even asked to return my check to me. Of course they can't because they cashed it. Where oh where is my money?!?

Customer service, computer system and hours are good. But I too have been a victim to TD Bank's RE-ORDERING of the debits for the purpose of gaining more overdraft fees. They are CROOKS because they intentionally re-order the debits to increase the overdraft fees while giving you a BS story that they are trying to help you pay the larger bills. They are filthy immoral people. BUT I have good news for everyone. Cryptocurrencies like BITCOIN are being legalized all around the world and being accepted as legal currency. They are installing thousands of Bitcoin ATMs and issuing Bitcoin debit cards. Crooked banks like TD Bank will soon be a memory of the past. MESSAGE TO TD BANK...YOU WILL SOON NOT MATTER. THANKS TO CRYPTOCURRENCIES. As I warned blockbuster in a phone call, if you don't conform, you will be no more.

Their customer service are really bad with help. They will show you a balance on your account and you will still have the money available and they will just charge you overdraft fee for no reason saying you have overdrafted. I am not really satisfied with their bank service. Please think twice before getting this bank. It's really bad.

Customer service as well as branch service is non existent. Too many complaints and stories to list. It is obvious that their business model is not to pay the employees hence the complete lack of competent customer service. While my experiences have been pleasant it seems that the employees lack basic skills hence the poor performance. I have been standing in front of branch employees of some tenure and they lack a basic understanding of the way banks work. Closed all my accounts.

My 14 year old went into TD Bank where he has 2 accounts. He had only change and needed dollar bills ($5). He was told he needs to go buy/get coin holders in order to deposit the money into his account! They are the furthest thing from banking human and awful to children. My next child went to a different bank already!

When trying to use the Send money feature, we had endless troubles. The information related to Send money seems to be separate from the account in general and any attempt to correct it leads to fraud alerts. Even after reassured that we would have no more problems and following instructions exactly, the account was put on hold yet again. DON'T USE THIS BANK. Although the representatives are pleasant, there is some horrible mismanagement going on and what you are told on one call will be directly contradicted on the next.

The bank is stealing money from people left and right... I made a deposit for more than $4000 dollar to cover a check of $2880. The bank delayed my deposits availability and cleared the check to run the account negative, then fees start hitting my account (5 fees), do you believe gas charge for $20 cost me $35 fees. Shame on you. Stay away from this bank. I will definitely closing my personal and kids saving account. Go to Hell... TD.
Compare Banks & Credit Unions
TD Bank and TD Banknorth Company Profile
Company Name:

TD Ameritrade

Year Founded:

1975

Address:

200 S 108th Ave.

City:

Omaha

State/Province:

NE

Postal Code:

68154-2631

Country:

United States

Website:

http://www.tdameritrade.com/