How to lower your monthly mortgage payment
These strategies can save you money on housing



Written by

Edited by
Find Mortgage Lenders near you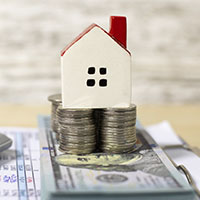 If your budget feels tight each month or you aren't reaching your savings goals, a too-high mortgage payment might be to blame. Thankfully, there are ways to lower your monthly mortgage bill and free up some wiggle room in your finances.
---
Key insights
Refinancing your home to a lower rate or longer term is the most common way to lower your monthly payment.
Changing to biweekly mortgage payments can help you budget better and allow you to pay off your home faster.
Finding a less expensive insurance company or choosing a higher deductible can save you on home insurance costs, which might be tied to your monthly bill.
FAQ
Will lowering my monthly mortgage payment affect my credit score?

Lowering your monthly mortgage payment may not directly affect your credit score. However, the actions you take to achieve a lower payment, such as refinancing or modifying your loan, could lower your credit momentarily. Your credit score usually bounces back quickly if you make consistent on-time payments.
Is it possible to lower my monthly mortgage payment if I have an adjustable-rate mortgage?

With an ARM, your interest rate and monthly payment can change over time. Refinancing your ARM to a fixed-rate mortgage can lower your monthly payment if your interest rate is lower and if it extends your loan term.
Are there any fees or costs associated with lowering my monthly mortgage payment?

Refinancing typically comes with closing costs, which can include application fees, appraisal fees and other charges. It's important to calculate these costs against potential savings to see if a lowered payment makes the refinance costs worthwhile.
Did you find this article helpful?
|
You're signed up
We'll start sending you the news you need delivered straight to you. We value your privacy. Unsubscribe easily.