What is "house poor"?
7 in 10 homeowners feel "house poor"

Key takeaways
69% of homeowners feel "house poor."
3 in 5 homeowners didn't expect repair, maintenance and upkeep costs to be as high as they are.
3 in 5 homeowners are sacrificing home-related essentials in order to afford their housing costs.
Part of the American dream includes homeownership. Whether it's a condo or town house in the city, a ranch-style three-bedroom in the suburbs or a remodeled farmhouse on 40 acres, building equity in your own home can instill a great sense of pride.
For all the benefits of homeownership, there are also multiple pitfalls, especially when it comes to expenses. Calling the landlord or building superintendent when the pipes burst in the winter months is no longer an option, and five-figure repair bills are the norm when the roof needs replacing or the foundation is cracking.
Even if your neighbor owns the largest home in the neighborhood, there's still a chance they're "house poor." This means a homeowner has little left for savings after paying the mortgage and associated monthly expenses.
Keep reading to learn more about what being house poor really means, including tips on how to enjoy homeownership while keeping some disposable income for other expenses.
Are we buying too much house?
For most people, purchasing a home is the single most significant expense they'll ever incur. When the real estate agent or closing attorney hands you the keys after signing a few dozen documents, the actual costs of homeownership come into play. It can be difficult to gauge how much you'll spend on your home throughout the years, and many homeowners come to learn the expenses aren't completely within their budget.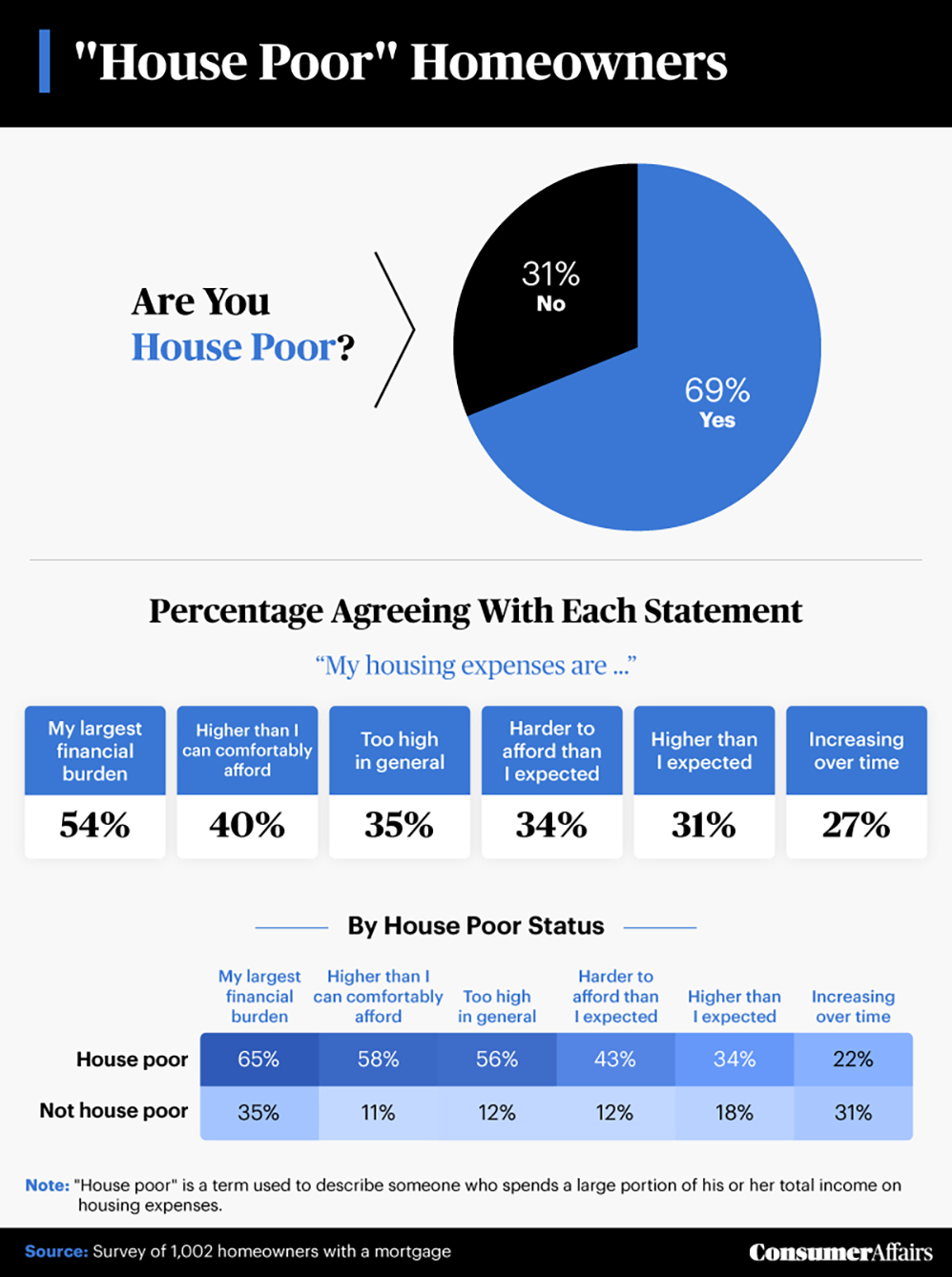 According to the latest government housing statistics released in November of 2021, 65.4% of Americans own a home, and 89.3% of all U.S. homes are currently occupied.
With the median home price for vacant units hovering slightly below $300,000, you might think homeowners are flush with cash. However, a recent survey of homeowners uncovered some startling statistics. For example:
Almost three-fourths (73%) reported that meeting household expenses is becoming increasingly difficult.
Slightly more than three-fourths (78%) of millennials felt somewhat house poor.
It's not surprising that 54% of homeowners reported that house-related expenses are their most considerable financial burden, despite their homes being their most significant asset. What might be surprising, though, is that 40% indicated that their housing expenses are more than they can afford.
What about dual-income households? Is it easier for them to handle household expenses than their single-income neighbors? To some degree. Still, almost two-thirds (65%) of dual-income households felt it's harder than it should be to meet household expenses, compared to 79% of their single-income neighbors.
Overall, 69% of respondents considered themselves house poor, which warrants looking into why homeownership is a burden for many Americans.
Death, taxes and that dang furnace
We've long heard the saying, "In this world, nothing is certain except death and taxes." For homeowners today, it might make sense to include never-ending household repair bills.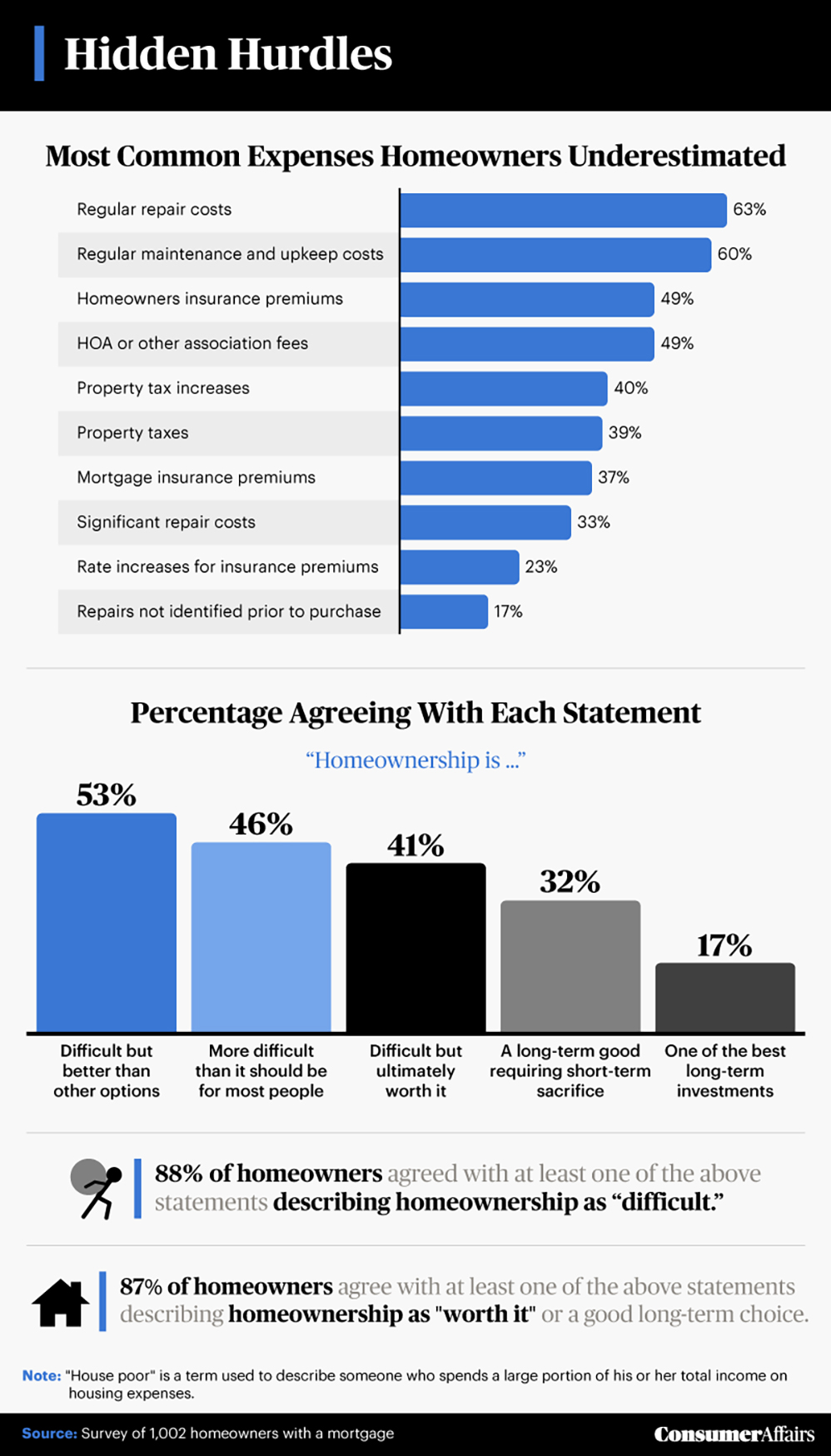 With all the pleasures of owning a home, almost 90% of homeowners agreed that homeownership is, at times, "difficult." Most new or first-time homeowners discover that it's practically impossible to budget for every home repair. When the toilets back up after the in-laws arrive or the kitchen disposal decides to stop working on Thanksgiving Day, contacting a local plumber might be your only option. However, it's the regular repair and maintenance costs that 63% and 60% of homeowners underestimated, respectively.
Almost half of the respondents (49%) mentioned underestimating insurance premiums and homeowners association (HOA) fees. Property taxes and associated fees were reported as a burden to 4 in 10 homeowners.
Despite the difficulties, 53% of homeowners surveyed said owning a home is a better alternative than renting. It's somewhat surprising, then, that only 17% rated homeownership as "one of the best long-term investments."
One reason the cost of homeownership is rising so rapidly is that houses are selling so quickly. The coronavirus pandemic helped spur a vibrant real estate market. According to the latest home statistics, the median period between a home being listed to going under contract from June 2020 to June 2021 was one week. The year before, the median time between listing and going under contract was three weeks. When homes move this quickly, buyers often must make decisions before understanding or fully evaluating the true costs of the home they're purchasing.
The sacrifices of homeownership
Most successful relationships involve some give and take. The same is true for homeownership.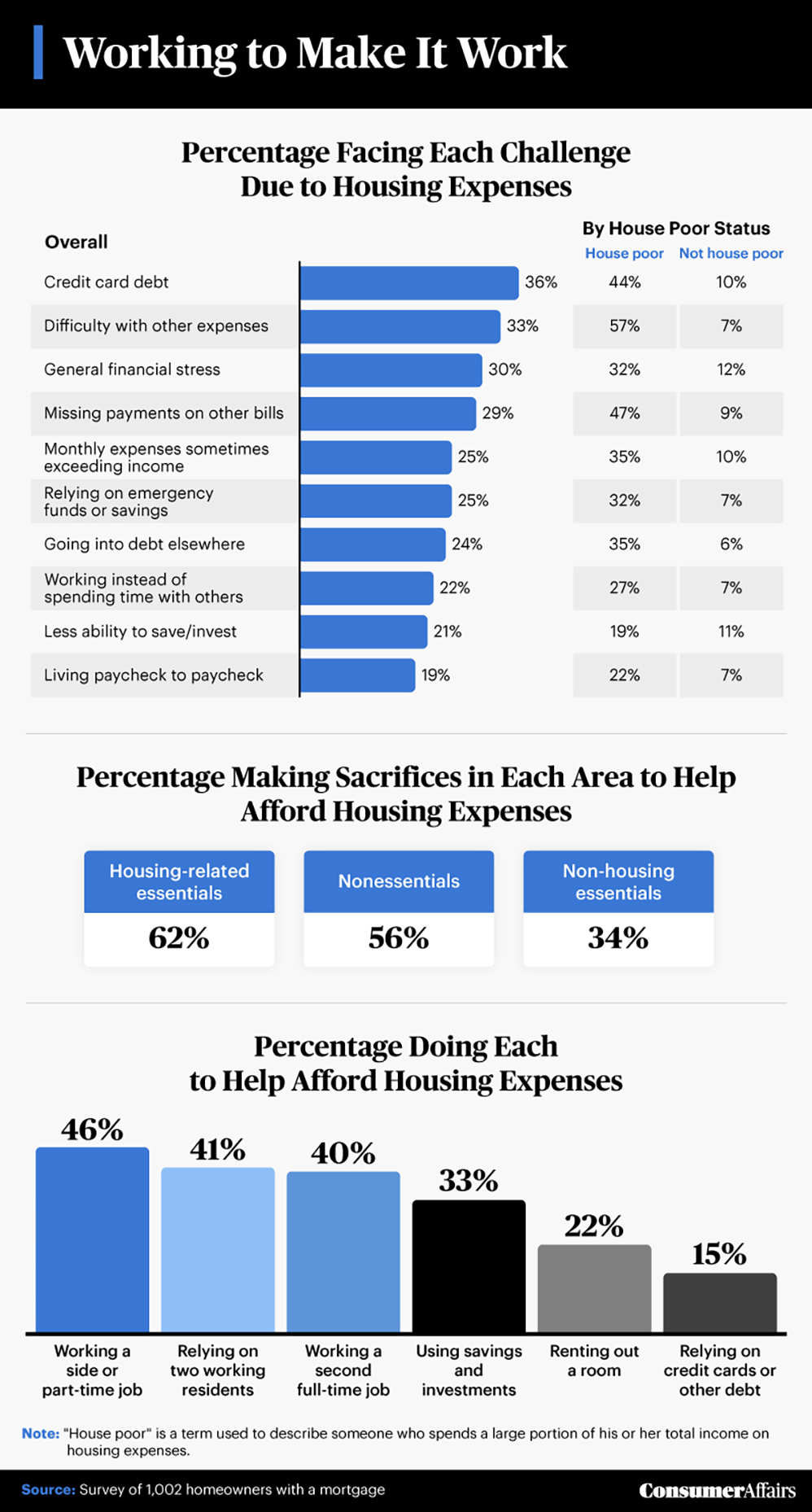 In addition to the budgeted and unexpected cost of homeownership, respondents also face financial hurdles in other areas — 97% of homeowners who are house poor relied on a side gig or another form of income to offset home maintenance costs.
Of the many financial challenges our respondents encountered, 44% of those identifying as house poor reported carrying credit card balances, and one-third of all respondents regularly face difficulty meeting their monthly financial obligations.
Maintaining a respectable credit score is vital for almost every homeowner. However, 47% of those who identified as house poor admitted to occasionally missing other payments to meet costs associated with their home.
Another alarming statistic from this survey: 99% of those self-identifying as house poor and 88% of respondents overall face some type of financial challenge every month. Such high percentages could suggest homeowners are purchasing more house than they can afford. But those 80th and 90th percentile numbers don't stop. Practically an identical percentage (89% of total respondents and 99% of those who claim to be house poor) make some type of sacrifice to afford their monthly home expenditures.
What are our respondents doing to offset the high cost of homeownership? Working some type of side gig is the reality for 46%, while 40% relied on a second full-time job. One-third had dipped into savings and investment accounts, and 22% rented out a room or a portion of their home for additional income.
How optimistic are cash-strapped homeowners?
During challenging economic periods, experts often look for signs of optimism to gauge the length of such periods. Thankfully, 51% of our survey respondents said they could absorb some increases in housing-related expenses.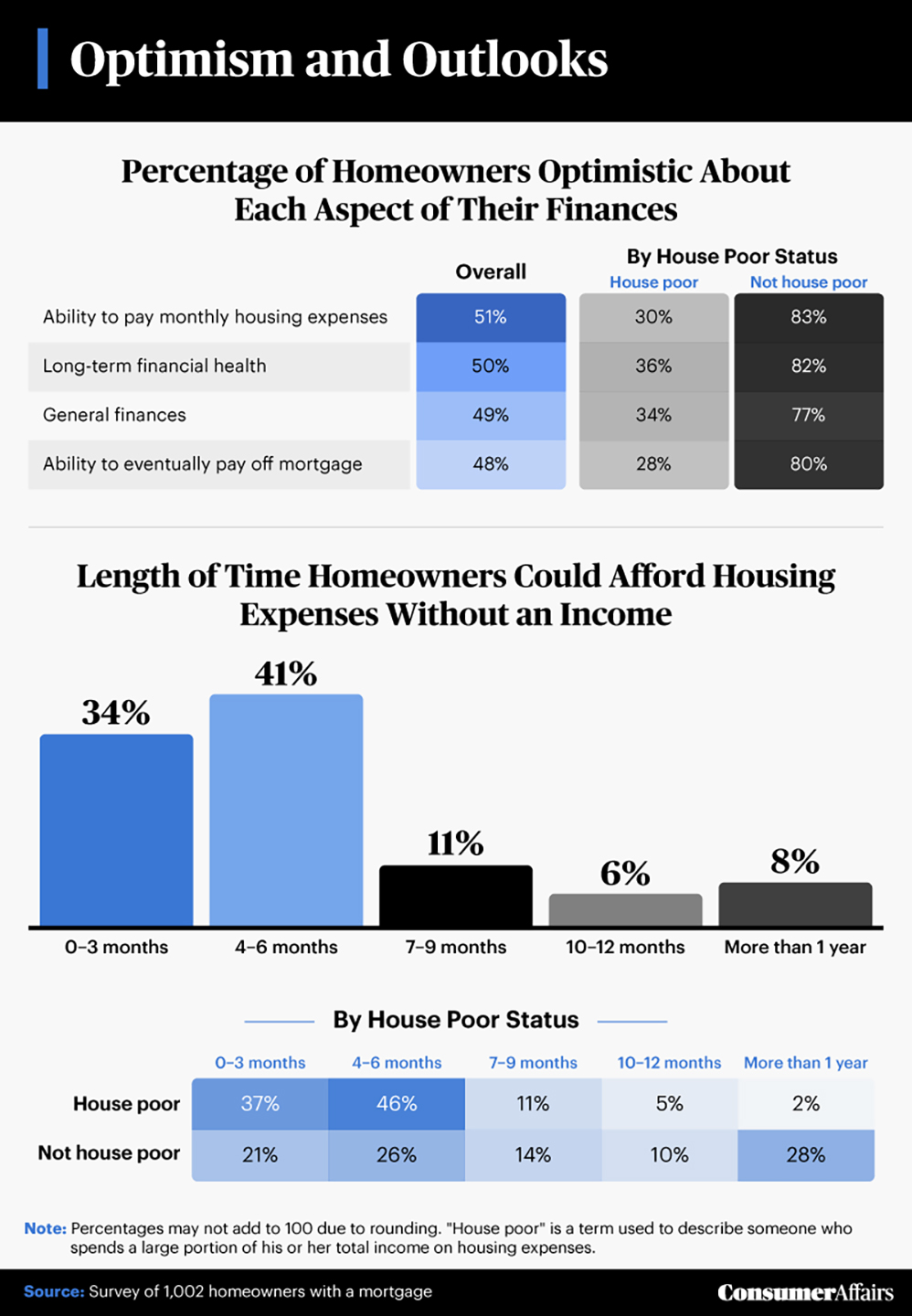 The caveat is that only 30% of the group that identified as house poor felt able to shoulder more household expenses. When closely examining the non-house poor group, 80% were optimistic about paying off their mortgage in the future, compared with only 28% of the house poor group.
Financial experts often tout the benefits of owning a home and saving for rainy days. And when the sky does open up and homeowners find themselves unemployed or with a loss of income, just over one-third said they have the financial resources to absorb up to a maximum of three months in household expenditures. On the upside, though, 41% believed they can handle four to six months of expenses if they lost their income. Only 8% felt able to maintain housing expenses for one year without an income.
When you look closely at the numbers, it's evident that most homeowners who are house poor can only endure up to six months of household expenses when experiencing an income loss. It's wise to take the necessary time to examine your overall financial picture to prepare for unexpected circumstances such as job loss, divorce or economic downturn.
Homeownership makes sense and cents
Buying and maintaining a home can be costly. However, for many, homeownership is the right decision over the long term, financially and otherwise. Many of our respondents cited challenges and sacrifices, but nearly 9 in 10 believed that homeownership was ultimately worth it in the long run. With proper planning, thoughtful execution and some discipline, homeowners can experience the long-term benefits while turning a house into a home they can be proud of.
Methodology and limitations
For this analysis, we examined the budgets and experiences of 1,002 homeowners through a survey. Among our respondents, 437 were women, 560 were men, four identified as nonbinary and one preferred not to disclose their gender. Our respondents ranged in age from 18 to 80 years old, with an average age of 39.
In some cases, questions and answers have been rephrased or paraphrased for clarity or brevity. To help ensure accurate data, all survey respondents were required to identify and correctly answer a decoyed attention-check question. These data rely on self-reporting; potential issues with self-reported data include but aren't limited to selective memory, telescoping and other attribution errors.
Fair use statement
Unlike homeownership, sharing this information with others doesn't cost a single penny. Our only requests are that you share for noncommercial purposes only and link back to this article to give credit where it's due.
Did you find this article helpful?
|
You're signed up
We'll start sending you the news you need delivered straight to you. We value your privacy. Unsubscribe easily.