Best pool loans
Compare these top lenders for swimming pool financing



Written by

Edited by
Find Personal Loans near you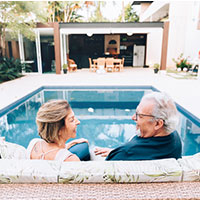 A pool loan is a type of personal loan you can get from a bank, credit union or another lender to finance the purchase of a pool. These loans are often unsecured (there's no collateral requirement), and the best lenders generally offer flexible repayment terms, large loan limits and low interest rates.
---
Key insights
A pool can potentially boost your home's value, but it may come with additional costs.
Make sure your lender offers loan amounts that fit your needs.
Comparing offers and terms from different lenders is a good way to find the right loan for your situation.
Our picks for best pool loans
To make our choices for the best pool loans, we collected 806 data points (26 individual data points for 31 lenders), including customer reviews and overall ratings from ConsumerAffairs readers, for popular lenders. We used these data points to evaluate factors that have the most impact on borrowers, including credit score requirements, APRs, loan limits and fees, before making our final selections.
Our picks may be Authorized Partners who compensate us. This does not affect our recommendations or evaluations but may impact the order in which the companies appear.
LightStream
Partner Disclosures
Fixed rates from 8.99% APR to 25.81% APR reflect the 0.25% autopay interest rate discount and a 0.25% direct deposit interest rate discount. SoFi rate ranges are current as of 05/19/23 and are subject to change without notice. Not all applicants qualify for the lowest rate. Lowest rates reserved for the most creditworthy borrowers. Your actual rate will be within the range of rates listed and will depend on the term you select, evaluation of your creditworthiness, income, and a variety of other factors.Loan amounts range from $5,000– $100,000. The APR is the cost of credit as a yearly rate and reflects both your interest rate and an origination fee of 0%-6%, which will be deducted from any loan proceeds you receive.Autopay: The SoFi 0.25% autopay interest rate reduction requires you to agree to make monthly principal and interest payments by an automatic monthly deduction from a savings or checking account. The benefit will discontinue and be lost for periods in which you do not pay by automatic deduction from a savings or checking account. Autopay is not required to receive a loan from SoFi.Direct Deposit Discount: To be eligible to potentially receive an additional (0.25%) interest rate reduction for setting up direct deposit with a SoFi Checking and Savings account offered by SoFi Bank, N.A. or eligible cash management account offered by SoFi Securities, LLC ("Direct Deposit Account"), you must have an open Direct Deposit Account within 30 days of the funding of your Loan. Once eligible, you will receive this discount during periods in which you have enabled payroll direct deposits of at least $1,000/month to a Direct Deposit Account in accordance with SoFi's reasonable procedures and requirements to be determined at SoFi's sole discretion. This discount will be lost during periods in which SoFi determines you have turned off direct deposits to your Direct Deposit Account. You are not required to enroll in direct deposits to receive a Loan.
Your loan terms, including APR, may differ based on loan purpose, amount, term length, and your credit profile. Excellent credit is required to qualify for lowest rates. Rate is quoted with AutoPay discount. AutoPay discount is only available prior to loan funding. Rates without AutoPay are 0.50% points higher. Subject to credit approval. Conditions and limitations apply. Advertised rates and terms are subject to change without notice. Payment example: Monthly payments for a $10,000 loan at 8.99% APR with a term of 5 years would result in 60 monthly payments of $207.54. Truist Bank is an Equal Housing Lender. © 2023 Truist Financial Corporation. Truist, LightStream, and the LightStream logo are service marks of Truist Financial Corporation. All other trademarks are the property of their respective owners. Lending services provided by Truist Bank.
$100,000 max loan amount
24- to 144-month repayment terms
Minimum credit score not disclosed
User star rating:

3.3

Get Started
LightStream offers loans for a wide variety of purposes, and they all come with zero fees. At the time of publishing, its overall rate range goes from 7.99% to 25.49% (with autopay), but swimming pool loans range from 7.99% to 21.24% APR. (These loan ranges all include a 0.5% discount for enrolling in automatic payments.)
LightStream operates its business entirely online, meaning all of your transactions with the company will occur remotely. That includes applying for the loan, making payments, managing your account and getting help with your questions. Customer support is not available via phone or live chat.
LightStream is one of the few lenders that advertises loans specifically for pools, although it sometimes refers to these loans as "Home Improvement/Pool/Solar" loans. Limits for these loans range from $5,000 to $100,000. That should be enough for most inground pools, which typically cost $30,000 to $80,000 to buy and install. However, the minimum amount might be too high if you're installing an above-ground pool, which generally costs $1,000 to $5,000.
LightStream doesn't publish a minimum credit score requirement, but it does state that borrowers need to have "good-to-excellent" credit profiles. According to FICO, a "good" credit score is at least 670, but we don't know how LightStream defines that range.
What we like

No fees
Same-day funding is possible
Rate Beat Program can help you get a lower rate

What to consider

Can't change payment due date
Higher APR range for pool loans than some of its other offerings
What do reviewers say?
LightStream has an overall positive rating on our site at the time of publishing. While some reviewers were unhappy with being denied a loan, many praised the easy application process and customer service.
One reviewer, Victoria from Saint Paul, Minnesota, had this to say: "I would rate LightStream 5/5 for their commitment to their client, the competence displayed in their organization, and their reliability. They exceeded my expectations and I would not hesitate to recommend them to others."
---
SoFi
$100,000 max loan amount
24- to 84-month repayment terms
Minimum credit score not disclosed
User star rating:

3.4

Learn More
SoFi got its start offering student loans before branching out into other areas, including personal loans and mortgages. You can apply for a loan on its website or through its mobile app, which you can also use to manage your SoFi accounts.
SoFi personal loans can be used for personal, family and household expenses, which means you can use them for a swimming pool purchase and installation. If you qualify, loans are available for up to $100,000. Repayment terms range from 24 to 84 months, and there are no fees required. Same-day funding is possible in some cases.
Note that it may be difficult to get approved for a loan with SoFi, though. A company representative told us that the average credit score for approved borrowers is over 700. Co-signers are not permitted, but co-applicants are.
If you're approved, SoFi personal loans come with some perks you may not find with other lenders. For example, you can change your payment due date once a year, and if you lose your job, SoFi even offers an unemployment protection program to help you get a new job and modify your payments in the meantime.
What we like

No fees required
Same-day funding is possible
Unemployment protection program

What to consider

Good credit may be required
No co-signers allowed
What do reviewers say?
SoFi customers often note that it's relatively easy to work with this lender, citing its fast funding, simple application process and accessible customer service. "I used both the call center and chat line for questions and both were very prompt in picking up and very helpful and easy to talk to," said one reviewer in 2019.
Some borrowers, however, reported issues with loan payment dates changing, lengthy loan closing times and loan applications being denied.
---
LendingTree
$50,000 max loan amount
Repayment terms vary
Minimum credit scores vary
User star rating:

3.4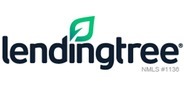 Learn More
LendingTree works a bit differently than our other picks. As an online marketplace, it helps you compare financing options from different lenders rather than loaning money directly to you.
After you sign up and provide the necessary info, LendingTree will connect you with up to five lenders from its network. It's still on you, however, to vet these offers, including checking which ones offer the lowest fees and the best term lengths.
Minimum credit scores, loan amounts, repayment terms, fees and state availability all vary based on which lender you choose. The company does state that loans can range from $1,000 to $50,000, with APRs starting at 4.99% at the time of publishing.
What we like

It's free to use
Lets you compare offers from multiple lenders
Provides APR ranges and minimum credit scores for lenders it works with

What to consider

Getting offers can result in multiple credit inquiries
May result in lots of messages or phone calls
What do reviewers say?
In general, reviewers on our site are happy with LendingTree's service. Customers enjoy the ability to compare multiple offers in one place and mention quality customer service, a simple application process and good rates as other benefits. "I tried it and got multiple quotes that were what I thought too good to be true. I like to do business with local companies so I called a few and they could not compete with the quotes I was getting," said Renita of Pensacola, Florida.
The most common complaint about LendingTree is the number of phone calls and messages you might receive after completing the initial screening process.
---
Discover Personal Loans
$35,000 max loan amount
36- to 84-month repayment terms
Minimum credit score not disclosed
User star rating: N/A*
Learn More

*Not enough user reviews.
Primarily known for its credit cards, Discover also offers personal loans with term lengths of up to 84 months. There are no upfront fees or prepayment penalties, but loans do have a $39 late payment fee.
Discover personal loans are better for smaller or less-extensive pool projects because you can only borrow $2,500 to $35,000. That's often less than the typical cost of an inground pool.
You can start your loan application online or over the phone; however, you will need to complete your application through the Discover Personal Loans portal.
What we like

No upfront fees
No prepayment penalties
30-day money-back guarantee on loans

What we consider

Minimum household income of $25,000 required
No co-signers or co-borrowers allowed
Lower maximum loan amount than our other picks
What do reviewers say?
Most Discover reviewers on ConsumerAffairs were evaluating the company's credit card products, but those who did review its personal loans said that the company has excellent customer service, often going above and beyond. For instance, Maria of Paso Robles, California, stated that, when their loan was set to close while they were on vacation, Discover found a local notary to work with them: "The customer service was excellent; it is 100% US based. Good communication throughout."
How to get a pool loan
If you can, try to save money and pay for a pool in cash. Since that's not always possible, it's wise to look at all of your options for pool financing before committing to anything. Using your home equity to finance a pool can be a good option, especially if your pool boosts your home value. Personal loans can be good choices as well.
Once you've decided on the type of loan and the amount you need, the next step is to shop around. Check with as many lenders as you can to see what rates and term lengths they can offer you. Try to make sure each lender does a soft credit check — these won't impact your credit score like hard credit checks would.
Once you find the best lender for your needs, you'll complete your loan application. Most lenders require you to have certain documents available for this, such as recent pay stubs, bank statements, tax returns and a government-issued ID.
The lender will usually do a hard credit inquiry at this time, which can temporarily drop your credit score. Try to keep a close eye out for any requests from the lender; failure to respond might cause a delay in your application processing and approval.
Once you're approved for the loan, it's a good idea to set up automatic payments on your account. This has a lot of benefits:
Many lenders offer rate discounts if you sign up for autopay.
You won't need to remember to make your payments.
You may avoid late fees.
You can build a positive payment history.
If everything goes well, you may even see an increase in your credit score by the time you pay off your loan.
Note that if you're considering installing a pool, you should also account for related costs, like changes in your insurance bill and maintenance. You'll also want to check with your town or county to ensure you have all the proper permits, which might come with their own fees.
FAQ
What credit score do I need for a pool loan?

There is no official minimum credit score you'll need in order to get a pool loan. Each lender is different, and some are more accepting of lower credit scores than others. You'll have the best chances of approval and access to the best rates if you have good or excellent credit, though.
How many years is a typical pool loan?

Most of our top picks for pool loans offer two- to seven-year term lengths. However, each lender is different, and it's possible to find pool loans with longer or shorter terms.
Are there alternatives to pool loans?

There are plenty of alternatives to pool loans. It's best to save up to pay for a pool in cash, but if you can't do that, other options include cash-out mortgage refinancing, getting a home equity line of credit (HELOC) or taking out a home equity loan.
Bottom line
If you're looking to put in a pool and can't pay in cash, there are a number of lenders who offer loans you can use. If you do plan to use a personal loan to pay for a pool, get a good estimate of how much your project should cost because that might limit your choice of lenders. You'll also want to look at APRs, repayment terms, loan limits and other factors to decide if a given loan is a good idea. If you can't afford to repay the loan, you probably want to consider another option.
Sources

ConsumerAffairs writers primarily rely on government data, industry experts and original research from other reputable publications to inform their work. To learn more about the content on our site, visit our FAQ page. Specific sources for this article include:

FICO, "What is a Credit Score?" Accessed October 20, 2022.
Did you find this article helpful?
|
You're signed up
We'll start sending you the news you need delivered straight to you. We value your privacy. Unsubscribe easily.