Consumer Reviews and Complaints

I have foolishly attempted to trade the markets with this company for a number of years. I have lost $60,000 dollars in total. Some because of my own mistakes in the market but the losses that really bother me are the ones that immediately go aggressively against me. This seems to be the pattern of TD Ameritrade. You put in a sell order after realizing a profit and if it's the slightest bit above the current bid or ask price they immediately start selling away from your price. You don't even have time to adjust before you have lost all of your profits. I have had with these jerks. I just use their platform for data to trade with other online brokers.

I received my statement. I was shocked after submitting a payment of $91.00 for July that the interest rate went up 5% from last month. They added $61.00 to my account interest fees. I called and said I wanted to close the account. Then a split second later I said not to close the account. I called 2 more times today Sat 08/26 /2017. The account is reopened on the third attempt finally. Closing the account hurts the consumer. I had made several payments to them in the amount $90-94.00 This is really breaking me. I had mentioned to them I'm investigating them, this company. Where's the respect. I'm not using my TD card anymore. It's a big rip off. For sure trust me. I had a brokerage account there also. They collected more from me than I did get from my investments on margin calls. Stay away. Trust me.

I was switching accounts from Scottrade to TD Ameritrade. I was told by Courtney that my funds would be available by 10am on 8/16/2017. The funds were not there. $115,500 I was wanting to buy a stock and could not. Supervisor told me that there was nothing he could do. TD Ameritrade you have dishonest employees working for you!!!

$75 fee to just move my IRA account to another broker - That is ridiculous. I move my money around to other brokers all of the time. This company will never get my business again. I've never been charged for moving my money.

They charged me an inappropriate fee and I had to battle with them to get it removed. Then they mistakenly put it into collections and had to fix that plus send me the letter of apology I demanded. These clowns should be shut down for incompetence. That's the last time I go with a Canadian company. I also pulled out of a large piece of business with them for their incompetence. There's a price to be paid for their unprofessionalism. Get better people! Do better training!
How do I know I can trust these reviews about TD Ameritrade?
883,201 reviews on ConsumerAffairs are verified.
We require contact information to ensure our reviewers are real.
We use intelligent software that helps us maintain the integrity of reviews.
Our moderators read all reviews to verify quality and helpfulness.
For more information about reviews on ConsumerAffairs.com please visit our FAQ.

I began using TD Ameritrade's Trade Architect approximately 10 yrs ago. It was never perfect, as nothing ever is, but it served its purpose. However, other than improving with time, it gradually deteriorated to the point I had to find another platform. Not only is the site down on a regular, when it is "functional" a glitch occurs on a regular basis. At market open the graph option is unavailable for at least 30-45 min most of the week... Learning a platform takes time, effort and money, therefore making a switch is costly. I strongly advise to look elsewhere for your trade needs.

I had been a client for over 10 years and made numerous trades. I had a brokerage account, traditional IRA, & Roth IRA. I recently had rolled over a 401k from Voya. After they received my rollover money, TD Ameritrade locked my account where I couldn't use my debit card. They wouldn't allow me to deposit money unless I did a wire transfer which let's face it, is not very convenient. I asked them why, they wouldn't tell me. I told them I had an account with E*TRADE also and would've sent my rollover to them had I known they were going to do this. And asked why they did this and what I needed to do to regain access to my money and be able to deposit money in it from my payroll check and or ACH transfer.
Their suggestion was to move my money to E*TRADE. So, I did. They didn't mention that they were going to charge me ridiculous fees for the move. One of the accounts only had $598 in it, the other 2 had more. And they charged me two fees, one for $75 and the other for $69. So by the time my money got to E*TRADE I had approximately $450 in that account. They did the same to the other 2 accounts. I would not recommend them. Terrible customer service. I've moved the money to E*TRADE and they're much easier to use anyway. Much more user friendly and not crooks like TD.

I have had accounts with Ameritrade for over 20 years. I recently moved an inherited IRA over to them from another brokerage firm worth over $1,000,000. During the transfer time I received a letter from Ameritrade from the Risk Management Department stating that all of my accounts were now restricted and that I had 30 days to move them out of Ameritrade. In the meantime, they took away my online access so that I could not even retrieve my account numbers. Also received a congratulatory email stating that they had received my IRA. Finally got a hold of customer service where I still received no explanation but at least got my account numbers. The risk management department has yet to call me back but on their voicemail they specifically state that no explanation will be given. Lovely.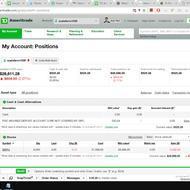 I have a retirement account with this company tdameritrade.com. I made all my trade online through their website. I had 6140 shares of stock of (bbrg). Last week on Thursday 3/30/2017. I sold all my shares at a price of $5.15. I went into their system online and saw that all my orders have filled and that I did not have any positions open. Also, I received an email from them confirming the trade.
Evidence 1 - The next day 3/31/2017. I tried to do a wire transfer from that account I have with TD Ameritrade as early retirement to my personal account at Suntrust back. The system showed an error message and did not allow me to "SUBMIT" the request because I did not have sufficient funds in my account. At the time I only had $500 in cash and the rest was the stocks that I sold but the system does not cover that into cash but after 3 days. So I decided to wait for that to reflect as cash. The requested transfer at that time was for $30,000 but showed I have $500 in cash.
Evidence 2- The next Monday on April 3. I went into my account and saw that the money from the sale of all the stocks was showing as cash. So the cash in my account at that moment showed a balance of $31,500 approx. At that moment I filled out the wire transfer request for $31,000. (I was able to SUBMIT my request without any errors.) I selected the 10% option on the account for taxes. VERY IMPORTANT I was able to submit the request no errors for lack of funds.
Evidence 3 - At night on that same day 4/3/2017 I received a message from TD Ameritrade to my email saying "Dear Valued Client, There is an urgent message in your account ending in 0182 that needs your immediate attention. Please log in to your account, at tdameritrade.com, and go to Client Services Message Center to view it. The message indicates what action you'll have to take."
I went to the online account to read the message and it said. "We have received your request for an electronic transfer (ACH) of $31000.00 for your TD Ameritrade account ending in 0182. Unfortunately, we were unable to process this request. For information about why we could not process your request, please reply to this message to write us. Or call Client Services at 800-669-3900. We're available 24 hours a day, seven days a week. Please note that we cannot resolve some matters through email and may require a phone call for security reasons. We appreciate your business and regret any inconvenience this may cause you. TDA 2638 EM 07/13"
The next day on Tuesday 4/42017 in the morning around 10:00 am I called them, however, I first went into my account online and to my surprise, it shows that I still owned a total of 6040 shares of (bbrg) and only 100 shares of (bbrg) had sold. (THIS IS A LIE!) I called them to find out what is going on and they insist in the lie. I have collected evidence taking pictures of screenshots from my computer which I want to provide to you. I need help.

I deposited $500,000 in order to qualify for $600 deposit bonus. 9 months after that initial deposit, I withdrew some of the money. They charged back the $600 bonus. I called them two days ago to see what they might be able to do. I've never witnessed such amateurish/poor customer service. The representative (MIKE **) who was actually a supervisor was so SMUG and RUDE it was embarrassing. He simply read the fine print of the promotion that the funds needed to stay in the account for 12 months or they would be subjected to charge back.
To be clear, I wasn't necessarily asking for a refund but instead wanted to let them know that it would have been nice to have received a heads up/explanation for such a large charge-back. At minimum, a little customer empathy would have been in line. I got neither. I asked for a call back from his supervisor (SEAN **) which I did not receive. I will be pulling all of my money from Ameritrade and will be going to a firm with transparency, ethics, and empathetic customer care. Shame on Ameritrade, never again.

In every instance T.D. is upfront with charges. Most procedures complained about are common to all Brokers. Brokers comply with Federal law. The one complaint that I find most outrageous is the complaint about Amerivest (T.D.'s managed investment accounts). T.D. does not make investment decisions for Amerivest. Morningstar is the investment advisor and most if not all securities are ETF's. The cost is far less than managed funds and most mutual funds. Of course the management fee is based upon account value. If you put in sufficient funds your management fee will be way below 1%. For comparison the base management fee at say Wells Advisors for a high-value account is 1%.

Up to this point I have been very happy with TD Ameritrade. What has caused me to question their "customer service" attitude results from a recent check transferred from a separate investment into my account at TD Ameritrade. The money was issued in the form of a check. It was deposited into my IRA account at TD Ameritrade. TD Ameritrade charge me $100 to cash this check, on top of $250 annual fee!!! They try to justify it saying it was a "non-standard" account and non-standard transaction. BS. It was a check written on one bank account and deposited into my TD Ameritrade account. This is robbery. It is very disappointing to find TD Ameritrade cares more about bogus fees than their customer's satisfaction.

I signed up for a broker account with TD, was offered a promotion of 500 free trades. After making over 25 trades I noticed I was being charged for the trades. I contacted support they activated my promotion and gave me 10 free trades! After expressing my dissatisfaction with how they handled this issue they became very rude, and unwilling to help any further. So I am getting screwed out of 250 dollars cause they didn't get my promotion activated right.
They also did the same to a friend I referred to them, after all said and done I have moved all my accounts from TD. They are dishonest and only care about money not customer satisfaction. As a business owner I would never have treated a customer the way I got treated by this business! It's very unprofessional to offer a promotion to drive business "not give the promotion offered" and treat the customer like crap for asking to get what they signed up for. Would not recommend using their services!

They offered a $500 bonus if I'd deposit a certain amount of money and keep it with them for at least one year. They reneged... actually bold-faced lied about the program and changed requirements in mid-stream. There's a good reason all their reviews are LOW, LOW, LOW. Believe them... stay away from this company.

For most trader's I'd be considered pennies. I buy a few shares a month. I was going with Capital One investing until I was swayed into TD Ameritrade by some people at the college I go to. Skeptical I only deposited $100. After 3 trades, well within my funds, they take over half of my deposit on margin call. For what? I didn't purchase any stocks on margin. I called and their excuse didn't clear up why they the system showed I traded on margin when I didn't. 1 day, just 1 day and these people have showed me that they are incompetent. They are also slow. Capital One investing has quick trade settlements, no ** website and customer service is always happy to help. Thankfully I didn't close my account with them.

I am a retired individual and have had regular trading and retirement accounts from 1980s which currently are with TD. I am not complaining about regular and legal restriction by government/Court orders; The restrictions placed on my accounts have no explanations; except I wrote a few months ago to the president's office and had a heated exchange with Ms. Linsey ** and I mentioned that I will close down all my accounts and move to E-Trade. It is my contention because TD is in the process of acquiring Scottrade; it illegally placed restriction on a number of accounts to prevent these monies moving out before this acquisition took place. Please share your experiences with TD because I find it very difficult to get proper and consistent answers from their CS for simple transactions requirements; invariable one person will tell one thing and then the other something, and finally after a lot of time loss and complaint does one get the answer.

Very unfortunate story - I am involved in futures contracts that have expirations very far out. When the market closes, these aren't traded anymore and get valued at whatever TD decides to mark it at (usually any long position at bid, short position at ask). This created a false flag on my account last night. No margin call was ever issued by TD, but by these false marks was determined that they needed to liquidate basically my entire position this morning. Instead of issuing a call or calling me that morning to discuss, the positions were simply liquidated at the worst possible price available, causing me losses that I estimate to be in the neighborhood of $3k-$5k (at least). It also left me in an open position that moved less favorably than it would have had things been left alone. The trades I had on were spreads, and were executed as outright trades instead of spreads, causing further losses on the bid/ask spread.
Unfortunately only a small portion of what I was "robbed" out of (they didn't actually rob me, it really is just an analyst making a decision who does not look into your portfolio or how things are marked, and pushes a buy/sell button). The manager was a nice guy but I know his hands are probably tied in the whole situation. There is just no way they care about making me whole on the problem, and only offered a small fraction of the losses I incurred due to their false liquidation need. It is what it is. I'm out probably 5k on my account due to this, no margin call whatsoever. I was told they had been looking at my account "for weeks," but somehow I only receive one call telling me there is concern on my account. Since I am in the middle of accounting close at my work, there isn't enough time to respond and in the end, I suffer.

After 10+ years am closing all my accounts with TD Ameritrade. Used to be a great company - not anymore. They introduced new internal rules and without ANY notifications and without any authorization liquidated two of my positions resulting in huge tax liability. Spent 2 hours on the phone - clueless customer service rep., rude and useless supervisor. Will look for legal remedies and no more business with TD Ameritrade.

Several of the trades I was researching this morning had very incorrect dividend payment in the chart view. Instead of .049 for a dividend (the correct amount) it indicated .49. This happened on two trades I was researching. This is an unconscionable amateur's decimal placement mistake to make. Luckily I still have a Schwab account where I go to get accurate information. Additionally, on heavy trading days their web page is very slow but worse in unavailable. I moved to TDA from Schwab, which was a mistake. I'll be moving back after the first of the year if I can stomach this stuff that long.

On 10/7/16, I enter a sale order on my phone before the market close on that day. That is a day trade order with no extension and it should cancel once that day is over. The market price did not go up to my sale price. This order suppose cancel automatically, hence I did not do anything. However, on the next open trade date. The system automatically filled my order without cancel the order. When I called TD Ameritrade and explained my situation, they only reply their system record my order was place on 4:02pm. Two minutes after market is close, which is not true on my end. I submitted my order before 4pm. When I asked them to file a investigation, they said they are not going to do.

I have held three TD Ameritrade accounts for five years and have traded in them actively. The problems with trading with them are so numerous. I don't know where to begin. I will share a story about today and how they cost me $10,000 because their platform crashed during futures trading and I was not filled properly for over five minutes. The platform crashes about 10 times a day and it's worse on mobile devices.
Additionally, I have found that the mobile platform publishes inaccurate data about probability of profitability of your trade. The platform routinely shows incorrect graphs, incorrect break even points, incorrect maximum profit of a trade, and incorrect maximum loss of a trade. Please, if you have money with TD Ameritrade, for your sake move it. There should be a class action lawsuit from Investors against TDA for routinely costing the trader money. It's just a casino disguised as your advocate, but the casino is better because they don't crash every hour when you're trying to make a bet.

I have requested Ameritrade to close my account, for the last 5 Months, they keep taking me in circles. I.e please verify if the name is correct which took weeks then silence for weeks. I requested them to send me the check, how normally they send me the statement to that address P.O.Box. Their excuse was "We can send to P.O.Box." I said okay, I gave them the street address. They kept quiet for months, again I send them another reminder that I have still not received the check. They said it will take 5 to 6 weeks, I knew it was not the truth, but kept quiet. Not to argue. I might as well wait few more weeks.
In July I was confirmed that the check was mailed. I waited for 5 weeks and nothing until today. Zero. Nothing, is just they are playing dirty. I was very furious and I called them, to send me a draft by DHL to my street address. They said okay. Weeks passed. Nothing came, nor the check that they lied that they have send in July nor the draft. A bit is puzzling me. If Ameritrade mailed me the check how come I can log into my account and my amount is showing. This proof that they are dishonest. Is like the song California dream. You can check in but you can not check out. I am sick and tired, of how to come out and get my check back. Please advise how to handle this case.

Terrible phone support. Curt replies from agents. "You're not the only one calling in..." I called to fix a simple sync problem 5 times and was put on hold over 20 minutes EVERY TIME. I responded "Then hire 10 more people to give customer support. You're not just losing my business, you're losing the business you'll never hear about. The 10 other people I tell this to who will NEVER do business with your company." I have 3 brokerage accounts and NONE take more than 30 seconds to get online.

TD Ameritrade broker manipulated things to generated false margin call that damaged my 401k Rollover account. It also taken portion of dividend payout from my account. When I transferred the account to another reliable broker, it stolen cash from my account before making the transfer out. I have complained to its corporate office, but nothing done. I took it to small claims court, and the judge advised me to file complaints with proper agencies because problem involved with frauds. I discussed problem with lawyers. They advised me to seek for individuals investors who were cheated by TD Ameritrade, to form and file complaints against TD Amaritrade in group. That will make the case stronger and everyone will share the legal cost. I will pursue with this advise to stop TD Ameritrade from cheating its investors, and to recover money from TD Ameritrade wrongdoings.

I've referred two friends for $50 referral bonus but got cheated. They say, the referrers opened by not clicking referral links, but am sure their system has got bugs which does not record appropriately, finally they don't give bonus money and provide commission credits which internally benefits them.

I just received letter closing my account of 15 years for reasons not mentioned in letter. 3 years ago I was charged but never convicted of white collar crimes. So far I've lost 2 credit cards Kohl's charge. The problem is no one even answers any questions, frustrated my credit score is 825. What to do?

I have over 4 accounts with TDA, 2 of which are managed with Amerivest. I am not at all happy with their so-called managed style. Not only is it expensive, around 1.5% of value, but it also performs poorly. Just because you are in an aggressive portfolio, the portfolio needs to be hedged against black swan days. In my time with them certain macro factors came into play and the portfolio performed terribly. Oil plummeted, Brexit, interest rate issue and lastly the China implosion. The portfolio was very volatile, all along I've been charged around 600$/quarter. Now here's the problem, after a black swan event, the portfolio rebalances to stay above water, starting with less capital, as it has lost value. So inevitably it always tries to stay above water. So far I'm up 2% but after taking away fees just about breakeven. But I'm okay because under the circumstances many others have been wiped out.
My other accounts albeit much smaller performed much better with me managing them. I'm not even a trained financial adviser. Now their proprietary options platform Thinkorswim is second to none, it's absolutely spectacular, especially with renegotiated rates making it very economical. I have used quite a few including Interactive Brokers' TWS and it pales in comparison. Also routing is superior with TDA, they're able to get SMART routing to work efficiently which gets you better execution prices. Overall I would never use them to manage money in future, but I really rely on them for options trading.

This sole individual pretending as though everyone's case here is the same and that TD, a huge name in business should not get told on for disgusting business practices needs to go somewhere. Wrong is wrong. I opened a brokerage account a couple years ago. (I know this will seem funny to some, as you are all dealing with very large sums of money, but money is money and I wanted to learn some things.) I had a few thousand in there to play with and dabbled in some pennies. Risky? Yes. Profitable? Should be. I started learning what stocks were all about. I figured out a formula in 2 weeks. I was pulling in cash. It wasn't large sums, but it was always a sure thing the way I went about it. After that month of learning I made about $1,000. I kinda got bored a little and took a break from it. About two weeks later, I went to collect my earnings that were on my itemized statement clear as day as money earned. The system wouldn't allow me to pull it.
I contacted them, for them to tell me I earned nothing. NOTHING. I looked at my paper again, second guessing myself at the assured sound in her voice. "Nope, it said it" and so I said, "Ma'am it says right here that -" and I was cut off. I was basically clicked over to a "crisis management team" meanwhile there was no yelling, interrupting, rudeness on my part. The woman had the nerve to get into a load of fake details and also pull out a calculator and then say "See?" See what?? Do you see my statement like I see it? The answer is no, because they are simply crooks and they knew I was new simply by the small amounts of cash I was using, whereas if I had big money invested, I would have five homes by now. Needless to say I took my remaining little change out and closed that sucker never to look at stocks again.
IMO they are for insiders of some sort. Years went by and I was looking for a good bank. I went to TD. Why? I do not know lol, but I went. I sat down with a lady who I later realized did not want me to bank with TD. I was asked why I was there because I was far from my residence. So what? Has nothing to do with apples. I told her I was shopping there so "Can I open an account please?" I handed her a check from work. She says, "You work here?" "You work at such and such a University?" "What is it that you do there?" I couldn't believe it. I'm sitting here trying to start the process so I can go along with my day and this woman is grilling me like she owns TD. I get quiet as if to say, "Are you done lady?" She looks back down at my check and asks again, "Well why do you want to bank in this area?" I couldn't believe it.
At that point I politely asked for my check back and said goodbye and walked out. I now bank at Chase and for the life of me I have no clue what possessed me to go to TD in the first place. My bank and the people there are awesome. I never pull the race card, because I never really encountered it in life, but I did on this. The lady clearly had some sort of issue. TD. You stink and you hire some seriously shady people and if that is not how you do business, you need to have a serious weeding out process in the works to get rid of these type of folks.

So *MANY* of these complaints are about obvious issues that have nothing to do with TDA. When you open a bank account, you need to provide a physical address now (anti-terrorist thing) - ANY bank will not accept a PO Box. When you send a check for deposit, they will put a hold on it to clear - ANY bank. When you sell a stock, it takes three business days for the proceeds to settle and become available (ANY brokerage).
If you need the funds earlier, you need to borrow from your margin and pay interest. If a bank/brokerage offers something for free (like free trades or a toaster with a $3k deposit), you HAVE to deposit $3k before you get the gift (letting you deposit less is a courtesy to you)! YOU (not the brokerage) are responsible for knowing what transaction fees are. YOU (not the brokerage) are responsible to learn how to use the software (there are free videos, classes, and personalized walk-throughs available). If you don't avail yourself of these free offerings, you should NOT complain when you get dinged for doing something wrong.
Just so you know, about 90% of the negative reviews I've read here about TDA relate to these types of ridiculous no-concept-of-self-responsibility person. If you take the time to educate yourself, these things won't happen to you. 90% of the "complaints" I've read relate to issues common to ANY brokerage or bank that ANY reasonably educated person should know. It's so bad, I have serious doubt that the people doing the complaining have ANY experience with banking (for example, not knowing it takes three days for sold securities to settle makes it almost impossible to believe the person understands what investment even is, much less that they have $100,000 to invest).
After reading slack-jawed for almost an hour, I felt it necessary to write this "stand-up" review for TDA. There are some legitimate issues in this list, but the vast, VAST majority have no right putting negative light on the company when it's the person writing the review who's clearly at fault. I have *NEVER* experienced a problem with TDA in any way. Been with them since 2003.

Per telephone rep and PRINTED offer flyer, I was promised $2500 to open account with >$1000000 fund transfer. Rolled over lump sum pension distribution to TDA without issue. They refused to honor offer, saying it doesn't apply to my account type?!?!? Nowhere in the flyer does it mention that! Classic bait and switch due to either employee lying or incompetence. Shame on them! Will be moving my $$ to Etrade soon... sigh.

ConsumerAffairs Research Team
The ConsumerAffairs Research Team believes everyone deserves to make smart decisions. We aim to provide readers with the most up-to-date information available about today's consumer products and services.
TD Ameritrade, founded in 1975 as First Securities Omaha, is a full-service brokerage firm. It is still headquartered in Omaha, Neb. and now holds $774 billion in investor assets. It offers many types of investment and financial products for all levels of investors. Clients can work with agents in local branches or only trade stocks online.
Platform: TD Ameritrade offers multiple platforms, one that is more basic and another that includes more advanced tools for experienced traders. Those interested in trade speed or best-execution rates can find the site's statistics online.
Tools and calculators: Visitors to the TD Ameritrade website can use several tools and calculators to help them figure out how much to save and the best investing methods for their financial situation. Some of these tools are free for all consumers, not only TD Ameritrade customers.
Education: TD Ameritrade customers have access to educational materials to improve their stock market knowledge. The company has a daily and a quarterly publication that includes news stories, investor insights and research.
Research resources: The TD Ameritrade site has resources for traders to use for researching investments. In addition to historical stock profiles, clients can access technical analysis reports and use Social Signals, which pulls data from Twitter to help investors spot trends.
Asset Protection: TD Ameritrade provides clients with Asset Protection. The company will return any money or assets lost if fraudulent activity occurs on a client's account. See the company's website for terms and conditions.
Best for TD Ameritrade is best for all level of investors, and it is especially good for those who want the backing of a major financial firm with many products and services.
Ameritrade Company Profile
Company Name:

TD Ameritrade

Year Founded:

1975

Address:

200 S 108th Ave.

City:

Omaha

State/Province:

NE

Postal Code:

68154-2631

Country:

United States

Website:

http://www.tdameritrade.com/