Luxottica Group/RayBan
Milan, Italy
Consumer Complaints and Reviews

I started contacting Luxottica back in May. The amount of hours and days I've spent waiting on hold is exacerbating. This has got to be the worst company to deal with. I needed to replace the lenses on my Ray-Bans. It took 5 months to finally speak to someone and order the lenses. I receive an email offering a 40% discount and again I cannot speak to a rep. I was in hold for 1 hour one day. Not to mention the other days I've spent trying to redeem the offer. I am done with this company. The worst. Don't do business with them. You'll be sorry.

My principal issue was pricing. At Sterling Optical in the Ithaca Mall at Ithaca, NY, I had a salesperson attempt to bill me $302.33 for a blue mirror-coated pair of Ray-Ban Aviators. It was explained to me that Luxottica prices these items into her market and there was nothing that she could do. This is grossly insulting. I've been wearing Ray-Bans for forty years. I had bought a pair of the same sunglasses in this very shop only three years ago at about half this price, and I can still get them all over the market at far, far less than $200. I had a local shop set me up with a pair of Charmants in G-15 with blue mirror-coat and titanium frames for one hundred dollars, flat. I'm thrilled. *Forty years* of Ray-Bans. Do you understand? Ray-Ban/Luxottica: you're fired. That's how powerful I am. I can haul-off and fire entire global corporations. I just did.

I've been a life long customer of Ray-Ban (like most other name brand glasses they are owned by Luxottica), having spend thousands of USD on their sunglasses. Over the past few years I've experienced repeated issues with same coming apart (screws falling out) but managed to repair same with screws from older glasses. My latest purchase (about 1 year old) lost the screw which hold the glass in place. I approached Ray-Ban who send me to Luxottica and they advised they no longer offered repair of same, so they would trash the glasses forwarded (2 pair - the other pair needed a screw to hold the ear piece in place) and I was welcome to purchase a new pair which they may discount.
Find it incredibly poor that a luxury brand like Ray-Ban and a huge group like Luxottica, can afford to spend 2 small screws on a life long customer but as I have now discovered after some research on the internet, then they simply do not seem to stand behind their products - suspect as they pretty much control the market! Will NEVER buy their product again and recommend all others to carefully review the internet warnings in this respect before you spend a fortune on their glasses.

I purchased a pair of Ray-Ban from Amazon (LOVE, LOVE, LOVE AMAZON) but that was about 2 years ago. Recently I noticed my Ray-Ban ear piece crumbling apart, one screw on the lens missing, and bowing on one lens where it didn't connect to the actual frame. I contacted the seller on Amazon and they told me the "lifetime" warranty was through a company named Luxottica. The seller even warned me about the absolutely awful the service with Luxottica. I did try to call their 1-800 only to hold for 47 minutes; so I hung up. I went online and printed off a copy of my 2 year old sales receipt from Amazon (super easy) and then went online to Luxottica and printed off a warranty repair form and boxed up my Ray-Ban and sent them in for service following all of the instructions listed.
Well, about 3 weeks later I received an email from Luxottica telling me my Ray-Ban WERE covered by warranty but the model had been discontinued so I would need to pick out a newer model and contact them (basically I would be able to pick out a newer model from their after-sales stock). Well I called Luxottica again, holding this time for over 60 minutes only to hung up because no one ever answered. I think they may have 2 employees answering the phones or something. SO, I emailed Luxottica telling them which "newer" model I wanted to replace the Ray-Ban they are unable to repair and I wanted to know how much the additional charge would be... at this point no one should be surprised that I have heard NOTHING from my email warranty response.
Basically, I hold Ray-Ban responsible. They know that their warranty service company is crappy and they should GET RID OF THEM. To sell high end expensive Sun glasses with a lifetime warranty they need to get it together! I have never had such crappy customer service. I'm still holding 35 minutes and counting. Don't buy a pair of Ray-Ban because of the lifetime warranty. That's worthless.

This has been the absolute worst customer experience I've ever had in my entire life. I went to Nordstrom when the lens broke on my Ray Bans, they gave me a card with instructions on how to send my glasses directly to Luxottica's warranty center for repair. The instructions asked me to include my return address, a $25 check, and story as to what happened then noted about 8 weeks until my glasses would be returned. I sent them June 20th 2016, and it is now September 26th and I've yet to hear a single thing. I emailed customer service who took 3 weeks to get back to me with no instructions other than to call their customer service line. Once I called, I waiting for an hour, no answer and had to hang up.
I then emailed the customer service rep who said she was sorry but to call again and select the option to receive a call back, however, there was not one single thing that prompted me with a "call back" option. I called again today and waited for an hour and a half before my call was answered. The lady that answered was EXTREMELY RUDE, non-apologetic and little to no answers that could help me. She found my file for my glasses and then read me every single issue that was wrong with my glasses -- claiming that all of the scratches on the frames took the repair out of warranty. The glasses were NOT scratched, and I mailed them in solely to have the one cracked lens replaced. I told her my intention was to only replace the lens and she told me it would be $45 and take another 6 weeks until completed.
She then said she had no idea why I wasn't notified about my glasses sitting in their warehouse for 3 months, and said it's not typical to get communication around the status of your order. I still have no idea when I will receive my classes, only one notification # to ID the case. Absolutely terrible service, extremely rude, does not care about customer's products or best interests and treat you as solely a # not an actual customer who contributes to their bottom line. DO NOT SEND YOUR GLASSES TO REPAIR HERE EVER.
How do I know I can trust these reviews about Luxottica Group?
609,643 reviews on ConsumerAffairs are verified.
We require contact information to ensure our reviewers are real.
We use intelligent software that helps us maintain the integrity of reviews.
Our moderators read all reviews to verify quality and helpfulness.
For more information about reviews on ConsumerAffairs.com please visit our FAQ.

After contacting Rayban on my $220 polarized glasses for poor craftsmanship (the plastic on the temples melted in the car) they referred me to Luxottica - I sent my glasses in July (it's now September) certified and never heard a thing... Finally I called and got through (30 minutes of waiting) and was told that I'd hear something in a few weeks... Finally a letter was emailed that said I was covered and I would have new glasses in three weeks - called again today (2 months later) and they said they 'would look into it'. So poor, I will NEVER make another purchase from RayBan again... Luxottica service is non-existent and there is NO urgency to help whatsoever. Additionally, I am sharing my experience with as many people that will listen.

I had a pair of aviator Ray-Bans that the lens broke. I immediately googled Ray-Ban repair and was provided the information for Luxottica group. I followed the instructions and USPS certified mail my glasses. 2 weeks went by and no response from the company acknowledging that they even received my glasses. I contacted the United States Postal Service who advised me that the company received my glasses on August 4th (I mailed the product on August 2nd).
Since that time I have been trying to speak with someone from Luxottica Group. I email them every week and they advise that they will get back to me on their auto response however, they never do. When you call the 1800 number you are placed on hold for up to 30 minutes before the phone hangs up. I have been UNABLE to speak with anyone from this company. I called Ray-Ban to see if a supervisor could assist me and they were no help.
Basically after they take your hard earned money, in my case $186.00 for a pair of glasses, they wash their hands of you. I have worked in executive consumer relations for a Fortune 5 organization and this customer treatment is unheard of. I can't believe they charge this much for their product and have contracted a repair company that treats their customers like this. Unacceptable! I am utterly disgusted. I will 1) never buy another pair of Ray-Bans ever. 2) I will tell everyone that I know how I have been treated. I want my glasses.

I placed an order for a pair of RayBan sunglasses April 7, 2016. My account was charged immediately, but as of today, August 29, 2016, I have not received my sunglasses. I have emailed the company several times, but they never respond. Stay away from this company!

First time I have ever written a negative review. Here is what happened. I have pair of Ray-Bans that broke so went to the sunglass store to check them out and they gave me this company to contact to fix. I went online and found the information about the process and sent the sunglasses in via ups. Ups notified me that they were delivered 3 days later. Ok. Two weeks go by and didn't hear anything but their website says they will notify you within 2-3 days that they received them. So I emailed and did not get a reply, so after another 5 days I called. On hold for 20 minutes until a nice girl answered to try and help. I gave her my information and the ups information and she could not find my glasses. She told me they are very busy and backed up but if I don't hear anything by Aug 29th to call them back! WHAT?! That's over a month from when I sent them in.
I asked her if she could at least confirm they have them and she said no she can't! WTH! So I said you have no idea if you have my glasses and you have no way of checking and she said that's correct... but that I should call back in a few weeks if I don't hear anything from the company. What kind of company does business this way? Unbelievable! I didn't want to take out my frustration on the girl on the phone but this is completely unacceptable business practices. They have essentially stolen my merchandise for all I know I will never hear from them again... Well that's my story. I will not be buying RayBans ever again and I will do my best to spread the word about these shady business practices. Stay away from doing business with this outfit!!!

I purchased a very expensive pair of Versace sunglasses in New Jersey, (Palisades Parkway Mall). When considering paying $270 (not including tax) for the sunglasses, the biggest selling point by the employee was that they come with a lifetime warranty against any breakage. It was explained to me that other than losing them, if anything ever happened to them I could simply walk into any Sunglass Hut store and they would be either fixed or replaced with an exact or upgraded model (in case mine is no longer made). I was skeptical but was assured by the employee that this service really sets them apart from competitors. He even said he had recently replaced a pair of Gucci sunglasses for a person that purchased them 5 years ago with a new model since this client's shades broke and his model was no longer made. I was convinced and made the purchase.
I have been taking extreme care with my sunglasses, as they are in fact the most expensive accessory I have ever purchased. Well, the day came when my sunglasses broke. The screw that holds the lens in place broke off. Half of the screw is still lodged so the repair is a little more than simply replacing the screw. Feeling confident in my position and so very glad I purchased these sunglasses from a great company that stands behind their product, I walked into a Sunglass Hut store in at the Gallery Mall in downtown Baltimore, MD and requested my sunglasses be fixed.
To my dismay and disappointment, not only was my request refused but the staff jeered and laughed at me. Like I was crazy for even suggesting it. They said their warranty is only good for one year and suggested I was making up my insistence on being promised a lifetime warranty. One guy told me he has been working there for four years and never heard of such a thing. I was visibly disappointed and asked if there was anything they could do for me. They referred me to a a company called Luxottica that apparently handles their repair claims.
I contacted them only to experience more of the same. These guys told me that the warranty is for only 24 months, which was different than I was told in the store. Then they said that if I want, I can ship my glasses to them at my expense for "evaluation". They said after 4-6 weeks, if they determine that my claim is due to a manufacturing defect, they may repair my glasses, maybe. However, they reserve the right to decide that my claim is not covered. At that point they would repair the sunglasses and charge me for their work.
But all this was a moot point, as without adequate proof of purchase they would not even consider it. Such a different story than I was told upon purchase. I was told the sunglasses come with a serial number imprinted on the lens for exactly these purposes. Needless to say, I am very disappointed with my experience at Sunglass Hut. I am now stuck with a pair of broken $300 sunglasses. Worst after-sale service I have ever experienced.

Like many others have stated... These expensive sunglasses while they are clear and protective... RB's coating delaminates after a couple years. And Luxottica who bought the original Ray-Ban company and kinda ran it into the ground quality wise. I have a 40 year old pair that have no issues! If you know anything about Luxottica... They are a huge company who have gobbled up everything in the eyewear industry over the years. They own LensCrafters, Sunglass Hut, Pearle Vision, Sears Optical, Target Optical and many others... They even own the doctors who work at these locations.
0 minutes did an in-depth interview with the current CEO a while ago uncovering cheap labor, gouging profit margins in the neighborhood of 3000% profit. They brand name their LensCrafter designer frames with huge markups. They stated some frames cost as little as $5.00 USD to manufacture and they sell them for $400.00 USD+! Paying less than 1% of to the designer to use the name. The designer does not even design them, Luxottica does! They also make profit off the doctors that contract to them. What does all this mean... Luxottica has taken the low road, just like the drug and insurance companies. Giving the shaft to consumers! When the CEO was asked why he profited off such high margins... He replied why not make as much money as you can off people. Human greed! Also Ray Ban's warranties are useless and difficult to get service and satisfaction! Beware my friends!

This is the worst company to deal with. I have a pair of Ray-Bans that I purchased years ago and one of the lenses broke, so I ordered another pair from Luxottica. They sent me the wrong size, so after having to call back multiple times and then wait for them to call me back (their call back feature) the agent said they'd have to review the phone call to make sure I gave them the correct information and they'd get back to me in 2 days via email. Fast forward 2 weeks later and me calling AGAIN over and over trying to talk to an actual person after never hearing back from them after those 2 days, I spoke with another agent and he was very helpful and took care of sending me the "correct" lens sizes free of charge. Nope. Just got those a couple days ago-wrong size AGAIN.
So, I had to call back AGAIN just to speak with a woman who was very nice, though sounded intoxicated, and she basically had NO IDEA what to do, how to handle it and told me I had to go to the website and fill out a claims form in the warranty department even though none of this was done through warranty (I purchased them because it was not covered under warranty) and have tried calling again to hopefully speak with someone who knows what they are talking about. How is this so difficult for this company when I'm giving them the model number??? NEVER DEAL WITH THIS COMPANY. I CANNOT BELIEVE THEY ARE IN BUSINESS.

Avoid buying from their online store. These guys are a bunch of crooks. They charge you an import fee during checkout, and then upon delivery you need to pay the courier import fees as well. A couple months back I bought some sunglasses from their online store. I was okay with paying the import fees. Their website shows CAD pricing, but when you go through the checkout, you end up paying in USD. If you don't have an Amazon Visa, or some other card that doesn't charge extra for dollar conversion, then this could get quite expensive. I paid about $265 USD. After conversion, it came out to about $357 CAD. According to their website, the total should have been $336 CAD. I ended up paying $20 more.
Admittedly, I failed to realize that I would be billed in USD instead of CAD. Had I realized, I would have paid using my Amazon Visa, instead of my Mastercard. Also, when UPS came to deliver the package, they demanded brokerage fees (UPS handling fee and import fee). I was surprised, because during the checkout process it clearly shows that you have to pay the import fees at that time. In any case, I called SGH support because I wasn't going to accept the UPS delivery.
When I spoke to the CSR, I told her that I would accept delivery because the entire process is costing way more than it should be. I agreed to pay $336 CAD, not close to $400 CAD in total. I asked why her website showed $336 CAD delivered, when in reality I ended up paying $357 CAD and still owed UPS another $25 CAD? The CSR told me to accept the package, and they would reimburse the conversion difference and the UPS import fees. Basically, I would get $20 back because I agreed to pay $336 CAD (website price) not $357 CAD, and because I had to pay import fees twice. All I had to do was email them a copy of the receipts, and my credit card statement. Keep in mind, I ONLY agreed to pay the UPS brokerage fees and accept delivery because I was told I would receive refunds for the conversion discrepancy and being charged twice for import fees.
Email 1: I sent the first email in right away. It showed the website price, and how much I was charged on my credit card. They reimbursed that amount right away. Email 2: I sent the second email about a week later after I received the UPS receipt in the mail. In my email, I included a scan of the UPS receipt, a screenshot of the import fee during the SGH checkout process, and a screenshot of my credit card statement with the UPS fee.
They turned down my refund claim. After going back and forth in several emails, they stopped responding to them. I ended up calling their support line, and the CSR apologized for the issues and said they would issue me a refund. She said I should see it back on my credit card in about a week. Nope! I even wait about 2-3 weeks, and still nothing.
After a number of failed attempts in getting a refund for the imports fees, I gave up. They stopped responding to my emails, and their customer support had proven to be useless. I ended up returning the sunglasses in-store a few weeks back, because I REFUSE to deal with a shady as ** company like Sunglass Hut. In the end, I cut my losses and will never shop there again. I did receive one refund, but ended up losing about $40-50 CAD because of their BS. BTW, I'm from Alberta. If I lived in any other province, I'd be out more money. AVOID SUNGLASS HUT!!!

I purchased these expensive frames for my prescription lenses. I purchased from Ray-Ban because I believed that the brand was quality. Turns out, the quality is poor and the customer service is non-existent. I will not be a Luxottica customer again. I would short this brand if I could. All warranty information says that they evaluate and respond to warranty issues in 2-3 business days. A call to customer service states it is 2-3 weeks just for response. Repairs will surely take that long as well. This company has sunk to a new low. Do not purchase from Luxottica.

Horrible quality of make and worse customer service. Purchase RB 3484 and within timeframe of the warranty, the plastic earpieces starts to fall apart and crumble. Don't know what type of material was used, but REALLY? Called customer service and I don't think that department knows what "customer service" means. I think they should rename the department - "Be rude to customers." Don't buy Ray-Bans. They are no longer an American company. Luxottica Group purchased them and they are bringing the company down. Never ever again shall I buy from this company.

The manager Erica didn't solve my solution with Sears Optical and never responded to my request for written documentation. I demanded a refund. Dr. refused because she said she tried her best but can't figure it out. Also stated that she can write me the prescription for 7.25. Well if you can't figure it out then she should give me a refund for what she can't figure out. 7 5/16/2016 Stated she used a starting point from Doctor **. Ridiculous. Why do you need a starting point from another doctor to do a eye exam?

The site claims to be run by Ray Ban and that is the only reason we purchased from them. If I could give a 0 I would. I purchased a pair of sunglasses for my son. Their website says orders ship within 48 hours and are delivered within 5-7. It has been over 2 weeks. I got nothing from them via email. No tracking. Nothing until I threatened to file a complaint. Then their only response was "sorry your order shipped" and finally gave me tracking. Then when you track the package it says it was delivered 4 days before that.
I asked for my money back since I never received anything. When they just keep saying "your package is on the way". Now they are saying it could take up to 21 days. SORRY! I want my money back. When I tell them I will file a dispute their only response, it will affect my credit. This morning I actually received an email from them and I quote "WE DON'T BELIEVE YOU". WOW! What happened to the customer is always right. I still have no product and this is how I am treated!! HORRIBLE COMPANY! I will be filing a charge back and a complaint with the BBB!

Oh I should have read these reviews before purchasing. The glasses came 4 days late (they were a gift) and they are clearly used glasses. $225 of USED glasses. They came loose in a box, no protections and both lenses have chips along the edge like they were hung in something rough while riding in a truck. They had fingerprints all over them and ewwww... some oily residue on one of the ear pieces. I will write back if I get my refund. So far customer service is not helpful and it looks like I have to pay $18 to ship them back!!! Do not buy. Ray Ban has ceased to exist as we all knew them before.

I purchased RayBan aviator sunglasses for 140 dollars. After 8 months a small area the polarized coating came off. I sent them on 5/5/16 to Luxottica warranty service in Georgia. After 20 days I finally get an email from them, but it is just a standard form letter stating it would not be covered under warranty, but for 60 dollars plus 15 for processing they would repair them. Of course no way I was going to pay that. I emailed them back telling them to send my glasses back. They emailed me stating they would ship in 3 to 5 business days.
2 weeks go by and I don't see anything so I contact them again. Now they say they will check with Manager to get a tracking number. Again no contact from them. I follow up again and they email me a UPS tracking number. Finally I just got my glasses back on 6/24. Of course not repaired and full of dust on lenses. No letter or apology or anything with the glasses. Just the glasses in a plastic bag in a box. Not even bubble wrapped. What a very dysfunctional warranty service! I will never buy another brand sunglass owned by Luxottica. They don't care about their customers. The cost to them to repair glasses that are super overpriced to begin with is minimal to the cost they will have when their customers all leave.

Don't bother sending your frames to Luxottica for repair. One of the arms of my sunglasses fell off after only 13 months of wear, so I diligently sent them in. I have made at least half a dozen calls over 45 days, and each time there was an "excessive wait time". They asked why the arm had fallen off, as if I used the sunglasses as a weapon or something, and not just to protect my eyes.
In addition, each rep seemed to have a different story about my repair. They told me that there was no receipt in the package (there was), then they jerked me around by telling me that someone would have to "reevaluate my frames". They told me they would call to let me know the progress of the repair, but again, they didn't follow through. Their website reps don't communicate with their telephone reps, and their system is a nightmare.
I am extremely disappointed by the whole scenario, and I am left with sunglasses that I can't wear and a loss of time and energy. Be warned - these folks don't care. They don't want to help you, and they don't give a hoot about customer service. Buy the cheapies, or from a company that stands behind their product. Luxottica should be called Crapottica.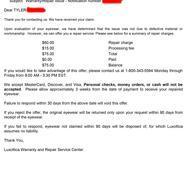 I should've read the reviews before purchasing my pair of Wayfarer Ray-Ban sunglasses at Sunglass Hut. For a few months I was very happy with them, until I opened my case one day and found the lens separated from the frame. I thought, "no problem, I'll take them back and get them repaired." After they were repaired everything was hunky-dory, right? Wrong. A few months later, the other lens falls out while they're resting on my shirt. I was standing in line at a Trader Joe's store, and the cashier says, "what happened? You were just standing there and then the lens fell out."
I thought, "no problem, I'll take them back and get them repaired," right? Wrong. The store's warranty is up and I'm forced to send them to our lovely friends at Luxottica Group halfway across the country. They're telling me it will cost $75 to repair them. So I spent $160 for the glasses, and now I get to spend $75 to get them repaired at your cartel operation? If a company receives multiple complaints on a product, you'd think they could put 2 and 2 together and fix their products BEFORE selling them, right? Wrong. Have a nice day. :)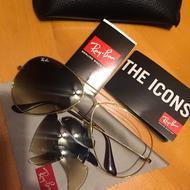 I bought a pair of Gradient Ray-Bans a bit over 6 months ago, it was in the Sunglass Hut inside a Macy's. I was wiping the lens with the spray they sell and the lens simply fell off and shattered like a crystal glass. Since I paid $165 cash and have no proof of purchase, they responded to me "SORRY, we are unable to help you." With that being said, I threw money down the drain. Even IF I had proof of purchase, they will give me 50% OFF a new pair of glasses. BRAVISSIMO???

It seems that Luxottica became a poor quality brand. I have 3 pairs of RayBan polarized sunglasses, which are disposable, like the razors - used one time then discarded. If something happens with the lens, the only option would be to buy a new pair. No way to change lens. I purchased about a month ago a pair, which lasted 2 weeks, when one of the lens fell off when putting the sunglasses on and of course the lens got damaged. This is not the way to make sunglasses.
The shop owner advised after checking with the company that lens replacement is not possible, unless maybe I am willing to pay almost the amount I paid for the new sunglasses. Checking with another shop I was told the lens are not available actually. The first pair got damaged due to my fault, I dropped the sunglasses and cracked a lens. No way to replace. Second pair got damaged due to the poor quality of the frame. The third pair is still OK, but I must have a screwdriver with me, the screws always get slack and something may fall off again. Don't buy RayBan!

One of my polarized Ray-Ban RB2027 inner lens mysteriously began growing a hairline crack 11 months after I bought it new on Amazon -- on the inner glass within the warranty period. I always took great care, never ever dropped. Outer part of the lens was fine, thought maybe it was just dirty. Strangely, the glass part in the inner layer now had the hairline crack halfway across... Same exact issue has been reported by others on this post -- the mysterious crack that just begins to grow. So mailed to Luxottica. Received an email some days later saying it was not a defect! So what was it? Being charged $70 to fix... Years ago I could send my Ray-Ban's no questions asked warranty. Have owned many over the years. Not the same company clearly. Time to start looking at another brand to be loyal to.

I feel that I had to write this because my experience was quite different than most of the reviews on here. I sent my broken RayBan aviators in for repair, one of the temples had broken off. It did take a couple weeks to hear back from them so I started looking at reviews in the meantime and was getting prepared for a fight. They finally responded and stated that the repair would be warrantied but the scratched lenses would be $60.00 to replace. I agreed and in a few days I received a package from them with a brand new pair of the ugliest sunglasses I had ever seen. Thanks but no thanks, I called and told them what had happened.
They said they would review the correspondence and get back to me. It took a couple days and they called back. The lady said that after review they had decided to have me send back the new pair and they would send me a new replacement pair of my original glasses and for my inconvenience they were going to be compliments of Luxottica. That is exactly what they did including refunding all the fees I had already paid. Thank you Luxottica.

I used to buy Ray-Ban glasses always. After having to deal with Luxottica I would NEVER EVER deal buy them again. It was a miserable experience where eventually I just GAVE UP because it was taking too much time and not worth the PAIN... of dealing with morons. NEVER AGAIN will I buy sunglasses which deal with this company. WORST CUSTOMER SERVICE EXPERIENCE EVER.

I bought a pair of Prada frames from LensCrafters which are made by Luxottica and the screw fell out. No one has a screw for the frame. All frames made by Luxottica are made in China for 20.00 dollars then shipped back to Italy and stamped and sold to the public for an expensive price and they fall apart after a few months and no one carries the parts to fix them. My husband also has a pair of 300.00 dollar Ray Ban and the ear piece fell off and no one wanted to even look at them and it just need a screw. Save your money. Expensive frames are cheap and Luxottica makes them cheap and get rich off the public.

Lenses are cut for the frame you buy and will only fit that exact frame so if the frame fails, you are also out the lenses if you can't get the exact frame replaced or repaired. For this reason, you don't want to buy from a manufacturer who makes replacing or fixing the frames so difficult that it's nearly impossible, forcing you to pay for new frames (if they are even available) or parts that may or may not work as happened in my case.
First, in 50+ years of wearing glasses, neither my husband or I have had frames fall apart (I actually have frames I still use that are 30 years old) so it was shocking to see his RayBan frames (for his ONE pair of very expensive progressive lenses) fail in LESS than 1 year of wear. Besides problems with one of the lenses popping out several times (which we finally seem to have resolved) the rubber on the arms of the frames started to fall apart making the frames very uncomfortable, as the sharp metal tip was exposed.
So, we went back to Kaiser Vision Essentials, where we bought the frames, only to find out that this exact model had already been discontinued at Kaiser so I should contact RayBan. I then googled the model number and RayBan to find out how to start the process of starting a warranty claim via their parent company Luxottica, only to stumble upon countless reviews from other people who had the exact same problem and with MANY of RayBan models, not just my husband's frame model. I also discovered many complaints about their warranty service. This was not encouraging but I had no choice because only these frames will work with my husband's lenses.
After spending days finding a way to actually speak to a person, I was told that e-mailing pictures was not acceptable and the glasses had to be mailed to them to determine if this was a manufacturer defect or just normal wear and tear. Really? The rubber crumbling off the arms in less than a year could even be remotely related to normal is absolutely outrageous. I explained that my husband had only one pair of glasses and we couldn't afford to buy more lenses and glasses so that he could send them in (which would be WEEKS). He needs his glasses to drive and work.
So, I asked, if e-mailed pictures won't do, why can't he take the glasses to one of their dealers so that their techs can confirm for them the condition? And they can mail what is needed to either replace or fix? I was told NO WAY. It was "you either send them in (and MAYBE we will take care of it AFTER our tech determines not normal) or you have to buy another frame or we will send you rubber replacement tips and you can take to Kaiser Vision to put on." After weeks of waiting for the tips to be sent from Italy, I take the frames and tips to Kaiser Vision tech who says, he couldn't put them on. WHAT!? So, I call the Luxottica warranty again and told to go to LensCrafters because Luxottica also own LensCrafters and they have the tools.
I drive to LensCrafters to then be told, "NO, the emblem that holds the tip in place, was never meant to be removed and we can't guarantee we won't break the frames trying to replace the tip." WOW! How great is that? But by now I am desperate. So the LensCrafters tech tries to replace the tips. After removing the emblem on both sides to do so and trying to put the emblem back to hold the arm in place, guess what? One side keeps falling off and who knows how long before the other side will also do the same. The LensCrafters tech tells me "they should have sent you the tip with the hinge attached."
So, I call Luxottica again and tell them all of the above only to be told that unless I am willing to send in the glasses to find out IF they determine this is a problem resulting from their defect, I have to pay for the tips with the hinges to be sent and BTW, it is not the full hinge (she gave me a very confusing description that made NO sense) but this was nonrefundable if it didn't work. Bottom line, Luxottica does NOT stand behind their RayBan frames, which are GARBAGE. I would also avoid ANY brand owned by Luxottica and anything else they own including LensCrafters. I plan to file a complaint with BBB, ConsumerAffairs, Kaiser and will also call Costco and let them know what has happened in the event they buy any products owned by Luxottica.

I have been a Ray Ban supporter for over 20 years. Not anymore. They used to stand behind their product, but not now. The arm of my glasses just fell off, so I submitted them to Luxottica, just to get the same reform letter others have complained about. I called and complained to a manager, who basically told me nothing could be done. I informed the manager that I would purchase a pair of Oakley. After several days, I decided to take Luxottica's offer to purchase a replacement pair for $132.00.
After waiting two weeks, I inquired when my sunglasses would arrive. I was told due to an error, they were not processed to be shipped to me, although they took the money out of my account at the time of order. This is a very bad company. One reason I never minded paying so much for a pair of sunglasses was because they used to stand behind their product. Not anymore. This will be the last pair I ever purchase from Ray Ban. Oakley, here I come!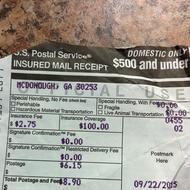 What you have read in the prior reviews is correct. RayBan makes a terrible product that is serviced by an even worse company. I purchased a pair of polarized RayBans from Sunglass Hut on May 23, 2015 for $199.95. In September, one of the lenses cracked. I'm not sure how it happened, I do not recall dropping them nor sitting on them. On September 22, 2015, I mailed them into Luxottica. USPS tracking shows that they were received by Luxottica on September 28, 2015. (USPS tracking #**) I paid $8.90 for the shipping with tracking.
It was not until October 23, 2015 that I received an email with a PDF attached stating "Upon evaluation of your eyewear, we have determined that the needed repair was not due to defective material or workmanship. Nevertheless, as a courtesy to you, our valued consumer, we would like to extend an offer to repair your eyewear (based upon availability of parts) at the reduced price shown below: $60.00 Repair charge, $15.00 Processing fee, $75.00 Total, $12.50 Paid, $62.50 Balance." I begrudgingly paid it via credit card on October 23, 2015.
It was not until today, November 21, 2015, that they were returned to me via regular mail, fixed. In the box is a plastic bag that states "Return date 10/14/2015". It took them 16 days from September 28th until October 14th to even open the box which I had sent to them! Then it took them 9 days to look at them and send me an email to tell me to pay up. They mailed the glasses back to me on November 19, 2015 via USPS tracking# **. From the point I paid it took them 27 days to repair the lens and stick them in a box. My complaint is the cost associated with the repair as well as the 8 weeks it took to repair them. I now have a $283.85 pair of polarized RayBans.
Luxottica Group/RayBan Company Profile
Company Name:

Luxottica Group

Website:

http://www.luxottica.com/en