Consumer Complaints and Reviews

Like everyone else, I am having major problems with Bausch + Lomb's rebate department. I filled out all the proper paperwork, and I submitted all of the required documents. Instead of getting the full $130.00 that was promised and advertised, I only got reimbursed $30.00 for the "eye exam." So I am still out $100.00 of the rebate that was promised. This process takes way too long, and I would bet that they count on you not following up or checking their work.
Contacting their representatives only makes matters more infuriating. The entire system is designed to fail for the consumer seeking the rebate. They will ask you for "Plus Codes" that had nothing to do with the original submission, and then refuse to help you because you don't have those mythical digits, etc. Stay away from this company. It is sleazy and not worth the anger or your time. P.S. If you really want to help, please process the following tracking number correctly. "Your rebate tracking number is: **."

So I ended up buying Bausch and Lomb Contact Lenses for the very first time just to test them out and because they were offering a promotion. My optometrist had suggested buying these contact lenses because I have dry eyes whenever I wear contact lenses. Well I made the mistake of buying an entire years worth of contact lenses. Let me just tell you guys if you have dry eyes do not buy these. You should buy Biofinity CooperVision contact lenses. They kept my eyes moist throughout the day. My right eye is consistently blurry thanks to these lenses and I have to keep applying eye drops to make the vision clear.
In addition, the promotion is a fraud. I sent everything they had stated and I even checked multiple times that everything listed under the promotion requirements was in the envelope when I had sent it. Well when I checked my rebate status they said I had missing information. I have never been so confident that this company advertises promotions falsely to get new customers. In fact, as I'm reading through other people's reviews I'm seeing that many customers have shared similar experiences. Do yourself a favor. Do not fall for any false promotion advertisement of this company.

I sent in all of the required documentation to receive a $100 rebate and received a letter saying it was invalid because one or more of the UPC barcodes did not qualify for the offer? Which is completely false. And the amount of documentation required to be submitted was absolutely ridiculous. I could tell before I even submitted all of the documents that there was probably going to be an issue. They request all of the information because they know they are going to deny the rebate. I think a class action lawsuit needs to be filed again Bausch and Lomb and I will never buy any of their products again!

We filled out all the paperwork for the Bausch + Lomb rebate in March of 2016. Filled out everything and sent in enough UPCs to qualify for $100 rebate (confirmed by our eye doctor). However, when our prepaid card showed up it was only for $60. Hmm, figured I just did something incorrect and oh well, $60 is $60. Went to spend the $60 card and there was only $50 loaded on it!! I have tried 5 different 800-855-866 contact phone numbers and no matter what number you call you are stuck with a series of recorded menus and information. THERE IS NO WAY TO TALK TO A REAL PERSON!!! This awful experience has us reevaluating whether we will ever use Bausch + Lomb contacts again as there are many other companies that can provide the same product.

I have always used Bausch + Lomb contact solutions so I decided to try the PeroxiClear and went by all directions, and after soaking my contacts for 4 hours as directed, I put my first contact in my left eye and immediately felt pain and fire in my eye, and I could hardly remove my contact. So I thought maybe I had lotion on my fingers when I inserted contact and I washed my hands thoroughly, and proceeded to insert my right contact lens. Same very thing happened but worse, and it's been 7 hours ago. My eyes are running water and throbbing and are blood red, and very runny nose. PeroxiClear is a extremely dangerous product and it should definitely be taken off the market.
How do I know I can trust these reviews about Bausch & Lomb?
610,392 reviews on ConsumerAffairs are verified.
We require contact information to ensure our reviewers are real.
We use intelligent software that helps us maintain the integrity of reviews.
Our moderators read all reviews to verify quality and helpfulness.
For more information about reviews on ConsumerAffairs.com please visit our FAQ.

Had almost same exact problem last year. Sent in rebate. Followed all directions. Checked on status and it was denied. Made several phone calls, arguing with someone who could hardly speak English. Finally got a new number and received word it was accepted. Got rebate card in the mail - was supposed to be $130 and it was $45. Now I have to call and fight again. I will tell my Physician to never prescribe Bausch & Lomb contacts again. I'm done.

I bought this product from Walmart only because I enjoyed the other products supplied by this company. I followed all directions, soaked my lens as directed. Woke up the next morning, placed them in my eye. My eyes were on fire. Caused extreme burning. Finally got the lens out. Threw it away. Then my eye swelled shut. I had to go to the dr and get medication for eye injury, chemical burn and inflammation. Wth. I may as well as poured pure peroxide in my eyes. This product needs to be taken off the shelf.

Bausch & Lomb ULTRA 2016 Mail-In rebate - I have submitted all required documents for the $85.00 rebate. I got an email from them stating I did not include the receipt for the cost of the exam. I have since spoken to a rep and they gave me the fax number to fax. I am still showing my rebate is invalid. I have verified that all docs are in receipt by Bausch & Lomb.. Why do they have the rebates and then make it impossible to qualify for them???

I just purchased PeroxiClear and my husband used it for soaking his contacts in it. Yesterday my husband had to go to the emergency room with an extreme chemical burn on his eye after putting his contact in. We thought that he had something on his hands prior to putting his contact in that caused the burn. Today, again thinking his burn was from something he had on his hand I put my contact in after soaking it in PeroxiClear and had extreme burning of the eye. DO NOT USE THIS PRODUCT. We incurred more than $150 of medical costs. After seeing other reviews, I question why this product is still on the market.

I did everything that was asked to receive a full $100 dollar rebate and when I received my prepaid card it was for $60. When I called to ask why I did not receive the additional $40, they told me I did not submit all of the necessary paperwork. I submitted everything and they are ripping me off! The only reason I went to their product was for the rebate. I WILL NOT USE THEIR CONTACT LENSES AGAIN. I think it is a cheap way to lure people into a product and not pay up. I am disgusted. As you can see by the other reviews, I am not the first to have this happen.

This is the WORST product I have ever bought!!! If I could give it 0 stars I would. I created this account just to review this product! These contacts were supposed to give my eyes more oxygen to decrease the chances of obtaining red blood cells and dry eyes. I would occasionally get dry eyes after wearing all day and thought these would last longer, but NOOOPE!!! I have never had so many problems and I should have stuck with my regular contacts.
This product is not the upgrade I was hoping for. It created problems I didn't have before. They were also about TWICE as expensive as my regular contacts when I got them because of the name and because it was new. I wanted to trust my eye doctor because he said he highly recommended it. Everyone is just trying to make money. I can only wear them for a half hour before they start hurting or they make my eyes dry, vision blurry and give me headaches. I followed the care directions perfectly, but these contacts are AWFUL. Never buy any products from them, my friend had problems with other products (wanna say one was eyedrops). Oh and besides getting a HORRIBLE product, I don't remember receiving a rebate refund. All in all just look at their overall ratings on here. They speak for themselves.

I had a normal eye exam in Dec 2015. My prescription changed very little. I can provide the examine notes. I ordered bifocal contacts and they worked great. I went to pick up my order of contacts after trying the sample for a few days. I received a coupon for 3.00 off the Bausch and Lomb PeroxiClear, so I bought it. I used as directed and tried to put my left contact in the following morning. It burned so bad that I dropped to my knees. I couldn't even try to get the lens out the burning and throbbing was so bad.
After finally getting it out I kept reading the container thinking I bought a strong cleaning agent for hard lenses, but I had not. It also said no rinsing necessary. I returned the product to Walmart where I bought it immediately and then the nightmare began. My contacts would not work. I went back to get them adjusted. They would work for a few days or a week and then not. I went back several times and finally gave up. I then decided that I've never had problems with contacts and that I would try a new doctor and he found my problem immediately and I have a macular hole which I did not have at my examine in Dec.
I had surgery on 4/14/2016 and am now recovering. I went from having a normal eye exam (I have worn contacts since 1975 with no problems ever) to having all sorts of trouble with contacts and glasses after using this product and now a macular hole. I swear on the Bible that this trauma with this product played a huge part in this situation. I am so upset and sad that I bought this stupid product and no one else should have to experience this kind of pain with any eye product by any company. I want to know what I can do? Do I have a consumer product case? I'm 56 years old and I've never contacted a lawyer for anything in my life, but I feel very strongly that I should be compensated for this damage. I know there are others out there who have had burning problems with this product also. Please advise.


My husband received a Bausch and Lomb/Walgreens coupon from his doctor's office for Prolensa eye drops needed for his cataract surgery. When the coupon was presented at Walgreens he was told it was denied "because you are too old". Exact words of the clerk. Upon reading the fine print we discovered that it stated the coupon was good only for patients over the age of 18 and under the age of 65. Is this not discrimination against the elderly? Most cataract patients are over the age of 65! Our doctor's office was not happy with this outcome and said they will no longer give out the coupon. Our cost at Walgreens in South Carolina would have been $295. Our doctor's office found us a discount pharmacy in Winter Park Florida who sent the eye drops to us overnight. We paid $60.

I received a letter saying my rebate was invalid. Called the phone #. Cannot get a live person and information is not forthcoming on the web either. I was told my eye doctor place of purchase was invalid or illegible. I was not asked or told how to provide additional information. This is very frustrating! I bought an extra 6 months of contacts for this deal and WILL NOT be using this company ever again.

Bausch & Lomb failed to honor its rebate. I was told by my eye doctor I'd get a $110 or $140 rebate or something -- it was well over $100, I remember that, for I wouldn't have bothered otherwise -- for filling out the rebate on the contact lenses, sending the box tops with the codes, etc., getting the eye doctor's signature, sending all back within a couple weeks of my checkup. Anyway, I did all that and B&L denied the rebate, though I jumped through ALL the hoops. I will NEVER use anything from this company again. I don't need the money, but I am personally very peeved to have been treated this way, to have wasted my time and then been insulted by these clowns.
The fact you need to do SO MANY things to get the rebate, to spend the personal time is what really peeves me. I've used their products for 40 years but will NEVER use B&L products again, including no more Ray Ban sunglasses. Bausch and Lomb is a company I no longer trust. If they are cheating on rebates, what else are they cheating and lying on? Shame on you Bausch & Lomb.

We purchased contact lenses and selected a qualifying doctor so we could qualify for rebate worth $150 each totaling $300 for both of us. After sending all required forms we received emailed that our rebate applications were invalid. After calling a toll free no. agent checked to see if we had a valid product or not. After checking we're told to call back in 7-10 days. My only question is why our rebates were rejected first and then told us to call back. So unless you call them you won't know if you qualify for rebate or not even if their advertising clearly shows so. So unless you call and follow up multiple times you won't get your rebate. Is that how it is?

I mailed in my rebate information and never received a response. I checked the status online and it says INVALID. Called the customer service number and before 7pm CST, and there is no live person to speak with. The recording states that my information for the address of my provider is not listed. How is that possible? Everything on my receipt is there. I have yet to hear anything about my rebate and I absolutely HATE these contacts. They're very uncomfortable and I will never choose these again!

Fault advertisement. I went to my eye doctor. Was told about a promotion they have going on at this time for your supply of contact lens. I sent in my rebate papers on 10/5/15. I was supposed to receive $100 back for this rebate. I contacted them today to find out where my rebate was and the amount they told me $60 where they advertise it as $100. I have seen many complaints on this. How are they getting away with this? Something needs to be done about this company ripping people off.

1 star is generous. I received a letter explaining why my rebate was being denied. They claimed my eye exam date was not provided (it was... I circled every date on every form I sent and have photocopies to prove it) and that my eye exam and contact lens purchase date fell outside the 60 day range required for the rebate. I had my appointment and purchased my contacts on the SAME DAY, as was clear in all the information I provided them with. Their customer service line is all automated, so they don't actually have to deal with complaints. Really frustrating and such a waste of time.

I submitted a rebate for 8 boxes of contact lenses and was supposed to get a $100 rebate, but I only receive $70 dollars. The phone number doesn't let me speak to someone and only gets me to an automated system. Very disappointing and frustrating.

I had an exam earlier this year and was urged to purchase the B&L Ultra contact lenses and receive a rebate. As of today, 9/29/15 I have NOT received my rebate. I have mailed the required information in twice and called numerous times. Their system says my information is valid as of 7/31/15, however, still no rebate. At this point, I regret purchasing more expensive lenses as I will probably never receive the rebate. Lesson learned!

Peroxi Care - This is not the first time I had trouble. Sensitive Eyes is awful too. I liked Biotrue so I thought I'd give Peroxi Clear a try. What a mistake. My lenses were ruined. They burned when I put them in my eyes. There is something definitely wrong with this solution. It doesn't seem to bubble as much as Clear Care does. It doesn't neutralize. I don't think it's a disc issue, because I bought another vial with a disc, same thing happened. It's the solution. There's something wrong with it. How long will it be until they recall this? I'm going to stop using Bausch forever. I can't ever trust this company. These are my eyes!!! How can this company be so irresponsible? Disgusting.

I have worn these contacts for a long time and I love the way they feel so I went and ordered a year supply of daily contact lenses and was informed it came with a 70.00 rebate that I would get back 8-10 weeks. My contacts came very quick so I got all of the documents together to submit my rebate. I submitted my rebate in April 2015 and they received it on May 4th, 2015. I have waited 18 WEEKS for my rebate and I HAVE STILL NOT RECEIVED IT! I have called multiple times and have been given the runaround stating that I needed to wait 10-12 weeks, so I did... NOTHING. Then I called again and they stated they had a higher volume on this particular rebate. 18 weeks... and I still have not gotten anything back. I have received nothing in the mail apologizing for the delay or a phone call or anything. I am the one that has been doing all of the legwork. 18 weeks is absolutely ridiculous.
Then I call for a final time and they stated my rebate was mailed out but that I needed to wait an additional 15-30 days from that date to receive it. How does that make sense? So all in all if I ever receive my rebate back I am guessing it will be a total of 20 WEEKS of waiting... 5 MONTHS! I am very disappointed by this. I paid all of my money up front thinking I would receive my rebate back within the 8-10 weeks - yeah right, what a joke!

I had an eye exam in late April and was talked into purchasing the year supply of the contacts for the $60.00 rebate. I submitted the paperwork and received an email that my rebate was accepted on May 27th. They have changed the processed date twice on the rebate status website and after I called them and demanded to speak to a manager, they put me on hold for an hour. You will not get a rebate. This company is terrible. They say 8-10 weeks processing. If that is the case, I should have received my rebate in July AT LATEST. Unprofessional and bad company to work with.

I purchased contacts for my daughter. I decided to go with the One Year Supply BECAUSE OF A REBATE OFFER for $140 debit card. I submitted the offer days after the purchase on March 28th, 2015. Around late April or early May I received a letter stating I did not include UPC codes. I absolutely did submit UPC codes and immediately called them asking if there was a report of damaged mail because those codes were in the envelope and if they were not in the envelope and the mail was not damaged then the mistake happened on Bausch + Lomb's end. I had a copy of the UPCs and was told to email them which I did that day or the following day. I received an email saying they would process the rebate.
I have called 8-9 times since March and each time they have told me it was APPROVED and being processed. I was told on one of my phone calls that I would have the debit card by mid-June and on another call by July 29th, 2015. On my final call on or around July 30th I was told it was printed and mailed and to give it 7-10 business days. I still have received nothing. I intend to fight this to the end. My family is a higher income family and I plan fight this on principle not because I have to have this $140. I am appalled at how this company has behaved. I have used their products since I was 13 years old, so 26 years! I can provide copies of UPCs, copy of receipt, emails from B+L and printouts from B+L website stating my rebate is valid. Unfortunately I am not able to send them from this computer. Thank you for any help you can offer!

This product Peroxi Clear is of the Devil!! Why would this product be allowed for sale?? I thought my eyeball was going to burn out of its socket it was so painful. I have worn contacts for a very long time and I have never, never had an experience like this. My eye was severely swollen and the whites of my eye red! I wear around four different pairs of contacts and colors so when I purchased this new solution I had cleaned and filled all of my containers with the Peroxi Clear. After this horrible experience, I rinsed all of my containers and the contacts and I replaced it with another solution of Bausch & Lomb but apparently the peroxide was still in there since the next morning it happened again!!! This time I was at work looking like I had pink eye and all of my mascara was removed. I got a lot of attention on how scary my eye looked. How can this product be safe???

I have been a contact lens wearer for decades. I have used Clear Care for years and never had a problem, so I am aware of how to use peroxide lens cleaners. I bought the PeroxiClear by Bausch & Lomb at Walmart, as it claims it is done cleaning in 4 hours versus 8 hours for the Clear Care. For the first half of the bottle it worked fine. However, half way through, the disc doesn't seem to neutralize the hydrogen peroxide anymore. Even after 10 hours of soaking! And the burning sensation is like having your eyeballs on fire. It takes a long time for the pain to go away as well. Expect at least 60 minutes of eyeballs on fire pain to persist. Seriously, washing your eye out with water doesn't even help, and eye drops are useless. I think the manufacturer (Bausch & Lomb) is negligent as they cheapened out on their discs at our (very painful) expense. Nobody should have to go through this. (the product code on the bottle is 2016-07 GA15058 3380402).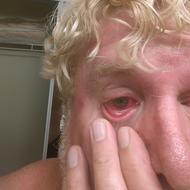 I have worn contacts for 20 years and never experienced pain like this. I purchased PeroxiClear contact solution and followed the instructions exactly. I put a lens in my eye after soaking it in their solution and immediately felt like someone poured battery acid in my eye. It took my breath away, and my eye's involuntary reaction made it very difficult to take the lens out. Now, 2 days later, my eye is still swollen and red. Stay away from this product. Bausch & Lomb are completely negligent selling this dangerous product.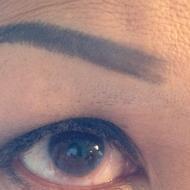 I purchased Bausch + Lomb PeroxiClear at Walmart yesterday. I have read the instruction before I bought it and was very excited to used it for the fact that my contact lenses would so clean and clear. I have use Walmart product non brand name solution before, but never have any problem. The next morning I start soaking it for 4 hrs as it recommend in the directions and rinse it out many times. As my son standing right next to me I was excited to show him the result. When I put my right contact first, my eyes was on fire and I was having a hard time taking my contact out my eye. I rinse it off with water and still burning and redness swelling. I have never experienced such pain.
Bausch & Lomb Company Profile
Company Name:

Bausch & Lomb

Website:

http://www.bausch.com/